Holiday iPod Demand May Outstrip Supply, Knit Your Own iPod Mittens, iPod Book Updated, Kids' Stories, and More
Compiled by Charles Moore and edited by Dan Knight - 2005.12.01
This Week's iPod News
PowerBook, iBook, iPod, and other portable computing is covered in The 'Book Review. General Apple and Mac desktop news is covered in The Mac News Review. News about Apple's transition to Intel CPUs and other Intel developments is covered in The Macintel Report.
All prices are in US dollars unless otherwise noted.
News and Comment
Products and Services
News and Comment
iPod Demand May Outrun Supply
The Detroit Free Press's Mike Wendland says:
"What is this, an iHoliday?
"If you are among the hordes visiting the malls and big-box retailers on this Day After Thanksgiving, you can't escape the displays and marketing blitz for the iPod.
"Getting one, though, may be another matter.
"Although it's been a favorite holiday gift for the past two years, this year is shaping up as the biggest yet for the amazingly popular music player, carried along by unprecedented hype and indications that there may be shortages.
"According to a nationwide survey of retailers by BusinessWeek Online, many retailers say they're getting fewer iPods than they requested from Apple. Circuit City, for example, says it expects demand for the iPod will outstrip availability through the rest of the year."
Link: iPod Blitz May Outrun Supply
iPod All Decked Out for Christmas
BusinessWeek says:
"Apple's updates of its wildly popular iPod line this year didn't just give consumers another reason to buy the music player. It gave them - and friends and family members who plan to give gifts - a new bounty of iPod accessories to choose from as well.
"That's because the design of the iPod nano and the video iPod means many of the old accessories can't be used with the new devices. Both require new cases, for example. With the nano, it's easy to see why. The incredibly thin device is a completely different shape than the iPod mini, which it replaced. But even its video cousin, which is the same size as the previous-generation non-video iPods, needs a new wrap. That's because the headphone jack on the top of the device moved from the center to the side, and the screen is a great deal larger than earlier versions. No owner should go case-less. Consumers have complained about how easily these devices are scratched, particularly the nano."
Link: The iPod: All Decked Out for Christmas
Knit Yourself a Pair of iPod Mittens
"Sean's Soapbox has posted instructions for knitting woolen mittens with a pocket for your iPod.
"You can download the pattern as a PDF file, along with ones for a cable-knot skull-cap."
Link: Knit Yourself a Pair of iPod Mittens
Navio to Clone Apple's iPod DRM
The Register's Tony Smith reports:
"iPod compatibility could come to a host of online music and video shops besides Apple's own iTunes Music Store, if US-based startup Navio has its way.
"The company this week admitted it is working on a way to allow third-parties to support Apple's FairPlay DRM system without first licensing it from the Mac maker. That would open the gates to allow the likes of Napster and Yahoo! Music to sell iPod-friendly songs in addition to their existing Windows Media-based catalogue.
"Navio is reverse-engineering FairPlay, company COO Ray Schaaf told website Playlist this week. Navio sells media-oriented DRM-enabled ecommerce services, and it's looking to iPod compatibility to drive interest in its offerings."
Link: Navio to Clone Apple's iPod DRM
Neuros Updates MPEG 4 Recorder for iPod
The Register's Tony Smith reports:
"Neuros has updated its Neuros MPEG 4 Recorder (NMR), dropping the original gadget's SD memory card support for the Sony Playstation Portable-friendly MemoryStick family. It's also added support for video iPod-compatible content.
"Neuros is specifically pitching the product at PSP owners keen to get more video onto their handheld consoles. While the first version of the NMR provided recording resolutions of 320 x 240, the NMR 2 adds 368 x 208 to fit the PSP's widescreen display. It also adds a 640 x480 resolution for better TV playback. All three resolutions are encoded at 30fps."
Link: Neuros Updates MPEG 4 Recorder for PSP, iPod
Products and Services
The iPod Book Updated for nano, ROKR, and video iPod
PR: If the iPod family of digital music players is indeed the hottest holiday gift this year, the second hottest may be a book that shows you how to use them. The iPod Book: Doing Cool Stuff with the iPod and the iTunes Music Store was recently updated and re-released with hundreds of tips and tricks for every iPod, including the new video-enabled iPod, the new iPod nano, the new ROKR iTunes-enabled cell phone, and iTunes V.6.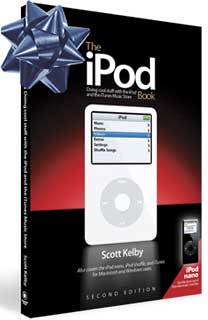 This isn't the kind of book that tells every little detail about the iPod. There's no information on compression algorithms, analog vs. digital equalizers, or exporting your playlist in Unicode format.
Instead, this book is a "just-tell-me-how-to-do-it" guide to all the coolest, most requested features and functions of the iPod. And it's written in the plain-English style that has made Scott Kelby one of the world's best-selling technology authors.
The book covers importing your music collection, basic operation (including some cool tricks), using your iPod in the car, the new photo and video features, using the iTunes application to create playlists, popular accessories and much more. If you're looking for a book that focuses on the most important and useful iPod stuff, this is it.
In addition to being the world's #1 best selling computer book author, Scott Kelby is the president of the National Association of Photoshop Professionals, editor-in-chief of Photoshop User and Layers magazines, technical chair of the Photoshop World Conference & Expo, and a principal in KW Media Group.
The iPod Book: Doing Cool Stuff with the iPod and the iTunes Music Store, 2nd Edition
Price: U.S. $19.99, CAN $27.99
ISBN: 0-321-42228-7
iPod-Ready Stories for Kids
PR: Stuck on a car journey with your children? Not sure how to keep the kids amused on a long train ride. Or just looking for something to play during the school run?
Storynory.com has the answer. You can download our growing library of classic and original children's stories to you iPod, any other MP3 player, or just burn them onto a CD from your own computer.
Storynory will deliver iPod-ready stories for kids - and they are absolutely free.
It is a new concept in entertainment and education for children. We offer hours of classic children's literature, read by actresses, to educate and entertain children - there is no better way to introduce them to books and learning.
From this week, parents and children will be able to go to storynory.com to listen to classic and modern children's stories. You can download them to your iPod, either direct from the site, or via the iTunes website.
Or else you can download the stories to any other MP3 player. You can listen to them on your computer or burn them onto a CD.
There is no charge for any of the stories. No longer need you pay $10 or $15 for a story on a CD or a tape. All our stories are absolutely free.
And they all draw upon classic children's literature.
In its first week, Storynory features such classic fairy tales as Little Red Riding Hood, The Snow Queen, and The Frog. Or you can listen to our brand new Christmas story.
Storynory will feature at least one new story every week.
"We all know how stressful it can be trying to keep the kids amused in the car or on a long train journey," said Storynory spokeswoman Angharad Lynn. "Storynory is the perfect answer. Just download some stories, and let the kids listen to those. They are all educational - and great fun as well."
Link: Storynory
PopTune 5G Wrapper for Video iPod
PR: PopTune 5G is a clean removing, wearable wrapper for Apple's iPod 5G series digital music players. PopTune 5G comes in a pack of 12 stylish patterns including: , dreamy "Liquid Pink", solid "Technotic Green", tropical "Aloha", fierce "Dragon", pretty "Sakura" and more. PopTune 5G provides protection for your iPod 5G(r) against dirt and scratching. The PopTune wrapper is removable so you can remove it from your iPod 5G(r) and replace it with another of your favorite PopTune patterns. PopTune 5G has a extra clear patterned wrapper which covers and protects your iPod's sensitive mirror finished back side. The back wrapper is designed so that you can see any engraving that you have had done. PopTune 5G keeps your iPod as beautiful as it was when it was new.
PopTune for shuffle comes in a pack of 12 stylish patterns: Liquid Pink, Technotic Green, Zebra, Sakura, Dragon, Aloha, Polka dot, Tropical Camouflage, Neon Pink, Neon Green, Neon OrangeNeon Yellow.
Link: PopTune 5G Wearable Wrapper for iPod 5G
iWriter iPod Notes Utility
PR: iWriter allows users of all experience levels to take full advantage of the iPod Notes feature. iWriter is an extremely open-ended utility that has a wide array of uses ranging all the way from entertainment to education. By allowing users to create iPod projects with linked pages, iWriter helps you design and construct elaborate interactive text documents that effortlessly allow people access to endless varieties of information.
Multi Page notes
iWriter let's you create multi page notes that link to each other so you can get past the 4k size limit on iPods. You can also link to audio files which can play while you reads the text
Built in Preview
You can preview your notes without the need to transfer to an iPod with iWriter's built in preview.
Export to iPod
iWriter let's you export your notes straight to the Notes folder of your iPod so there's no need to drag several files over via the file system.
Export as a Website
If keeping your notes on your iPod isn't good enough, then iWriter lets you export as a website, using one of several themes, so that you can share your notes online with the rest of the world.
System requirements: Mac OS X 10.3 or later.
$12 Shareware - Try iWriter's features for free for 15 days before you decide to buy
Link: iWriter
iPod Deals
For current iPod prices from a variety of sources, see our Best iPod Deals.
Join us on Facebook, follow us on Twitter or Google+, or subscribe to our RSS news feed
Today's Links
Mac of the Day: 17" MacBook Pro Core Duo, introduced 2006.04.24. The top-end MacBook Pro has a 1680 x 1050, 2.16 GHz Core Duo CPU, and supports Apple's 30" Cinema Display.
Recent Content
Custom Search
Follow Low End Mac on Twitter
Join Low End Mac on Facebook
Favorite Sites
MacSurfer
Cult of Mac
Shrine of Apple
MacInTouch
MyAppleMenu
InfoMac
The Mac Observer
Accelerate Your Mac
RetroMacCast
The Vintage Mac Museum
Deal Brothers
DealMac
Mac2Sell
Mac Driver Museum
JAG's House
System 6 Heaven
System 7 Today
the pickle's Low-End Mac FAQ
Affiliates
Amazon.com
The iTunes Store
PC Connection Express
Macgo Blu-ray Player
Parallels Desktop for Mac
eBay

Advertise