Oboe Puts Your iTunes on the Internet, First iPod Compatible Bed, Unleash iPod's Extended Capabilities, and More
Compiled by Charles Moore and edited by Dan Knight - 2005.12.08
This Week's iPod News
We've added a new category this week, Content, to address the many new services springing up offering audio content, video content, and ripping services.
PowerBook, iBook, iPod, and other portable computing is covered in The 'Book Review. General Apple and Mac desktop news is covered in The Mac News Review. News about Apple's transition to Intel CPUs and other Intel developments is covered in The Macintel Report.
All prices are in US dollars unless otherwise noted.
News and Comment
Tips
Reviews
Products
Content
Software
This week's best iPod deals. Refurb 512 MB shuffle, $79; 1 GB, $99; used 20 GB, $149; 30 GB, $160; 40 GB, $240; refurb 20 GB, $179; color, $219; 30 GB photo, $249; 40 GB, $249; lots more.
News and Comment
Oboe Lets You Play Your iTunes Library from Any Computer on the Internet
The Register's Andrew Orlowski reports:
"Now we know why MP3.com founder Michael Robertson hired 'DVD Jon' Lech Johansen.
"As we reported earlier today, the serial entrepreneur's company MP3Tunes has launched Oboe, a limitless online locker for the iPod that lets you play your digital music collection from anywhere, with a web browser and an Internet connection. And not just iTunes - it supports WMA and Ogg files too.
"Oboe preserves your iTunes playlists and drops into iTunes as a simple plug-in: and it uses Bonjour (formerly Rendezvous) system services.
"...Apple could well have introduced such a service as a premium extension of its .mac subscription offering, but didn't. Robertson told us he wants to put some innovation back into a market that has stagnated since Apple launched its iTunes Music Store two years ago."
Link: Oboe Is Your iPod Everywhere
iPods Prosper as Piracy Flourishes
The Wall Street Journal's Nick Wingfield reports:
"When Apple Computer began selling a new iPod that plays video last month, the mainstream content available from Apple was pretty thin. The company hawked a collection of music videos, some short films from Pixar and episodes of five Disney-owned TV shows, all available through iTunes Music Store.
"It didn't take long after Apple introduced its new product for crafty Netizens to start sharing movies and TV shows formatted for the device (do a Google search with the words 'torrent,' 'video' and 'iPod,' if you don't believe me, or visit Podtropolis.com). The Internet teems with pirated TV shows and movies downloaded through file-sharing technologies like BitTorrent over broadband connections. And users have access to any number of programs that crack the copy protection on DVDs meant to deter duping movies onto computers."
Link: Apple's iPods Prosper as Piracy Flourishes
iPod Dilutes Apple's Macintosh Focus
The Toronto Star's Christopher Hutsul says:
"Apple-bashing seems to be at a fever pitch lately.
"Nonbelievers say Mr. Jobs has been making too many 'this-product-is-going-to-change-the-world' presentations. They argue the company continues to make overpriced, underpowered computers. They compare Apple devotees to a cult, a herd of self-important wannabes who blindly fawn over everything that comes out of headquarters in Cupertino, Calif.
"As a longtime Apple user, I've always been quick to defend the company. My computing experience is divided between the slow, cumbersome PC I use at work, and the crisp, breezy Apple environment I use at home. My G4 tower, nearly five years old, hasn't crashed in over a year, and still handles tasks briskly. The brand has earned my respect.
"But I have to admit that Mr. Jobs's shtick is wearing thin, and there are some troubling developments in Apple-land."
Link: iPod has Fallen Far from the Apple Tree
Carleton University First to Offer Video Courses through iTunes
The Globe and Mail's Simon Avery reports:
"It's Monday morning and professor Robert Burk is standing in front of the 490 students in his first-year chemistry course. 'Today we're going to do some more work on gases,' he says, before diving into a discussion on the effect of pressure and temperature on equilibria.
"Although he just gave the lecture in his classroom at Carleton University in Ottawa, this particular version is viewable almost anywhere, courtesy of iTunes, Apple Computer Inc.'s digital content website that sells music and video for the portable iPod device.
"Carleton says it is the first university in the world to offer an entire course of video-recorded lectures through iTunes, for playback on iPods, cellphones, Sony Corp.'s PlayStation Portable and the common personal computer. 'Students actually download the lecture as they would a song,' Mr. Burk says. 'These days, students simply expect to see what they need on a screen.""
Link: There's a Professor in Your iPod
iPod Updater Leaves Key iPod shuffle Bug Unfixed
The Register's Tony Smith reports:
"Apple has updated the iPod shuffle's firmware to version 1.1.3 (see below), saying only that the new code includes 'bug fixes' but without detailing the release's improvements.
"Alas the update still does not remedy the recurrent Shuffle glitch that causes some tracks downloaded from the iTunes Music Store to be skipped when the pause button is pressed."
Link: iPod shuffle Bug Fix Leaves Key Bug Unfixed
Tips
Why Can't I Play Back Voice Memos on My iPod?
A new Apple Knowledge Base article says:
You may be unable to playback recorded voice memos after navigating to Extras > Voice Memos on your iPod. After selecting the desired voice memo and choosing play, the menu will revert to the Voice Memos selection screen. This can happen with:
iPod with color display (iPod photo)
iPod (Click Wheel)
A third-party microphone or audio recorder.
iPod Updater 2005-11-17 Released
Includes new iPod Software 1.1.3 for iPod shuffle. iPod Updater 2005-11-17 contains the same software versions as iPod Updater 2005-10-12 for all other iPod models.
Features of iPod Software 1.1.3 for iPod shuffle:
System Requirements for Macintosh
To install and use iPod Software 1.1.3 for iPod shuffle, you need:
An iPod shuffle
A Macintosh Computer with built-in USB*
Mac OS X v10.2.8, or Mac OS X v10.3.4 or later
Mac OS X v10.3.6 or later is recommended for connecting iPod shuffle to a low power USB port, like on certain keyboards and non-powered hubs.
iTunes 5.0.1 or later
Note: iTunes versions earlier than 4.7.1 are not supported and will not sync music properly with iPod shuffle. Mac OS X versions 10.3 through 10.3.3 are not supported.
Some computers require either the optional iPod shuffle dock or a USB cable extender (sold separately).
System Requirements for Windows
To install and use iPod Software 1.1.3 for iPod shuffle, you need:
An iPod shuffle
A PC with a USB port* or card
Windows 2000 with Service Pack 4 or later, or Windows XP Home or Professional with Service Pack 2 or later
iTunes 5.0.1 or later
Note: iTunes versions earlier than 4.7.1 are not supported and will not sync music properly with iPod shuffle.
Some computers require either the optional iPod shuffle dock or a USB cable extender (sold separately).
System Requirements
Mac OS X
Mac OS X 10.2.8
Mac OS X 10.3.4
Windows 2000 SP 4
Windows XP SP 2
iPod Requirements:
Macintosh or Windows PC with a USB port (USB 2.0 recommended)
Mac OS X 10.3.9 or later
Windows 2000 Service Pack 4 or Windows XP Service Pack 2 or later
iTunes 6 or later
iPhoto 4.0.3 or later recommended for Macintosh
Adobe Photoshop Album 2.0 or Elements 3.0 or later recommended for Windows
iPod nano Requirements:
Macintosh or Windows PC with a USB port (USB 2.0 recommended)
Mac OS X 10.3.4 or later
Windows 2000 Service Pack 4 or Windows XP Service Pack 2 or later
iTunes 4.9 or later
iPhoto 4.0.3 or later recommended for Macintosh
Adobe Photoshop Album 2.0 or Elements 3.0 or later recommended for Windows
iPod shuffle Requirements:
Macintosh or Windows PC with a USB port (USB 2.0 recommended)*
Mac OS X 10.2.8 or Mac OS X 10.3.4 or later (Mac OS X v10.3.6 or later is recommended for connecting iPod shuffle to a low power USB port, like on certain keyboards and non-powered hubs)
Windows 2000 Service Pack 4 or Windows XP Service Pack 2
iTunes 5.0.1 or later
*May require the optional iPod shuffle Dock or a USB extender cable (sold separately).
iPod mini Requirements:
Macintosh or Windows PC with FireWire or USB port (USB 2.0 recommended)
Mac OS X v10.2.8 or 10.3.4 or later (Mac OS X 10.3 - 10.3.3 is not supported with USB)
Windows 2000 Service Pack 4 or Windows XP Service Pack 2
iTunes 4.7 or later
Link: iPod Updater 2005-11-17 Released
Link: iPod Updated Download
Reviews
Bring an iPod Back to Life Cheaply and Easily
The Register's Tony Smith reports:
"Sonnet isn't the only company to offer iPod battery upgrades, but it's the first to bundle a video installation guide. With printed instructions typically about as basic as it's possible to get, does Sonnet's approach make battery replacement an easier task for the non-techie?
"Opening the blister pack exposes the slimline 3.7V battery, which Sonnet claims provides a 2200mAh capacity, though not on either the battery itself or the packaging it's sold in. The pack also contains a pair of plastic iPod disassembly tools, and a CD-ROM with the installation videos."
Link: Sonnet iPod Battery Replacement Pack
Products
The World's First iPod Compatible Bed
PR: "In designing Pause we explored the notion of "rest" (whether it be while awake or through sleep) and how we choose to create our own personal space to rest and relax in. In doing so, the conceptual design of Pause aimed to challenge the conventional definition of the bedroom environment.
The resulting design incorporates functionality that lets your mood guide the pace; quiet time or play time."
Optional accessories include a minimalist side lamp and aluminium tray, yet perhaps the most exciting feature is how the shelves can seamlessly accommodate an iPod and Bose speaker system.
Pause is crafted from solid New Zealand Rimu with aluminium detailing.
Link: iPause - The World's First iPod Compatible Bed
PowerBlock AC Charger for USB Devices
The video iPods don't ship with an AC charger, and Apple charges US$29 for one. The compact design of Griffith's PowerBlock makes it a worthy competitor. dk
PR: Power and charge almost any iPod from a wall outlet with the PowerBlock. Plug any iPod shuffle directly, or use the included cable to connect supported iPod models.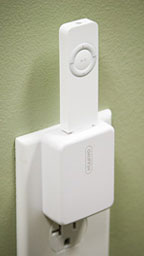 Features Type-A, flat-blade plug design for international use and multi-outlet configurations.
The PowerBlock is compact and ideal for business and other travel.
The included USB to dock cable can be disconnected for use with a computer.
Works with:
5th generation iPod with video
iPod nano
iPod shuffle
iPod mini
iPod photo
4th Generation iPod with Click Wheel
Price: $29
Link: PowerBlock AC Charger for USB Devices
Crystal Clear MicroShield for Video iPod
PR: XtremeMac announced its first accessory for iPod with video, a clear protective case called MicroShield. This two-piece case snaps onto the front and back of the iPod, providing the body and screen with protection from scratches while highlighting its sleek design.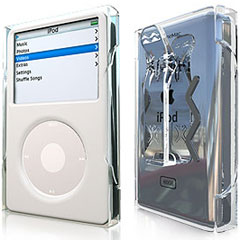 MicroShield comes with one front and two rear panels: one with an integrated, low-profile belt clip, and one without. This design offers the flexibility of using the front and rear panels separately or together and provides users with the option of using a belt clip or not. When used together, the front and rear panels encase the iPod in a hard plastic shell that provides unobstructed access to the Click Wheel, Dock Connector, and earbud jack. In addition, the design of the rear panel accommodates the iPod with either end up - allowing users to position the earbud jack either at the top or bottom - a feature that will be appreciated by those who prefer to use the belt clip with this case.
"The design of the new iPod is so striking that we decided to build a protective case that truly showcases it," said Gary Bart, CEO of XtremeMac. "MicroShield has been our most popular case for the iPod nano, and looks to be just our leading case for the new iPod."
MicroShield is available in 30 GB and 60 GB models to accommodate both sizes of the new iPod with video. It retails for $24.95 and will be available in stores and online in one to two weeks. For more details and images of MicroShield, or to place an order, visit:
Link: XtremeMac MicroShield
Pacific Design Video iPod Flip Cases
PR: Pacific Design has announced the retail availability of its iPod 5G Video Flip Case Collection. The collection of colorful cases, designed with Pacific Design's award-winning design and attention to usability, are now available at Circuit City and Radio Shack. Additional national and online retailers that will also have the cases in stock next week include Airport Wireless, ebags.com, Micro Center and Ultimate Electronics as well as Best Buy in Canada. Color availability may vary depending on retail outlet.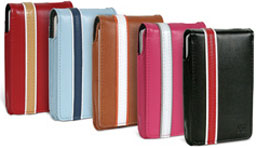 Retailing for $29.95, Pacific Design's iPod 5G Flip Cases have been designed to provide iPod users with dependable product protection in sharp, contrasting-color designs, without sacrificing ease of use and accessibility to audio accessories and sync/power adapters. The fashionable colors and an ultra-slim design fit players like a glove, making this flip style case a great choice for work or play.
The powerful color combinations include carbon black with red and white detail; precious pink with white and dove gray detail; rally red with orange detail; and big sky blue with cobalt blue and white detail. The black and pink units are being carried by Airport Wireless, Circuit City, Micro Center and Ultimate Electronics. Best Buy Canada is retailing all four color combinations. Additionally, Radio Shack is carrying an exclusive case in brown with orange and white accents.
Case Features:
Precision-cut clear vinyl window protects screen;
Precision-cut die cut offers full use of click wheel in case;
Low-profile rear strap clips to belt, or integrates with your favorite armband;
Ultra-slim design and Pacific Design's exclusive Slim-Stitching helps reduce the bulk of the case so it fits your iPod like a glove;
Full access to all buttons and ports in the case including the sync port on the back;
Flip-case design with a top flap that protects the screen during use and while idle;
Double-stripe flip style adds accent color while maintaining award-winning Pacific Design style; and
Fits 30 GB iPod 5g Video and 60 GB iPod 5G Video products.
DecoDock Ice for iPod shuffle Special Limited Winter Edition
PR: Presenting DecoDock Ice with a white base and glacier blue LEDs. Providing users with a simple, cool, and stylish way to connect an iPod shuffle to their computer, DecoDock Ice let's your shuffle "chill out" while it recharges and syncs in Art-Techo style.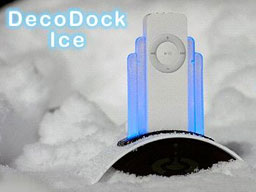 "At Pressure Drop we love winter, and when we received emails from both Jack Frost and Oldman Winter asking for a special edition, we just had to do it. (especially since they promised a great season on the slopes in return)" said David Gawlowski, President of Pressure Drop. "For those style-hungry souls, searching a wasteland of computer peripherals devoid of pleasing designs, welcome to Pressure Drop, and the Art-Techo movement."
Features of the DecoDock
DecoDock is designed to not affect either recharge time or data transfer in any way.
Columns glow with a steady blue light to provide decorative illumination.
Special, limited winter edition
Connect your shuffle to your computer in a convenient, elegant way.
Decorative illumination from the columns via glacier blue LEDs
Integrated cap holder securely keeps your shuffle's cap from getting lost
Dimensions with iPod: 4 x 4 x 2.1 inches (102 x 102 x 53 mm)
Works with Mac or PC
USB 2.0 or 1.1
One year warranty
Price: $28.99
Link: DecoDock Ice for iPod shuffle Special Limited Winter Edition
TuneBuds Earbuds & Lanyard for iPod shuffle
PR: TuneBuds keep both the earbuds and shuffle handy around the wearer's neck. Just snap TuneBuds onto the shuffle's USB connector, and you're up and running (or dancing). TuneBuds' audio cable, integrated into the lanyard, keeps you free of excess cords and tangled lines.
TuneBuds make no compromise on sound quality. The comfortable earbuds supply superb audio to please the most discriminating listener.
Get wrapped up in your music - not your cables. TuneBuds: the perfect marriage of form and function for iPod shuffle.
Made for iPod shuffle
Price: $19
Link: TuneBuds Combination Earbuds & Lanyard for iPod shuffle
Song Sling for iPod shuffle Price Cut in Half
PR: Long Island-based Think Different Store (1-800-iPod.com) has just reduced the price of the popular Song Sling for iPod shuffle to $19.99 from $39.95.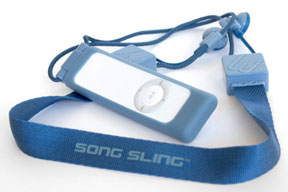 Combining 3 essential (and otherwise costly) shuffle accessories into one high quality, inexpensive unit, Song Sling combines a lightweight pendant mount, high-quality, retractable color-keyed earbuds, and a durable, comfortable lanyard. Purchased separately, these items would cost as much as twice the price of Song Sling's original price.
Reviews:
Applelinks: "Song Sling puts all iPod pieces within easy reach, and keeps them there. One of the most complete options for the iPod shuffle."
Gearlive: "finally, a product that manages to remove the tangle of cords that can occur with a shuffle."
iPodlounge: "Professionally designed... we like the build quality. A more modern look and smarter components than the competition."
Where other retractable earbuds fall short Song Sling truly excels. Plain and simple, they work, and they work well. Easy up, easy down, over and over and over again, bringing and end to the frustrating dangle and tangle of conventional earphone wires. Song Sling takes the basic lanyard concept to the next level.
Link: Song Sling
Content
Fill Your New Video iPod for Free at Veoh
PR: Veoh Networks, Inc., the first Internet Television Peercasting Network, today made available more than 3,000 videos for easy download and transfer to Apple's newest iPod. iPod owners can now fill up their entire device with video, free of charge.
Veoh allows anyone with a computer and an Internet connection to broadcast their own TV show, or channel of shows, in full-screen television quality. Individuals and companies are broadcasting compelling content - from original cartoons, like Superman and Popeye, to comedies like The Three Stooges, feature-length films, and more than 10,000 user-produced videos on every subject imaginable.
"Veoh, combined with the iPod, is the perfect mix," said Dmitry Shapiro, Veoh CEO. "The iPod lets you take your video wherever you go, and Veoh gives you thousands of free videos, no matter what your interest may be."
This new capability provides the easiest way for consumers to get Internet Television to their iPod and provides video publishers of all sizes with a single publishing platform to make content available to the world. Support for additional portable devices is coming soon.
"Portability is a major step in providing consumers the ability to control their viewing environment," says Allen Weiner, research vice president for Gartner, Inc. "The ability for users to create program feeds and download content from the Web and view it on devices other than the TV creates a content foraging experience that will dramatically change the long-standing paradigm for TV and video distribution."
Veoh software, installed on a consumer's PC or Mac, creates a virtual television network able to distribute TV-quality, full-screen video to hundreds of millions of users with broadband connections. Motion picture studios, television networks, organizations and individuals can publish unlimited amounts of video content to the network, providing consumers with unparalleled choice in television programming and control over their viewing experience.
Unlike rogue P2P networks used to share mostly pirated video, Veoh is a community of publishers and consumers, where published content is approved by editors, and consumers are assured they get what they request. The system also integrates tightly with RSS, providing content producers with easy publishing to multiple video systems. For more info on Veoh, see the online Veoh Tour Video.
CD Ripping Service from 1-800-IPOD.COM
PR: Long Island-based Think Different Store (1-800-iPod.com) has announced the launch of its new CD ripping service.
Designed to provide iPod owners with a fast path to a complete digital music library, the service converts music on CDs into high-quality MP3 files suitable for importing into iTunes and the iPod.
Conversion costs as little as $55 plus shipping and requires approximately 5 days to complete.
The service is available online.
Retail location in Selden, New York. Customers purchasing the service in person will save shipping and handling fees.
"It seems that almost everyone has an iPod or some other digital music player these days", stated 1-800-ipod.com owner Joe Ryan. "The biggest problem most iPod owners face though, is the time consuming and tedious task of converting CDs collected over the years into the right format for use on the iPod. We take care of that, along with relieving the iPod enthusiast of the burden of learning about sampling, bit rates and audio codes."
Link: Easy, Economical CD Ripping Service Comes to 1-800-IPOD.COM
Interactive Audio Foreign Language Phrase Books for iPod
PR: CyraKnow has launched its new Rambler audio phrase books created specifically for iPod-savvy travelers. The Fairfax-based company designed the four Rambler audio phrase books in French, German, Italian and Spanish specifically for iPod use with the intent of helping new and seasoned travelers learn the nuances of pronunciation and basic phrases for each language in a short period of time.
The Rambler audio phrase books are priced at $12.95 separately, and $34.95 for all four languages. Each phrase book includes over 900 words and phrases recorded by a native speaker in French, German, Italian and Spanish, as well as a printable PDF of popular sites and attractions for major cities in each country. Each language is interactive and organized into categories such as travel, food, and lodging to make the search process easier, and is designed to help travelers find the word or phrase they need through two clicks on their iPods. Each phrase book varies in size, and the largest is 80 MB. Rambler is compatible with Mac OS X 10.2, Windows 2000 or XP, iPod (dock connector and click wheel models), iPod mini or iPod nano.
"The world is becoming a smaller place, and more and more Americans are traveling abroad either for business, study or pleasure,î CyraKnow Cofounder Jeffrey Gonsalves said. "Rambler enables travelers to pick up the basic words and phrases of a foreign language quickly so they can navigate their way around a country and communicate with their colleagues. Getting off the beaten path and mixing with the locals just became a whole lot easier."
Link: Rambler Interactive Audio Foreign Language Phrase Books
Rush Limbaugh Video Podcasts Begin December 12th
A transcript posted on Rush Limbaugh's Website says:
"I have been hinting over the past week or so that we were going to be adding video downloads to our daily podcasts, and the announcement was made today, so let me give you the details of it. It starts December 12th. Now, please keep this in mind, because I don't want you to go to your podcast download this afternoon and look for the video that's not there and start flooding us with notes, "I didn't get the video!" Well, that's because it's not starting 'til December 12th.
"Here what we're going to do. Starting on December 12th, we're going to be supporting video iPods with a daily one-minute video podcast of the next day's morning update. What happens after this program each day, I record the morning update, the morning commentary that runs on our 600-plus affiliate radio stations. We're going to Dittocam the recording of the updates and make those available free of charge, just another complimentary service to current subscribers of RushLimbaugh.com. Rush 24/7 members will receive the Morning Update the afternoon it is recorded.
"Every Morning Update is going to be a video file, it will be viewable on a video iPod and certain other portable video devices - or you can watch it right from your computer...."
Link: Rush Limbaugh 24/7 Video Podcasts Begin December 12th (you must be a Rush 24/7 subscriber to access this page and this service)
Software
Pod2Go Unleashes iPod's Extended Capabilities
PR: Think your iPod was designed just for music? Think again!
If you're not taking full use of your iPod's extended capabilities, then you're missing out! You may ask, "What other capabilities?" The iPod has a few extra features on it that allow you to view your address book contacts, calendars, to-dos, and even notes!
This is where Pod2Go comes in to play. Pod2Go takes any iPod (except the shuffle), whether it's the first iPod ever created, a brand new iPod color, or an iPod mini, and expands the functionality of it by putting a variety of textual content onto it for your reading enjoyment.
For example, on your ride to work, you could be staying up-to-date with the latest news, checking tomorrow's weather forecast, browsing the local theater's movie showtimes, or getting directions to that new restaurant across town. Or if you're a college student, you could be studying those Word formatted notes your buddy emailed you before your exam, without books or papers. If you're an email addict, you can keep those important messages with you wherever you go. There's an endless stream of possibilities!
Test drive Pod2Go today and see for yourself!
Pod2Go includes a unique set of features, based upon a plug-in structure so additional features can be added quickly and easily in the future. The current features in Pod2Go are:
News - Using Pod2Go's huge collection of news sources, you will never be without something to read. Choose from over a 1,000 built-in feeds, or add your own. Any RSS or Atom feed can be added also.
Weather - Stay on top of the day with Pod2Go's weather feature, which lets you view forecasts and current conditions for cities around the world. Simply provide it with your city, and it will do the rest.
Movies - Pod2Go makes finding movie showtimes for the US and Canada a breeze. View movie titles, ratings, and showtimes all from your thumb.
Stocks - Need to stay current with your stock quotes? Pod2Go can show you info such as last price, open, change and more.
Lyrics - Pod2Go makes it simple and easy to read lyrics on your iPod. Download lyrics from selected songs in your iTunes library, search for a specific song, or import a song's lyrics from an existing file.
Text - Take your text documents with you on your iPod! Formats supported are plain text, RTF, HTML (both off and online), Word (requires 10.3 or greater), and PDFs (requires 10.4 or greater). Pod2Go also allows the creation of text notes directly within the app for quickly jotting down your thoughts.
Horoscopes - Read your horoscope each and every day! Choose to select only one, or all of them for your entertainment.
Directions - Using Pod2Go's easy to use Directions feature, finding your way across town will be a piece of cake. Download directions for the US and Canada, or many European countries.
Gas Prices - Gas prices in the US are soaring - find out which gas stations near you have the lowest prices. Information displayed is gas station name, price, and location.
Apps - Turn your iPod into a PDA! Sync your Address Book contacts, iCal calendars, Mail messages, Stickies notes or Safari bookmarks to your iPod!
Backup - Everyone knows that regular scheduled backups are very important, but not everyone does it. With Pod2Go, backing up your data to your iPod is extremely simple. Pod2Go will backup your files to your iPod every time you sync.
Launcher - Open any application, AppleScript, or Automator workflow when Pod2Go syncs. With AppleScripts that can execute command line utilities, there are an infinite ways of improving Pod2Go's automation.
Utilities - Included with Pod2Go are two utilities. The first is Music. Music allows you to import music from your iPod back to your computer, just in case songs are deleted from your hard drive, for example. The second is Notes, which is a simple notes reader for viewing the notes on your iPod.
Link: Pod2Go
RadioLover: Listen to Internet Radio on Your iPod
PR: RadioLover splits iTunes radio and streaming MP3 radio into individual MP3 songs. Listen to Internet radio on your iPod. Schedule recordings so you can walk the dog.
RadioLover Features
Record MP3 Internet radio streams as individual MP3 songs
Songs are automatically tagged with artist, album, radio station and track number
Schedule recordings of your favourite shows
Record multiple streams at the same time
Split recordings by song, time, or size
Import from iTunes Radio Tuner
Drag and drop MP3 stations from iTunes and the Web (typically these are links that end with .pls)
International language streams supported
Supports thousands of Shoutcast compatible and M3U/EXTM3U style radio streams found on popular sites and in iTunes Radio Tuner
What it means for you
Fresh music everyday, hand-picked by DJs. Let RadioLover do all the hard work so you get new songs whenever you want.
Meet friends, walk the dog, watch a film... Let RadioLover time-shift your favourite shows so you can listen to them at your convenience.
Take your music and radio shows with you. Listen to recordings on your iPod or MP3 compatible device. Burn MP3s onto CD for listening in a car.
Record multiple MP3 streams at the same time - so everybody gets the music they want. On a typical home broadband connection of 1.5 Mbps, you can record over 10 high-quality 128 kbps streams at the same time.
RadioLover is highly efficient and uses very little CPU time, even when recording multiple streams. G3 and early G4 machines can run RadioLover all day and night without affecting other system use.
New In RadioLover 1.4
Download history
Customisable download directory layout
Advanced tagging options
Customisable track information extractor
New in version 1.4v78:
Added a preference option to use 24 hr (military) time in filenames
Requirements:
Mac OS X 10.2 or later
iTunes 3 or later.
$15 Shareware
Link: RadioLover
iPresent It: Presentation Software for Your iPod
PR: Who needs a laptop to give a presentation? Make your next pitch using your iPod. With iPresent It you can convert your PowerPoint, PDF and Keynote presentations into slideshows that are synced with your iPod. Never carry a laptop into a presentation again; it's all on your iPod!
Features
Works with any iPod with a color screen. Note that the iPod nano does not support video output.
Create slideshow images from any of your PowerPoint, Keynote or PDF presentations.
Saves presentations as albums in iPhoto or subfolders of a folder (such as the folder being used to sync to your iPod via iTunes).
Keynote 2 support includes full build extraction, each build step is converted into a unique image for displaying via your iPod.
Easily update your slideshows whenever you make changes to a presentation. With built-in tracking to indicate which presentations need updating you'll never be caught without your latest changes.
Use the OS X print dialog's Save As PDF button to create slideshow images for any document.
Full drag and drop support for adding presentations and one-time slideshow creation.
Easily remove slideshows when they are no longer needed. Removing them from iPresent It ensures they will be removed from your iPod the next time you sync.
Preview slides as they're converted into a slideshow.
Also works with digital cameras and projectors that support USB flash drives
System requirements: Requires Mac OS X 10.3 or greater
$17.95 - Trial version limits slideshows to the first 6 slides of a presentation
Link: iPresent It
Join the Mobile Video Revolution with Popwire
PR: Popwire Technology releases updated versions for its leading media coding software products, Compression Master and Compression Engine.
The updates add crucial new features to the products which takes the possibilities of Compression Master and Compression Engine to previously unparalleled levels with all-new support for media coding to Apple's latest video enabled iPod and Sony Playstation Portable (PSP).
Compression Master and Compression Engine gives the media professional the simplicity, flexibility and power to produce content for DVD, Internet, mobile phones, music services, television or any other type of digital media.
With Compression Master version 3.2.1 and Compression Engine 2.2.1 reliability and speed in video encoding is brought to the desktop and server. With the extensive format support, Compression Master and Compression Engine converts to and from all common formats such as MPEG-2, MPEG-4, QuickTime, DV, H.264, H.264 Main Profile, 3GPP, Flash, Windows, Real Media and High Efficiency AAC.
Added to this impressive lineup are support for the hottest portable video devices on the market today, Apples video enabled iPod, and the leading portable gaming console, Sony Playstation Portable (PSP). With the iPod, customers are already rushing to buy content from iTunes Music Store where one of the producers who sell content, Pixar, sold 125000 videos for the iPod in the first month of offering. Sony's PSP are also attracting video game producers where they are among other things looks for a simple way to publish video demonstrations from upcoming games for PSP fans to download to their device.
"Mobile video devices are where it's at. With Apple reporting sales of more than one million videos in twenty days, its no question that mobile video is rapidly becoming a crucial part of the media marketplace. With these releases of Compression Master and Compression Engine media producers can quickly become part of this amazing revolution and benefit from it ", says Kay Johansson, CTO of Popwire Technology.
Producing media content for both these devices should be easy and time saving, and Compression Master makes it so. With its pre-included templates it's as easy as choosing what media file that is to be coded for the iPod or the PSP, or both, and then applying the template. For customers that need speed, automation and flexibility, Compression Engine is the given solution. With the same format support, Compression Engine moves the media coding process to the server space for more efficient media coding.
Compression Master can be purchased directly from the Popwire Technology website or via resellers worldwide. Compression Engine is available through certified resellers worldwide.
Link: Popwire
iPod Deals
For current iPod prices from a variety of sources, see our Best iPod Deals.
Join us on Facebook, follow us on Twitter or Google+, or subscribe to our RSS news feed
Today's Links
Mac of the Day: Macintosh 512K Fat Mac, introduced 1984.09.10. The first Mac with enough memory for serious work.
Recent Content
Custom Search
Follow Low End Mac on Twitter
Join Low End Mac on Facebook
Favorite Sites
MacSurfer
Cult of Mac
Shrine of Apple
MacInTouch
MyAppleMenu
InfoMac
The Mac Observer
Accelerate Your Mac
RetroMacCast
The Vintage Mac Museum
Deal Brothers
DealMac
Mac2Sell
Mac Driver Museum
JAG's House
System 6 Heaven
System 7 Today
the pickle's Low-End Mac FAQ
Affiliates
Amazon.com
The iTunes Store
PC Connection Express
Macgo Blu-ray Player
Parallels Desktop for Mac
eBay

Advertise