iPod Takes Japan by Storm, California Wants Greener iPods, Apple Intros iPod Hi-Fi, an iPod Necktie, and More
Compiled by Charles Moore and edited by Dan Knight - 2006.03.02
This Week's iPod News
This week's big iPod news might be Apple's new $349 iPod Hi-Fi, but the clever new iPod accessory has to be the limited edition necktie with an iPod pocket on the back from Thomas Pink.
PowerBook, iBook, iPod, and other portable computing is covered in The 'Book Review. General Apple and Mac desktop news is covered in The Mac News Review. News about Apple's transition to Intel CPUs and other Intel developments is covered in The Macintel Report.
All prices are in US dollars unless otherwise noted.
For current iPod prices from a variety of sources, see our Best iPod Deals.
News and Comment
Tips
Products
Content
Software
News and Comment
iPod Takes Japan by Storm
BusinessWeek's Ian Rowley reports:
"Spend any time hanging around Tokyo's bustling Shibuya retail and fashion conclave, and you will doubtless see electronic shops galore hawking MP3 players such as Sony's Walkman, Toshiba's Gigabeat, and the Panasonic D-Snap brand. Yet a determined young couple on hand recently - Megumi Mizuno, 22, and Takaaki Tokuyoshi, 17 - bypassed them all, making a straight shot to the Apple outlet. Why? They've been infected by the near-global iPod obsession."
Link: iPod Takes Japan by Storm
Is Origami Microsoft's Alternative to the iPod?
Microsoft Watch reports:
"Microsoft has registered a Web site for something called 'The Origami Project'. From the rather cryptic video clip there, you can't tell much about what Origami is or what it will do. Guesses about Origami's origins have been all over the map.
"But what we're hearing now is that Origami might be little more than a new code name for an ultra-portable device that Microsoft demonstrated last year at its Windows Hardware Engineering Conference. (Since Microsoft is continually changing code names to keep company watchers guessing, such a move would not be unprecedented.)"
Link: Origami: Microsoft's 'OrPod' Alternative to the iPod?
California Wants Greener Electronics
The Register's Chris Williams reports:
"California Democrats have introduced legislation to the state assembly tightening the rules on the manufacture and disposal of toxic substances used in electronics. Super-hazardous heavy metals like mercury, cadmium, lead and chromium would be covered by regulations that would come into force in 2008, if passed....
"Green lobby group Californians Against Waste is sponsoring the bill. Executive director Mark Murray said: 'Cell phones, iPods, computers and many other modern electronic devices have a useful life of maybe a year or two before they become obsolete. It doesn't make sense to use hazardous materials in these disposable devices.'"
Link: California Wants Green iPods
Qualcomm CEO Says Wireless iPod 'Makes Sense'
Reuters reports:
"Qualcomm Inc. Chief Executive Paul Jacobs said on Monday he believes it makes sense for Apple Computer Inc. to develop a wireless version of its popular iPod music player as cellphones are beginning to compete with portable music players.
"'It makes sense to me that they would see the phone as potential competition . . . To me having the wide area (wireless) connection is really a cool thing,' Jacobs said in New York at the Reuters Global Technology, Media and Telecoms Summit."
Link: Wireless iPod Would Make Sense: Qualcomm CEO
$199 Service to Link iPod nano to Mobile Phone Music Stores
The Register's Tony Smith reports:
"We're not quite sure why you'd want to download tracks to your iPod nano from an expensive mobile phone operator-run music store rather than the cheaper, iPod-friendly iTunes Music Store, but US start-up Wingspan Investment Partners says it will let you do so this Summer for a mere $199.
"Its iLoad-c will fit onto the back of a Nano and connect the device to music stores run by Verizon, Sprint/Nextel, Cingular and T-Mobile, ready to buy and download songs over the air - with the extra GPRS usage levy that implies. It's a novel idea...."
Link: iLoad to Link iPod nano to Mobile Phone Music Stores
Tips
TV Out Support for Color and Video iPods
An updated Apple Knowledge Base article says:
The following iPod models have support for TV Out:
Fifth Generation iPod (iPod with video)
iPod with color display (iPod photo)
Note: Other iPod models may support viewing of photos or slideshows on the iPod display but do not support TV Out.
The following docks support TV Out when used with an iPod model that supports TV Out:
iPod Universal Dock
iPod with color display Dock (iPod photo Dock)
iPod models that support TV Out can support viewing on a television two different ways.
Method 1 (Composite video)
Using the AV cable connected directly to the top of the supported iPod or to the line out port on the supported dock.
Method 2 (S-video)
Using S-video when a supported iPod is in a supported dock.
Method 1 setup (Composite video)
This method can be used when the supported iPod is either in or out of the dock. Additionally, you would need a television or other video device that has RCA inputs.
Products
Apple Introduces iPod Hi-Fi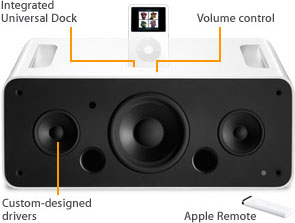 PR: Apple this week announced iPod Hi-Fi, an all-new high-fidelity speaker system that works seamlessly with the iPod to redefine the home stereo system. iPod Hi-Fi delivers breathtaking acoustic performance and room-filling sound unlike any other speaker system designed for the iPod in an innovative, all-in-one design that can be powered from a wall socket or by six D-cell batteries. iPod Hi-Fi is easily controlled by the Apple Remote for an amazing stereo experience in any room in the house.
"Apple is reinventing the home stereo with the new iPod Hi-Fi, the first iPod accessory that adds true high-fidelity sound quality to the iPod," said Steve Jobs, Apple's CEO. "iPod Hi-Fi's unrivaled acoustic performance and stunning design is at home in any room in the house."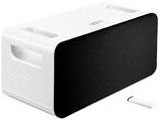 iPod Hi-Fi has been designed and engineered by Apple to deliver unrivaled sound quality, realistic sound imaging and optimal audio performance. Its clean, all-in-one design features a unique isolated enclosure system that includes two custom designed wide-range speakers and a tuned, ported bass system, minimizing vibration while maximizing sound quality and allowing users to listen to their favorite music as it was intended with amazing sound clarity and rich, deep bass. iPod Hi-Fi features handles to easily transport your stereo anywhere, a removable front grille with precision-mounting clips, touch-sensitive volume control buttons, the Apple Remote for easy song and volume control from anywhere in the room, a universal power supply incorporated into the all-in-one design so there's no bulky power brick to weigh it down, and the ability to power iPod Hi-Fi from six D-cell batteries for true portability.
Featuring seamless integration with all iPods with a dock connector, iPod Hi-Fi automatically recharges your iPod while docked and displays features of iPod that maximize the iPod Hi-Fi experience such as Tone Control, Large Album Art mode and volume mirroring.* iPod Hi-Fi includes a dual-purpose 3.5-mm auxiliary input that accepts either analog or digital signals for easy connection to a wide range of audio sources. iPod Hi-Fi is compact and can be powered by AC or six D-cell batteries, providing more flexibility than any traditional home stereo and is perfect for use not only at home, but just about anywhere you go without compromising sound quality.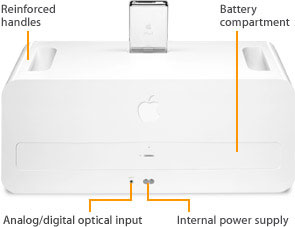 Apple today also announced new luxurious leather cases designed specifically for the fifth generation iPod and iPod nano models. The Leather Case for iPod is made with fine, hand-crafted Italian leather and features a soft and durable interior lining for a secure fit, making it the perfect carrying case for iPod or iPod nano.
iPod Hi-Fi includes the Apple Remote, a removable grille, an AC power cord and 10 Universal Dock adapters, and is available for $349. The Leather Case for iPod is available in 30 GB and 60 GB models as well as an iPod nano model, each for $99. iPod Hi-Fi and all models of the Leather Case for iPod are available through the Apple Store, Apple's retail stores, and Apple Authorized Resellers.
*Tone Control and Large Album Art features available with iPod nano and fifth generation iPod.
Limited Edition iPod Necktie
The Register's Tony Smith reports:
"British shirt-maker Thomas Pink has begun selling a limited edition tie with an integrated iPod holder, the better to allow City gents to groove to their favourite beat combos as they battle their way to work every morning."
Link: Thomas Pink Collars iPod with Commuter Tie
Contour Design 'Showcases' the Ultimate in iPod Protection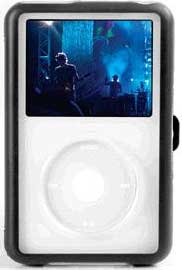 PR: Contour Design, Inc. introduces two new cases for Apple's latest generation of iPod digital music players with video, the Showcase video 60 and Showcase video 30.
Based on Contour's original market leading Showcase, the Showcase video is even slimmer but doesn't compromise on protection. "By applying advances in high quality dual-injection molding technology, our design team has created a distinctive case that complements the clean, sleek beauty of the Apple iPod with video," said Mike Jackle, spokesperson for the Mac Media Group at Contour Design. He goes on to state, "There are many 'hard cases' out there that offer protection, but they all somehow compromise that incredible iPod look and feel. We believe we have 'covered' all of these and much more with our ultimate premium hardshell protection: the Contour Showcase video 30 and video 60." Featuring larger crystal clear surfaces on both the front and back, the new Showcase video shows off even more of the iPod it protects.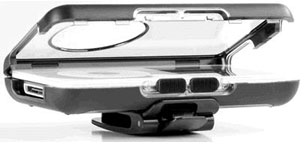 Taking design cues from the original Showcase, the new case for the video iPod keeps the sleek shock-absorbing rubber and the bookstyle opening. The Showcase video also brings features to the case based on consumer input. "We did a prerelease of the Showcase at Macworld and got some great feedback," said Mike Jackle, "and made improvements to produce a perfect case for the iPod with video." The headphone port is now larger to accommodate oversized high-end headphones, such as those made by Shure, Bose, and Etymotic and it uses a new secure streamlined latch. Designed for the active lifestyle, this case allows for easy access to all of the controls and can be taken anywhere with its comfortable, horizontally mounted belt clip.
Key Features and compatibility
Showcase video 30 fits 30 GB iPod with video. Showcase video 60 fits 60 GB iPod with video.
Sleek, clean design: a seamless integration of clear, protective, durable, and new shock-absorbing materials.
iPod screen perfectly visible through protective impact-resistant clear plastic.
New Advanced secure slide latch mechanism for easy opening and closing.
Click wheel easily accessible.
Top and bottom openings provide full access to connectors, headphone jack (fits oversized headphones) and hold switch; compatible with most popular iPod mountable accessories.
Strong, detachable belt clip mounts horizontally and provides a secure, comfortable fit.
Available in Black.
Both the Contour Showcase video 60 and video 30 come in black.
The MSRP is $32.99 (UK £26.99 incl. TAX and Europe €29.99 ex TAX) and the Showcase video 60 is available now. The Showcase video 30 will begin shipping in late March or earlier. Both the Showcase video 30 and video 60 will be available through Contour Design's extensive distributor and reseller partners.
Link: Contour Design
TuneFlex Auto Charger and Flexible Docking Cradle
PR: TuneFlex is a dock and charger designed with automobile convenience in mind. TuneFlex's flexible steel neck adjusts to any angle, and its cradle grips your nano and rotates to stay upright and easily readable in any position.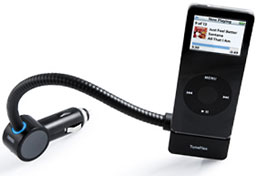 TuneFlex plugs into your car's 12 Volt accessory outlet (remember when they were called "cigarette lighters"?) to power and charge your iPod. The light at the base of TuneFlex's neck shows power status. TuneFlex's charging circuitry is even equipped with a fuse to keep your iPod safe and your mind at ease.
TuneFlex is flexible at getting tunes to your audio system, too, with these options: A built-in 1/8" stereo line-out audio jack lets you attach cassette adapters or cables from your nano to your stereo. But TuneFlex also includes a pass-through dock connector that lets you use digital devices, such as Griffin's iTrip FM transmitter, AirClick remote, SmartDeck cassette adapter, or others. A low-high audio output switch ensures sound without distortion.
Made for: iPod nano
Dock Connector Pass Through
Allows the use of other accessories such as the iTrip.
Line Out Jack
Price: $39
Link: TuneFlex Auto Charger and Flexible Docking Cradle
Content
Popularity of Podcasting Propels PodZinger
PR: PodZinger, the fastest, easiest, and most reliable podcast search engine, today announced that users are now able to search more than 70,000 individual podcasts for the information they care about, making PodZinger the preeminent search tool of audio content. Since its launch in January, PodZinger is the only search engine that enables users to find the word or phrase they are looking for by searching each and every word in audio content. Other milestones the search engine recently attained include:
A text index of more than 250 million words
More than 45 affiliates have PodZinger featured on their site
Podcast registrations have tripled
Daily traffic has increased by 43 percent
Number of searches has increased 450 percent
"PodZinger's growth is a reflection of the burgeoning interest in business, media and consumer podcast creation and use," said Alex Laats, president, Delta Division, BBN Technologies. "PodZinger has the most extensive text index in the world, making it possible for our users to perform the most relevant search of audio and video anywhere on the Internet. To help drive the continued adoption of podcasts, we are committed to continuously expanding this universe to ensure our users find the exact information they care about quickly and easily."
Compatible with most popular Web browsers, PodZinger uses speech-to-text technology to create a text index of the audio, enabling users to find content anywhere within podcasts and jump directly to the point where their keyword is spoken. From the PodZinger site, users can also subscribe to podcasts, download or listen to them, and even have PodZinger automatically deliver new podcasts on their own topics of interest using standard RSS feeds.
PodZinger is powered by BBN Technologies, leveraging its 30 years of speech recognition research to transform multimedia content into searchable words. PodZinger opens up a previously untapped source of content via a simple Web search. So when it comes to finding what you want in podcasts . . . just ZING IT!
Link: PodZinger
Link: BBN Technologies
Software
ReelBean Media Exporter and Player for Mac OS X
PR: ReelBean is a media exporter and player, offering many features that are only available in QuickTime Player to users of the Pro version. A key feature of ReelBean is the ability to convert your movies from many different formats to the video iPod format.
ReelBean offers support for exporting your movies to many of the most popular formats. As well as using ReelBean to convert your existing movies for the video iPod, you can export movies to many other common formats including AVI, MPEG-4, high definition MPEG-4 (H.264), 3GPP (for movies on mobile phones), digital video stream, image sequences and QuickTime movies.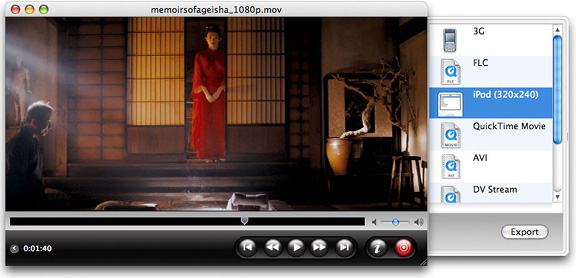 ReelBean also allows you to play streaming media delivered over the Internet. Streams could come from a live source (e.g. a webcast, audio feed, video camera or streaming server.)
ReelBean offers other pro-like features such as displaying detailed movie information and properties panels, as well as the ability to select and edit parts of your movies and save them to new files.
ReelBean runs on Mac OS X 10.4 (Tiger) and is available now during the trial period as a full-featured free download, and the full version will be available in late-February for $10.
Rather than complicating things for you, ReelBean let's you select from a range of easy to understand target formats . You can add upcoming export targets as new formats are available.
Simple and selective export.
You can with one click export a single track within a movie.
Easy to use and professional interface.
The elegant and simple interface of ReelBean makes it a breeze to use. With the extra tools window you can access even more features to further enhance your media experience.
Add smart skip shortcuts. A means to skip 5, 10, and 15 seconds into the movie by short-cut command.
Develop Document based version of ReelBean for drag-n-drop support. This will allow you to drag movie files onto the dock-icon, and to associate files with ReelBean.
Add more export abilities and variations. We are currently working on adding more ways to export movies.
GUI Enhancements and additions. There will be more tools and utility windows for your editorial needs.
We will add more features here as they arrive . . . stay tuned.
Aqua-Look and Feel
Written in pure Cocoa, it feels like any iLife application.**
Always be up-do-date.
Know that you always have the latest version of ReelBean, with the build-in software update feature.
* Planned feature.
** iLife, iPod, Cocoa, QuickTime, QuickTime Pro are registered trademarks of Apple Computer, Inc.
CryptoStick Software Suite Available for Use with iPods
PR: Research Triangle Software, a leading manufacturer of portable security solutions and devices, has announced that their CryptoStick Software Suite can now be loaded on to an iPod mobile digital device and other portable devices for use with a Windows-based PC. This additional flexibility means the software can be used on many more devices than had been available up to now, expanding its ability to protect valuable data.
"It will work from virtually any device a computer will recognize as a USB removable drive," said David Wimsey, Senior Software Engineer at RTS. "This means it can be carried virtually anywhere the user goes."
The CryptoStick Software Suite has been available for use on the CryptoStick brand USB flash memory devices, and has gained wide acceptance in that form. "We see this as another stepping stone in our development of this technology," said Jeffrey W. LeRose, President and CEO of RTS. "It allows our software suite to be compatible with iPod devices and other portable devices allowing the user to get all the features previously available only on a USB flash memory device. This means a user will only need to carry their preferred mobile device to do email and private Internet browsing when connected to a Windows based personal computer."
This configuration brings the CryptoStick Software Suite to portable hard drives and other memory units previously unable to be used in this manner. The software is carried on the device, and not the internal hard drive of the Windows based computer. Nothing is ever installed on the host computer, and the software runs from the device to perform its encryption and other security functions. This provides the user with a flexible and secure way to protect valuable data and other information wherever necessary.
The CryptoStick Software Suite includes CryptoBuddy encryption and decryption applications from RTS as well as the RTS Private Internet Browsing software, allowing the user to browse the Internet without leaving a data trail on the host computer. Along with these are eTrust PestPatrol anti-spyware software from CA and the free Firefox browser, Thunderbird email client, and Sunbird calendar system from Mozilla. This suite of products makes up the most powerful grouping of personal security systems available today. The full suite of products is available for $39.95.
Link: CryptoStick
Join us on Facebook, follow us on Twitter or Google+, or subscribe to our RSS news feed
Today's Links
Mac of the Day: iMac (Late 2006), introduced 2006.09.06. Apple introduced the biggest screen ever in an iMac with a 24" 2.16 GHz Core 2 Duo model.
Recent Content
Custom Search
Follow Low End Mac on Twitter
Join Low End Mac on Facebook
Favorite Sites
MacSurfer
Cult of Mac
Shrine of Apple
MacInTouch
MyAppleMenu
InfoMac
The Mac Observer
Accelerate Your Mac
RetroMacCast
The Vintage Mac Museum
Deal Brothers
DealMac
Mac2Sell
Mac Driver Museum
JAG's House
System 6 Heaven
System 7 Today
the pickle's Low-End Mac FAQ
Affiliates
Amazon.com
The iTunes Store
PC Connection Express
Macgo Blu-ray Player
Parallels Desktop for Mac
eBay

Advertise