8 Clever iPod Tricks, New Tin and Aluminum iPod Cases, 4 GB Flash Memory Chips from Samsung, and More
Compiled by Charles Moore and edited by Dan Knight - 2006.03.23
This Week's iPod News
Listen to email on your iPod? Turn a color or video iPod (30 GB and smaller) into a digital video recorder with a 3.6" screen? Turn your iPod into a flashlight? These and other "tricks" are listed in "Clever iPod Tricks" at PC World.
On the tech front, Samsung has introduced 4 GB flash memory cards. Anyone for a higher capacity iPod nano? It will happen eventually. And metal iPod cases - both tin and aluminum - are in the news this week, along with several software updates.
PowerBook, iBook, iPod, and other portable computing is covered in The 'Book Review. General Apple and Mac desktop news is covered in The Mac News Review. News about Apple's transition to Intel CPUs and other Intel developments is covered in The Macintel Report.
All prices are in US dollars unless otherwise noted.
For current iPod prices from a variety of sources, see our Best iPod Deals.
News and Comment
Products
Software
News and Comment
8 Clever iPod Tricks
PC World's James A. Martin says:
"We all know that Apple's iPod is a sleek, must-have MP3 player. But did you know your iPod can help you mix a cocktail? Keep up on your e-mail? Record a TV program?
"Here are eight things you might not have known you can do with your iPod."
Link: Clever iPod Tricks
Samsung Introduces 4 GB Chip-Sized Memory Card
PR: Samsung Electronics Co., Ltd., the leader in advanced semiconductor technology, announced a new high-performance memory solution for data-intensive, multimedia handsets at the third annual Samsung Mobile Solution Forum today.
The new solution, moviNAND, combines a MultiMediaCard v.4 (MMC) controller with up to 4 GB of NAND to simplify system design requirements for embedded nonvolatile storage. MMC is an open standard and universal interface specification that addresses market demands for higher performance in advanced portable consumer devices, including MP3/MP4 players, digital still cameras and small form-factor PCs, as well as mobile phones.
moviNAND can transfer mobile video and other multimedia data at speeds of up to 52 MB per second, allowing for much faster data storage and retrieval.
Samsung expects its sales to reach US$300 million this year and US$5.3 billion by 2008.
Link: Samsung
iPod and PSP Accessories Top List of China-made Wholesale Products
PR: iPod accessories are the most popular products offered at wholesale China prices on Global Sources Direct. Accessories for the popular MP3 player hold four of the top 10 sales slots. The five top-selling items are:
MP3/iPod FM transmitter
PSP USB cable
iPod car charger
iPod travel charger
Key chain alcohol breath tester
These products lead Global Sources Direct's list of merchandise for sale online in categories that range from audio, car and video game accessories to clothing, health and beauty products.
Site enhancements for faster online purchasing on Global Sources Direct
Global Sources vice president of Community Development, Peter Zapf, said: "As the number of online transactions has grown, we've made enhancements to make Global Sources Direct easier for buyers to do better business."
Since its launch in September 2005, Global Sources Direct has been used by wholesalers, eBay Power Sellers and retailers around the world, including Europe, the United States and Australia.
Global Sources Direct enables small and medium companies to buy from China. Ready-to-export products are offered online with: pre-negotiated factory prices, fast delivery by air courier, small lot orders and easy online purchasing.
Link: Global Sources
Products
Power Your iPod Longer with Belkin's TunePower for Video iPod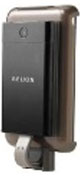 PR: The iPod video allows for approximately two hours of video viewing, which may not be enough to last until you reach your iPod dock. TunePower will give you this extra time so you can watch your videos, making it ideal for long flights, hikes, or for anytime you do not have access to an AC outlet. Two sleeves are included to fit the 30 GB and 60 GB iPod video devices. It features a protective case design to prevent dirt, dust, or impact from damaging the connector.
An AC adapter is included for simultaneous charging and playing. The TunePower also features a small and compact design with a low-level power indicator so you can monitor when batteries are low.
Link: Belkin
TinPod Artful iPod Cases
PR: TinPod is a new generation of iPod cases, designed to add some flavor to your favorite gadget. The TinPods were created as limited editions, featuring three original illustrations. These cases are not just fun accessories, they also protect your iPod from the occasional drops and inevitable scratches caused by all those other toys you keep in your bag. There will be new editions to come, but don't miss out on our debut collection.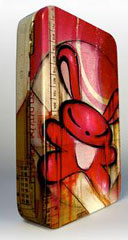 The designers of the TinPod wanted to add something special. Sure, there are lots of nice cases out there, but they didn't find any that really inspired them or that featured the work of artists. So they asked renowned illustrator Kurt Ketchum to help out. The three designs called Die Blechdose, L'Orange Lune and Change Attitude draw on the realms of music and travel. The TinPods are limited editions with only 5,000 cases in each series. With millions of iPods out there, you'll be one of the lucky few with a TinPod.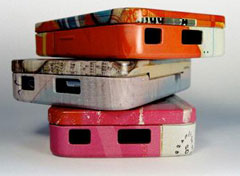 TinPods are constructed of tin, making them sturdy and durable. The top comes equipped with ports for your headset. The interiors have a 3mm neoprene lining, designed to protect your iPod all around.
TinPod was developed and designed by Kollective.de, a talented group of designers, illustrators, writers and innovators, dedicated to producing exciting new products. In the case of TinPod, they wanted to offer you a new and unique option to what already exists.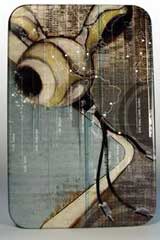 A native of Rochester, NY, Kurt Ketchum belongs to a new generation of creative visionaries that believe in blurring the lines between graphic designer, illustrator and fine artist. His interdisciplinary style - grounded in the belief that design and art should be a truly immersive experience - made Ketchum the perfect candidate to illustrate the first limited edition of TinPod. Ketchum has worked for a number of leading consumer and promotional brands, including Pepsi, Apple and Parsons School. www.smuvcentral.com
The TinPod is designed to accommodate the following iPods: 3G: 10, 15, 20 GB; 4G: 20 GB; 4G Color: 20, 30 GB; 5G: 30, 60 GB.
For each TinPod you purchase the developers donate $1 to CITYarts. CITYarts empowers children & youth to collaborate with artists in transforming their communities through the creation of art.
TinPods sell for $16.95, 2 for $29.95
Link: TinPod Artful iPod Cases
More Colors for Titan iPod nano Case
PR: GizMac Accessories LLC, designer and manufacturer of innovative "Gizmos for your Lifestyle", announce the addition of new color choices for their Titan anodized aluminum Nano iPod cases. GizMac announced and displayed samples of the soon to be released Titan Nano iPod cases in their booth at the Macworld Exposition in January.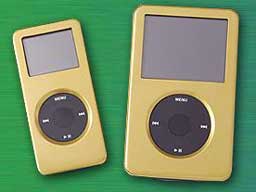 The new Nano iPod cases are part of GizMac's emerging line of accessories for the Apple iPod, additional GizMac products are expected to be released in the near future. "Black, aluminum, pink, purple and gold were our initial colors for the Titan Nano iPod cases," says Ken Vitto, Director of Marketing for GizMac, "But after we received a great number of responses telling us how unique and amazing the colors look from being anodized on an aluminum iPod case, we decided to add cranberry, baby blue, light green and dark orange colors right away."
In addition to its unique look from using anodized aircraft aluminum, the Titan Nano iPod case also provides a superior strength to weight ratio by the use of lightweight metal. Not only does the aluminum Nano iPod case protect the iPod, but the included screen and scroll wheel protector also shield the iPod from other potential damage.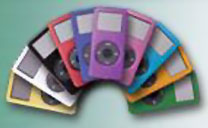 "'Cause Everyone Wears Their iPod Differently" is the motto of the Titan Nano iPod case for a good reason, the included carabiner clip, armband, belt clip with 360 degree rotation (for vertical, horizontal or any position in between) and lanyard accessories provide a wide range of ways to wear the Nano iPod case.
The Titan goes even one step further with the ability to easily change whether the top or the bottom of the Nano iPod case faces upward or downward, providing unmatched flexibility in an iPod case. To receive further details and to preorder the Titan Nano iPod cases, visit the GizMac Accessories website.
Link: GizMac
TuneWear Sienna Series Nappa Leather Cases for iPod
PR: TuneWear announces the new [Sienna] Series of high quality nappa leather cases for iPod video and iPod nano. Sienna series is available now.
Sienna Series
The Sienna series adds a new variation on our already popular Prie Ambassador, Prie TuneWallet and Prie TuneTag series. As with the previous models, the Sienna series is made from the highest quality smooth nappa leather and the Rich Caramel color is perfectly suited to both casual and formal occasions. All models in the Sienna range include TuneFilm, a clear protective film that covers the front and back of the iPod for extra protection.
Prie Ambassador Sienna
Prie Ambassador Sienna is extremely versatile. You can carry Prie Ambassador Sienna and your iPod in 3 ways. Use the removable hook to attach Prie Ambassador to a belt loop or strap, slip the clip on to clip your iPod onto a pocket or belt. Or you can use your own strap (not included) to hang Prie Ambassador Sienna around your neck or shoulder. Finally, if you just want to put your iPod in a pocket or a bag, you can remove all the hooks, straps and clips and you are ready to go. But then again, this case is so beautiful I don't think you will want to do that.
Prie TuneWallet Sienna
Prie TuneWallet Sienna is a wallet sized genuine leather case. With the flip-cover closed the Prie TuneWallet Sienna for iPod 5G provides complete protection for your iPod against dirt and scratches. There are also card slots (only one slot on the nano model) inside the flip-cover to fit credit cards, business cards, train passes and more. In addition There is a pocket for holding items such as cash, small documents and much more. The iPod holder and card slot both have "quick release" mechanisms which make it very easy to insert and remove your iPod and credit card etc.
Prie TuneTag Sienna
Prie TuneTag Sienna is a luggage-tag style genuine leather case for iPod nano. There is a transparent vinyl sheet which covers and protects both the iPod screen and click wheel from dirt and scratching, giving the face of the iPod nano complete protection from outside elements, yet still allows for perfect control of the click wheel and full view of the screen.
TuneTag also has a luggage-tag style belt strap which can be used to attach your iPod nano to the handle of your luggage, purse strap, belt loop or more.
Software
Podner Updates Movie Conversion Utility
PR: Wondering how to make the most of the new iPod - the one that plays movies and music videos? Looking for an easy way to get your movies into an iTunes-compatible format? Not sure how to get the best results from QuickTime® Pro?
Say howdy to your new Podner.
Reformatting your movie collection into iPod-ready files is a cinch with Podner. It's faster than QuickTime Pro's Movie to iPod (320x240) option, handles dozens of files with its easy batch processing mode and works with MPEG muxed audio.
Just drag your movie files to the Podner window, tweak the settings (if you want) then let Podner get to work. Afterwards, your movies show up in a special playlist in iTunes. Let iTunes synchronize with your iPod and you're good to go. It's all in a day's work for you and Podner.
Sound difficult? Shoot us an email and we'll get back to you pronto with extra help. Splasm is known for its fast and friendly customer support.
Features:
MPEG-4 and H.264 Export to iPod Without QuickTime Pro
Batch Processing
MPEG Muxed Audio Support
Cropping
Three Easy Quality Settings
High-quality Presets For iPod
Low-quality Presets For Podcasts
H.264 Single pass and Multipass Support
H.264 Multipass performance that outperforms other QuickTime-based solutions
Poster Frame Support During Encoding Process
iTunes Integration - Processed Files are Sent to iTunes
New in version 1.5:
New Features:
Cropping - Automatic 4:3, Constrained 4:3 and Manual
Significantly improved DV performance
Preference to enable/disable DV deinterlacing
Preference to prompt for output location before each process
iMovie HD project support - drag .iMovieProject files directly to Podner
Fixes:
Custom Encoding that meets all iPod specifications and specifies H.264 Multipass will now be iPod-compatible when the data rate is set at or below 600 Kbps
Podner will now release references to all source files at the end of each process, allowing source files to be removed
iPod, 320 x 240, H.264 at Better and Best Quality have been restored to Podner 1.3 performance levels
System requirements:
Mac OS X 10.3.9 or later
iTunes 6 or later
QuickTime 7.0.3 or later
Temporary hard drive space equivalent to 3x the size of each processed movie file
System support: PPC/Intel
Price: $9.95
Link: Podner
TuneTech for iPod 1.15 Released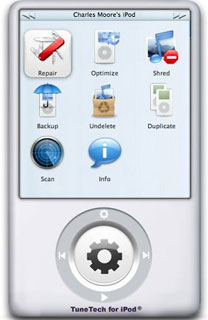 PR: TuneTech for iPod optimizes iPod performance, protects data, can defragment your iPod's hard drive and optimize your playlists for less wear-and-tear and better battery life. It also offers advanced management features including media surface scanning and volume testing and repairing capabilities to keep your iPod drive in ripstop condition. Additionally, TuneTech for iPod can erase files and volumes on your iPod securely for added security, and its Backup and Duplicate features allow you to create a backups of your music and data quickly and conveniently. If you ever accidentally delete songs, TuneTech for iPod's Undelete feature can recover them.
TuneTech for iPod (formerly Pod Genius) is the only comprehensive software utility geared specifically toward iPod users. Recover lost or damaged music, repair corrupted data structures, backup your iPod to an exact copy, permanently delete unwanted files, or optimize the file layout of your music. You've invested a lot into your iPod and music, with TuneTech™ for iPod®, you can be sure your iPod will faithfully perform and your investment is well-protected.
TuneTech for iPod Features in summary:
Backup: Make an exact clone of your iPod for safe keeping. This is the fastest way to backup all the music, pictures and files that are stored on your iPod. Use your backup as protection against data loss.
Optimize: Increase battery life and minimize wear-and-tear. Your songs get optimized by physically putting them in order on the drive in the order that you want to hear them, minimizing hard drive access and reducing the work your iPod has to do.
Repair: This is the solution if songs or play lists have become inaccessible due to software errors. If songs are missing or play erratically, repair immediately before running the risk of permanent data loss.
Undelete: Accidentally deleted music? Undelete quickly recovers them in perfect condition.
Shred: Permanently delete your songs and files from your iPod. Do your part to protect against music piracy... if you sell or donate your iPod, shred your music to prevent unauthorized use.
Duplicate: Make an exact copy of your iPod on another iPod - perfect when migrating all your data in one shot from your old iPod to a newer model.
Scan: Analyze your iPod's hard drive for media defects that can endanger the data on your iPod.
Info: Display detailed information about your iPod's hard drive to enable sophisticated troubleshooting.
Think of it as health care insurance for your iPod.
New in version 1.15
Improved duplication speed
improved iPod optimization and defragmentation speed
Improved error handling before and during repair and rebuilding of iPod media
System requirements:
TuneTech for iPod Is optimized for:
Mac OS X v10.4.x Tiger
Mac OS X v10.3.x Panther
TuneTech does not support iPod shuffle or iPod nano
Tune Tech will only work with Macintosh formatted iPods.
TuneTech for iPod sells for $59.00, and can be downloaded in a Lite version or the Trial version, which has part of the feature set disabled.
The following features are disabled in the trial version:
Restore
Undelete
Recovery
Duplicate
Optimize
Repair and Rebuild
TuneTech for iPod is also available on CD.
Babya Logic & Logic Pro Updated with iPod Utility
PR: Babya Software Group has announced a major update to Babya Logic and Babya Logic Pro.
Babya Logic is an innovative and powerful suite of pro-quality audio production software suite, which includes Babya Logic, an 8-track MIDI sequencer-that enables users to create and score their own music using a variety of pro-quality applications and also includes Babya Jam Pack: Studio Tools, Babya MicroKit and UltraSynth.
Babya Logic is suitable for composing, scoring and producing music and soundtracks.
Babya Software Group's product manager for digital media, Alvin Novick said: "Babya Logic is a suite of audio production software that includes Jam Pack 1 which provides six impressive ways to make or edit audio, plus Babya Logic and a powerful riff and percussion generator. Version 1.4 adds Babya iGrab - an easy to use application for copying songs from a Apple iPod."
Babya Software Group's A. A. Fussy noted, "Babya Logic is a powerful suite of pro-quality audio production software that enables anyone whether you are a musician or home user to easily create and compose music for the web,movies and the Apple iPod."
Babya Logic is comprised of the following applications:
Babya Logic:
A 8-track MIDI sequencer
Copy Selection
If there is an area currently selected ( highlighted in blue ), this function will copy that area into memory.
Instruments
Select from 128 melodic instruments ( 0-127 ) and 47 percussive instruments ( 128-174 ). Selecting an instrument will change the current instrument for the currently selected track. Next time a note is placed it will be in the newly chosen instrument. If there is a selected area ( blue highlight ), all notes in that area on the current track will be changed to the new instrument. Transpose
If you'd like your song to be in a higher or lower key, use the Transpose function. Clicking once will raise or lower every note one semitone. If you have an area selected in blue only those notes will be affected.
Includes 174 software instruments and several sample files.
Saves in a custom .mia file format or you can export to the common .mid file formats-easily enabling you to use your created music in Apple( R ) Logic and Logic Express.
Babya Logic and Logic Pro also includes:
Babya MicroKit - percussion sequencer software
Babya UltraSynth - a standalone virtual synth application that enables users to generate cool and intriguing sounds.
Babya Bass Maker-generate bass based music
Babya EXM Synth-a software oscilloscope based synth with a custom envelope editor
Babya EFM Synth-FM sound synthesizer
Piano Studio-a powerful virtual piano music studio
Babya SampleStudio:
Mix and record sound samples
Effect Plugins:
Babya Audio Effects Studio: Quickly audition sound files with gargle or echo effects
SoundGen: Quickly produce PCM audio files with ADSR support
Babya iGrab: Babya iGrab is a easy to way to grab iPod music, without having to manually do it. This utility will let you rip either a single song, or the entire music collection of the iPod. Babya iGrab will work with most iPods-including the latest fifth generation iPod and iPod nano.
The Babya Logic and Logic Pro 1.4 updates are now both available to download for all users of Babya Logic and Logic Pro.
iPod.iTunes - and the Music Goes On
PR: Unlike other iPod software to copy songs off the iPod, iPod.iTunes does real add-synchronization, even in two directions if desired:
From iTunes to iPod is especially useful if you want to synchronize from iTunes to a non-linked iPod.
iPod.iTunes evaluates the source for songs, podcasts, videos and/or playlists that are not in the target and only adds these seamlessly, avoiding duplicates, saving your time. Unlike iTunes' "auto update" function iPod.iTunes generally does not delete content in the target. iPod.iTunes can also transfer song dependent data like "My Rating", "Last Played", "Play Count", album artwork, etc...
8 synchronization modes in 2 directions (from iPod to iTunes and from iTunes to iPod).
Simple one click synchronization
Option to choose songs manually if you don't want to synchronize them all. You can listen to songs before you choose to transfer them.
Songs and playlist entries can be synchronized together or separately. If the songs on the iPod are already in the iTunes library and you only want the iPod playlists, you can use the playlist synchronization alone.
With every song synchronization iPod.iTunes creates a date&time stamped playlist in iTunes containing the songs which were transferred. This gives the option to easily add those songs to existing playlists or to create new playlists from the transferred songs.
Support for the iPod's "On The Go" playlist.
Copies by default seamlessly to the iTunes music folder and creates a folder structure based on artist/album, as in iTunes (with options).
File naming based on song number and song name, as in iTunes.
File formats: MP3, AAC/MP4, Protected AAC (iTunes Music Store), Audible audio books, Podcasts, Apple Lossless, Video.
Supports Windows-formatted iPods.
iPod.iTunes can run directly from the iPod, so it's always there when you need it.
Registration is independent of the computer. You can just connect your iPod to any Mac without registering every machine.
iPod.iTunes can be used to
Keep songs, videos and playlists on different Macs and iPods up to date.
Do a full restore of songs, videos and playlists from iPod- i.e. after a hard disk failure or if you buy a new Mac.
Revert accident deletion of songs, videos and/or playlists in iTunes, if these are still on your iPod.
Transfer an iTunes library from one Mac to another via the iPod.
Update a foreign iPod which is not linked to your iTunes library (without deleting content on it or touching the link).
Update a linked iPod (without deleting content on it as iTunes' "auto update" does when tracks on the iPod are no longer in the iTunes library).
Clone an iPod (see Help menu in iPod.iTunes).
New in version 3.1.7:
On Intel-Macs a harmless but annoying "Error -1762" could appear.
System requirements:
Mac OS X 10.3 through 10.4.5
An Apple Macintosh with an Intel or PPC processor (iPod.iTunes is an Universal Binary).
iTunes 3.0.1 through 6.0.4
Any Mac/PC-formatted iPod with all iPod firmwares released by Apple to date (the last iPod Software Updater was released 01/10/2006). Does currently not work with the iPod shuffle.
System support: PPC/Intel
Link: iPod.iTunes
Join us on Facebook, follow us on Twitter or Google+, or subscribe to our RSS news feed
Today's Links
Mac of the Day: Macintosh 512K Fat Mac, introduced 1984.09.10. The first Mac with enough memory for serious work.
Recent Content
Custom Search
Follow Low End Mac on Twitter
Join Low End Mac on Facebook
Favorite Sites
MacSurfer
Cult of Mac
Shrine of Apple
MacInTouch
MyAppleMenu
InfoMac
The Mac Observer
Accelerate Your Mac
RetroMacCast
The Vintage Mac Museum
Deal Brothers
DealMac
Mac2Sell
Mac Driver Museum
JAG's House
System 6 Heaven
System 7 Today
the pickle's Low-End Mac FAQ
Affiliates
Amazon.com
The iTunes Store
PC Connection Express
Macgo Blu-ray Player
Parallels Desktop for Mac
eBay

Advertise