Apple Adds Volume Limit to Newest iPods, iPod Etiquette, iBikeMount for iPod nano, and More
Compiled by Charles Moore and edited by Dan Knight - 2006.03.30
This Week's iPod News
Responding to complaints that listening to the iPod at too-high volumes can cause hearing damage, Apple has introduced a software update for the iPod nano and 5G (video) iPods that allows users to set their own maximum volume.
And just in time for spring (we're expecting 65° and sunny in this part of Michigan today), iBikeMount lets you mount your iPod nano to your bicycle's handlebars. If only they made one for full-sized iPods....
PowerBook, iBook, iPod, and other portable computing is covered in The 'Book Review. General Apple and Mac desktop news is covered in The Mac News Review. News about Apple's transition to Intel CPUs and other Intel developments is covered in The Macintel Report.
All prices are in US dollars unless otherwise noted.
For current iPod prices from a variety of sources, see our Best iPod Deals.
News and Comment
Products
Software
News and Comment
Apple Adds Volume Limit Setting to 5G iPod, iPod nano
PR: Cupertino, California - March 29, 2006 - Apple today announced a software update for the iPod nano and fifth generation iPod, allowing customers to easily set their own personal maximum volume limit. The software update also gives parents the ability to set a maximum volume limit on their child's iPod and lock it with a combination code.
"As the leading provider of digital music players, Apple continuously brings iPod customers innovative and easy to use solutions," said Greg Joswiak, Apple's vice president of Worldwide iPod Product Marketing. "With the increased attention in this area, we want to offer customers an easy to use option to set their own personal volume limit."
The new software update 1.1.1 is available immediately as a free download for the iPod nano and the fifth generation iPod from www.apple.com/ipod/download. The new Volume Limit feature works with any headphone or accessory plugged into the iPod headphone jack as well as the iPod Radio Remote.
Link: Sound and Hearing
Little Rules of iPod Etiquette
The Milwaukee Journal Sentinel's Vikki Ortiz says:
"Although there are no hard-and-fast rules on iPod etiquette, here's a look at what people at various places in the Milwaukee area would think if you kept your ear buds in."
Link: iPod's Little Rules of Etiquette
Quanta to Make Next-gen Video iPod
The Register's Tony Smith reports:
"Taiwan's Quanta has won the contract to manufacturer Apple's eagerly anticipated video-oriented iPod, Chinese-language newspaper the Economic Daily News has claimed citing unnamed industry sources.
"Such a device is believe to be in the pipeline. Pictures said to show the new iPod were posted online earlier this month then quickly removed, allegedly at the behest of Apple's lawyers, an action usually only reserved for images of real product."
Link: Quanta 'to Make Next-gen Video iPod'
Professors Getting Wise to the Power of Podcasting
MacNewsWorld reports:
"The subject of exporting software engineering jobs to India generates heated debate both in the class and the community. Plenty of published articles and broadcast segments promote the pros and cons from a U.S. viewpoint, but what do East Asians think? Thanks to podcasts, students can gain some insight....
"All over the country, college faculty and administrators are plugging themselves into one of the newest - and hottest - technologies in an effort to better connect with students."
Link: Professors Getting Wise to the Power of Podcasting
2007 Dodge Caliber Comes with Built-in iPod Support
PR: Daimler-Chrysler's new 2007 Dodge Caliber replacement for the long-in-the-tooth Neon compact comes equipped with support for Apple's iPod built-in.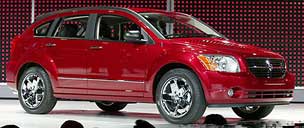 Caliber is designed to spearhead the Dodge brand's global expansion with gas and diesel powertrains available in local markets and both left- and right-hand drive availability. Aggressively priced at $13,985 (including a $560 destination charge),, $410 below the discontinued Dodge Neon, Caliber combines crossover styling with space-efficient packaging, interior flexibility, innovative features and affordable performance.
One of those innovative features is a floor console sliding armrest whose lid includes a unique flip pocket for storing a cell phone or an MP3 player. The iPod is not specified by name in Daimler-Chrysler literature, but the pocket obviously fits Apple's MP3 player like the proverbial glove as this photo illustrates.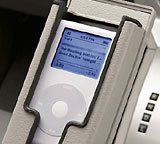 The rubber-lined "MP3/Cell Phone Holder" will keep the iPod securely in place and provide you with convenient access to it en route.
Also audio-related, is the Dodge Caliber's MusicGate Power - an available nine-speaker Boston Acoustics premium sound system with subwoofer - includes two articulating speakers packaged in the liftgate. When the liftgate is open, the speakers can swing down from the trim panel to face rearward for tailgating and other activities.
The auxiliary stereo input jack (standard on the base radio) provides a direct connection to your iPod so you can listen to your digital music collection on the road without the hassle of cassette tape adaptors or FM transmitters. Optional is a SIRIUS satellite radio that lets you tune in more than 120 channels of digital-quality entertainment, including 65 commercial-free channels, for uninterrupted cross-country reception, and a free 1-year subscription provided by SIRIUS.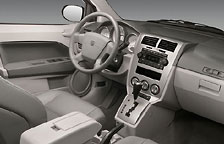 The Dodge Caliber looks like a home run for Daimler-Chrysler, especially with that low-ball base price. I'm a longtime Chrysler fan, but I never much warmed to the Neon. The Caliber looks like an altogether more attractive and desirable package, although in the crossover segment I'm still smitten by the Chevy HHR. However, the HHR doesn't have that cool iPod holder.
(Photos courtesy of DaimlerChrysler AG)
Link: Dodge Caliber
Products
iBikeMount: Take Your nano Along for the Ride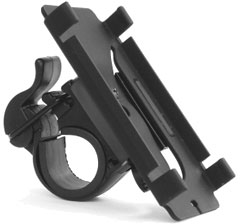 PR: The new iBikeMount quickly and securely mounts the iPod nano to handlebars of bicycles, exercise machines, strollers and more to make underway listening simple and enjoyable. The new mount eliminates the inconvenience of digging the iPod out of a pocket, removing it from an armband, or bringing a dangling lanyard up to the face in order to make selection or setting changes.
iBikeMount keeps the nano safely in plain sight and within easy reach. Click for high-res image "iBikeMount is exactly what our customers have wanted since the nano's release in 2005," said Richard Sarver, president of MacFriends, a retailer carrying a wide variety of iPod accessories. "iBikeMount's handlebar connection is a perfect fit for the active lifestyle nano users enjoy."
Features
Designed specifically for use with iPod nano
Easily attaches to a variety of handlebar sizes (22 mm - 26 mm)
No tools required to attach or remove
Lightweight (1.4 ounces/40 grams)
Flat black color matches black or white nano
Fits 1, 2 and 4 GB nano models
iBikeMount, priced at $29.99, is available immediately. The product is backed by a 30-day unconditional money-back guarantee. Orders can placed through Strata Systems partner MacFriends, the exclusive web distributor of iBikeMount.
MacFriends is equipped to handle the consumer and business demand anticipated for iBikeMount. iBikeMount is a trademark of Strata Systems LC.
Link: iBikeMount
iPod & iTunes: The Missing Manual, 4th Edition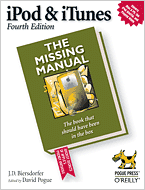 PR: Sebastopol, CA - "The tiny square pamphlet that Apple includes with each artfully designed iPod package is enough to get your iPod up and running, charged, and ready to download music," says J. D. Biersdorfer, technology Q&A columnist for the "New York Times." "But if you want to know more about how the iPod works, all the great things it can do, and where to find its secret features, the official pamphlet is skimpy in the extreme." J.D. remedies the situation by delivering the full, fun, and freshly updated "iPod & iTunes: The Missing Manual, Fourth Edition" (O'Reilly, US $24.99) for getting the very most out of the multimedia iPod experience.
There's something for every iPod enthusiast in this fourth edition - including tips and tricks for video iPod. From meeting the iPod for the first time (using the click wheel, navigating the menus, cleaning the fingerprint magnet, and more) to getting to know the software (getting acquainted with podworthy file formats, playing with iTunes, and podcasting) to extreme iPodding (investigating shareware and gadgets, troubleshooting, and finding software updates).
Covering the Mac and PC platform and iTunes version 6 - and including the mini but mighty iPod Shuffle - this essential guidebook explains all the cool musical and nonmusical things to do with an iPod, from looking up phone numbers to checking the weather report. Tips, tricks, and shortcuts include:
iPod as portable stereo: iPods are happy to share their tunes with the home stereo. Move from ear buds to speakers with little more than a cheap cable.
iPod as video player: Video iPod owners are liberated from the couch! They'll learn how to find and play TV shows, music videos, and more.
iPod as photo album: The color screen iPods now serve as portable picture frames. This book shows readers how to whip up fancy slideshows and even display them on a TV.
iPod as external drive: Hook the iPod up to a Mac or Windows machine and use it to copy, back up, or transfer files. -iPod as Palm Pilot: The iPod can suck in the calendar, address book, to-do list, and notes from a Mac or PC, and then display them at the touch of a button. It also doubles as alarm clock and sleep timer.
iPod as GameBoy: The iPod's games are perfect time-killers for waiting rooms, bus rides, and lines at the Department of Motor Vehicles.
For more information about the book, including table of contents, index, author bio, and sample chapter, see:
iPod & iTunes: The Missing Manual, Fourth Edition
J. D. Biersdorfer, Edited by David Pogue
ISBN: 0-596-52675-X,
336 pages
$24.99 US, $34.99 CAN
Scosche RF Remote for iPod nano
PR: Scosche Industries, a leader of mobile electronics aftermarket accessories, has announced its new Scosche FreestyleT line of RF remotes specifically designed for 5th generation iPods (IPRF-Doc) and iPod nano (NRF). These product-specific remotes offer flexibility in music control without detracting from the iPod's sleak style. Both RF remotes offer up to 150-feet of range, the signal capability to travel through walls and around corners, and can control key functions: play/pause, on/off, volume, track and RWD/FFD.
"Scosche Industries understands the digital age and offers accessories that enhance the functional capabilities and enjoyment of an iPod," said Kas Alves, vice president, sales and marketing, Scosche Industries. "Our RF remotes offer wireless control of iPods enabling users to take and control their music anywhere."
The NRF is specifically designed for the iPod nano. It is a 3 in 1 product acting as a case, RF remote with 150 ft. of range, and fits easily in the dock connector on the bottom of the Nano. Designed in sleek black,, the NRF measures 4 1/4" (L) x 1 5/8" (W) x 5/8" (H) for a seamless addition to the nano without adding bulk. The IPRF-Doc is designed for 5th generation video iPods, is featured in sleek black and provides unspoiled integration with your iPod.
Both remotes easily plug into the dock connector and feature a pass through for charging and syncing, Bluetooth integration, FM transmitters or headphones. Additionally, consumers can use the Audio 3.5mm to RCA cable to the Audio-port on the RF transmitter and control his or her music anywhere without having to touch or see the iPod. Both remote controls offers basic functions plus random song feature and can also access playlists.
Both the NRF and the IPRF-Doc will be available at specialty retailers across the country for $69.95 and will include the specific remote, receiver, and 3.5 to RCA adapter cable. The receiver uses power from the iPod and does not require batteries.
Scosche Industries, founded in 1980 by Roger and Scotia Alves, is a leading manufacturer of high quality car stereo installation accessories and products. The publisher of the Auto Sound Encyclopedia, Scosche Industries manufactures and markets four distinct lines of product. These brands include ScoscheR, EFXR, AccumatR and SoundKaseR. With a dealer network of over 2,000, numerous O.E.M. products, and 52 patents, Scosche Industries is a proven leader in the automotive aftermarket business.
Link: Scosche
World Cup 5G Leather iPod Case
PR: The Sumo World Cup 5G iPod Case with 9 different countries will be available in late April.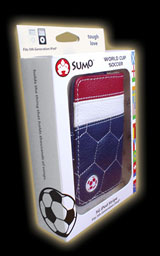 Sumo's San Francisco roots inspired a durable line of bags and cases made from reliable materials that are soft to the touch and constructed to last. Sumo's products are made with a simple credo in mind: build modern solutions for busy, creative people who want to hold their stuff in ease and style.
There's a "take it anywhere" mindset to Sumo: your laptops, Treos and iPods go from office to home to weekend trips, so we think their outerwear should enjoy the journey, too.
Survive the stomp and protect your stuff.
Tough, but in a good way.
Link: Sumo
Gearing Up Your iPod
PR: 101cells.com, a company of six years and still growing is announcing their continuous mission to offer consumers the best source for cellular accessories. But now they are also expanding their mission to start giving consumers the reliable and complete source to Apple iPod accessories. Apple iPod is a growing MP3 player that incorporates multiple features into one compact electronic gadget. Apple's line of iPod has integrated video stream, photo, and audio features together. 101cells.com have completed a full range of research to get products to their consumers to compliment the usage of the iPod.
101cells.com have added to their website the line of Insten branded iPod accessories. The Gooseneck FM Transmitter features an iPod nano holder with an innovative, flexible steel-neck, and offers easy repositioning of your iPod nano for your comfort, convenience, and safety while driving. The Sync and Charging Cradle for iPod nano is an elegant home base for charging and syncing with your computer or for connecting iPod nano to your home audio system. This cradle is also available with remote control. Insten comes out with very innovative products, and 101cells.com see that they are the best complimentary accessories for the line if iPods.
101cells.com also have added Xtrememac's line of accessories. The most popular are the Iconz character cases which included Homer Simpson, Tweety, NBA team logo, MLB team logo, and more. A new line of cases from Xtrememac are the Tuff Wrap, Micro-Glove, Micro-FliP cases which offers added protections for the iPod to prevent damage and mal-usage.
These products are less expensive then the Apple line of accessories but they are equally as good in quality and they have the same functions and in some cases even more. 101cells.com is updated on the latest iPod. Their accessories line includes the older versions and the new versions (U2, mini, nano, photo, video). These new products are very high in demand. In order to fully use the iPod to the fullest, the best complimentary products are needed. 101cells.com have provided their cellular accessories for years and 101cells.com aim to do the same for their consumers for iPod accessories.
Link: 101cells.com
Software
Intervalz Turns iPod into Metronome, Pitch Pipe, More
PR: Intervalz is a set of MP3 files that will turn your iPod into a Maezel metronome, tuning "pitch pipe", as well as a quiz machine that can test your ability to identify intervals and chord types!
In addition, several guitar tunings are included and for a bonus: ukulele tuning.
Intervalz includes a Maezel metronome including a few additional tempos, major, minor, diminished and augmented chord test, interval test (up to one octave), blues, harmonic minor, Jazz melodic minor, major, melodic minor and natural minor scales, A440Hz, A442Hz, A444Hz tuning pitches, guitar drop C, guitar slack G, guitar standard, guitar taro patch and ukulele tunings. I will be adding more content in the future.
Intervalz sels for $9.95 (introductory offer)
After payment you will receive an email with a download link for Intervalz.
Link: Intervalz for iPod
eNotes, a Complete Tool to Manage Notes in Your Mac and iPod
PR: Use the eNotes to maintain all your ideas, data, recipes and notes up-to-date. Save every interesting idea or text easily from any application, any time, perfectly organised and keeping your Desktop clear.
And if you have an iPod, take all this information, tasks, calendar and to-dos with you.
Create as many notes as you need directly from your favourite application. Use all the categories you want, assign priorities, include graphs, add due dates for your tasks and decide when do you want to be alerted of the deadline of an event...
Do you want to synchronize your new note with your iPod? Perhaps you prefer it to pop up in your screen just a day before the alert time . . . Customize every note changing the background color, font color and transparency level. Do you need more categories? Don't worry, you can create, modify and delete them as many times as you need.
Use the contextual menu options to view only the categorized or prioritized notes.
You can decide the listing criteria: in alphabetic order, by priority, by category, only the uncompleted tasks . . . you can mix this ingredients with the search tool to control all about your notes.
Do you need to customize your note book? It's as easy as opening the preferences window and selecting everything, from the background color to the orientation (portrait or landscape) . . . just as your old notepad.
eNotes detects the URL and e-mail addresses in the text of the selected note. Click over the link and the web page will open in a matter of seconds, or your e-mail client will create a new message.
Use the search field to list all the notes that contain the text you type in . . . you can always use the menu to retrieve the latest 10 criteria used in your searches.
Create notes from any text snippet
Create tasks lists, reminders and alerts easily
Access your eNotes from any application
Organise and clasify your eNotes creating your own cathegories with your own icons
Synchronize your notes, tasks and calendar with other Macs or your iPod and take them with you everywhere!
eNotes is available in English, German, French and Spanish, see the 'Related Links' section, below on this page.
New in version 1.2:
Version 1.2.1 offers more stability, comprehensiveness and speed, and features an enhanced interface, improving the usability and performance of the utility. eNotes allows users to create electronic notes on the fly, just selecting and dragging any text from any application to eNotes. Users can edit, modify, and save the note or use it as memo or task with prioritization and due date features, and more. Version 1.2.1: minor fixes and glitches on Drag & Drop. Registration feature improved.
System requirements: Mac OS X 10.2.8 or later.
System support: PPC
$14.95 demoware
Link: eNotes 1.2.1 Complete Tool to Manage Notes in Your Mac and iPod
Nero 7 Software: Digital Conversion and Plug-and-Play Video for 5G iPod
PR: Nero, leaders in digital media technology, today announced the new features of Nero Digital in its latest Nero 7 web update. It includes full support for Nero Digital MPEG-4/ASP and H.264/AVC content with plug-and-play video file transfer from a computer to an Apple fifth generation iPod.
"With outstanding video editing, authoring and encoding functionality, Nero Vision and Nero Recode really make the whole process effortless when preparing your content for iPod viewing," said Jim Corbett, Executive Director of Nero. "The addition of iPod profiles in Nero Digital now gives the millions of Nero and iPod users a new experience in unbeatable desktop and mobile performance."
With the integration of compatible iPod video resolutions of 320 x 240 MPEG-4/AVC and 480 x 480 MPEG-4/ASP into Nero, applications such as Nero Recode and Nero Vision are fully optimized for quick and portable media content creation.
MPEG-4 is rapidly becoming the audio/video standard format for mobile, portable, broadcast and streaming projects as well as for the next generation of high definition video content. Nero Digital's superior MPEG-4 AAC audio and AVC video format is at the forefront of codec technology.
Ever since its release, the iPod has transformed the portable device industry. Now, with the addition of MPEG-4 AVC, it is setting another milestone in portable video quality. It allows Nero Recode and Nero Vision to bridge the gap between desktop application usability and seamless transfer.
Link: Nero
Join us on Facebook, follow us on Twitter or Google+, or subscribe to our RSS news feed
Today's Links
Mac of the Day: Unitron Mac512, introduced 1985. Unauthorized Brazilian clone of the Mac 512K.
Recent Content
Custom Search
Follow Low End Mac on Twitter
Join Low End Mac on Facebook
Favorite Sites
MacSurfer
Cult of Mac
Shrine of Apple
MacInTouch
MyAppleMenu
InfoMac
The Mac Observer
Accelerate Your Mac
RetroMacCast
The Vintage Mac Museum
Deal Brothers
DealMac
Mac2Sell
Mac Driver Museum
JAG's House
System 6 Heaven
System 7 Today
the pickle's Low-End Mac FAQ
Affiliates
Amazon.com
The iTunes Store
PC Connection Express
Macgo Blu-ray Player
Parallels Desktop for Mac
eBay

Advertise