iPod Bunny Covers, Bluetooth iPod Soon?, Pod Couture, an iPod Dictionary, and More
Compiled by Charles Moore and edited by Dan Knight - 2006.04.13
This Week's iPod News
PowerBook, iBook, iPod, and other portable computing is covered in The 'Book Review. General Apple and Mac desktop news is covered in The Mac News Review. News about Apple's transition to Intel CPUs and other Intel developments is covered in The Macintel Report.
All prices are in US dollars unless otherwise noted.
For current iPod prices from a variety of sources, see our Best iPod Deals.
News and Comment
Products
Software
News and Comment
Bluetooth iPod Imminent?
The Register's Tony Smith reports:
"Is there a Bluetooth-equipped iPod on the way? UK girls'n'gadgets magazine Stuff certainly thinks so, based on a conversation it's had with an unnamed British retailer. If Apple's telling retailers to prepare for such a product, it can't be far off launching the thing.
"CEO Steve Jobs has, of course, been sceptical about such a device, claiming it adds one more battery - the one in the headphones - users have to remember to keep charged. Then again, he's expressed scepticism about not only Flash-based music players but also devices that play video too, and Apple has nonetheless released iPods with Flash and with video playback."
Link: UK Retailer Claims Bluetooth iPod Imminent
Things You Didn't Know About Apple's iPod
TechWeb.com's Alexander Wolfe says:
"Apple's massively popular music player has practically spawned a blogosphere all its own, with sites devoted to uncovering the latest hacks as well as contrary blogs that sing the praises of iPod alternatives.
"Meanwhile, Steve Jobs and company aren't sitting still, continuing to expand the iPod ecosystem with accessories to stoke sales.
"However, buried amid all that information are some little-known facts and helpful workarounds that can help you get more mileage out of your music experience. Accordingly, we bring you five things you might not know about the iPod."
Link: Things You Didn't Know About Apple's iPod
iPod in Your Car
ExtremeTech's Victor Loh says:
"I recently bought a 3.5mm stereo plug to connect my 1 GB iPod nano to the Eclipse CD-5423 head unit in my car. My deck, despite being an older model, is relatively iPod-friendly right out of the box. It comes with a rear auxiliary input, a jog lever for navigating long track lists, and is capable of displaying text information like ID3 tags and radio station titles.
"While I don't consider myself a 'golden-eared' (or even 'silver-eared' audiophile), 128 kbps MP3s leave me wanting, sometimes aching (literally) for more. At that compression, even Apple's white standard issue earbuds are only bearable for relatively short bursts. Projecting music through a decent car stereo is a different story altogether. I'm accustomed to CD-quality music in the car, and lossy MP3s don't really do it for me. Apple Lossless is spot on, but the file sizes are a bit hefty for the wee 1 GB Nano. I've found 320 kbps AAC is a good compromise, and I can probably go lower without consciously noticing a difference, but I'm sticking with it for now."
Link: iPod in Your Car
Automakers Missing iPod Action
The Boston Herald's Jerry Kronenberg says:
"Automakers have failed to keep pace with the recent iPod craze, mostly because manufacturers lock up car designs three years or more in advance. 'The electronics industry moves faster than the auto industry, and that's typically why cars have historically lagged on consumer electronics,' said automotive analyst Mark Fitzgerald....
"A new study by Newton-based Strategy Analytics finds automakers are offering consumers like Pace too few iPod-enabled cars. As a result, carmakers are largely missing out on the US$1.7 billion market for iPods and other MP3 players, researchers say.
"Strategy Analytics found that 53 percent of U.S. car buyers want vehicles with MP3 sound systems - something less than half of today's models offer."
Link: Automakers Missing iPod Action
NotPods
Forbes' Stephen Manes says:
"By now Apple's sainted iPod should be seeing real competition. Some enterprising company should be developing a dandy new device that costs the same as the clickwheeled darling but performs significantly better - or a pure knockoff that looks great and works as well but costs a lot less. Luckily for Apple the competition just doesn't seem to get it."
Link: NotPods
Products
Bunny iPod Covers Just in Time for Easter
PR: iAttire, a new brand of handcrafted iPod accessories, has announced the release of Spring 2006 attire for iPods.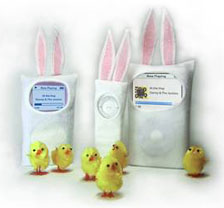 iAttire makes handmade attire for all current and legacy iPod sizes.
iAttire's Bunny is a comfy fluffy onesy garment for your iPod, with fuzzy tail and pink ears. Your iPod is usable while wearing the Bunny costume: see the screen through the front, find a bound hole for the headphone jack, and the clickwheel is visible through the costume. It is available in all iPod sizes: Video iPod, Nano iPod, Shuffle iPod, Mini iPod and legacy iPods (3rd and 4th generation), the first iAttire product to be offered in all current and legacy iPod sizes.
Hand-crafted in California, each garment is sized for your particular iPod, and no two are alike. iAttire products feature the finest details for your amusement.
Bunny, $19.99
Free first-class shipping is always available within the US, you can also choose USPS Priority Mail within the United States. For Global orders, we use USPS Global Priority Shipping for guaranteed faster service.
Based in California, iAttire is fascinated by iPods and we have many ideas for iPod accessories. What started with an amusing afternoon has turned into a long list of product requests from our customers.
Link: iAttire Spring 2006 Bunny
Magpie Outfits are Pod Couture for the iPod
PR: Fashionistas can now dress their iPods to match their music. Magpie, Inc. is excited to debut the Magpie Outfit - a protective case for the Apple iPod. The Outfit was born from owner Maggie Stephens' love of fashion and fitness.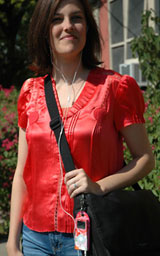 Already a successful designer of couture accessories, Maggie was training for a marathon when she began searching for an iPod cover that was both cute and functional.
"I wanted an iPod case that fit my personality," Maggie says. "I couldn't find anything that was darling and sweat proof, with a good belt clip. So I designed my own." After months of research and many prototypes later, the first Magpie Outfits were born.
With both a belt clip and a removable keychain, the Outfit is perfect for workouts or carrying on a backpack or purse. One of the best features of the Outfit is the belt clip - it's positioned so that a person wearing an iPod can actually see and work the screen and wheel. The sturdy, reinforced vinyl comes in six bright fabrics, and the iPod's screen and wheel are protected with clear plastic. And the big, happy patterns ensure that even when two Outfits are made from the same fabric, each one has a totally different look.
Magpie got its start in 2003 with handmade pins, hair clips and other stylish and girly accessories made from vintage fabrics and buttons. The line was quickly picked up by stores such as Henri Bendel and Olive & Bette's, and is now carried in boutiques around the country and internationally, including London, Dubai and Beirut. Magpie accessories have been featured in InStyle, Glamour, Teen Vogue, Us Weekly, Women's Wear Daily, and O! Magazine and seen on NBC's Today Show, and have been worn by celebrities including Liz Phair and Dakota Fanning.
The Magpie Outfit for iPod nano retails for $24.95 and is available now. Stores are snatching up the new line, and Magpie plans to add covers for the other size iPods soon.
Link: Magpie Outfits
The Amazing Waterproof Drypod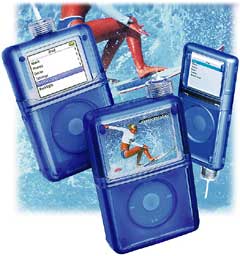 SKB introduces the Drypod family of protective waterproof, interactive hard-shell cases for the Gen 4 iPod, Nano and Gen 5 Video iPod models. Wear the Drypod on the waves, in the rain or down the mountain while your staying in control of every audio function. The seamless 'flex-pad' technology allows for the manipulation of the iPod's control wheel right through the case. Independent laboratory tests declare the Drypod compliant with immersion and rain tests. See our website for complete documentation.
A compression fitting completes the watertight seal for the headphone. The Drypod Includes a flexible neoprene arm band, comfort-adjust lanyard and stainless steel belt clip. SKB waterproof injection molded cases have been a huge success over the past few years finally leading to the smallest product SKB has ever manufactured. Small in size but gigantic in performance, the Drypod line of personal A/V gear protection represents another breakthrough in product design and functionality.
The amazing Drypod family is surfacing now.
Link: Drypod
Waterfield iPod Hi-Fi Speaker Case
PR: Fully padded travel case with space for all your iPod gear. Provides play-though functionality. A solid plate of impact-resistant plastic protects the front grill and speakers, and a comfortable shoulder strap helps lighten the load.
Made from sturdy ballistic nylon and high-density foam. Includes five exterior pockets. YKK locking zippers and durable metal hardware. The inside of the case is layered with a soft, scratch free liner.
To play, just tuck the front flap into rear of the case behind the speaker, plug in the power cord, and drop in your iPod.
Starts shipping on April 18th
Outside dimensions: 19.5" x 8.0" x 8.0"
Case weight: 1.7 pounds
The iPod Hi-Fi Speaker Case sells for $150 and is available in three colors.
Link: Waterfield iPod Hi-Fi Speaker Case
Logitech Unrolls Cylindrical iPod-friendly Speaker Unit
The Register's Tony Smith reports:
"Logitech will next month fill out its iPod-oriented portable speaker lineup with a midrange set designed to provide up to ten hours' playing time using four AA batteries, though it's bundled with an AC adaptor for on-shelf playback too.
"The one-piece mm32 set places a pair of cylinder-enclosed speakers either side of a cradle capable of recharging an iPod...."
Link: Logitech Unrolls Cylindrical iPod-friendly Speaker Unit
iCast and AudioCast: Interference-Free, Wireless Audio
PR: Soundcast Systems, a leading provider of revolutionary wireless audio transmission systems, today released two breakthrough products - iCast and AudioCast - designed to offer the highest-quality wireless transmission from digital music players or personal computers to home stereo systems. Soundcast's iCast is built to work exclusively with the Apple iPod(TM), while its sister product, AudioCast is compatible with other devices, such as personal computers or MP3 players.
"Consumers are looking for an easy solution to listen to digital music on their home theatre systems that offers both clarity of sound and a simple setup process," said Tim Bajarin, president, Creative Strategies. "With the recent explosion of MP3 player sales, the iCast and AudioCast products are poised to become a welcome addition to the digital home audio revolution."
iCast and AudioCast offer a convenient, wireless way to link a digital music player and home stereo system without running wires and drilling holes in the walls. Each receiver comes with all the cables needed to connect to the home stereo or multimedia amplified speakers. With iCast, the iPod simply fits into the transmitter in an Apple approved dock. The AudioCast transmitter can be connected to any brand of MP3 player or to a personal computer using the supplied accessory cables. The stylish iCast and AudioCast transmitters come in white to match most iPods or MP3 players, and the receivers are black to easily tie in with the other consumer electronics that are already in a home.
"There have been hundreds of wireless products developed over the years claiming to deliver an impressive quality of sound - yet all of them have fallen short of that promise due to their innate susceptibility to interference, which can significantly degrade the audio quality to the point where the music is not audible," said Rusty Bennett, vice president of Soundcast. "We're thrilled to release the iCast and AudioCast systems as the first solutions to effectively transmit a clean signal and enable unprecedented, crystal clear sounding music from an iPod, personal computer or MP3 player - even in those interference-filled environments throughout the home."
With effortless plug and play installation, no complex programming and a simple, sleek interface, iCast and AudioCast form a wireless bridge between an audio source such as an iPod or MP3 player and a home stereo system. Unlike competing solutions available to date, both products effectively eliminate outside interference caused by other household devices that share the crowded 2.4 GHz band, including microwave ovens and cordless phones.
In addition, no network setup expertise is required for the consumer, as the receiver and transmitter are self enabling and link immediately, once they are installed in the home. Based on Frequency Hopping Spread Spectrum (FHSS) technology, Soundcast's engineering team has refined its patent-pending wireless technology to allow transmitters to search for open channels in the 2.4 GHz band, and instantaneously jump to them - ultimately avoiding interference and allowing for unprecedented sound quality. iCast and AudioCast can transmit signals up to a distance of 150 feet through multiple rooms indoors, and even farther outdoors. Both systems coexist with other devices operating in the 2.4 GHz band, including Bluetooth, 802.11 and related products. About iCast
The iCast transmitter comes with approved, interchangeable inserts that accommodate different iPod models. Tracking and menu controls operate while the iPod is installed in the dock and transmitting music to the receiver, and the docking unit serves as a battery charger for the iPod. The iCast receiver also duplicates several key iPod functions to allow users to operate their music players remotely from another room in the home. About AudioCast
AudioCast provides the same functionality as iCast for non-iPod devices. With AudioCast a 3.5mm mini-jack connects any product with a stereo signal output, including portable MP3 players, portable CD players, personal computers or home electronics products such as a cassette deck or CD changer, to a home audio system. All the connecting cables required are supplied with the units. Soundcast products coexist with all 2.4 GHz devices and with additional Soundcast systems. As many as three Soundcast systems can operate in close proximity. By achieving this level of service, the iCast and AudioCast can now be securely used in high-density multiunit dwellings (MUD). Each Soundcast transmitter can operate with two receivers, allowing the creation of multi-zone systems. With AudioCast it is also possible to link two transmitters to the same source, making a low-cost, wireless four-zone system possible.
Each iCast and AudioCast transmitter and receiver will be packaged and sold separately to make multi-zone systems easy to assemble. They will be available during April 2006 in retail stores and online for a suggested retail price of $299 for an iCast system (transmitter and receiver), and $129 for each additional iCast receiver. The AudioCast system (transmitter and receiver) will retail for $249 with additional receivers at $119 each.
Link: SoundCast Systems
Software
Merriam-Webster's Pocket Dictionary for the iPod
PR: iPREPpress and Merriam-Webster have announced the release of Merriam Webster's Pocket Dictionary for the iPod, the first all-text brand-named dictionary for the iPod. The downloadable dictionary includes 40,000 words and their definitions, a pronunciation guide, abbreviation guide, and a Handbook of Style.
"For the first time, iPod users on the go can instantly access a wealth of language information," said Kurt Goszyk, founder of iPREPpress. "The partnership between iPREPpress and the premier publisher of dictionaries, Merriam-Webster, sets the foundation for further development of high-quality reference content for the iPod."
"Merriam-Webster is pleased to work with iPREPpress to offer our dictionaries and thesauruses to iPod users," said James Withgott, Vice President and Associate Publisher, Merriam-Webster Inc. "iPREPpress has created an exciting new way to deliver Merriam-Webster's best-selling language titles in a convenient, easy-to-use format."
Under the partnership, the companies will produce a series of quality portable references for the iPod over the next two months, including: Merriam-Webster's Pocket Thesaurus, Merriam-Webster's Rhyming Dictionary for song and hip-hop writers, Merriam-Webster's Pocket Atlas, and The Merriam-Webster Dictionary of Quotations.
Merriam-Webster's Pocket Dictionary is available for download to the iPod from iPREPpress. It features simple scroll and click navigation to search for over 40,000 words and their definitions. Users search for words on the iPod through a hierarchical menu and hyperlinked structure. Users can listen to their favorite tunes in the background while viewing dictionary entries onscreen. The dictionary will sell regularly for $14.95 but is available for a limited time at an introductory price of $9.95. More information about the dictionary is available online.
Merriam-Webster Inc. acquired the rights to revise and publish Noah Webster's dictionaries in 1843. Since then, Merriam-Webster has maintained an ongoing commitment to innovation, scholarship, and love of language. Today, the company continues as the leader in both print and electronic language reference publishing with reference products, learning tools, and word games.
Washington Crossing, PA-based iPREPpress offers best-of-breed content formatted specially for the iPod. A wide range of content from branded study guides and travel guides to important national documents, sports and entertainment is available via download. The iPod is a powerful tool that can make educational material fun and convenient to access. Unlike audio versions of classical literature, iPREPpress provides text and graphics hyperlinks that bring highly readable text and easy navigation to the iPod, turning it into a PDA-like experience. iPREPpress LLC is a privately held company founded by Kurt Goszyk, former CTO, Franklin Electronic Publishers.
Link: Merriam-Webster's Pocket Dictionary for the iPod
PodUtil 3.0 iPod Music Copier and Playlist Rebuilder
PR: PodUtil is an easy-to-use utility for viewing the songs on your iPod and copying them in a customisable organised manner to your computer, and will automatically add them to iTunes and rebuild your playlists if you wish.
PodUtil is compatible with Mac OS 9.x, Mac OS X, Windows 2000 and Windows XP.
Features at-a-glance...
iPod Scanning
Fast and automatic iPod scanning
Supports playlists
Detailed information about each song
Supports all formats iPod does (MP3, AAC, WAV, AIFF, Audible, etc.)
Song previews
Works with all iPods
File Copying
Organises copied music on your hard drive by artist, album, both or neither
Advanced mode allows customisable organisation and file renaming
iTunes Integration
Adds songs back to iTunes
Rebuilds your playlists
Once your iPod has been scanned by PodUtil (takes ~5-10 seconds) all your music will be presented to you in an easy-to-navigate list. Want to preview a song? Just double-click it and it'll play immediately, allowing you to scrub through the song to find out if it's really the song you want.
On the left of the main window, you'll see a list of all the playlists on your iPod. You can use this to just copy a specific playlist, or just view your music exactly as you like it. Want more information on a song? Just select it and choose "Get Info..." from the file menu, and it's all there.
Once you have browsed your music collection, PodUtil will copy it to your hard drive, organising it as it goes. In basic mode, you can organise by Artist, Album, both, or not at all. In advanced mode, you can organise your music by anything at all, and you can rename your music files in the process, based on song ID tags. Say good-bye to cryptic file names! For more information on advanced copying, see the Advanced Copying Reference.
PodUtil can add your files back to iTunes and even rebuild all your playlists. This is all automatic, and works on Windows and Mac versions of iTunes as long as you have iTunes 4.5 or higher installed.
Copying several gigabytes of music takes quite a while on any computer, and PodUtil gives you visual feedback on how it's doing. When a copy operation begins the main music list shows you all the music that will be copied, as well a small icon telling you the status of each song. Below this list, a progress area details how many songs will be copied and how many have already been done.
On Mac OS X, a progress bar appears in PodUtil's dock icon, so you can tell how it's doing without even interrupting your work flow.
Supports all music formats iPod does, including MP3, AAC, WAV, AIFF, Audible, etc.
New in PodUtil 3.0
PodUtil 3.0 is a huge update from 2.x. Below is just small selection of what's new.
Rulesets
Take control of your music. Rulesets let you easily and quickly select the exact music you want to copy - want all the Norah Jones music that isn't in your iTunes Library? It's only a few clicks away.
iPod Browsing
With PodUtil 3, you can now easily browse your music by artist and/or album name.
Better Copy Settings
Advanced/Basic copy modes have gone. Replacing them is this directory structure editor, which lets you easily add folders and rename folders and files by simply dragging and rearranging tokens. Presets can be saved to be reused at a later date.
iPod Information
Quickly see information about your iPod at a glance.
Better iTunes Integration
PodUtil 3 can scan y our iTunes library at startup, enabling it to see what songs on the iPod are already in your library. If similar songs exist, PodUtil will tell you what they are.
iPod Profiles
Customise PodUtil on a per-iPod basis. If you allow Roaming Profiles, these settings are saved to your iPod so other computers can pick them up. Song statuses can be saved, so PodUtil will remember if a song has been copied before and if it was queued between sessions - even between computers.
New Look and Feel
PodUtil 3 has a brand new look and feel.
System requirements:
Mac OS X 10.3 or higher
iPod
PodUtil is £5 shareware
PodUtil 3 is a paid upgrade. If you've purchased PodUtil 2.x, you qualify for a discounted or free upgrade depending on when you made your purchase:
On or after December 1st, 2005: Free
Before December 1st, 2005: Half PodUtil's normal price (£5)
To get your discount, you need to apply for an upgrade coupon. Please provide as much detail
Link: PodUtil
iPod-Linux Installer 0.4a
PR: An easy to use installer that enables Mac OS X user to install and use Linux on their HFS+ formatted iPods in addition to the Apple Supplied OS. Currently supports 1-4G, Mini, and Photo iPods. Installation on Nano and Video possible but not supported. Additional iPods will be supported according to what developments are made on the iPodLinux kernel.
The goal of this project is to create an easy to use GUI program that enables Mac OS X user with iPods to install Linux on HFS+ formatted iPods while still allowing users to keep and use the Apple Supplied OS. Currently this project supports 1G, 2G, and 3G iPods. 4G, Mini, and Photo iPods are now supported. Installation on Nano and 5G iPods is possible with this installer but no support will be given for these iPods! Make absolutely sure you back your files up if you are using a post 3G iPod as this is an alpha installer release.
New in version 0.4a (alpha):
Added support for 4G, Mini, and Photo iPods. Installation is possible on Nano and 5G iPods but is not supported. Note: This is an initial alpha release, be prepared for some bugs.
Includes newest kernel as of April 1st 2006.
Added check to make sure user was able to write to where the installer is located.
System requirements:
1G, 2G, 3G, 4G, Mini, or Photo iPod. Installation is possible but not supported on Nano and 5G (Video) iPods. OS X 10.3.x or higher.
System support: PPC
Free
Link: iPod-Linux Installer
Join us on Facebook, follow us on Twitter or Google+, or subscribe to our RSS news feed
Today's Links
Mac of the Day: 20th Anniversary Mac, introduced 1996.03.20. Honoring Apple's 20th anniversary, the TAM was the first flat panel desktop Mac and had a unique design.
Recent Content
Custom Search
Follow Low End Mac on Twitter
Join Low End Mac on Facebook
Favorite Sites
MacSurfer
Cult of Mac
Shrine of Apple
MacInTouch
MyAppleMenu
InfoMac
The Mac Observer
Accelerate Your Mac
RetroMacCast
The Vintage Mac Museum
Deal Brothers
DealMac
Mac2Sell
Mac Driver Museum
JAG's House
System 6 Heaven
System 7 Today
the pickle's Low-End Mac FAQ
Affiliates
Amazon.com
The iTunes Store
PC Connection Express
Macgo Blu-ray Player
Parallels Desktop for Mac
eBay

Advertise