iPod Use Mostly Illegal in UK, Unlicensed iPod Accessory Crack Down, a Color Change iPod Case, and More
Compiled by Charles Moore and edited by Dan Knight - 2006.05.04
This Week's iPod News
PowerBook, iBook, iPod, and other portable computing is covered in The 'Book Review. General Apple and Mac desktop news is covered in The Mac News Review. News about Apple's transition to Intel CPUs and other Intel developments is covered in The Macintel Report.
All prices are in US dollars unless otherwise noted.
For current iPod prices from a variety of sources, see our Best iPod Deals.
News and Comment
Tips
Products & Services
Software
News and Comment
Apple to Crack Down on Unlicensed iPod Accessories
Smarthouse's David Richards reports:
"Apple is set to come down hard on vendors selling unauthorised iPod accessories that connect to an Apple iPod.
"Officially authorised manufacturers of iPod accessories such as Belkin and Griffin have been told that Apple is set to take action against several vendors who are not part of an authorised 'Made for Apple' program but are selling products into retailers at considerable lower prices than authorised partners.
"Currently Apple gets a 17 pin licence fee from vendors participating in authorised programs and with some vendors such as Hi Fi manufacturers who are manufacturing attached sound systems the licence fee is as much as 10% of the retail sell in price."
Link: Apple Set to Get Tough on iPod Illegals
iPod Use Nearly Illegal in UK
The Observer's Guy Clapperton says:
"Some people were just born cool, and seem to know instinctively how to use an iPod; the rest of us spend months figuring out how to work them. But these days we're all downloading music and transferring our CDs on to our iPods, or our computers, or our phones. But is all this copying legal?
"Alexander Ross, music partner at media law firm Wiggin, says: 'The law in this country is very clear: you cannot copy a piece of music in any format unless you've got a licence to do that. Therefore, legally speaking, the only way you can fill a music player is to download music from a legal source.'
"Unlike American law, there is no provision in the UK to make copies for private use, and Ross says the fact that there have been no prosecutions to date will not be a defence. 'It's confusing because in most other jurisdictions in the world there is provision to make a certain number of copies for certain purposes. We don't have that.'"
Link: Is Your iPod Breaking the Law? - In the UK Probably Yes
The Return of iPod Booting
PlayList's Christopher Breen says:
"Though it's a feature many never took advantage of, the first several generations of full-sized iPod - specifically those that supported FireWire syncing - were capable of booting a Macintosh. Just plug the iPod into your Mac's FireWire port, run the OS X installer, select the iPod as the destination disk, and, if the iPod has enough space to allow, you can install a bootable system on the iPod.
"When Apple abandoned FireWire syncing, the bootable iPod also disappeared.
"Until now.
"Apple's Intel-based Macs can boot from compatible USB 2.0 hard drives. The 5G iPod happens to be just such a compatible USB 2.0 hard drive....
"The iPod isn't vented and its hard drive wasn't meant to spin constantly, as it would if you used it to routinely boot your Mac. Although I've run a Mac from an iPod for up to an hour, it's not something I'd do on a regular basis as both heat and wear and tear on the hard drive are unlikely to do the iPod any good. "
Editor's note: The hard drive of my daughter's 1st generation iPod failed, she thinks because she used it too often as a boot drive. cm
Link: The Return of iPod Booting
Apple Planning iPod Redesign?
Times Online's Rhys Blakely reports:
"Apple is planning a 'significant redesign' of the iPod to counter slowing sales of the digital music player, according to reports.
"Industry weblogs, which in the past have tended to accurately predict Apple's development plans, say a new player will be released this autumn and could replace the current iPod nano. There is also speculation that Apple will release a new video iPod that will use wireless technology to allow users to download music and podcasts while on the move.
"Patents filed by Apple have recently emerged which also suggest the company could be exploring linking up iPods with television sets through a gadget that would allow images to be transferred between the two devices."
Link: Apple Plans iPod Redesign
Quanta Order for Next Gen Video iPod Withdrawn?
DigiTimes.com's Jessie Shen reports:
"Following a March 22 Newswatch, which cited the Chinese-language Economic Daily News (EDN) as indicating that Quanta Computer was added as one of Apple's video iPod contract manufacturers, the Chinese-language Commercial Times reported today that the order has been shifted to an unspecified EMS provider."
Link: Quanta Video iPod Order Withdrawn, Say Sources
Samsung Wins Over PortalPlayer for iPod MP3 Chip
EE Times' Mark LaPedus reports:
"Samsung Electronics Co. Ltd. on Wednesday (April 26) claimed that the company grabbed a major MP3 chip design win at Apple Computer Inc., at the expense of PortalPlayer Inc.
"An executive from Samsung said the company won the MP3 media processor business for Apple's next-generation iPods. Samsung, along with other vendors, also supplies NAND flash memory chips for the iPod.
"It's a huge win for Samsung - a blow for PortalPlayer. Last week, PortalPlayer announced that it had not won the media processor design slot for Apple's next iPod. Before the announcement, PortalPlayer had broadly been considered a lock."
Link: Samsung Grabs iPod Design Win
Samsung Wins Contract for iPod Media Chip
ExtremeTech: reports
"Samsung Electronics has apparently won the contract to supply the media processor in next-generation Apple iPods, according to a report published Wednesday. Samsung officials declined to comment when asked to confirm the story on Thursday."
Link: Report: Samsung Wins iPod Media Chip Contract
Sony to Take Another Swing at the iPod
IDG News Service's Martyn Williams reports:
"Sony is preparing to take another swing at Apple's iPod digital music player, a top Sony executive said Friday.
"The company is developing a new music player that will go on sale in the U.S. and other markets over the next year, alongside a companion download service and software, said Takao Yuhara, senior vice president of Sony, at a briefing with reporters in Tokyo."
Link: Sony to Take Another Swing at the iPod
Free Electricity from Nano Generators
technologyreview.com's Kevin Bullis reports:
"Throw away your batteries. Tiny nanowires could power medical implants, even your iPod.
"Today's portable electronics (except for self-winding watches and crank radios) depend on batteries for power. Now researchers have demonstrated that easy-to-make, inexpensive nanowires can harvest mechanical energy, possibly leading to such advances as medical implants that run on electricity generated from pulsing blood vessels and cell phones powered by nanowires in the soles of shoes.
"'When you walk, you generate 67 watts. Your finger movement is 0.1 watt. Your breathing is one watt. If you can convert a fraction of that, you can power a device. From the concept we've demonstrated, we can convert 17-30 percent of that,' says Zhong Lin Wang, professor of materials science at Georgia Tech and one of the researchers of the work, published in the journal Science. "
Link: Free Electricity from Nano Generators
$50,000 Worth of iPods Featured in Innovative New Ad
PR: When you run the largest single location independent Mac shop in the country, you are bound to have a lot of spare equipment floating around. So, with a couple hundred iPods and a little time to spare, the folks at Tekserve set the digital devices up in a domino line and filmed their first commercial. The fifteen-second spot will begin running every 20 minutes on the large LED display outside of Madison Square Garden on 33rd Street and 7th Avenue from May 1 through June 30.
"Despite our rather rough treatment of the iPods, I want to assure Apple lovers everywhere that no iPods were hurt during the filming of this commercial," said Dick Demenus, one of Tekserve's principals.
The advertisement was conceived by Dick Demenus, filmed in-house by Tekserve's Hank Gonzalez and filmed/edited by former Tekserve employee Jared Dubrino. Close to two hundred iPods were used in the filming, which have an estimated original value of $50,000. The spot was edited using Final Cut Pro and Adobe After Effects on a Power Mac Dual Core G5.
Tekserve is a one-of-a-kind computer store that tests and reviews Apple and 3rd party gadgets before putting them on their shelves and has been featured on many popular television series including Sex In The City and Law & Order.
Located on West 23rd Street between 6th and 7th Avenues in New York City, Tekserve, the largest single independent Mac shop in the country, is one of those rare only-found-in-New York retail stores that should be a stop for all NYC tour groups. Tekserve is also one of the few places on the planet where Mac-users can get spot-on advice and find answers to all their Mac-related technological queries.
Link: $50,000 Worth of iPods Featured in Innovative New Ad
Tips
iPod Fast Start: The New User's Guide to iPod
A new Apple Knowledge Base article says:
"Got a new iPod? This handy Fast Start guide will help you install, set up, and fill your iPod with tunes to get you on your way to full musical bliss in no time.
"Topics include:
Install the iPod Software First
Connect and Set Up Your iPod
Fill Your iPod (and iTunes) with Music
Disconnect and Enjoy
"Need Help?
"Fast Facts
You need a Mac or Windows computer to add music and other files to an iPod. To learn how to use your iPod as a disk drive, see this article.
You can charge your iPod battery through a computer or optional power adapter. Learn how here.
Synching music to iPod is a one way street. You cannot copy music from an iPod to a computer unless you enable your iPod as a hard disk first and then copy music files to its disk volume.
If you've got a Fifth Generation iPod, you can sync videos with it. Learn how to sync and view videos on your iPod here.
If you need help from someone - anyone - consult with hundreds of other iPod users and experts in our iPod Discussions forums. You can ask a question, answer a question, or simply read what others have to say."
Link: iPod Fast Start: The New User's Guide to iPod
Learn the iPod in 15 Minutes at 3rd Annual MacGathering in LA
PR: Want to learn how to use an iPod or download music through iTunes? Want to find out which iPod model is for you? Then come see the iProng folks at the MacGathering on May 19th and 20th in North Hollywood, CA. Members of the iProng staff will be providing free hands-on iPod and iTunes tutoring sessions at the iProng booth, as well as free seminars on the merits of the iPod nano, iPod shuffle, and the much-discussed video iPod.
"I've always said that anyone can be taught how to use the iPod in fifteen minutes and at The MacGathering we're going to prove it," said iProng Publisher and Founder Bill Palmer. "If you've never used an iPod before, these sessions are for you. And if you're one of those folks who has gone into a store and couldn't figure out which iPod model was which or which one did what, then our 'Which iPod Is Right For You?' seminar will help you sort it all out in a nontechnical way. Our offerings will be of value to you whether you're a Mac user or not, and best of all, they're free to all MacGathering attendees."
iProng editorial staff members Matt Saye and Eric Nguyen will join Palmer at the iProng booth to provide these services. The MacGathering will mark the first time iProng staff members have gone "on location" to provide free services to iPod users. Formerly known as iPod Garage, iProng is one of the world's leading websites for iPod and iTunes users, offering daily iPod accessory reviews and music reviews, as well as up to the minute industry news and commentary.
Also on tap at this year's MacGathering will be a Keynote Address from comedian Sinbad, an interactive game of Mac Jeopardy from actor René Auberjonois, the inaugural MacMixer™ Party, an iPod DJ Party hosted by iProng staff, an exhibit hall with dozens of booths, and seminars on a wide variety of topics offered by industry experts. Registration for The MacGathering is now open and iProng readers can use a coupon on the Website to register for two days of seminars for as little as $89, or for the Exhibit Hall for just $7.
Link: 3rd Annual MacGathering in LA, May 19-20
Products & Services
MediaBay Launches Audio Newspaper Service
MediaBay has announced the launch of SoundsGood Newscast. This new subscription service is being launched with digital audio programming from two English-language news services: The Hindustan Times' Audio Digest and a news service powered by Taldia.
MediaBay's customers can personalize the newscasts by choosing subjects that interest them and can schedule daily feeds for automatic delivery to their computers, iPods, or transfer to any Windows Media PlaysForSure MP3 device.
Promoted through an exclusive partnership with HT Media Ltd., the Hindustan Times Audio Digest on SoundsGood Newscast is being marketed to HT Media's global audience including those of Hindustantimes.com, which serves more than 4 million unique monthly readers worldwide. The newscast features top stories selected daily by Hindustan Times editors from editions published throughout South Asia. Customers may select from news categories including top stories, entertainment (including Bollywood news), business, sports, stars (astrology) and special reports.
Soundsgood Newscast, powered by Taldia, also features content from AP Digital, a commercial division of The Associated Press, including coverage of US and international news, sports, entertainment, technology, and more.
SoundsGood Newscast subscribers will receive a 14-day free trial. Thereafter, subscribers to Hindustan Times Audio Digest may download the newscast six days a week at $9.95 per month, and Taldia's service five days a week at $4.95 per month.
MediaBay's SoundsGood Newscast expects to capitalize on the growing trend of online news consumption: according to recent research by Pew Research Center, a third of Americans below age 40 cite the Internet as their main source of news. Among those who read newspapers online, 73 percent cite convenience as the reason they do so. Automatic downloads of digital news audio provide even more convenience to commuters, office workers and students, who can listen to news whenever they want, wherever they are.
"MediaBay is proud to provide news audio from two trusted, world-renowned news providers for consumers across the globe," said Jeffrey Dittus, Chief Executive Officer of MediaBay. "With SoundsGood Newscast, our customers who are constantly on the go can easily stay in touch with the news they are interested in - without getting an information overload."
"Through SoundsGood Newscast, customers around the world may now enjoy what millions of Hindustan Times readers in India are already enjoying," said S.N. Bhaduri, Vice President - eBusiness at HT Media Ltd. "The global Indian now has access to news from an Indian perspective, anywhere, anytime," he added.
"As the technology provider for the SoundsGood Newscast, we are also excited to provide audio content from AP to a very targeted customer - people who are on the go," said Rys Fairbrother, President of Taldia.
Link: SoundsGood Newscast
GioPod Launches iPod Trade-up Service
PR: GioPod.com is now the world's pioneer in iPod upgrading. With the launch of their new website, the company now allows users to trade in their old iPods in return for credit towards a new iPod video or nano. The website also allows users to cash-in iPods they no longer use, or have no need for.
GioPod provides customers with shipping material and postage free of charge, making the service irresistible.
GioPod is the Internet's original iPod trading website. The service allows users to easily trade-in their old iPods towards credit for newer iPods. Users may also cash in iPods they no longer use.
GioPod is a member of the Better Business Bureau.
GioPod will gladly copy your music library from your old iPod onto your new iPod.
Typical delivery time is 6-9 days from when you place your order. You can cut the transaction time by up to 4 days when you ship your iPod on your own.
All shipping and handling is free of charge. That includes postage for shipping in your old iPod, as well as shipping costs for delivering your new iPod. All users are eligible for a $10 shipping reimbursement if they choose to ship in their iPod on their own. Otherwise, GioPod will send you a box, packaging material, and prepaid postage free of charge.
GioPod will find the next happy owner for your old iPod.
GioPod accepts iPods that are scratched and iPods with dead batteries, but currently do not accept iPods with fried hard drives or other hardware issues.
On opening day, GioPod announced that the first 1,000 customers will receive an additional $5 credit through the use of promotional code "giopodme."
GioPod
PO Box 6505
Irvine, CA 92616
Color Change Silicone Case for iPod nano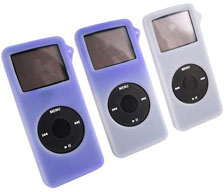 PR: Can't decide what color case to choose for you iPod nano? Why not go for one of Proporta's Colour Change Silicone Cases. Precision moulded from impact absorbent silicone to provide a thin yet durable protective skin to your MP3 player.
Give your Apple iPod nano a tough, protective skin and prevent scratching and impact damage with the Proporta Apple iPod nano Colour Change Silicone Case. Choose from Pink, Blue or Charcoal which then gradually change to White according to their temperature.
Cutaways give access to device ports and controls so that you can use your device in the case.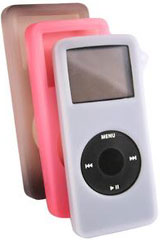 Features:
Perfectly fits your Apple iPod nano, adding little more than a millimetre (0.04") to its size
Removable leash (lanyard) for easy carrying
Fits inside your pocket
Protection from impacts, scratches, dust and dirt
Access all ports and controls inside the case
View your device screen inside the case
Available in Pink, Blue & Charcoal
$ 19.95
Lifetime Warranty
Link: Colour Change Silicone Case (iPod nano)
Popular iPod Battery and Dock Available in Limited Edition Black
PR: Tekkeon has announced a limited edition black version of its popular myPower for iPod rechargeable battery and portable dock.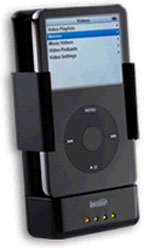 Ideal for iPod video, this all-in one accessory provides more than nine hours of extra video playback and up to 42 hours of extended music playback.
myPower for iPod, a rechargeable lithium polymer battery built into a portable dock case, uniquely complements the style of the iPod. In addition to extra battery power, myPower for iPod includes high-speed FireWire and USB 2.0 ports to sync iPod using included FireWire or USB cables, a line out for connection to a stereo or external speakers, and a bonus 5V charging output to simultaneously charge a mobile phone or any device that requires up to 5V, while powering iPod.
"Our new limited edition version of myPower for iPod is a unique alternative for users who prefer the black iPod," says Jerry Yang, president of Tekkeon. "Users now can listen and view longer, and maintain the sleek style of the iPod."
Tekkeon now offers three versions of myPower for iPod, which is made for iPod (3rd, 4th, 5th generation), iPod mini, and iPod photo:
MP1100: White, includes a FireWire cable for charging
MP1140: White, includes a FireWire power adapter/cable for charging
MP1140B: Black, includes a FireWire power adapter/cable for charging
All models come with a USB 2.0 cable for downloading music, five sets of sizing pads for different iPod models, a clip for the iPod mini, and a user guide. The MSRP for model MP1140B is $69.95.
Tekkeon iPod accessories are available through retail and major on-line stores including Apple, and from the Tekkeon store.
Link: Tekkeon
Software
Kandalu X Lite iPod Utility
PR: Kandalu x Lite supports recovering your songs and playlists, playback of audio files, and much more.
System requirements: Kandalu X Lite currently only works with Mac OS X 10.2 "Jaguar", 10.3 "Panther" and 10.4 "Tiger". Kandalu X Lite works with any iPod, whether it be a Mac OS X formatted.
System support: PPC
Free
Link: Kandalu X Lite 1.0c iPod Utility
Portable AbiWord Lightweight Word Processor
PR: Portable AbiWord OS X is the award winning AbiWord small, fast, featureful and cross-platform word processor packaged as portable application so you can take your profile, dictionary, math, Plugins and templates with you.
Portable AbiWord OS X is the lightweight AbiWord word processor, packaged as portable application so you can carry around with you on any portable device, USB thumb drive, iPod, portable hard drive, memory card, other portable device (also on your internal hard disk) as long as it has 35 MB of free space and use on any Mac OS X computer, taking your profile, dictionary, math, Plugins and templates with you.
AbiWord is able to read and write all industry standard document types, such as OpenOffice.org, Microsoft Word, WordPerfect, Rich Text Format, HTML web pages and many more.
Drag the "Portable AbiWord OS X" folder to your portable device, USB thumb drive, iPod, portable hard drive, memory card, other portable device (also to your internal hard disk) as long as it has 35 MB of free space.
Clicking "OPEN Portable AbiWord" will launch in background an AppleScript that will open AbiWord from your portable device, wait a while before AbiWord start.
If you wish to use your contact list, dock icons, emoticons, message stiles, plugins, scripts, sound and users you already have on you computer, copy the content of the folder "/Users//Library/Application Support/AbiSuite/" to "/Portable AbiWord OS X/app/Library/Application Support/AbiSuite/" folder
New in version 2.4.4r2.9:
New in version 2.4.4 release notes changelog (extensive) here:
System requirements: Mac OS X 10.3 or later.
System requirements: PPC
Free
Open Source
Link: Portable AbiWord
Portable Thunderbird
PR: Portable Thunderbird OS X is the popular Mozilla Thunderbird email client packaged as portable application so you can take your email, address book and account settings with you.
From the experience of Portable Firefox OS X, here is the popular Mozilla Thunderbird email client packaged so you can carry around with you on any portable device, USB thumb drive, iPod, portable hard drive, memory card, other portable device (also on your internal hard disk) as long as it has 33 MB of free space and use on any Mac OS X computer, taking your email, address book and account settings with you.
Drag the "Portable Thunderbird OS X" folder to your portable device, USB thumb drive, iPod, portable hard drive, memory card, other portable device (also to your internal hard disk) as long as it has 33 MB of free space.
Clicking "OPEN Portable Thunderbird OS X" will launch in background an AppleScript that will open Thunderbird from your portable device, wait a while before Thunderbird start.
If you wish to use your email, address book and account settings you already have on your computer, copy the content of the folder "/Users/<username>/Library/Thunderbird/Profiles/********.default/" to "<your_volume>/Portable Thunderbird OS X/app/profile/" folder.
New in version 1.5.0.2r2.1:
Thunderbird updated to 1.5.0.2
New "OPEN Portable Thunderbird OSX.app" icon.
System requirements: Mac OS X 10.3 or later
System support: PPC
Free
Link: Portable Thunderbird
Yellow Dog Linux Installs Neatly on an iPod
Linux Journal's Dave Taylor reports:
"Forget bootable USB pendrives and use an iPod to boot Linux on a Mac.
"The concept's great: what would it be like to have a pocket-size device that I could plug in to just about any Macintosh and by simply rebooting the computer be running a full-blown Linux installation? There are oodles of Linux OSes for Intel architectures, of course, but the Mac, until very recently, has been built around the Motorola architecture, so the number of choices are rather fewer.
"One of the few Linux OSes for the PowerPC is called Yellow Dog, from Terra Soft Corp., www.yellowdoglinux.com. It costs about $60 US for the install CDs and documentation or $30 US for the "geek edition" (that's just the install CDs), or you can download it for free from the Web site. And, let me answer the obvious question: because Mac OS X already is a Unix (basically FreeBSD with lots of added stuff, much of which you can find in Darwin, www.apple.com/darwin), why bother with a Mac Linux? The answer is that although Mac OS X is a splendid mating of a Unix operating system with all the graphical goodness of Apple's user interface design, it's still not Linux. If you're in a Linux environment and want to run KDE or GNOME, you don't have to graft it onto Mac OS X if you can run a Linux designed for the Mac platform instead. Besides, isn't it kinda cool anyway?
"Anyway, I had a spare Apple iPod, a first-generation 5 GB device that worked via the FireWire interface rather than the more modern USB connection, and I was assured by the folks at Yellow Dog that I could squeeze YDL into as small as 1 GB. I have plenty of space on a 5 GB device. Of course, I already had a gig of music and audio books I wanted to preserve, so the first test was to see if I could repartition the device to grab 3 GB for Linux and keep 2 GB for audio and iPod content. The perfect stealth Linux device, right?
"So, one afternoon I decided to take the plunge and hooked up my iPod to my PowerBook computer and inserted the first of the YDL 4.1 install disks and restarted the Mac, holding down the C key to force the device to boot off the CD-ROM, not the internal hard disk. When prompted, I typed in install FireWire and away we went."
Join us on Facebook, follow us on Twitter or Google+, or subscribe to our RSS news feed
Today's Links
Mac of the Day: Mac Pro, introduced 2006.08.07. The last Mac to go Intel, the Mac Pro has two dual-core Xeon CPUs at 2.0-3.0 GHz. 8-core option added in 2007.
Recent Content
Custom Search
Follow Low End Mac on Twitter
Join Low End Mac on Facebook
Favorite Sites
MacSurfer
Cult of Mac
Shrine of Apple
MacInTouch
MyAppleMenu
InfoMac
The Mac Observer
Accelerate Your Mac
RetroMacCast
The Vintage Mac Museum
Deal Brothers
DealMac
Mac2Sell
Mac Driver Museum
JAG's House
System 6 Heaven
System 7 Today
the pickle's Low-End Mac FAQ
Affiliates
Amazon.com
The iTunes Store
PC Connection Express
Macgo Blu-ray Player
Parallels Desktop for Mac
eBay

Advertise