Accessorize Your TiBook
Jake Sargent - 2001.03.13
Whenever Apple introduces a completely revamped or new product, like the PowerBook G4, it takes the rest of the computer industry a few months to catch on. This is due to the fact that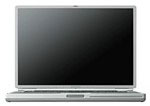 Apple keeps all of its products in an unbreakable metal container before they are released (well, not really). However, a number of products that are made specifically for the TiBook, or that work well with it are starting to appear. If you've been lucky enough to get your hands on a PowerBook G4, then start accessorizing it by checking out the list of compatible products below.
Willow Design G4 Carry Case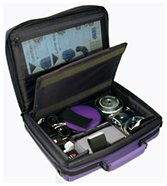 Although a number of companies have announced G4 carry cases, the fine folks at Willow Design are the first to make one available. The Titanium G4 PowerBook Carry Case is maximized to protect your TiBook, and it comes with a number of pockets to hold all your other accessories. It comes in five colors: Black, Charcoal, Navy, Purple, and Teal. The bag weighs 3.1 lbs, fits in an overhead compartment, and comes at the hefty price of $123.
MadsonLine G4 Saver
Not ready to spend the big bucks on a G4 carry case? MadsonLine sells a good protection sleeve made specifically for the PowerBook G4. The product comes with nylon handles for easy transport, although it doesn't feature all of the extra pockets and protection that a full-fledged carry case will. In my opinion, $58 is a lot to throw out for a pocketless carrying case (or protection sleeve), but that's the going rate these days. Visit the MadsonLine site to learn more.
Waterfield also makes a PB G4 sleeve case, which retails for under $40.
The Visor Edge
The Visor Edge, announced Monday, is the perfect compliment to the PowerBook G4. It is one of the thinnest handhelds around, measuring in at less than half of an inch thick. The Visor Edge comes in three colors: Metallic Blue, Metallic Red, and Metallic Silver. The latter matches the PB G4's color scheme like a charm. Best of all, the Visor Edge, like your PowerBook, has good battery life. The Visor Edge is one of the first handheld organizers that is rechargeable. So how much do you have to pay for a thin, expandable, rechargeable, cool-looking Visor? $399. You can get yours today from Handspring, but be aware that it lacks a color screen, which are quickly becoming popular.
Equip Yourself With Earphones
A pair of earphones that have been getting a lot of attention lately is the new ones from Bang & Olufsen. They are crafted of aluminum and rubber, and match the PowerBook G4 in both design and quality. The earphones are adjustable, compact, and weigh only 8 grams each. An aluminum frame and compact design comes at a high price, about $80. If you're ready to blow that much on a pair of earphones, you can pick them up at Ban & Olufsen outlets nation wide.
The N656U CanoScan Scanner
It's not often that you find a scanner that just a tad bit thicker than your PowerBook. Canon has managed to do it, though, and equipped the N646U CanoScan Scanner with an awesome case. The product scans at 600 x 1200 dpi, and retails for $129.
What's To Come
MadsonLine, a company discussed earlier, has big plans for the PowerBook G4. It has scheduled a number of products, such as the G3 to G4 "Generation Gap" Adapter Converter, G4 Auto/Air Travel Adapter, and G4 Micro-Adapter for release later on this year. Pricing and availability information is scheduled to be made public sometime this month.
Waterfield will be releasing an updated version of its Thinsert bag, a popular portable carry case, on April 15th. The new Thinsert will be named Racer-X and will be made especially for the PowerBook G4. In addition to carrying your slab of titanium around, it will also hold your files, your cell phone, power cords, and a mouse. The Racer-X is scheduled to be released on April 15th.
Manufacturers and designers have obviously jumped at the opportunity to create a product that works with the PowerBook G4. As you can see from the descriptions above, a good number of PB G4 accessories already exist (whether they were meant to work especially with the TiBook or not), and many more are scheduled to debut shortly.
We'll have to see if developers react as quickly to the new Flower Power and Blue Dalmatian iMac flavors.
Custom Search
Follow Low End Mac on Twitter
Join Low End Mac on Facebook
Favorite Sites
MacSurfer
Cult of Mac
Shrine of Apple
MacInTouch
MyAppleMenu
InfoMac
The Mac Observer
Accelerate Your Mac
RetroMacCast
The Vintage Mac Museum
Deal Brothers
DealMac
Mac2Sell
Mac Driver Museum
JAG's House
System 6 Heaven
System 7 Today
the pickle's Low-End Mac FAQ
Affiliates
Amazon.com
The iTunes Store
PC Connection Express
Macgo Blu-ray Player
Parallels Desktop for Mac
eBay

Advertise