Using the QuickCam Orbit on a Mac
- 2004.03.12
I was one of the early adopters of the Connectix QuickCam for the Mac back when it attached via serial ports and worked in black and white. I still have pictures taken through this camera that have managed to survive my various computer transitions and now reside in my iPhoto library.
Logitech now makes the QuickCam, and they continue to support the Mac as much as they can.
Remember when we thought that we would get a slew of peripherals previously denied us because Apple adopted both FireWire and USB interfaces? For the most part, that has happened, but in some cases the Mac plays a second cousin to the PC.
This is what has happened with the QuickCam. We can still use it, but we don't get to do all the stuff a PC user does.
For example, for videoconferencing: We could use Yahoo messenger but not MSN messenger or Windows Messenger (natch). Unfortunately the camera is not compatible with iChat AV, because Apple only supports FireWire webcams for that application.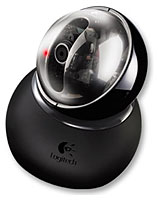 The QuickCam Orbit comes in a box, encased in a plastic shell nearly as massive as it is. Once you manage to extract it, you find a ball on the base, another ball containing the camera, and a stem them you can use to raise the ball closer to eye level.
The gimmick for this particular camera is that you can remotely direct the camera to pan left and right as well as tilt up and down. It also sports a "face tracking" feature that is supposed to keep track of your head movements during video conferencing.
I found the face tracking worked about as well as voice commands on the Mac. If you don't move too fast and keep your face towards the camera, it works all right. But if you lean over suddenly, the camera tends to swing in some random direction and start zooming in and out until you return.
There is a nice long 9 foot cable. Props for that.
Electronically the QuickCam is essentially a Pro 4000 with a pan and tilt head. The video quality is about the same as it was when the first color QuickCam came out, maxing out at 640 x 480 in video (1280 x 960 larger in still images).
The refresh rate on a 1 GHz TiBook didn't impress me too much. The thing is a webcam, and it performs like one. Perhaps I've been spoiled by the faster response time I see with DV cameras over FireWire. The frame rate is probably better with the current generation of Macs equipped with USB 2.0.
Zooming is sluggish. If you drag the slider over the edge of the controller window, it jumps back to where it started instead of maximizing in the direction you were going. This feels clumsy.
The main problem I have with the camera is the interface. There is a 4-way mouse-clickable arrow interface to activate the pan and tilt. If you hold the mouse button down, the pan takes a single step and stops. There are no keyboard equivalents, so you couldn't program a joystick to control it, which is a real shame for budding robot designers. You would have to go deeper into the control system and talk to the USB port directly, I suppose.
The thing is obviously capable of smooth panning, because it does so when you click the "Home" button. Why can't I do that myself?
We bought the camera to serve as part of a display on the Mars Rovers. We set ours on top of a Lego™ model of a Mars rover and voilà, an instant interactive display. It's good for a table at open house, which is where we intend to use it.
I wish I could embed the video output and controllers in a HyperCard Stack, but those days are long gone. It would make a great kiosk for a display, though. Pity.
Installation was simple and quick, although it did require a restart, which seems a bit rare these days on OS X. At one point the camera software couldn't find the camera, so I had to reinstall it. I haven't been able to reproduce the problem, so I'm not exactly sure what happened.
Overall, at the price I paid (retail is US$129.95) I'm getting more or less what I paid for. There are cheaper webcams. There are less expensive FireWire webcams (the iBot comes to mind). You pay a little for the gimmick, and I wish I had more control over it in a greater variety of ways. The QuickCam Orbit is so new that Logitech hasn't yet posted any Mac drivers for it.
Join us on Facebook, follow us on Twitter or Google+, or subscribe to our RSS news feed
is a longtime Mac user. He was using digital sensors on Apple II computers in the 1980's and has networked computers in his classroom since before the internet existed. In 2006 he was selected at the California Computer Using Educator's teacher of the year. His students have used NASA space probes and regularly participate in piloting new materials for NASA. He is the author of two books and numerous articles and scientific papers. He currently teaches astronomy and physics in California, where he lives with his twin sons, Jony and Ben.< And there's still a Mac G3 in his classroom which finds occasional use.
Today's Links
Mac of the Day: iMac (Late 2006), introduced 2006.09.06. Apple introduced the biggest screen ever in an iMac with a 24" 2.16 GHz Core 2 Duo model.
Recent Content
Custom Search
Follow Low End Mac on Twitter
Join Low End Mac on Facebook
Favorite Sites
MacSurfer
Cult of Mac
Shrine of Apple
MacInTouch
MyAppleMenu
InfoMac
The Mac Observer
Accelerate Your Mac
RetroMacCast
The Vintage Mac Museum
Deal Brothers
DealMac
Mac2Sell
Mac Driver Museum
JAG's House
System 6 Heaven
System 7 Today
the pickle's Low-End Mac FAQ
Affiliates
Amazon.com
The iTunes Store
PC Connection Express
Macgo Blu-ray Player
Parallels Desktop for Mac
eBay

Advertise