First Mac minis in Classroom a Big Hit
- 2005.05.25
My new Mac minis for the classroom arrived. These are tiny little computers. They're so small, you really need to lock them down with Kensington cables or risk having one taken inside someone's pocket.
Okay, maybe they're not quite that small, but it's close.
Mine arrived in a cardboard box about the size of a toaster oven. The box was more than half filled (by volume) with Styrofoam packing material - this container could take a lot of punishment.
Inside the box was a small Apple-style box about the size of a toaster, complete with a plastic carry handle. The setup instructions are printed on the side of the box and consist of essentially the directive to "plug it in."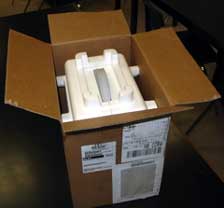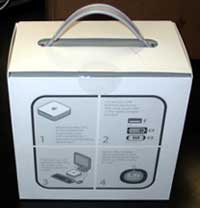 There are not many things inside the box, but everything that is necessary to get up and running is in there. I ordered mine sans modems, so no modem cables. The mini can be so small, in part, because it uses an external power supply provided as a brick. That's the thing that looks like a giant iPod shuffle in this photo.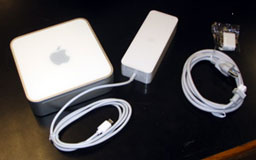 You also get a removable power cord for the brick - why Apple does this I don't know, because it uses a proprietary connector. It's not like you can use the cord for anything else.
Thanks to everyone who wrote in and pointed out that moving to a country with different power plugs would make having a removable power cord very handy. Since the brick is autosensing, all you need is a new cord that fts the plug.
A video adapter goes from the DVI port on the mini to a VGA port. I wonder about the decision here; this is obviously a low end machine. Who will be plugging these into flat screen monitors worth more than the computer?
Anyway, I read sporadic reports of poor video port stability (flickering images, etc.) on various websites, and this made me apprehensive when I too saw a screen connected to the mini freak out and turn green. Then I discovered the port adapter doesn't just sit there through friction. You can tighten it via two thumb wheels on the side, which is not immediately obvious.
Aside from that, I plugged in a USB keyboard and mouse, attached a spare monitor, and the computer booted up nicely. I'll be writing more about the performance and behavior of the minis. Low End Mac's specs page can tell you about the ports and options available.
The computers the minis are replacing are so old that the 1.25 GHz mini's are a real treat. They're faster than any of the other computers - and you can tell, even with the OS X display overhead, that they boot faster and respond better to applications like Word. The students already prefer to use the two mini I've set up.
So far I have only one unsolved problem. Using the accounts pane to restrict student access, there is no way to eliminate access to the school network through the Go menu except to invoke the Simple Finder, which seems so far removed from the normal computing experience as to be counterproductive educationally. I wish I could turn off casual network access so I wouldn't have to worry about little hacker wannabes trying to see what they can on the campus network.
You can't boot a mini into OS 9 so I can't use the Foolproof software I normally use (see To Internet and Beyond). I wish they'd port that over to OS X.
I'll be working on solving this problem....
Stay iTuned..
Join us on Facebook, follow us on Twitter or Google+, or subscribe to our RSS news feed
is a longtime Mac user. He was using digital sensors on Apple II computers in the 1980's and has networked computers in his classroom since before the internet existed. In 2006 he was selected at the California Computer Using Educator's teacher of the year. His students have used NASA space probes and regularly participate in piloting new materials for NASA. He is the author of two books and numerous articles and scientific papers. He currently teaches astronomy and physics in California, where he lives with his twin sons, Jony and Ben.< And there's still a Mac G3 in his classroom which finds occasional use.
Today's Links
Custom Search
Follow Low End Mac on Twitter
Join Low End Mac on Facebook
Favorite Sites
MacSurfer
Cult of Mac
Shrine of Apple
MacInTouch
MyAppleMenu
InfoMac
The Mac Observer
Accelerate Your Mac
RetroMacCast
The Vintage Mac Museum
Deal Brothers
DealMac
Mac2Sell
Mac Driver Museum
JAG's House
System 6 Heaven
System 7 Today
the pickle's Low-End Mac FAQ
Affiliates
Amazon.com
The iTunes Store
PC Connection Express
Macgo Blu-ray Player
Parallels Desktop for Mac
eBay

Advertise