Even Apple's User Interface Has Room for Improvement
- 2006.01.11
Recently a friend had some difficulty trying to place an order on the iTunes Music Store, and it reminded me that for some time now I've wanted to document some of the odd little interface quirks that have popped up over the years that I've used a Mac.
My friend had her iTunes preferences set to use a shopping cart instead of 1-click ordering. This was to prevent her children from randomly clicking and buying things in the iTunes Store.
One evening she spent several hours searching for particular tracks from an artist she likes, methodically adding them to her shopping cart. When she was finished, she went to find her shopping cart to place the order - and it wasn't there. Not on the home page of the iTunes browser, not in any of the menus, and not visible in the "source" listing.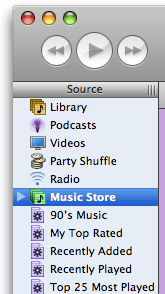 I could see my shopping cart using her iTunes on her computer (I tried it when she asked), but only when I activated the shopping cart option instead of 1-click.
It turns out that it was hidden in the Store icon in the source listing on the left side of the iTunes window. Her "triangle" button (see image to right) hadn't been pressed, so the cart option was hidden inside the Store item in her list.
How is someone supposed to figure this out? I couldn't find it in the help files. It was so basic and simple an idea that Apple didn't even document it. And we all know how they like to document obvious things!
The only thing is, I don't think this was all that obvious. It's easy once you know it, but it's not obvious.
The Chooser
This reminds me how the Chooser operates in OS 9 and below. The first time I was confronted with the Chooser, I was mystified. What was it for? How do you know when you need it? How do you put things in it so you can use them?
Just like the iTunes thing above - easy to use, harder for me, at least, to intuit.
Other Mac Oddities
Other odd things I and my students have had problems with are:
Ejecting Disks
Okay, I get (and agree) that you should always ask the operating system to give you a disk back so it knows where each mounted disk is at all times. This is why Apple has consistently tried to have a software-driven eject function since 1984.
But would it hurt to put an eject button near the drive, sort of like a lone keyboard key?
And when you invoke the eject button, why can't the OS - even today - ask you if you want to quit all applications using the disk instead of making you stop, clear the dialog, go do it manually, and then eject the disk?
It's like wrestling an octopus. Quit squirming and just give me the freakin' disk!
iPod Controls
Imagine giving an iPod to someone who had never used one and not giving them a manual. You have to explain everything, like a secret handshake and password to a mysterious society.
How do you turn it on? Why doesn't it have a volume knob like a radio? When it's asleep, why doesn't it respond in any way while the hard drive spins up - or at least explain "please wait, vacuum tubes warming up" or something?
Once you get used to it, it's easy; but before you know how to use the iPod, it's mysterious.
Open and Save Files
Why is the interface for opening and saving files - on Macs and PCs - so different than the Finder interface you use for organizing them?
In OS X, we have something approaching this, but sudden and unexpected changes from icon view to list view to directory view can confuse even experienced users. Why not generate an icon floating above the desktop (moving all the crap out of the way like in Exposé) and then ask, "Where do you want to put this?"
Where Is It?
The biggest problem new users have (IMHO) is that they can't find things they've saved. And don't give me any Spotlight crap - I don't trust Spotlight to find anything that wasn't created right under its nose (see A Big Oversight in Spotlight's Searches).
iMovie Clips
When I first used iMovie, it was a challenge to figure out that you had to first put clips in the workspace and then drag them down to the track area to make them do anything.
Yes, it's all in the tutorials and manuals, but aren't we talking about Apple here? Isn't the interface supposed to be so obvious that you don't need a manual?
Can't we have a label somewhere on the workspace that says, "Put stuff here" and "Drag things here to make a movie," and have a preference setting to turn these off once you get past Mystifying and move on to Obvious and Easy for Those In The Know.
Newbies
As a teacher, I have to constantly remind myself what it was like when I didn't know everything I do now so I can think like my students and tell them what they need to hear. Sometimes, engineers - even at Apple - would do well to drag someone in off the street who has barely used a computer and watch them try how to figure out how to do things without a manual.
Legend has it these kind of usability studies led to the one-button mouse.
Even with all of its improvements, OS X still feels a little inconsistent. I still think, despite its flaws, the classic Mac OS was in many ways more mature as an interface than OS X is today - despite the Chooser and the control panels serving somewhat redundant functions and having Desktop Printing circumvent both.
Join us on Facebook, follow us on Twitter or Google+, or subscribe to our RSS news feed
is a longtime Mac user. He was using digital sensors on Apple II computers in the 1980's and has networked computers in his classroom since before the internet existed. In 2006 he was selected at the California Computer Using Educator's teacher of the year. His students have used NASA space probes and regularly participate in piloting new materials for NASA. He is the author of two books and numerous articles and scientific papers. He currently teaches astronomy and physics in California, where he lives with his twin sons, Jony and Ben.< And there's still a Mac G3 in his classroom which finds occasional use.
Today's Links
Mac of the Day: 17" iMac G4 (Mid 2002), introduced 2002.07.17. The iMac grows up with a 17" 1440 x 900 display.
Recent Content
Custom Search
Follow Low End Mac on Twitter
Join Low End Mac on Facebook
Favorite Sites
MacSurfer
Cult of Mac
Shrine of Apple
MacInTouch
MyAppleMenu
InfoMac
The Mac Observer
Accelerate Your Mac
RetroMacCast
The Vintage Mac Museum
Deal Brothers
DealMac
Mac2Sell
Mac Driver Museum
JAG's House
System 6 Heaven
System 7 Today
the pickle's Low-End Mac FAQ
Affiliates
Amazon.com
The iTunes Store
PC Connection Express
Macgo Blu-ray Player
Parallels Desktop for Mac
eBay

Advertise