Low End Mac Sued over New Mascot
- 2007.02.05

Remarkable similarities between the new Low End Mac mascot, Lemmy (see last week's Marketing Campaign Bombs in Redmond), the three maintenance robots, Hewie, Dewie, and Lewie from the 1971 sci-fi film Silent Running, prompted an announcement today.
The robots said that they are investigating possible litigation against Lemmy and Low End Mac.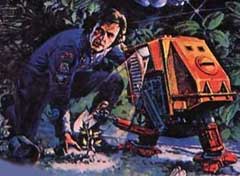 Lawyers for Low End Mac were quoted as saying, "We feel that there are substantive differences between the Silent Running robots and Lemmy. For one thing, Lemmy doesn't require chimpanzees* to make him appear animated. For another, he doesn't take his orders from Bruce Dern."
The chimpanzees were unavailable for comment.
Join us on Facebook, follow us on Twitter or Google+, or subscribe to our RSS news feed
Today's Links
Mac of the Day: 17" iMac G4 (Mid 2002), introduced 2002.07.17. The iMac grows up with a 17" 1440 x 900 display.
Recent Content
Custom Search
Follow Low End Mac on Twitter
Join Low End Mac on Facebook
Favorite Sites
MacSurfer
Cult of Mac
Shrine of Apple
MacInTouch
MyAppleMenu
InfoMac
The Mac Observer
Accelerate Your Mac
RetroMacCast
The Vintage Mac Museum
Deal Brothers
DealMac
Mac2Sell
Mac Driver Museum
JAG's House
System 6 Heaven
System 7 Today
the pickle's Low-End Mac FAQ
Affiliates
Amazon.com
The iTunes Store
PC Connection Express
Macgo Blu-ray Player
Parallels Desktop for Mac
eBay

Advertise