More on eMacs and PowerBooks
Charles Moore - 2002.05.15 - Tip Jar
Re: eMac Musings
Ken Watanabe
Charles,
I like the new eMac, mostly for its higher-resolution screen. At some point (maybe after the next back-to-school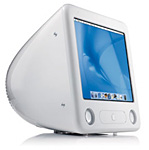 shopping season but before Christmas shopping), Apple should definitely market a version to consumers. All Apple needs to do is create versions with the same specs as the LCD iMac models (other than the screen and speakers) and offer them for the same prices. This way, most consumers will still choose the LCD iMac as a better value, but some consumers will be happier with the eMac for various legitimate reasons (and I'm sure Apple will be happy with the great profit margin). Choice is good.
Thanks for the article.
- Ken Watanabe
I agree.

Charles
eMac Musings
From: Gary Shelton
Hello,
I read your article on Low End Mac regarding the eMac vs. iLamp, er, sorry G4 iMac. If the machines are configured as close as possible, the difference between the eMac and the education-priced G4 iMac ends up being $220. Admittedly, not a huge difference, though I've had to choose between two computers models with narrower prices. I just wanted to note that the base iMac doesn't have a combo drive, it's only CD-RW - the $1,599 model - has to be purchased to get the combo drive.
I enjoy reading your articles when they're available...
Gary Shelton
Hi Gary,

Thanks for the clarification. I slipped up on that CD-RW issue.

Charles
eMac Musings
From John Christie
Hi,
In regards to the uselessness of CRTs, there are two things they still excel at. Only one of those has been met with some high end LCDs.
In psychology the CRT is very important because of the fast presentation times available. An LCD can have rise and fall times for pixels in the 30 msec range (easily higher). CRTs are much much faster and allow much more precise timing of stimulus presentation with crisp onsets and offsets. There are other sciences in which this is also important. Motion on an LCD is terrible and some games are awful because of this same flaw. To give an extreme example d/l Apple's VBL sync sample for Mac OS X from the sample code section of the developer's website. A vertical bar is displayed being animated back and forth horizontally across the screen (this accentuates VBL "tearing"). If you compare the animation between a CRT and LCD the difference is very dramatic, even to the untrained eye the LCD is very very blurry.
Colour capabilities of LCDs are just not even close. There are some new ones that are very expensive, that can match a CRT for most purposes. However, the inexpensive LCDs we know and love have severe problems with colour fidelity and range.
Many people still need CRTs. Others just can't afford LCDs.
Sincerely,
John Christie
Hi John,

I didn't say CRTs were useless; just that I don't like 'em. ;-)

No argument on the points you raise. I'm neither a psychologist nor a gamer, and animation is not a high priority for me. Critical color balance isn't an issue that concerns me personally either.

As I said in the article, Apple should give consumers their preference.

Charles
Real PowerBooks
From: Scott Brown
Hi Charles:
I read with interest your feelings about the PB 5300. That, too, was my first PowerBook (purchased shortly after my first Mac, a wonderful 7500 now upgraded to G3). However, although I did enjoy the PB experience, I needed to pare down and sold the machine.
I missed it a lot. It was fun to use, and, since it was a Mac, I was able to do so much so fast, so easily.
Six years later (thanks to eBay), I now have a 1400c, 1400cs, PB 170, 3 180s, 3 Duos, a 540c (broken hinge)
, the 3400c (affectionately called "the Beast), and a bunch of desktops. My favorite PB is the 1400: the keyboard is the best I've ever used, par none. I enjoy the others, including the older 100 series (tank tough and still running), but the 1400 will always hold a special place in my heart, deep inside the bigger special place that all Macs hold.
Thanks,
Scott
Hi Scott,

That's a nice collection. I'm negotiating the purchase of a 1400 to replace my daughter's 5300.

However, I prefer the WallStreet keyboard to all others.

Charles
Good PB Prices
From Dan Finegan
Hi Charles
I thought you might like adding Dave Baucom (http://baucomcomputers.com) to your weekly roundup of best used PowerBook prices. His deals are consistently lower the other sources you mention. While I have only made one purchase from him, he seems to be a very reputable dealer. Dan Knight has had a link to his site for quite a while.
Thanks!
Dan Finegan
Thanks Dan, I've added his site to the list of ones I check.

Charles
Passive cooling - 2-layer aluminum baking sheets for $10 from Target work very well (PB Pismo 400 30/768)
From Hank
I put a 30 GB drive and 768 MB RAM in my Pismo 400, and it warmed up a bit.
I found baking sheets - 2 layers of aluminum crimped together with an air space, dimples in one side to spread heat evenly - make wonderful lap protectors. The aluminum works dandy as a radiator.
They come in various sizes; all have one edge tipped slightly as a handle, just right to wrap around front or back of the PowerBook without interfering with cables (protects that flimsy door and the cable plugs from being bent off).
Two of them make a fine 'sandwich' connector inside a Targus computer bag. Pad them with a sheet of paper so they don't scuff the black plastic case of a Pismo, that's actually got a very thin layer of color not solid colored plastic (hmmm, a little buffing and I could probably make a transparent Pismo!)
Aluminum is transparent to X-rays. And lighter than a slab of marble, if you're traveling.
Join us on Facebook, follow us on Twitter or Google+, or subscribe to our RSS news feed
Charles Moore has been a freelance journalist since 1987 and began writing for Mac websites in May 1998. His The Road Warrior column was a regular feature on MacOpinion, he is news editor at Applelinks.com and a columnist at MacPrices.net. If you find his articles helpful, please consider making a donation to his tip jar.
Links for the Day
Mac of the Day: Macintosh 512K Fat Mac, introduced 1984.09.10. The first Mac with enough memory for serious work.
Recent Content
Custom Search
Follow Low End Mac on Twitter
Join Low End Mac on Facebook
Favorite Sites
MacSurfer
Cult of Mac
Shrine of Apple
MacInTouch
MyAppleMenu
InfoMac
The Mac Observer
Accelerate Your Mac
RetroMacCast
The Vintage Mac Museum
Deal Brothers
DealMac
Mac2Sell
Mac Driver Museum
JAG's House
System 6 Heaven
System 7 Today
the pickle's Low-End Mac FAQ
Affiliates
Amazon.com
The iTunes Store
PC Connection Express
Macgo Blu-ray Player
Parallels Desktop for Mac
eBay

Advertise