Ubuntu Linux Not Best for Macs, OS 9 on Macintel, Using FireWire Target Disk Mode to Install OS X, and More
Charles Moore - 2006.09.25 - Tip Jar
Mac OS X Trumps Ubuntu Linux
From Dan Palka
I found your article (Is Ubuntu Linux a Sensible Alternative for Mac Users?) interesting, and I agree completely. I maintain some of my friends' PCs which I have installed Ubuntu on, because I think it is a more secure option than Windows. However, I wouldn't replace OS X with Ubuntu, and if OS X could run on PCs, I would be installing that instead of Ubuntu.
REPLY
Hi Dan,
We're singing from the same hymnbook.
Charles
Ubuntu for Macs: Too Many Holes
From Otto Schlosser
Hi, Charles.
Just wanted to let you know that I have some experience with this and, in my case, I reached the same conclusion you did. I was running Ubuntu (Breezy Badger) on a Blue & White G3, and I finally went back to Panther.
It should be said that I had the additional complication of working on a Windows network where I needed seamless access to printers and file servers; that was a major irritant with Ubuntu. Multimedia apps were another, purely personal one. I have little doubt that, if I was running an Intel build of Ubuntu, things would have been smoother, but on PowerPC, there were too many little holes.
Thanks for your column - I always look forward to reading it.
ojs
REPLY
Hi Otto,
Thanks for the practical insight.
Charles
Yellow Dog Linux vs. Ubuntu on a PPC Mac
From Martin Cohen
I installed Yellow Dog Linux on an external FireWire drive on my G4 iBook because I did not want to mess with my OS X setup. It installed easily - I just entered "install firewire".
Ubuntu, OTOH, has no way of installing on an external drive.
So maybe on a PC (since I got all versions of 6.06), but not on my iBook.
Martin Cohen
REPLY
Thanks for the tip, Martin.
Charles
Running OS 9 on an Intel Mac
From Nathan Finch
Dear Mr. Moore,
I was doing some research on OS 9 and OS X (trying to find out what percent of the Mac community is still using OS 9 and not having much luck in finding such stats) and ran across your article, Is Mac OS 9 Still a Player? Mac OS 9 Compatibility, Upgrades, Hacks, and Resources, 2006 Edition.
I also found an article published last month, Run MacOS 9 on an Intel Mac, that describes how to run OS 9 on an Intel Mac. I thought you might want to update your article to include this information. I've not tried what is described in that article, merely passing it your way.
Best wishes,
Nathan Finch
REPLY
Thanks for the link, Nathan. I'll check it out and perhaps include it in the next update of the article.
Charles
Using FireWire Target Disk Mode to Install OS X
From Dylan McDermond
Just wanted to note that I have always done this opposite to your method. I boot the computer with the DVD drive into [Target Disk Mode]. That allows you to boot the "lesser" computer from the install DVD inserted into the DVD-equipped computer.
-Dylan
REPLY
Hi Dylan,
I agree. That method makes more sense. Being slow on the uptake, it just didn't occur to me at the time.
Charles
WallStreet Hard Drive Upgrade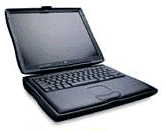 From Brian Hunter
Hi! I have been reading your articles on the Low End Mac site for a long time. I appreciate your information a lot!
I just bought a 300 MHz/320 MB WallStreet, and need to upgrade the hard drive. Will I be able to use the (Apple OEM) 60 GB HD I pulled from my iBook G4/933 when it died recently? Thanks for your help!
- B.
REPLY
Hi Brian,
Congrats on the WallStreet purchase.
Yes, the WallStreet has a honking big hard drive bay, and the drive pulled from the iBook should work just fine.
Remember that if you intend to install OS X on the "Old World ROM" WallStreet, you will need a boot partition on the drive of less than 8 GB.
Charles
5G iPod Scratches
From Chris Turpin
Hello Charles.
I am in need of your knowledge once again.
I have acquired an 5th Generation iPod from my sister. I already had 1 GB nano, but I couldn't miss the opportunity. So I took it.
Problem is it was quite damaged. I took the advice of the humble people on the Apple Discussions forums and used the Brasso trick on it (I don't have the link, unfortunately), and it worked like a charm. I also dropped about $20 on a leather flip case.
Now there exists a problem. I have taken my iPod on a few trips without the case, and it has been in my pocket, which I have made sure nothing else was inside. It came out quite scratched up. This never happened to my nano without it's case.
My nano is dated March 2006. My Fifth-gen is dated December 2005. What I'm wondering is, did Apple quietly make the front of the iPod chassis stronger to address the concerns of scratches? Or is the Fifth-generation iPod generally more fragile than the nano?
Also, another concern: I think either Dan Knight or Adam Guha talked about a fourth-generation iPod dying from excessive disk use. Can that happen with the fifth-generation iPod?
Thanks in advance,
Chris
REPLY
Hi Chris,
I have no hard knowledge on this issue, but Apple is explicitly advertising better scratch-resistance on the latest revision iPods, and it wouldn't surprise me if a plastic reformulation had been quietly incorporated as a production modification after the flap over the easily-scratched original nanos in late 2005.
My daughter's first-gen iPod hard drive died from excessive disk use, but she had been booting OS X from it. It stands to reason that those tiny hard drives are not going to be as robust as their 2.5" and 3.5" cousins. Apple doesn't recommend using an iPod as boot drive. Anything mechanical will eventually wear out from use, and because of the tolerances of mass production, some will expire sooner than others.
Charles
Re: iPod scratches
From: Chris Turpin
That's what I'm thinking. Also I noticed that black iPods seem to have more problems with scratches than white ones do.
I saw an ad on LEM about iFixIt having iPod parts. I guess that will make my solution easier, as I was just going to eBay a dead 5G iPod, but that's a bit of a stretch. Now to save up the money. ;)
Once again, thanks for your insight on the situation.
-Chris
REPLY
Hi Chris,
When I was in the fibreglass sail yacht business, we used to say, "All colors scratch white."
While I'm at it, there was another aphorism from an earlier era: "There are only two colors for a boat: white or black, and only a fool would paint a boat black." ;-)
Charles
Re: Problem Reading CD-R
From Andrew Main in response to Beige G3 Unable to Read CD-R:
Charles,
This page discusses DVD rather than CD media, but still has some worthwhile information re brand vs. manufacturer: Blank DVD Media Quality Guide. (Maybe someone knows about a similar page discussing CD media?)
Andrew
REPLY
Hi Andrew,
Thanks for the link.
Charles
Join us on Facebook, follow us on Twitter or Google+, or subscribe to our RSS news feed
Charles Moore has been a freelance journalist since 1987 and began writing for Mac websites in May 1998. His The Road Warrior column was a regular feature on MacOpinion, he is news editor at Applelinks.com and a columnist at MacPrices.net. If you find his articles helpful, please consider making a donation to his tip jar.
Links for the Day
Mac of the Day: 20th Anniversary Mac, introduced 1996.03.20. Honoring Apple's 20th anniversary, the TAM was the first flat panel desktop Mac and had a unique design.
Recent Content
Custom Search
Follow Low End Mac on Twitter
Join Low End Mac on Facebook
Favorite Sites
MacSurfer
Cult of Mac
Shrine of Apple
MacInTouch
MyAppleMenu
InfoMac
The Mac Observer
Accelerate Your Mac
RetroMacCast
The Vintage Mac Museum
Deal Brothers
DealMac
Mac2Sell
Mac Driver Museum
JAG's House
System 6 Heaven
System 7 Today
the pickle's Low-End Mac FAQ
Affiliates
Amazon.com
The iTunes Store
PC Connection Express
Macgo Blu-ray Player
Parallels Desktop for Mac
eBay

Advertise