Of Bamboo Bikes, Notebooks, and Other Things
Charles Moore - 2009.07.20 - Tip Jar
They aren't Apple products, although there are some relevant computer connections we'll look at below, but they're really cool. I'm talking about bicycles made using bamboo - and laptop computers.
I'm a bicycle fan. I used to do a lot of bike riding, year round. If you'll pardon a digression, winter biking, which I did daily in season when our rural mailbox was a kilometre away, can be a lot of fun, especially cross country on the top of well-crusted snow or on frozen lakes. It's also less tricky that you might think, since bikes don't depend as much on surface traction for stability as four- or three-wheeled vehicles do and are surprisingly capable on ice. I don't recall ever wiping out in several years of fairly intensive winter biking,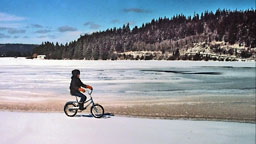 These shots show one of my kids on the crust back in 1990.
I haven't done much bicycling in winter in recent years. The mail gets delivered to the foot of our driveway these days, and being just two years and a bit short of 60, I've slowed down a bit, but I still use my old five-speed tourer for trips to the beach in summer and general errand-running.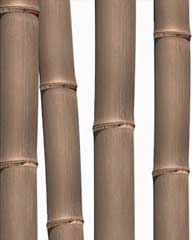 Winter biking isn't what this column is about either, the actual topic being a group of bicycle-enthusiast friends in Fort Collins, Colorado, who are on the verge of launching a moderately priced line of bicycles made not from the customary aluminum or steel tubing, but from the natural, renewable, sustainable material bamboo.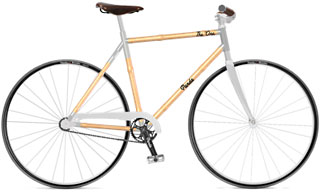 The bamboo Panda Bikes are claimed to be durable and comfortable, and they are certainly beautiful. The company says that the species of bamboo they use is very strong with a strength-to-weight ratio similar to that of steel. The robustness of this bamboo - combining the strength of steel, the weight of aluminum, and the vibration dampening of carbon fibre - merged with quality metal mechanical components and some metal frame components, such as front forks, handlebars, and seat posts, will make the Panda Bike a sleek and durable form of transportation. It will be perfect for urban commuters, say the three Panda partners - Jacob Castillo, John McKinney, and Mark Schlink - who are alumni of Colorado State University's global social sustainable enterprise program.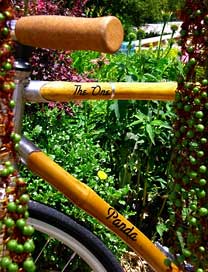 Bamboo is a fast-growing, cheap, renewable, and plentiful resource that is used extensively as an engineering and construction material in its native Asia. It has the tremendous advantage of 3 to 5 year regeneration time (compared with 80 to 200 years for hardwood). Bamboo has been known to grow 60 cm (24") in just 24 hours and is also capable of regenerating itself upon harvesting without need for manual replanting, making it an effortlessly renewable resource.
Panda Bicycles will not be the first to build bamboo bikes. New York-based Bamboo Bike Studio has been at it for some time, with its mission of advancing sustainable entrepreneurship and development through financing bamboo bike factories in Africa and South America. It has seeded the first bamboo bike factory in Ghana, Africa, where reliable and cheap bicycle transportation can dramatically improve access to jobs, commerce, education, basic food and water resources, and health care.
Bamboo is a fascinating material, amazingly strong for its weight - and quite attractive aesthetically as well. When I was a kid, we had several bamboo poles around the house that had arrived with carpet rolled around them.
The ASUS Bamboo Series Notebook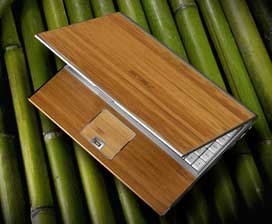 They're not Macs, but ASUS last fall rolled out its U6V bamboo notebook as a showcase for ASUS' commitment to environmentally friendly "green computing". ASUS claims this machine is the world's first notebook that largely foregoes hard materials such as plastic and metal in favor of all-natural bamboo, which is, as noted above, renewable and abundant, as well as a pleasure to touch and feel.
The U6V Bamboo's palm rest, touchpad and LCD cover are covered in bamboo, giving the laptop a distinct look to say the least while the computer inside is also energy efficient and has achieved Energy Star certification.
ASUS says the organic tactility, refreshing scent and minimalist aesthetics of bamboo lend the Bamboo Series notebook an arresting aura of spirituality, warmth and old world charm that synthetic materials and cold, impersonal metals will struggle to replicate. With every touch, users will be able to feel the difference - the bamboo gives an instant sense of familiarity, just like the sensation one would get from running one's fingertips across fine furniture. I haven't used a Bamboo computer, but I don't doubt the claim, and have ruminated in this space about the importance of computer feel as well as performance.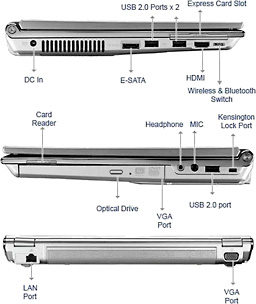 The Bamboo Series notebook isn't just a design exercise, but a highly capable computer with a full array of ports and an Express Card slot.
ASUS offers further enhancement of individuality by offering optional treatments that yield different colors, or by laser etching distinctive designs onto the ASUS Bamboo Series notebook's bamboo-clad cover.
Bamboo has immense tensile strength that rivals that of many metal alloys, and the ASUS Bamboo notebook is also highly resilient, claimed to be the first notebook to have survived the unforgiving conditions of 8,848 meters (29,028 feet) up snowcapped Qomolangma Peak.
Bamboo iPhone Cases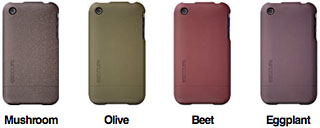 Incase also makes a pretty cool Bamboo case called Bamboo Slider for iPhone 3GS and iPhone 3G. 40% of the Bamboo Slider is made of a bamboo pulp created from reclaimed bamboo shards of materials such as construction scaffolding and chopsticks. The new material make-up provides the same high level of protection Incase's regular Slider Cases are known for, while allowing them to reduce the amount of plastic used.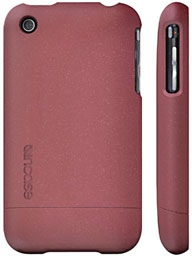 Bamboo Slider Features
Durable iPhone 3GS and iPhone 3G protection
40 percent recycled bamboo, 60 percent polycarbonate construction
Direct access to iPhone widescreen
Easy access to all controls and device features
Allows charging while in case or bottom cover slides away for use with dock
Other Bamboo Transportation
There are even bamboo cars, trucks, and taxis fueled with fueled by biodiesel produced from coconut oil being built and used in the Philippines, according to an article on Autoblog Green (with photos).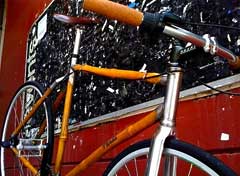 But back to the bamboo bikes.
Panda Bikes' first product, "The One", is projected to be available in about six weeks and is designed to be offered as a "fixie" - that is, a single speed - or three speed featuring an internal hub and coaster brake for maximum durability and style at a reasonably affordable price.
The estimated retail price for The One is to be about $850. Distribution will be through bike shops across the US, and eventually Canada as well.
Join us on Facebook, follow us on Twitter or Google+, or subscribe to our RSS news feed
Charles Moore has been a freelance journalist since 1987 and began writing for Mac websites in May 1998. His The Road Warrior column was a regular feature on MacOpinion, he is news editor at Applelinks.com and a columnist at MacPrices.net. If you find his articles helpful, please consider making a donation to his tip jar.
Links for the Day
Mac of the Day: Macintosh 128K, introduced 1984.01.24. 1984 wasn't going to be anything like 1984 thanks to the original Macintosh.
Recent Content
Custom Search
Follow Low End Mac on Twitter
Join Low End Mac on Facebook
Favorite Sites
MacSurfer
Cult of Mac
Shrine of Apple
MacInTouch
MyAppleMenu
InfoMac
The Mac Observer
Accelerate Your Mac
RetroMacCast
The Vintage Mac Museum
Deal Brothers
DealMac
Mac2Sell
Mac Driver Museum
JAG's House
System 6 Heaven
System 7 Today
the pickle's Low-End Mac FAQ
Affiliates
Amazon.com
The iTunes Store
PC Connection Express
Macgo Blu-ray Player
Parallels Desktop for Mac
eBay

Advertise