CyberDog Saves the Day
Phillip Blancher - 2001.11.23
My Turn is Low End Mac's column for reader-submitted articles. It's your turn to share your thoughts on all things Mac (or iPhone, iPod, etc.) and write for the Mac web. Email your submission to Dan Knight .
I was doing a service call at a customer's house one day recently when a tragedy occurred. My "GuruPhile" (name for my binder of service CDs - operating systems, Internet installers, and Mac utilities) was not to be found. In the rush to get to a client's house (75 miles away) I left the "GuruPhile" on the roof of my car - it ended up in the parking lot.
So here I was miles from home, and my safety net was gone. The customer (a 75 year old widowed shutin who's time was spent reading CNN and writing to his many grandkids) had an LC 575 in which the hard drive had died. Lucky for me he still had his OS install CD (7.6.1) and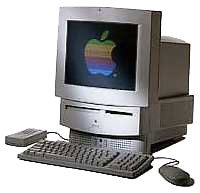 System CD (7.5), so after replacing the drive (and watching the horror on his face as he saw the insides of his computer - "That's what's in there," he exclaimed), I started to install his OS and programs.
That's when the clinch hit. I saw in his pile of boxes Internet Connection Kit. I thought, "Great, I can get his Internet online, and he can talk to all his grandkids." Only there was no CD, and I had a 75 year old gentleman who I didn't want to disappoint. My CD's were who-knows-where.
I looked up and saw a superhero, a little dog from nowhere who saved the day. There on that OS 7.6 disk was CyberDog, Apple's attempt at a browser linked with the failed OpenDoc initiative. CyberDog saved the day, saved sadness in an elderly man, and saved me from a big embarrassment.
Using CyberDog, I was able to go onto Browsers.com and download Netscape (customer request) and his freeware games, and get his system up and running. A couple hours later, a $20 tip (in Canadian Funds, so about US$9.94) and a huge smile from a happy elderly man, I was off.
When I had returned home, I had found that my two-year-old daughter Tiffany had found my "GuruPhile" in the parking lot. So I earned my wings by flying without a net, and a little Dog, abandoned by most, earned a place in my world.
Thank you CyberDog!
---
Phillip Blancher is a 25 year old Web designer and Macintosh technician in Brockville, Ontario, the online editor of a daily newspaper, and father of one daughter who is already playing with her first Mac Classic at two years old.
Share your perspective on the Mac by emailing with "My Turn" as your subject.
Join us on Facebook, follow us on Twitter or Google+, or subscribe to our RSS news feed
Today's Links
Mac of the Day: Macintosh 512K Fat Mac, introduced 1984.09.10. The first Mac with enough memory for serious work.
Recent Content
Custom Search
Follow Low End Mac on Twitter
Join Low End Mac on Facebook
Favorite Sites
MacSurfer
Cult of Mac
Shrine of Apple
MacInTouch
MyAppleMenu
InfoMac
The Mac Observer
Accelerate Your Mac
RetroMacCast
The Vintage Mac Museum
Deal Brothers
DealMac
Mac2Sell
Mac Driver Museum
JAG's House
System 6 Heaven
System 7 Today
the pickle's Low-End Mac FAQ
Affiliates
Amazon.com
The iTunes Store
PC Connection Express
Macgo Blu-ray Player
Parallels Desktop for Mac
eBay

Advertise