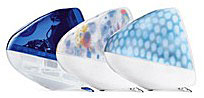 With the early 2001 revision to the iMac line, Apple ended up with four models running at three different speeds – there were different 500 MHz iMacs for the North American and international markets. These iMacs run Mac OS 9.1 and later.
The entry-level indigo 400 MHz iMac is the only CD-ROM model in the early 2001 family. It has Rage Pro 128 graphics with 8 MB of video RAM and a 10 GB hard drive. The G3 CPU has a 512 KB backside cache running at 160 MHz.
The international 500 MHz iMac includes a CD-RW drive, a 10 GB hard drive, and runs its backside cache at 200 MHz. Color options include indigo, Blue Dalmatian, and Flower Power.
The North American 500 MHz iMac uses the newer PowerPC 750CXe CPU, which has a 256 MB onboard cache that runs at full CPU speed. It also uses Rage 128 Ultra video with 16 MB of dedicated video memory.
Rounding out the line was the fastest iMac to date, the 600 MHz iMac, which shipped with 128 MB of RAM and came in graphite, Blue Dalmatian, and Flower Power.
Mac OS 9
Mac OS X
Non-Apple upgrades and peripherals (such as unsupported USB devices, replacement drives, and third-party memory) may cause problems when installing or booting into Mac OS X.
Be sure to read and follow Apple's "Read Before You Install" install instructions to increase the likelihood of getting OS X installed and running on the first try.
Details
Online Resources
Cautions