The Best Really Low Budget Macs
- 2001.04.26
My Turn is Low End Mac's column for reader-submitted articles. It's your turn to share your thoughts on all things Mac (or iPhone, iPod, etc.) and write for the Mac web. Email your submission to Dan Knight .
After reading Charles Moore's piece, The Best Low Budget Macs, I was inspired to write an article covering the best Macs that are really low budget.
Firstly, I think any Mac is a good, useable computer - it just depends on what it is to be used for and knowing the machine's limitations.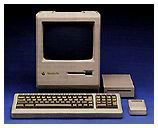 Expecting the venerable old Mac Plus to perform like a new iMac is obviously ridiculous, and moreover, is missing the point.
So let me get to the point. All Macs (new and old) have something wonderful in common - an ease of use via an operating system and hardware that compliment one another perfectly. It is such a seamless integration that the resultant "addiction" to Macs is not only understandable but natural.
I have used many PCs, as well, but PC use does not seem to produce the same kind of addiction we Mac users experience. I mean, I have ten or so old Macs, and I wanted each one for it's own uniqueness in form-factor and style. Style is not really an issue with PCs, as they all seem fairly generic, whereas there is a huge style difference between my Mac Classic and my Quadra 605, for example.
OK, so here are my choices for the best really low budget Macs, in no particular order:
Well, that's how I see it, anyway. Of course, these are all pre-Power Macs, and that's why these are really low budget Macs. However, they are all still very useful Macs and especially worthy of consideration for those on a tight budget.
Share your perspective on the Mac by emailing with "My Turn" as your subject.
Join us on Facebook, follow us on Twitter or Google+, or subscribe to our RSS news feed
Today's Links
Mac of the Day: Lisa, introduced 1983.01.19. The ancestor of the Macintosh had a mouse, a graphical interface, and a $10,000 price tag.
Recent Content
Custom Search
Follow Low End Mac on Twitter
Join Low End Mac on Facebook
Favorite Sites
MacSurfer
Cult of Mac
Shrine of Apple
MacInTouch
MyAppleMenu
InfoMac
The Mac Observer
Accelerate Your Mac
RetroMacCast
The Vintage Mac Museum
Deal Brothers
DealMac
Mac2Sell
Mac Driver Museum
JAG's House
System 6 Heaven
System 7 Today
the pickle's Low-End Mac FAQ
Affiliates
Amazon.com
The iTunes Store
PC Connection Express
Macgo Blu-ray Player
Parallels Desktop for Mac
eBay

Advertise