100 Apps Incompatible with 'Snow Leopard', Mac mini and SuperDrive Firmware Updates, and More
This Week's Apple and Desktop Mac News
Compiled by Charles Moore and edited by Dan Knight - 2009.09.04
MacBook, PowerBook, iBook, and other portable computing is covered in The 'Book Review. iPod, iPhone, and Apple TV news is covered in The iNews Review.
All prices are in US dollars unless otherwise noted.
News & Opinion
Snow Leopard News
Apple Updates
Tech Trends
Books
Software
News & Opinion
OS Market Share Changes Little in August
August figures provide the first month-over-month comparison under HitsLink Market Share's new system of weighting data that gives more prominence to page views globally based on the estimated size of each country's Internet population, rather than focusing mostly on the US and other Western markets as had previously been the case.
Last month NetApplications revised the methodology it uses to tally its HitsLink Market Share statistics watch. The August 2009 figures provide the first month-over-month comparison under the new system.
Here's the Operating System Total Market Share rundown of the significant players for August showing very little change over the past month (July '09 figures in parentheses):
Windows 93.06% (93.04%)
Mac 4.87% (4.86%)
Linux 0.94% (1.05%)
iPhone 0.33% (0.30%)
JavaME 0.31% (0.29%)
Symbian 0.14% (0.14%)
Windows Mobile 0.04%
All others combined 0.10%
In terms of versions:
Windows:

Windows XP 71.79% (72.92%)
Windows Vista 18.80% (17.90%)
Windows 7 1.18% (0.97%)
Windows 2000 0.93% (0.87%)
Windows 98 0.13% (0.14%)
Windows ME 0.12% (0.07%)
Windows NT 0.11% (0.14%)

Macintosh:

Mac OS X 10.5 3.45% (3.42%)
Mac OS X 10.4 0.99% (1.02%)
Mac OS X (no version reported) 0.28 (0.30%)
Mac OS X Mach-O 0.09% (0.09%)

iPhone 0.33% (0.30%)
iPod 0.07% (0.05%)
Linux 0.94% (1.05%)
Link: Operating System Market Share
Link: Operating System Market Share by Version
Firefox Continues to Nibble Away at IE
Turning to browsers, there was more good news for my favorite browser, Opera, which now has a cumulative 2.35 percent share when Opera Mini is included, thanks largely to its popularity in Eastern Europe and Asia. With the new Opera 10 final out this week, I'm looking for some modest continued growth in September. The Firefox browser is still nibbling away at Internet Explorer's erstwhile hegemony (IE is "only" 3x as popular), while Safari remained static over the month, and Google's newcomer (and so far Windows-only) Chrome the biggest gainer among browsers.
Browser Total Market Share (July figures in parentheses):
Microsoft Internet Explorer - 66.97% (67.68%)
Firefox - 22.98% (22.57%)
Safari 4.07% (4.07%)
Chrome - 2.84 (2.59%)
Opera - 2.04% (1.97%)
Netscape - 0.49% (0.67%)
Opera Mini - 0.31% (0.29%)
Mozilla - 0.11% (0.07%)
Konqueror - 0.05% (0.05%)
Link: Browser Market Share
Retrieving a Stuck CD
iFixit Blog says:
"Hi there. Have you ever found yourself troubled by a nasty optical drive that just won't let go of your favorite CD? Did you ever wish you could just tear that sucker apart and retrieve your long-lost companion? Worry no more, we here at iFixit have released a new jammed optical drives guide for such moments. All you need is a Phillips #0 screwdriver and a bit of patience to accomplish the task.
"It's a quick three-step guide that will surely help you rescue your precious CD from the treacherous grips of your optical drive. Our guide walks you through the most daunting procedures...."
Link: Retrieving a Stuck CD is as Easy as 1, 2, 3!
Bypassing the OS 9 Log-in Password
MacFixIt's Topher Kessler says:
"Periodically, readers will need to access files off old computers that they have kept stashed away for years (I still have my PowerBook 150, and will probably never get rid of it). If you are one of these people and have protected your old Mac with OS 9's password protection, there may be a chance you have forgotten your log-in password and cannot access your system. As with OS X, in order to get around the password protection in OS 9 you will need a boot CD, in this case preferably one that's loads the classic Mac OS."
Editor's note: MacFixIt began as an online update for Ted Landau's Sad Macs, Bombs and Other Disasters. in March 1996. The site was named MacFixIt and began using the macfixit.com domain in October 1996. MacFixIt became part of TechTracker in July 2000. In early 2002, MacFixIt made the unpopular decision to charge for access to its archived content, and what has been one of the best known and most respected Mac websites took an immediate hit.

TechTracker was acquire by Cnet in Sept. 2007, and Cnet was purchased by CBS in May 2009. As of this week, MacFixIt has abandoned its domain (it now points to http://reviews.cnet.com/macfixit/) and its distinctive logo (right), which I have always considered one of the best on the Mac Web. On the plus side, for the first time since 2002, access to all MacFixIt content is free. On the minus side, Ted Landau no longer has anything to do with MacFixIt. dk
Link: Bypassing the OS 9 Log-in Password
Snow Leopard News
How Much Mac Do You Need to Run Snow Leopard?
Apple has posted the official Mac OS X 10.6 "Snow Leopard" system requirements, of which the short version is simple - you need an Intel Mac, although not all of Snow Leopard's advanced features are supported by some of the older Intel Mac models. Snow Leopard definitely will not run on PowerPC Macs, including high-end G5s that are 64-bit capable.
No PowerBooks, iBooks, pre-Intel iMacs, pre-Intel Power Macs, or G4 Mac minis are supported by Snow Leopard. See The 64-Bitness of Mac OS X 10.6 'Snow Leopard' for an overview of which Intel Macs support which new Snow Leopard technologies.
General requirements
Mac computer with an Intel processor
1 GB of memory
5 GB of available disk space
DVD drive for installation
Some features require a compatible Internet service provider; fees may apply.
Some features require Apple's MobileMe service; fees and terms apply.
Feature-specific requirements
Time Machine requires an additional hard drive or Time Capsule (sold separately).
Photo Booth requires an iSight camera (built in or external), USB video class (UVC) camera, or FireWire DV camcorder. Backdrop effects when using a DV camcorder require fixed focus, exposure, and white balance.
Boot Camp requires Windows XP with Service Pack 2 or Windows Vista (sold separately).
Screen sharing in iChat and the Finder requires a 128-Kbps Internet connection (300 Kbps recommended).
DVD Player requires a 1.6 GHz processor or faster for improved deinterlacing.
iChat: Audio chats require a microphone and a 56-Kbps Internet connection. Video chats require an iSight camera (built in or external), USB video class (UVC) camera, or FireWire DV camcorder; and a 128-Kbps upstream and downstream Internet connection.
Backdrop effects when using a DV camcorder require fixed focus, exposure, and white balance.
Some iChat features offer better performance and quality with higher system capabilities. More details
Exchange Support requires Microsoft Exchange Server 2007 Service Pack 1 Update Rollup 4. Auto-setup requires enabling the Autodiscovery feature of Microsoft Exchange Server.
QuickTime X movie capture requires iSight camera (built-in or external), USB video class (UVC) camera, or FireWire DV camcorder.
QuickTime H.264 hardware acceleration requires a Mac with an Nvidia 9400M graphics processor.
Developer tools require 1 GB of memory and an additional 3 GB of available disk space.
OpenCL requires one of the following graphics cards or graphics processors:
Nvidia GeForce 9400M, GeForce 9600M GT, GeForce 8600M GT, GeForce GT 120, GeForce GT 130, GeForce GTX 285, GeForce 8800 GT, GeForce 8800 GS, Quadro FX 4800, Quadro FX5600
ATI Radeon 4850, Radeon 4870
64-bit support requires a Mac with a 64-bit processor.
Grand Central Dispatch requires a Mac with a multicore processor.
The full set of system requirements can be found on Apple's website.
Link: Snow Leopard Technical Specifications
Snow Leopard: 100 Incompatible Apps
InformationWeek's Paul McDougall reports that though it's pitched as a turnkey upgrade for users of the previous Mac operating system, Apple's new "Snow Leopard" OS is not fully compatible with more than 100 existing Mac applications, games, and software utilities, according to a website that's tracking software performance on what's officially known as OS X 10.6. All told, Wikidot as of midday Tuesday listed more than 100 products that users said don't function correctly with Snow Leopard.
Link: Snow Leopard: 100 Incompatible Mac Apps
Get Your Logitech Mouse & Keyboard Working with Snow Leopard
TUAW's Megan Lavey reports:
"Alan over with iPhoneXpert.com sent us in a tip on getting your Logitech mouse to work again after installing Snow Leopard. I didn't get a chance to try this out until my copy of Snow Leopard arrived last night. My keyboard/mouse combo of choice is the Logitech Wave Cordless Desktop (a fantastic combo that is well-suited for Mac users), and the OS upgrade did break the specialized configuration set up for them.
"Logitech has not updated its drivers - usually bundled with its Logitech Control Center application - for Snow Leopard yet, and an upgrade to the software will take some time, Alan reports. In the meantime, you can work around this issue by...."
Windows 7 vs. Snow Leopard
The Register's Tim Anderson reports:
"Apple's Snow Leopard arrived during the twilight zone between the completion of Microsoft's Windows 7 and its general release.
"The [Windows] culture is different to Apple's carefully crafted marriage of hardware and software into one seductive package.
"...how do these two operating systems stack up against one another?"
The summary conclusion is that "Snow Leopard continues the Mac tradition: it is fast, elegant and powerful. Further, Mac OS X has a capacity to delight the user that is lacking in Windows, thanks to design excellence; Windows 7 is the mass-market choice, benefits from countless applications along with mature network management tools, and performs well...."
Link: Windows 7 Versus Snow Leopard - The Poison Taste Test
How the Anti-Malware Function in Snow Leopard Works
PR: Since Intego posted an article about Apple's new anti-malware function in Snow Leopard, a number of sources have written about how this works. We have provided a comparison of Apple's anti-malware function and VirusBarrier X5 [Intego's anti-malware app], outlining some of the features that are present (or missing) in Apple's function. But now we'd like to look at this function in more detail, and describe exactly how it works, and what it does - and doesn't - do to protect Macs from malware.
Summary
Apple has added an anti-malware function to Mac OS X 10.6, Snow Leopard
This function only scans for malware in files downloaded with certain applications
Apple's anti-malware function doesn't scan for malware when files are copied in the Finder, from CDs, DVDs, USB thumb drives or network volumes
Apple's anti-malware function currently only scans for two Trojan horses
Apple does not detect all variants of the most common Trojan horse
Apple's anti-malware function doesn't scan meta-package (.mpkg) installer packages
Apple's anti-malware function does not repair infected files or infected Macs
Apple's anti-malware function in Snow Leopard does not offer Mac users serious protection from viruses and malware
A number of web sites have called this function "XProtect", based on the name of a file that contains information necessary to this function's operation. Apple has not given this function any "official" name, so we'll just stick with the banal "Apple's anti-malware function". The Xprotect file, called Xprotect.plist, is found in /System/Library/CoreServices/CoreTypes.bundle/Contents/Resources/; this is a more or less hidden location (it's inside CoreTypes.bundle, which is a bundle containing mostly icons).
But there's also another file in this bundle that interests us: it's called Exceptions.plist, and it contains a list of programs that are affected by Apple's anti-malware function. (We'll look closely at the contents of both of these files below.)
So, how does this function work? Apple has been using a "quarantine" function for quite some time in Safari, Mail and iChat. This function spots when files are downloaded, received as attachments to e-mail messages, or received during chats, and sets an extended attribute (data not visible to users) on such files containing information about when a file was downloaded and with which application. Here's what one extended attribute looks like for a disk image we downloaded with Safari:
com.apple.quarantine: 0000;4a9bc528;Safari.app;2E402B0A-4A8B-4E0C-B51B-47DE7BD0361E|com.apple.Safari
(Note that this extended attribute is added to all files received in the above manner, but the quarantine function only looks at certain file types, mainly executable files - applications or scripts - and installer packages.)
After mounting the disk image, if you double-click an executable file or installer package inside the disk image, the quarantine function spots the extended attribute and the system pops up a warning.
This will also occur if you download an executable or installer package in an archive. After extracting the executable, and double-clicking it, you'll see the above warning. With malware, Apple's new function piggy-backs on this quarantine system to scan the file for malware, and, if it finds anything, the following is displayed:
What Does Apple's Anti-Malware Function Scan For?
Now we get to look inside the XProtect.plist file we mentioned earlier. Looking at this file with Apple's Property List Editor, we can see that there are a grand total of two types of malware listed: the RSPlug.A Trojan horse, and the iServices Trojan horse. Intego discovered the former in October 2007 and the latter in January of this year. There are 17 variants of the RSPlug Trojan horse, and several variants of the iServices Trojan horse currently in the wild.
One interesting question is whether Apple's anti-malware function can detect all of the existing variants of the RSPlug Trojan horse. Intego's virus hunters did some tests, and found that Apple can detect only 15 of the 17 variants of the RSPlug Trojan horse. This means that two of them will get through Apple's net. It turns out that Snow Leopard does not detect the RSPlug.A nor the RSPlug.C variants. In addition, Apple's anti-malware function incorrectly identifies the variants it finds, since, in all cases, the alert displayed for any RSPlug Trojan horse variant states that the RSPlug.A variant was detected.
As for the iServices Trojan, things get a bit more complicated. This Trojan horse was found in pirated software distributed via BitTorrent sites. Yet Apple doesn't flag files downloaded with BitTorrent clients (see below). So, unless someone were to start distributing these infected disk images of iWork '09 and Photoshop CS3 via web sites, Apple's anti-malware function will never detect any iServices Trojans.
We must note a major weakness in this system. Apple's Installer uses two types of installation files: .pkg files and .mpkg files. The former are simple package files, and the latter are meta-package files, which contain several packages, often for installations that contain multiple elements. It turns out that, in our tests, Apple's anti-malware function does not spot malware contained in .mpkg files. We tested a number of RSPlug Trojan horse samples in meta-package files, and no alerts displayed. However, some of the files contained in the meta-packages, when opened on their own, set off alerts.
Which Applications Are Protected?
We mentioned above that there's a file called Exceptions.plist that contains a list of programs that can use Apple's anti-malware function.
Under Additions you can see the identifiers of the programs that Snow Leopard currently monitors for malware. There are web browsers: Internet Explorer, Firefox, OmniWeb 5, Opera, Shiira, Mozilla Navigator and Camino; and e-mail clients: Entourage, SeaMonkey and Thunderbird. (In addition to these programs are Apple's own Safari, Mail and iChat, which do not appear in the file; they have the LSFileQuarantineEnabled key set in their info.plist files. Any application that sets this key will benefit from Apple's quarantine protection, but that's up to individual developers.) Nevertheless, this doesn't apply to all types of files; for now, applications and other executables (such as scripts) are flagged, as are installer packages. Some other file types get flagged, but Trojan horses masquerading as files that are not applications can slip through the net.
Notably absent in this list are instant messaging programs (such as MSN, Adium and Skype), e-mail clients (PowerMail, Mailsmith, etc.), but above all, the vast number of applications that can download files other than from the web. No FTP programs are protected, and no BitTorrent clients or other peer-to-peer programs, both types of which are common vectors of infection.
It should be pointed out that the Finder is not protected, so files copied from network volumes or removable media (such as USB thumb drives) are not scanned at all. In addition, Apple's function can neither repair infected files, nor repair damage that may have been made if a Mac is already infected. In fact, in this latter case, Apple won't even be able to tell you that your Mac is infected.
The Unknown: Virus Definition Updates
Apple has stated that updates to the virus definition file, XProtect.plist, will be provided by its Software Update application, but not how often. To start with, only two Trojans are in the current definitions, which is far from sufficient given the extent of malware that threatens Macs. It's unclear whether Apple will wait for security updates to update that file, or whether there will be separate updates more often (Apple issues security updates for Mac OS X about ten times a year on average). Commercial antivirus software benefits from frequent updates: in Intego's case, at least twice a week, and more often when new malware or new variants are found.
Summing Up
It can be seen that Apple has added a very limited anti-malware function to Snow Leopard. Not only does it only scan files from a handful of applications, and only for two Trojan horses, but it didn't even spot all the current variants that we tested. It cannot repair files or scan your Mac to find existing infections. It doesn't detect malware contained in meta-packages, making it very simple to distribute malware that will bypass Apple's protection. It cannot scan network volumes, and it won't even see infected files copied from removable media. In short, Apple's anti-malware function in Snow Leopard is notable for the lack of serious protection it provides to Mac users.
Link: How the Anti-Malware Function in Apple's Snow Leopard Works
Apple Updates
Mac mini EFI Firmware Update 1.2
This update improves compatibility with the latest Apple memory kits on Mac mini computers.
To complete the firmware update process, follow the instructions in the updater application (/Applications/Utilities/Mac mini EFI Firmware Update.app). The updater will launch automatically when the installation is complete.
For detailed information about this update, please visit this website: About EFI firmware updates.
File Size: 2.4 MB
Editor's note: As best as we can tell, this only applies to the current Mac mini model, the one with Nvidia graphics.
Link: Mac mini EFI Firmware Update 1.2
SuperDrive Firmware Update 3.0 for iMac, Mac mini
This update will eliminate the noise made by the optical disk drive during system startup and wake from sleep on your Mac. This update works with the following EFI updates:
To complete the firmware update process, please follow the instructions in the updater application (/Applications/Utilities/SuperDrive Update.app).
The updater will launch automatically when the installation is complete.
File Size: 18.35 MB
System Requirements: Mac OS X 10.5.7 or later
Link: SuperDrive Firmware Update 3.0
Tech Trends
USB-IF Launches Certification and Compliance Program for USB 3.0 Products
PR: The USB Implementers Forum (USB-IF) today announced the availability of the USB 3.0 (SuperSpeed USB) Compliance and Certification Program. The program allows manufacturers to achieve certification and qualify to use the SuperSpeed USB logo by testing their products to ensure compliance to the USB 3.0 specification.
The availability of the Compliance and Certification program is a significant milestone, and means consumers are one step closer to seeing certified SuperSpeed USB products on store shelves, said Jeff Ravencraft, USB-IF president and chair. When consumers see the SuperSpeed USB logo, they will have the assurance that the product interoperates with existing USB 2.0 products and provides all the speed and power efficiency enhancements that SuperSpeed USB offers, while continuing the ease-of-use consumers have come to expect from USB.
The various test suites/test specifications that are part of the Compliance and Certification program were developed at the SuperSpeed USB Platform Interoperability Lab (PIL), which launched in March 2009. Since it opened, early SuperSpeed USB adopters have taken advantage of the tools and USB expertise offered at the PIL. SuperSpeed USB Compliance and Certification testing will initially be hosted at the PIL. Eventually, Compliance and Certification will be offered at USB-IF workshops and at Independent Test Labs, similar to the current Hi-Speed USB (USB 2.0) Compliance and Certification program.
According to industry analyst firm In-Stat, SuperSpeed USB will expand upon the broad market adoption of USB, which is the most successful interface in history with more than three billion devices shipped in 2008 alone. We expect SuperSpeed USB to broaden into new applications that require the higher data transfer speeds and improved power management capabilities that the new standard offers, said Brian O Rourke, senior analyst at In-Stat. By 2013, we expect SuperSpeed USB to represent approximately 30% of the USB market.
Vendors can register their products for testing by completing the PIL certification request form available on the USB-IF Web site, checking the Testing for USB-IF certification box, and submitting it to USB-IF Administration at admin@usb.org. Products that pass certification will be added to an Integrators List of certified SuperSpeed USB products, which will be made available on the USB.org Web site. The Integrators List is the central reference guide for the industry, and will enable manufacturers to view certified SuperSpeed USB components that have met the USB-IF Certification and Compliance Program criteria. Companies with certified products can then license rights to use the SuperSpeed USB logo.
To learn more about SuperSpeed USB compliance or how to become a USB-IF member, visit usb.org.
About SuperSpeed USB
SuperSpeed USB brings significant performance enhancements to the ubiquitous USB standard, while remaining compatible with the billions of USB enabled devices currently deployed in the market. SuperSpeed USB will deliver 10x the data transfer rate of Hi-Speed USB, as well as improved power efficiency.
The USB 3.0 specification was developed by the USB 3.0 Promoter Group which consists of Intel Corporation, Hewlett-Packard Company, Microsoft Corporation, NEC Corporation, ST-Ericsson and Texas Instruments.
About the USB-IF
The nonprofit USB Implementers Forum, Inc. was formed to provide a support organization and forum for the advancement and adoption of USB technology. The USB-IF facilitates the development of high-quality, compatible USB devices, through its logo and compliance program and promotes the benefits of USB and the quality of products that have passed compliance testing. Further information, including postings of the most recent product and technology announcements, is available by visiting usb.org.
Link: USB.org
Books
2 New 'Take Control of Snow Leopard' Ebooks from TidBITS
PR: Two new Take Control ebooks help readers upgrade to Snow Leopard and explore its new features
As Mac users queue up to purchase Mac OS X 10.6 "Snow Leopard", they'll be able to prepare for the upgrade with a pair of new ebooks: Take Control of Upgrading to Snow Leopard (TidBITS, $10) and Take Control of Exploring & Customizing Snow Leopard (TidBITS, $15). Many thousands of Mac users have relied on the previous editions of these ebooks to upgrade and get started with Panther, Tiger, and Leopard.
Take Control of Upgrading to Snow Leopard by Joe Kissell
Installing a major upgrade to Mac OS X can be stressful, but in this 81-page book, award-winning author Joe Kissell helps readers upgrade calmly and successfully with clear, expert steps developed over innumerable test installations.
Readers will learn how to evaluate if their Mac's hardware and software are ready to run Snow Leopard, create a bootable duplicate as insurance against upgrading woes, understand what the installer will do, run the installer, perform post-installation tweaks, and solve problems that might arise. The book is available at TakeControlBooks.com in both PDF ($10) and print ($19.99) formats.
Take Control of Exploring & Customizing Snow Leopard by Matt Neuburg
Although Apple focused on performance and stability with Snow Leopard, key features also received attention. In this 165-page book, author Matt Neuburg takes readers on a tour of Snow Leopard's major features, explaining the basics and pointing out subtle, yet important changes from how things worked previously.
Readers will get expert advice on quick navigation and consistent organization of files and folders, and they'll learn the ins and outs of working with Spotlight, Time Machine, Software Update, Services, Dashboard, the Dock, Expos, and Spaces. The book also teaches users how to type special characters or in another language entirely, manage fonts, customize the menu bar, set up keyboard and trackpad shortcuts, configure Internet helpers, and much more. The book is available at TakeControlBooks.com in both PDF ($15) and print ($27.99) formats.
Take Control of Exploring & Customizing Snow Leopard
Joe Kissell
Ebook format,
165 pages,
free 30-page sample available
Ebook Price: $15.00
ISBN: 9781933671994

Matt Neuburg
Ebook format,
81 pages, free
30-page sample available
Ebook Price: $10.00
ISBN: 9781933671642
8 New Snow Leopard Books from Peachpit
PR: Whether you're new to the OS, or an experienced Macintosh user ready to hone your troubleshooting skills, pick up a Peachpit book today to get the most out of the powerful features in Snow Leopard.
Software
DiskWarrior 4 Updated for 'Snow Leopard' Compatibility
PR: DiskWarrior is both claimed and widely acclaimed to be the safest, most technologically advanced, most powerful utility to eliminate directory damage and recover your files, folders and documents. DiskWarrior is so advanced it can even recover your data from a failing hard drive.
DiskWarrior 4 version 4.2 is now available for compatibility with Mac OS X 10.6 (Snow Leopard). Among the new features in version 4.2 are enhanced and faster directory repairs.
The new version is available for sale on the Alsoft ecommerce web site. Purchases of new copies from the ecommerce web site result in an immediate download with companion DVD shipments starting in 4 days on Tuesday, September 1. A free updater for existing owners of DiskWarrior 4 versions 4.0-4.1.1 is also available for immediate download.
DiskWarrior DVD revision 909 will begin shipping on Tuesday, September 1. The new DVD contains DiskWarrior 4 version 4.2 and adds support for starting up the new 13" and 15" MacBook Pro (SD card slot) models introduced in June 2009.
Free DiskWarrior 4 version 4.2 Disc Updater Available
Owners of DiskWarrior 4 versions 4.0-4.1.1 can now download a free disc updater to update to DiskWarrior 4 version 4.2. This free updater application allows you to create a new startup disc (CD/DVD) with the latest version of DiskWarrior using your original DiskWarrior 4.0 or 4.1 disc. This approach provides you with an instant update while maintaining your ability to start up from a disc containing the latest version of DiskWarrior.
The DiskWarrior 4.2 Disc updater cannot update a disc created by any previous DiskWarrior updater. You must update your original (factory) DiskWarrior 4.0 or 4.1 disc. This limitation allows Alsoft to reduce the size and complexity of the updater. It also results in a significantly smaller test suite that permits them to issue updates more responsively.
Please note that the new startup disc you create will start up the same set of Mac models as your current DiskWarrior disc (CD/DVD). Your new disc will not start up any Mac that your current DiskWarrior disc can not. If you need a new DiskWarrior disc that can start up the newest Mac models, please contact our Sales Department to order. Please note that you will receive a DVD even if your previous DiskWarrior disc was a CD.
DiskWarrior uses a different approach to disk directory repair than other programs.
DiskWarrior is not a disk repair program in the conventional sense. Instead of patching the original directory, it uses a patent-pending technology to quickly build a new replacement directory using data recovered from the original directory, thereby recovering files, folders and documents that you thought were lost and that no other program could recover.
How does DiskWarrior recover data no one else can?
The first thing DiskWarrior does is scavenge your original directory to find all the file data it can. It then uses this data to build an entirely new replacement directory.
DiskWarrior is claimed to be the only product that finds all of your data. Its patent-pending method always results in a perfectly rebuilt directory without any errors and that contains all of your file and folder data.
New in version 4.2:
Compatibility with with Mac OS X version 10.6 (Snow Leopard).
Numerous internal changes for speed and improved repair.
New in DiskWarrior 4.x:
Universal binary: DiskWarrior 4 works on both PowerPC and Intel Macs.
Significantly faster: For many disks, directory rebuilding is twice as fast as the previous version.
Repairs invalid file permissions: No need to run more than one utility. Repairing permissions and repairing directory errors are the two most common disk maintenance procedures.
Includes an additional suite of file and folder tests: Finds problems before they cause you trouble.
Identifies corrupted preference (.plist) files: A bad preference file can wreak havoc. Now you don't need to reset all your preferences because a single preference file is bad.
Recovers more data from drives with hardware malfunctions: Recover your important files from most failing drives, possibly saving you thousands of dollars in professional recovery costs.
Detects and repairs more disk problems than ever: The best is even better.
Repairs and rebuilds FileVaults: FileVaults suffer from directory damage too. DiskWarrior is your only choice if you need the data security of a FileVault.
Repairs and rebuilds disk images: Get back the files you thought you had safely tucked away in a disk image.
Fully supports case-sensitive file names: If you use case-sensitive disks then DiskWarrior is your best choice.
Repairs and rebuilds Attribute B-trees: First introduced in Mac OS X 10.4 (Tiger), Attribute B-trees are a new addition to the disk directory. DiskWarrior rebuilds them as easily as it rebuilds the original catalog and extents B-trees.
Repairs Access Control Lists (ACLs): ACLs are a new permissions model first supported in Mac OS X 10.4. DiskWarrior repairs them too.
Repairs Time Machine backup disks: Time Machine relies on a new directory structure called a directory hard link. DiskWarrior 4 version 4.1 and later repairs damaged directory hard links and can rescue a lost Time Machine backup.
System requirements:
To install, you must be started from Mac OS X 10.3.9 through 10.6 with at least 512 MB RAM. DiskWarrior 4 version 4.2 is completely compatible with Mac OS X 10.6 Snow Leopard. Alsoft recommends that you don't run DiskWarrior 4 version 4.0 while started from Mac OS X 10.5 Leopard or 10.6 Snow Leopard. Alsoft also recommends that you don't run DiskWarrior 4 version 4.1 while started from 10.6 Snow Leopard. Instead, you should download the free DiskWarrior 4 version 4.2 Disc Update. This free updater allows you to create a new startup disc containing DiskWarrior 4 version 4.2.
DiskWarrior 4 supports any locally connected Mac OS Standard (HFS) or Mac OS Extended (HFS Plus) disk including RAID volumes, journaled disks, case-sensitive disks, FileVaults, Time Machine backups and iPods.
DiskWarrior now ships on DVD instead of CD. Starting up from the DiskWarrior DVD requires a G4 867 MHz Mac or better (such as a G5 or Intel Mac) with DVD drive and a minimum 512 MB RAM. The computer must also have the latest firmware updates installed. Click here to learn how to repair the directory of a disk in a Mac model that cannot be started from the DiskWarrior DVD.
If you plan to rebuild the directory on your startup disk, you need to start up from another disk capable of starting up in Mac OS X 10.3.9 through 10.6, such as the DiskWarrior DVD. DiskWarrior cannot be run while started up from the Apple Mac OS X install DVD.
If you want or need to run DiskWarrior 4 version 4.2 from Mac OS X 10.4 or earlier, there are two features of DiskWarrior that are not available for a Mac OS X 10.5 or 10.6 startup disk. First, you cannot repair the permissions of a Mac OS X 10.5 or 10.6 startup disk. Second, you cannot rebuild a FileVault that was created under Mac OS X 10.5 or 10.6. You will be able to rebuild a FileVault that was created on a Mac OS X 10.4 startup disk that was later upgraded to Mac OS X 10.5 or 10.6. Your DiskWarrior DVD may start up in Mac OS X 10.4 and would therefore have these features disabled for a Mac OS X 10.5 or 10.6 startup disk. See the DiskWarrior manual for additional procedures to rebuild the startup disk.
If you want or need to run DiskWarrior from Mac OS X 10.6, there is a feature of DiskWarrior that is not available for a Mac OS X 10.5 or earlier startup disk. Specifically, you cannot repair the permissions of a Mac OS X 10.5 or earlier startup disk. Your DiskWarrior disc may start up in Mac OS X 10.6 and would therefore have this feature disabled for a Mac OS X 10.5 or earlier startup disk. See the DiskWarrior manual for additional procedures to rebuild the startup disk.
While started from the DiskWarrior DVD, you cannot repair the permissions of a Mac OS X 10.5 or 10.6 startup disk.
If you wish to enable DiskWarrior's automatic hardware monitoring, you will need to install the DiskWarrior application on your Mac OS computer. To install the DiskWarrior application see the install requirements above. Installing DiskWarrior is not required to run the application from the DiskWarrior DVD to rebuild a disk directory.
Requirements for Older Macs
If you have older PowerPC-based Macs that are not capable of running Mac OS X, DiskWarrior 2.1 is still available for purchase directly from Alsoft. Please contact our Technical Support Department to order.
DiskWarrior 4 version 4.2 is available, by request, on CD for old Macs that do not have DVD drives. However, these CDs cannot start up any currently shipping Mac models and can only be obtained by first contacting Alsoft's Technical Support Department
System Support: PPC/Intel
$99.95
Link: DiskWarrior
SuperDuper! Updated for Snow Leopard
PR: SuperDuper is the program that makes recovery painless, because it makes creating a fully bootable backup painless. Its clear, friendly interface is understandable, easy to use, and SuperDuper's built-in scheduler makes it easy to back up automatically. It can complement Time Machine under Leopard and Snow Leopard, allowing you to store a bootable backup alongside your Time Machine volume - and it runs on both Intel and PowerPC Macs.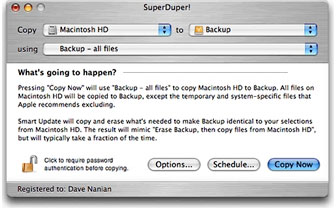 SuperDuper's interface confirms all your actions in simple, clear language to ensure that the end result is exactly what you intended. Take a look, and click for additional screen shots!
We all know that using the Macintosh is usually a trouble-free experience.
Except when it's not.
Like when:
Your hard drive starts making that horrible clicking noise that signals an imminent meltdown
A momentary lapse of coordination causes your PowerBook to take a dirt nap
The system suddenly fails to boot
Your most important day-to-day application isn't working with the system update you just applied
The new driver you just updated is causing your Macintosh to crash
That lousy software you just tried didn't come with an uninstaller, and scattered files all over your drive
You need to restore a stable copy of your system, but don't want to lose what you've been working on
You need to test new versions of the operating system with production data you can't afford to lose
It happens to all of us, eventually. And recovering can be a painful, error-prone, time-wasting experience, if it's even possible at all. Until now.
SuperDuper is an advanced, yet easy to use disk copying program available for OS X. It can, of course, make a full backup, or "clone" - in moments, you can completely duplicate your boot drive to another drive, partition, or image file. In even less time, you can update an existing clone with the latest data: use Smart Update and, minutes later, your backup is completely up to date!
Get cloned.
Give SuperDuper a workout on your own system. Clone to your heart's content - for free. See what else is possible. When you're convinced that SuperDuper is a terrific solution - and a great value at $27.95 - you can register right from the application and start using its advanced features immediately!
You can download SuperDuper! v2.6 right now and back up and clone your drives for free forever.
Pay registration fee to unlock scheduling, Smart Update (which saves a lot of time), Sandboxes, scripting and more.
The latest version of SuperDuper! adds great new features like Backup on Connect, Eject after Copy, Sparse Bundle support, and still lets you store a bootable backup alongside Time Machine backups, copy Time Machine backups to other drives, run scheduled copies on demand. As with every update, it's been and polished and improved many other aspects as well.
New in version 2.6:
Full Snow Leopard support
"Backup on connect" - optional backup when a drive is attached
Backup drive can be ejected at end of copy
Support for Sparse Bundle image type
PGP Whole Disk Encryption support for source and destination
Performance and many other improvements
Of course, the new SuperDuper 2.6 still improves on the acclaimed original in many ways, including:
The ability to easily schedule backups
Additional imaging options
More control over shutdown
Better AppleScript support
Can store a bootable backup side-by-side with a Time Machine backup on a single volume
Can copy Time Machine backup volumes to other drive when you need more space (or want to back up your archived data)
"Run Now" button for scheduled copies
Automatic preservation of any custom icon on the destination volume
Hundreds of UI improvements
Growl support
And a thorough, easy to read, task-based User's Guide.
Version 2.6 is a free update for users: existing copies of SuperDuper! will auto-upgrade the next time they are run,
System requirements:
SuperDuper v2.6 requires Mac OS X 10.4 or later, and is fully Leopard compatible.
Jaguar (Mac OS X 10.2) users can download v1.5.5, and Panther (Mac OS X 10.3) users can download v2.1.4, the last releases available for those older versions of OS X.
System Support: SuperDuper! remains a Universal Application, and works on Intel and PowerPC based Macs.
Note that SuperDuper! is not designed to back up to CDs, DVDs or Tape, and needs a location (other than the boot volume) to store the backup - typically a volume on an internal or external (FireWire) drive. SuperDuper! only copies HFS+ (Mac-native/Mac OS Extended) volumes.
Note also that USB drives do not allow booting PowerPC based Macintoshes under any version of Mac OS X: this is not a SuperDuper! limitation, but one of the OS. If you would like to boot from a backup stored on an external drive, and have a PowerPC based Mac, purchase a Mac compatible FireWire drive. Intel Mac users can boot from either USB or FireWire drives.
Editor's note: Most, if not all, PowerPC Macs can boot from a USB drive using a built-in USB port. At startup, hold down the Option key. Your Mac will display icons for every attached bootable volume including USB drives. Simply select the USB drive, click the boot arrow, and away you go. Note that this will be excruciatingly slow with USB 1.1 ports. This may not work with USB ports added with a PCI card or CardBus card. dk
Link: SuperDuper!
Logos Bible Study: Mac Worth the Wait
TUAW's TJ Luoma says:
"I have been waiting for Logos for Mac, the Bible research application suite, for over a year. I take that back: I have been waiting for Logos for the Mac for over five years....
"Logos for Mac looks and feels like a native Mac application....
"There are also Mac-specific support videos to help you learn to use the software and native Mac "Help" available in the application itself.
"Mac users have been second-class citizens in the Biblical software world . . . Logos has taken their time to come into the Mac world as a company which has tried to understand how Mac users think and work...."
Link: Logos for Mac Worth the Wait for Bible Students
TapeDeck Virtual Audio Recorder Updated
PR: TapeDeck is a powerful and fun new audio recorder for Mac OS X Leopard. It's just like your old analog tape recorder, only better. A lot better.
System Requirements: TapeDeck requires a Macintosh with Mac OS X version 10.5 or later. It also works great in Snow Leopard.
$25
Link: TapeDeck
Pacifist: Install Individual Files from Installers
PR: Pacifist 2.6.3 is a shareware application that opens Mac OS X .pkg package files, .dmg disk images, and .zip, .tar, .tar.gz, .tar.bz2, and .xar file archives and allows you to extract individual files and folders out of them. This is useful, for instance, if an application which is installed by the operating system becomes damaged and needs to be reinstalled without the hassle of reinstalling all of Mac OS X. Pacifist is also able to verify existing installations and find missing or altered files*, and Pacifist can also examine the kernel extensions installed in your system to let you see what installer installed them, and whether the installer was made by Apple or a third-party.
Pacifist is compatible with Mac OS X 10.3 or higher, including Mac OS X 10.6 Snow Leopard . It is also compiled as a Universal Binary for maximum performance on both PowerPC and Intel-based Macs.
New in version 2.6.3: Worked around an oversight in Snow Leopard s Finder that caused drag-and-drop to the Finder not to work properly
System Requirements:
Mac OS X 10.3.9 or later.
For users using Mac OS X 10.2.x, an older version of Pacifist is available
Platform Support: PPC/Intel
$20 shareware
Link: Pacifist
MacPorts Lets You Install Open Source Software on Darwin OSes
PR: MacPorts Project's main goal is to provide an easy way to install various open-source software products on the Darwin OS family (OpenDarwin, Mac OS X and Darwin)
The MacPorts Project is an open-source community initiative to design an easy-to-use system for compiling, installing, and upgrading either command-line, X11 or Aqua based open-source software on the Mac OS X operating system. To that end the command-line driven MacPorts software package is provided under a BSD License, and through it easy access to thousands of ports that greatly simplify the task of compiling and installing open-source software on your Mac.
MacPorts provides a single software tree that attempts to track the latest release of every software title (port) we distribute, without splitting them into "stable" Vs. "unstable" branches, targeting mainly the current Mac OS X release (10.6, a.k.a. Snow Leopard) and the immediately previous one (10.5, a.k.a. Leopard). There are currently 6140 ports in our tree, distributed among 91 different categories, and more are being added on a regular basis.
For information on installing MacPorts please see the installation section of this site and explore the myriad of download options offered and the base system requirements.
If you run into any problems installing and/or using MacPorts there are also many options to help you, depending on how you wish to get get in touch. Other important help resources are our online documentation, a.k.a. The MacPorts Guide, and our Trac Wiki server & bug tracker.
System requirements: Mac OS X 10.5 or later.
System Support: PPC/Intel
Free
Link: MacPorts
Desktop Mac Deals
Low End Mac updates the following price trackers monthly:
For deals on current and discontinued 'Books, see our 13" MacBook and MacBook Pro, MacBook Air, 13" MacBook Pro, 15" MacBook Pro, 17" MacBook Pro, 12" PowerBook G4, 15" PowerBook G4, 17" PowerBook G4, titanium PowerBook G4, iBook G4, PowerBook G3, and iBook G3 deals.
We also track iPad, iPhone, iPod touch, iPod classic, iPod nano, and iPod shuffle deals.
Join us on Facebook, follow us on Twitter or Google+, or subscribe to our RSS news feed
Links for the Day
Mac of the Day: Macintosh 128K, introduced 1984.01.24. 1984 wasn't going to be anything like 1984 thanks to the original Macintosh.
Recent Content
Custom Search
Follow Low End Mac on Twitter
Join Low End Mac on Facebook
Favorite Sites
MacSurfer
Cult of Mac
Shrine of Apple
MacInTouch
MyAppleMenu
InfoMac
The Mac Observer
Accelerate Your Mac
RetroMacCast
The Vintage Mac Museum
Deal Brothers
DealMac
Mac2Sell
Mac Driver Museum
JAG's House
System 6 Heaven
System 7 Today
the pickle's Low-End Mac FAQ
Affiliates
Amazon.com
The iTunes Store
PC Connection Express
Macgo Blu-ray Player
Parallels Desktop for Mac
eBay

Advertise