New iMacs and MacBooks Soon?, Blu-ray on Macs, Looking Back at Lisa and Mac Plus, and More
This Week's Apple and Desktop Mac News
Compiled by Charles Moore and edited by Dan Knight - 2009.09.25
MacBook, PowerBook, iBook, and other portable computing is covered in The 'Book Review. iPod, iPhone, and Apple TV news is covered in The iNews Review.
All prices are in US dollars unless otherwise noted.
News & Opinion
Products & Services
Software
Books
News & Opinion
New MacBooks and iMacs Soon?
Hardmac's linathael and Lionel report:
"The fact that the Apple Store was closed for hours yesterday fueled the rumor mill about future product announcements, especially new models of iMac and MacBook. The predict a new, thinner MacBook, still with a polycarbonate case but more like the 13" MacBook Pro in form factor, possibly with no internal optical drive.
"As for the iMacs Lionel suggests two likely possibilities - either a modest refresh with a faster CPU/GPU, larger amount of RAM and/or HD, or a more radical overhaul turning the iMac into a real desktop computer rather than a desktop version of the MacBook Pro, possibly powered with the new Intel Core i5 CPU."
Link: New MacBook and iMac Models Soon?
Snow Leopard Sales Far Exceed Prior Launches
PR: Sales during the first two weeks of Apple's Snow Leopard OS X release far exceed those of the last two Apple operating systems. According to leading market research company The NPD Group's retail tracking service, Snow Leopard sales were more than two times higher than Leopard's initial release sales and almost four times higher than Tiger.
Even though some considered Snow Leopard to be less feature-focused than the releases of Leopard or Tiger, the ease of upgrading to Snow Leopard and the affordable pricing made it a win-win for Apple computer owners - thus helping to push sales to record numbers said Stephen Baker, vice president of industry analysis at NPD.
Snow Leopard's sales momentum extended beyond the initial first week purchasing rush. Sales only declined about 25 percent from week 1 to week 2, while for both Leopard and Tiger the second week of sales was more than 60 percent below the opening week volumes.
"With pricing reduced by more than $100 for both the single-user and five-user pack versus Leopard pricing, Apple has clearly demonstrated that aggressive pricing policies in this economic environment generate an outstanding consumer response," said Baker. "As we head into the fall selling season, and the release of another major OS upgrade, it will be instructive to see if that upgrade - currently projected to sell at ASPs much higher than Snow Leopard - can deliver the same incremental increase in consumer demand that Snow Leopard has enjoyed."
Link: NPD
Blu-ray on the Mac
Macworld's Galbraith reports that while it may have beaten out HD-DVD in the bloody battle to be the high definition optical drive standard, but in the roughly year and a half since the format wars ended, Blu-ray Disc has yet to gain any real traction in the desktop computer realm, and indeed Apple has done its best to downplay the relevance of any kind of optical drive in this new world of streaming media....
There are third-party workarounds, however, which are briefly profiled in this article.
Link: Blu-ray on the Mac
AppleWorks Support in Snow Leopard
MacFixIt's Topher Kessler reports that despite the fact that Apple discontinued support for AppleWorks in 2007 with the debut of Pages and the iWork suite, some users still soldier on with AppleWorks, and periodically ask about the support options for AppleWorks and AppleWorks documents in recent versions of the Mac OS, noting that the AppleWorks version 6.2.9 has been able to run on recent versions of OS X with the Rosetta translator, but it is not supported, so if any problems crop up, Apple will not provide any software patches to fix them. However, native PowerPC support has been eliminated in Snow Leopard, and there are mixed reports about success in getting AppleWorks to work with the new cat.
Link: A Quick Note on AppleWorks Support in Snow Leopard
FreeHand Fans Fight on Despite Snow Leopard
Macworld UK's Nick Spence reports that die-hard fans of the vector drawing tool FreeHand are fighting on despite the application struggling to perform fully under Apple's recent Mac OS X 10.6 "Snow Leopard" update, in some instances requiring complicated workarounds.
Adobe's FreeHand, which dates back to the early days of the Mac, was discontinued when Adobe bought Macromedia, the rationale being that it was similar in function and purpose to Adobe Illustrator, and they couldn't keep both.
Link: FreeHand Fans Fight on Despite Snow Leopard
Reminiscence: Macintosh Plus and System 6
OS News' Jordan Spencer Cunningham says:
"We all have our most favored machines of yesteryear; in this I assume that most people are like me, anyway. Breaking away from the mundane every-day news of boring (I jest) new technologies such as touchscreens the size of a wall and upcoming operating systems that support graphics cards with 1.5 GB of VRAM, take a walk down memory lane - or 'Neurological Alley' as I like to call it - and take a look inside, outside, and in all of the nooks and crannies in between the circuits of the Macintosh Plus and its accompanying System 6, fresh from the splendor of 1986."
Link: Reminiscence: Macintosh Plus, System 6, Beige Beauty
Inside the Apple Lisa, 25 Years Later
Fast Company's Chris Dannen says:
"In 1984, Apple launched the Lisa: a 6.8 MHz* business-oriented computer that cost $10,000. Though it wasn't a commercial success because of its high price tag, it paved the way for Apple's next GUI machine: the more auspicious Macintosh.
"Here, Al DiBlasi tears down the original artifact 24 years after doing a televised Apple Lisa demo in the New York tri-state area...."
* Editor's note: Everything I've ever read about Lisa says 5 MHz, not 6.8. dk
Link: Inside the Apple Lisa, 25 Years Later
The Cult of Choice
The Denver Post's David Harsanyi says:
"It used to be you were either born into a religion or another tribe decided your creed. Now, religion has discovered marketing.
"Think of the zeal many Americans display toward the most inane and inconsequential aspects of their lives.
"Take the Macintosh, a brand name that legions of computer users believe offers superior functionality compared to your run-of-the mill PC. A product so excellent, in fact, that it causes advocates to stick the company logo on their cars, proselytize the non-believer and dismiss anyone who fails to submit to its awesomeness as a fool.
"The Mac is an illustration of a market-based cult of choice. It is an appliance. If we all had a Mac, no one would get very excited. Yet, it ignites passion, which Apple must satisfy yearly for fear of losing its flock."
Link: The Cult of Choice
Testing the World's First 7200 RPM 2.0 TB External 'Quad Interface' Storage Solution
OWC blogger Michael says:
"We just received stock of Hitachi's new 2.0 TB 7200 RPM Deskstar 7K2000 Serial ATA Hard Drive. We always test and qualify new products of this nature before releasing them for sale and man, these drives are fast! Rock Solid, High Performance, Quiet too. The only 7200 RPM 2.0 TB single drive model currently available and by far, the fastest 2.0 TB Serial ATA (SATA) drive available today."
Link: Testing the World's First 7200 RPM 2.0 TB External 'Quad Interface' Storage Solution
External Storage Devices Will Be Among Leading Peripherals for SuperSpeed USB (USB 3) Adoption
PR: "SuperSpeed" USB technology, also known as USB 3.0, will see broad adoption across a range of PC and PC peripherals over the next several years, according to In-Stat.
Among peripherals, SuperSpeed USB will be targeted initially at devices requiring high data transfer rates and large data stores, such as external hard-disk drives and Flash Drives. Other likely target devices include Portable Media Players (PMPs), LCD PC monitors, and digital still cameras.
In-Stat projects that attach rates for SuperSpeed USB will soar to over 70% in external hard-drives by 2012, with similar attach rates in notebook and desktop PCs. Initial adoption will emerge in 2010. By 2013, shipments of USB 3.0 flash drives will approach 200 million units worldwide. Eventually, mobile phones will be the highest volume segment, simply due to the overwhelming volume phones shipped. Overall, SuperSpeed USB will represent over 25% of the USB market by 2013.
"SuperSpeed may eventually move beyond those target applications requiring the highest bandwidth." says Brian O'Rourke, In-Stat analyst. "However, in order to achieve broader adoption, cost will have to go down significantly. To get SuperSpeed USB costs down and increase attach rates, the technology will have to be integrated into the application-specific integrated circuits (ASICs), and System-on-a-Chips (SoCs), that power the peripherals".
Recent research by In-Stat found the following:
With over three billion devices shipped in 2008 alone, USB is the most successful interface ever. It has been broadly adopted across PCs, PC peripherals, consumer electronics (CE), communications and automotive devices.
Digital TVs with USB will grow to 140 million units shipped in 2013.
Consumer electronics devices with USB will rise at a 6.6% compound annual growth rate (CAGR) between 2008 and 2013.
Recent In-Stat research, Wired USB 2009: High-Speed Rules, SuperSpeed on the Way (#IN0904460MI), covers the worldwide market for USB and USB-enabled devices. It includes:
USB-enabled device forecasts by type and by detailed product category through 2013.
USB-enabled device penetration forecasts by detailed product category through 2013.
Product category segmentation for:
Computers: Desktop PCs, Mobile PCs
Computer Peripherals: Mobile PC Docking Stations, Discrete Host Controllers, Ink Jet and Laser Printers, Multifunction Peripherals , Scanners, Web Cameras, LCD Monitors, External Hard Disk Drives, External Optical Writers (DVD and CD), Standalone Flash Card Readers, Hubs, Keyboards and Mice, Gamepads and Joysticks, USB Bluetooth and WiFi Adapters, USB Flash Drives, USB PC Speakers
Consumer Electronics:

Digital Still Cameras, Digital Camcorders, Digital Televisions, Personal Digital Assistants, Set-Top Boxes (STBs), Standalone PVRs, Portable Media Players, Video Game Consoles, Handheld Game Consoles, DVD Recorders, DVD Players, Blue Laser DVD Recorders, Blue Laser DVD Players, A/V Receivers
Communications: Mobile Phones, External Cable and DSL Modems and Gateways, External Cellular Modems

Automotive
Results from In-Stat's residential technology survey regarding USB.
USB silicon vendor profiles: Cypress Semiconductor, DisplayLink, Fresco Logic, Gennum, Intel, LSI, LucidPort Technology, MCCI, NEC, PLX (Oxford Semiconductor), SMSC, STEriccson, Symwave, Synopsys, Texas Instruments.
The price is $3,995.
This research is part of In-Stat's Multimedia & Interface Technologies service, which identifies and forecasts the markets for key interface technologies and tracks penetration of these technologies into PCs, PC peripherals, consumer electronics, communications, automotive and industrial applications. It also examines competitors, industry agendas, technology platforms, semiconductor technology and shipments. Supply and demand-side insights are combined to examine these dynamic, evolving technologies.
Link: External Storage Devices Will Be Among Leading Peripherals for SuperSpeed USB (USB 3) Adoption
Products & Services
Affordable Pentax K-x DSLR Has HD Video and Live View
PR: Pentax Imaging Company redefines the entry-level digital SLR category with the introduction of the K-x digital SLR. This latest Pentax camera offers high-end features including Live View and HD video. And, since there's no rule that SLR cameras must come in black only, the K-x will be available in a choice of white or black, as well as special, limited edition red and navy.
Priced at $649.95 (for body with DA L 18-55mm lens), the K-x is perfect for users stepping up from a point and shoot digital camera to their first digital SLR. The Pentax K-x offers photographic performance that challenges higher class DSLR models and offers several features that set this camera apart in the entry-level category:
High resolution 12.4 megapixel CMOS image sensor features sensor-shift Shake Reduction for stabilized image and video capture up to 4 stops max.
Large 2.7 inch LCD features Live View with contrast, phase difference, and Face Detection autofocus (up to 16 faces).
Widescreen HD video capture in full 720p resolution (1280x720) at 24 FPS cinematic frame rate, using any Pentax 35mm lens.
Creative processing and filter modes produce high quality finished images, while offering the ability to explore artistic freedom through unique special effects.
True High Dynamic Range (HDR) image capture blends 3 bracketed images into a single picture with outstanding shadow, highlight, and midrange detail.
Fast 4.7 FPS capture speed and 1/6000 second maximum shutter speeds are possible with the Pentax PRIME II image processing engine.
Powerful automatic modes, including Pentax Auto Picture and scene modes, ensure the perfect shot in any situation, while helping new photographers learn DSLR photography.
Responsive 11 point wide angle SAFOX VIII autofocus system focuses quickly and accurately and easily tracks moving subjects.
Captures up to 1900 shots with universally available, easy-to-find AA lithium batteries (also compatible with AA NiMH rechargeable and alkaline batteries).
Along with the K-x, Pentax announced the smc Pentax DA L 55-300mm F4-5.8 ED super-telephoto zoom lens. This lens will be exclusive to a K-x Twin Lens Kit package consisting of a K-x body, this new lens and the smc Pentax DA L 18-55mm F3.5-5.6 lens.
The Pentax K-x is now available for preorder in black or white on www.pentaxwebstore.com and the product will ship in October 2009 in three options:
K-x single lens kit with body and smc Pentax DA L 18-55mm lens for $649.95.
K-x twin lens kit for $749.95 with K-x body, smc Pentax DA L 18-55mm lens and smc Pentax DA L 50-200mm zoom lens.
K-x twin lens kit for $849.95 including a K-x body, the smc Pentax DA L 18-55mm lens and the smc Pentax DA L 55-300mm zoom lens.
Limited edition colors of red and navy will become available at select locations to be announced.
Link: Pentax K-x
Purchase Links
The Pentax K-x is available for preorder with 18-80 zoom at $649.95 (including ground shipping) from these vendors:
Seagate Ships World's Fastest Desktop Hard Drive
PR: Seagate Technology has began global shipments of the world's fastest, largest-capacity mainstream desktop hard drive - Barracuda XT, a 7200 RPM product featuring 2TB of storage capacity and a blazing fast Serial ATA (SATA) 6Gb/second interface. The 3.5-inch desktop drive, the industry's first to feature a SATA 6Gb/s interface, meets the capacity demands of gaming, digital video-environments and other storage-hungry desktop computing applications while delivering the highest performance in its class.
The introduction of the Barracuda XT drive marks the shift to the next generation of desktop computing speed as Seagate doubles the storage bandwidth of current computers.
"Capacity and performance remain the defining attributes of hard drives for PC gamers, digital multimedia content developers and many other customers requiring high-end systems at home and in the office," said Dave Mosley, executive vice president of Sales and Marketing at Seagate. "Seagate is meeting these requirements with the first 7200 RPM desktop hard drive to combine 2TB of storage capacity with the fastest Serial ATA interface to date."
The Barracuda XT product, a four-platter drive featuring an areal density of 368 Gigabits per square inch, delivers the highest performance - burst speeds of up to 6 Gigabits per second - for all PC applications, maintains backward compatibility with the SATA 3Gb/second and SATA 1.5Gb/second interfaces, and uses the same cables and connectors as previous SATA generations to ease integration. The hard drive's SATA 6Gb/s interface enables system builders using SATA 6Gb/s drive controllers to build high-performance desktop PCs, full-tilt gaming rigs, and home and small business servers, and its 64MB cache optimizes burst performance and data transfer speeds.
"Marvell is pleased to be announcing the industry's first commercially available SATA 6Gb/s solution and working with Seagate to introduce this technology," said Dr. Alan J. Armstrong, vice president of Marketing, Business Storage Group at Marvell. "Marvell has been working with a broad group of partners and customers to bring this solution to market. As early adopters of Marvell's SATA 6Gb/s technology, both ASUS and Gigabyte offer motherboards to complement SATA 6Gb/s hard drives."
The Serial ATA 6Gb/s Solution: Barracuda XT Drives and Motherboards from ASUS and Gigabyte
With Barracuda XT drives and SATA 6Gb/s motherboards from ASUS and Gigabyte, computer makers can build the highest-performance PCs, workstations and entry-level servers. ASUS was first to market with a SATA 6Gb/s motherboard; the company's P7P55D Premium began shipping in August. The new Gigabyte P55 series GA-P55-Extreme motherboards are also now shipping .
"At ASUS, we are once again at the forefront of innovation by being the first to launch a native SATA 6Gb/s interface on a motherboard," said Joe Hsieh, corporate vice president & general manager, Motherboard Business Unit & Desktop Business Unit, ASUS. "An expansion bridge integrated into the P7P55D Premium helps achieve real SATA 6Gb/s throughput to support bandwidth-hungry applications. The ASUS solution eliminates transmission bottlenecks in current technology and ensures users truly enjoy faster data speeds and double the storage bandwidth. For other P7P55D Series models, ASUS also provides an expansion card to achieve the same results."
"Gigabyte has worked closely with our partners Seagate and Marvell in making the highly anticipated SATA 6Gb/s technology a reality," said Tony Liao, associate vice president of Marketing at Gigabyte Technology Co., Ltd. "As the leader in motherboard innovation, Gigabyte is always excited to bring the very latest technologies to market, and with the release of the world's first SATA 6Gb/s hard drive from Seagate, our customers' expectations will be blown away with double-the-bandwidth performance for lightning-fast data transfer and storage."
Seagate to Demonstrate Serial ATA 6Gb/s Technology at IDF
Seagate will demonstrate SATA 6Gb/s technology with technology partners at the Serial ATA International Organization (SATA-IO) booth, #425, at IDF, September 22 - 24 at the Moscone Center in San Francisco, California.
Link: Barracuda XT
OWC Cuts Prices on Quad-Interface Mercury Elite-AL Pro External Hard Drives
PR: OWC Chris S. says:
For those of you who have been putting off the purchase of a new OWC Mercury Elite-AL Pro "Quad-Interface" Storage Solution, your procrastination has paid off. We've dropped the prices even lower - they're now more affordable than ever.
OWC's Mercury Elite-AL Pro series of external hard drives and cases provides more bang for the buck, not only in having a quad interface made up of USB 2.0, FireWire 400, FireWire 800, and eSATA ports, but also in ruggedness and ease of assembly and use.
You may be more interested in the actual prices...
250 GB 7200 RPM with 16 MB Data Buffer - $119.99
320 GB 7200 RPM with 16 MB Data Buffer - NOW $122.99
500 GB 7200 RPM with 16 MB Data Buffer - NOW $129.99
750 GB 7200 RPM with 32 MB Data Buffer - $159.99
1.0 TB 7200 RPM with 16 MB Data Buffer - NOW $164.99
1.0 TB 7200 RPM with 32 MB Data Buffer - NOW 179.99
1.0 TB "Enterprise Class" 7200 RPM with 32 MB Buffer - $229.99
1.5 TB 7200 RPM with 32 MB Data Buffer - NOW $219.99
2.0 TB GreenPower w/32 MB Data Buffer - NOW $329.99
Link: OWC Cuts Prices on Quad-Interface Mercury Elite-AL Pro External Hard Drives
Software
Macte! Safari Toolbar Adds Functionality to Safari
PR: Do you loyally use Safari to surf the Internet? Do you enjoy the browser's speed and stability - but still feel something is missing? What about the added functionality a toolbar can bring?
Presenting the Macte! Safari Toolbar: the world's first dedicated Safari toolbar.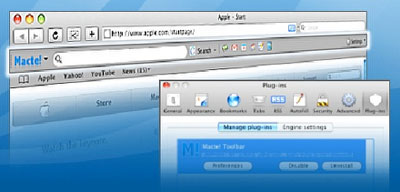 Macte! is the first company on the market to provide reliable, easy-to-use toolbars and extensions for the Safari web browser with the aim of making the extensive range of Windows desktop and web integration solutions available to Mac OS users.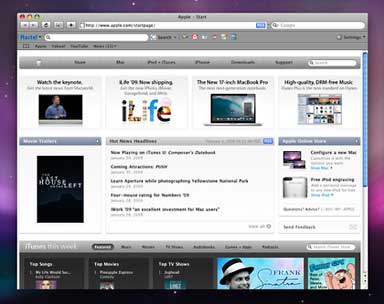 Macte! are pioneers in Safari extensions and have developed the Safari Plug-in Kit to offer solutions in this field - the only platform for Safari toolbars presently available. All dedicated Safari toolbars currently on the market are based on this platform.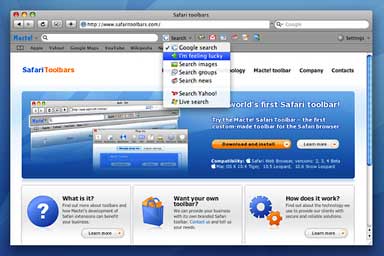 Macte! Safari toolbar is an easy-to-use extension that provides quick access to major web services. Its functions include:
Google search
Web search
Image search
News search
Blog search
"I'm feeling lucky"
Yahoo! search
Live search Web services quick access:
Google news
Google notepad
Google mail
Google calendar
Google docs
Google language tools
New in version 1.1.5b:
New: Full 10.6 Snow Leopard support (both 32 and 64 bit mode)
New: Weather on the toolbar
New: Redesigned setting screen
System requirements: Mac OS X 10.4 or later, Safari 2, 3, 4.
System Support: PPC/Intel
Free
Link: Macte! Safari Toolbar
NTFS for Mac OS X 7.0 Breaks Down the Barriers Between Windows and Mac OS
PR: NTFS for Mac OS X provides a unique complete solution and creates an effective two-way communication channel between Mac OS X and Windows. Effectively you get two products in one: You can browse contents, read and modify files, copy and create new files and folders on both file systems with both operating systems
Introducing the new MacBrowser for Windows, NTFS for Mac OS X provides a unique complete solution and creates an effective two-way communication channel between Mac OS X and Windows. Effectively you get two products in one: You can browse contents, read and modify files, copy and create new files and folders on both file systems with both operating systems/
You can use both - Mac and Windows to access all files:
With Paragon's brand new MacBrowser you get fast, easy and transparent read/write access to Mac -disks from your Windows operating system.
Completely and instantly access all Windows files and folders with your Mac .
Easy, safe installation and usage on Mac or Windows.
Unhampered data exchange between PC and Mac .
Share Windows files as a Mac user via external disk drives.
Get access to Windows video files on your Mac to cut and post-produce them.
Get access to .doc and .pdf files on your Mac .
Make any version of NTFS a native file system for Mac OS X - no restrictions, full support
Key Features of NTFS for Mac OS X:
MacBrowser - A unique tool to browse contents, create new files and folders, read, modify and copy files on Mac disks via a special folder in Windows.
macbrowser.png
Improved NTFS Performance under Mac OS X - Unprecedented high level of performance for Windows volumes with the same transfer rate as with the native Mac OS file system.
Full read/write access to Windows volumes - NTFS for Mac OS X provides full access (read/write, format etc.) to Windows volumes.
All NTFS versions support - Supports all versions of the Windows file system NTFS - from Windows NT 3.1 to Windows Vista (NTFS versions 1.2, 3.0 and 3.1).
Exceptional ease of use - Mount the Windows partitions as native ones - just install the driver and access your Windows partitions as desired.
Stability - The driver provides transparent access to Windows drives as Mac OS X-native, and achieves an unprecedented stability even under heavy workload.
New features:
Fast and transparent access to HFS/HFS+ under Windows. With Paragons MacBrowser you get a special unmapped folder in My Computer to browse contents, read and modify files, copy and create new files and folders on HFS/HFS+ partitions under Windows.
Unprecedented high NTFS performance.
The transfer rate is the same as with the native HFS file system
Let Windows start up at the next launch
Choose your Windows volume in the Mac System Preferences pane to start it up at the next launch.
Key features
Full read/write access to NTFS
Mac OS X only provides "read" access to NTFS partitions. Paragon NTFS for Mac OS X provides full read/write access - besides reading files you can also modify existing files, delete files, create or copy new files.
Easy to install
The driver is easily installed through a user-friendly wizard, the way it is usually done under Mac OS X.
Easy to use
Mount any NTFS partition like a native one - no need to perform special commands to get access; just attach a disk or other media with NTFS partition and use it as you wish.
Create and repair NTFS partitions under Mac the way you usually do it with HFS/HFS+.
Non-Roman characters and languages
File and folder names in national languages, including Chinese, Korean, Japanese, Russian.
No limitation to maximum file/partition size (but within Mac OS X and NTFS specifications).
Supporting NTFS features:
All NTFS versions are supported (from Windows NT 3.1 to Windows Vista)
Compressed files and folders
Sparse files
Files and folders with security permissions
Supporting Mac OS X features
Resource forks
Hardlinks
Symlinks
9 File permissions (POSIX file attributes)
Additional utilities
Format NTFS utility - formats any partition as NTFS under Mac OS X.
Check NTFS utility - checks NTFS partition integrity and fixes errors, creates and displays a status report about the NTFS file system.
Control NTFS utility - allows a user to control NTFS for Mac driver behavior.
Supported Operating Systems
Mac OS X 10.4.6 Tiger and higher
Mac OS X 10.5.x Leopard
Mac OS X 10.6 Snow Leopard (64-bit not supported)
Windows Vista (32-bit, 64-bit)
Windows XP Home Edition SP2
Windows XP Professional SP2 (32-it, 64-bit)
The current version of the driver can't be installed on Mac OS X 10.6 Snow Leopard in order to avoid incompatibility issues. A prerelease version compatible with Snow Leopard available here.
System Requirements
RAM: 128 MB
Mac: CPU: PowerPC G4, G5, and x86 Intel (PowerPC G5 has not been tested for compatibility yet, but our driver is most likely to work flawlessly on it.)
PC: CPU: Intel Pentium or compatible, 233 MHz or higher processor
Prices
NTFS for Mac OS X 7.0 Digital Download - $19.95
NTFS for Mac OS X 7.0 (5 users pack) Digital Download - $79.95
NTFS for Mac OS X 7.0 Box Version, Preorder from Amazon.com - $39.95
*Final Update will be available at end of September
Link: NTFS for Mac OS X
Apple Disk Transfer ProDOS Exchanges Disks/Images between Apple II and Modern Computers
PR: Apple Disk Transfer ProDOS (ADTPro) transfers diskettes and logical disk images between Apple II-era computers and the modern world. If you're familiar with the original ADT, ADTPro extends ADT's reach by working with more logical disk formats, drive types, communications devices, and host operating systems.
There is a host (server) component that runs on modern computers with Java, and an Apple (client) component that runs on any Apple II or Apple III compatible computer with at least 64 KB of memory:
ADTPro transfers disks using any of these communications devices:
Super Serial card, IIgs modem port, IIc/Laser 128 serial port, or the Apple III serial port
Uthernet Ethernet card
The Apple's cassette ports
ADTPro has these features:
Transfers any storage device ProDOS or SOS can access
Runs on any Apple II, Apple III, or clone computer with 64 KB of memory
Runs on Linux, Mac OSX, OS/2, Windows, and probably Solaris
Understands many digital disk formats: .DSK, .PO, .NIB, 2IMG
Serves the original ADT client as well as the updated ADTPro client
Bootstraps Apple II and Apple III computers from bare metal over serial or cassette ports
Sends floppies in "batch" mode without having to name each one
Formats media on the Apple II or Apple III
ADTPro may be used to transfer Apple diskette/disk images in DOS or ProDOS/SOS format. The Apple client side happens to run under ProDOS or SOS, but it is perfectly capable of reading or writing Apple DOS (or Pascal, or CP/M, or...) diskettes.
The latest ADTPro can always be downloaded from the SourceForge project page.
Server
The server program runs on a computer capable of running Java. Depending on how you want to connect to your Apple, you might also need a serial port and cables, an Uthernet card, or a couple of audio patch cables.
The server's primary role is to send and receive disk images as requested from the client. But if you have recently acquired an Apple II and a disk drive, and you have no software for it - you're in a bit of a tricky situation if you want to move software from the Internet all the way to your shiny new Apple. ADTPro's server can help get you get bootstrapped by sending operating software to an otherwise completely empty Apple.
Client
The client side runs on the Apple II or Apple III. It handles most of the user interaction:
When choosing disks/volumes to transfer, anything that ProDOS or SOS can see is fair game:
Transferring data occurs with a 20k buffer on the Apple, so all transfers are broken up into 20k chunks. A progress indicator shows how far it is into the current chunk, as well as a running count of the total progress:
New in version 1.1.3:
[Server] OSX distribution now comes with a double-clickable .app that automatically does all the magic to start a Java program under the covers with no terminal window
[Client] Enabled ProDOS booting (and bootstrapping) on the Franklin Ace 1000/1200
[Client] Space bar wasn't cycling through configuration items on machines without up/down arrow keys
System Requirements: Mac OS X 10.1 or later, Java.
Platform Support: PPC/Intel
Free
Link: Apple Disk Transfer ProDOS
Books
New from O'Reilly: Mac OS X Snow Leopard Pocket Guide
PR: Whether you're new to the Mac or a longtime user, this handy book is the quickest way to get up to speed on Snow Leopard. Packed with concise information in an easy-to-read format, Mac OS X Snow Leopard Pocket Guide (O'Reilly, US $14.99) by Chris Seibold covers what you need to know and is an ideal resource for problem-solving on the fly.
snhb.gif
This book goes right to the heart of Snow Leopard, with details on system preferences, built-in applications, and utilities. You'll also find configuration tips, keyboard shortcuts, guides for troubleshooting, lots of step-by-step instructions, and more.
With this book, you will:
Learn about new features and changes since the original Leopard release
Get quick tips for setting up and customizing your Mac's configuration
Solve problems with the handy reference to the fundamentals of the Finder, Dock, and more
Understand how to manage user accounts
Work more efficiently using keyboard shortcuts
Take advantage of MobileMe, Apple's online suite of services and tools
Chris Seibold is an engineer, writer, and cartoonist residing in Knoxville, Tennessee. He has tackled such diverse processes as powder coating and hot dog casing manufacture, and has written for a variety of online and traditional media, including the Apple Matters web site, as well as contributed hacks to iPod and iTunes Hacks.
Chris Seibold
ISBN 10: 9780596802721,
232 pages
Book Price: $14.99
EBook Price: $11.99
Available for preorder from Amazon.com for $10.19 (Kindle price, $9.59).
Take Control of Mac OS X Backups, Fourth Edition
PR: Fourth edition of "Take Control of Mac OS X Backups" explains how to disaster-proof data with a sensible backup strategy
Backup options for Mac users have changed radically over the last year, and author Joe Kissell explains the entire field thoroughly in the just-updated "Take Control of Mac OS X Backups, Fourth Edition." Whether readers want to make backups more easily, at a lower cost, or with more security, Kissell offers advice that goes far beyond the false security of simply turning on Time Machine or copying a few files to CD. The 196-page ebook is available for $15.
The ebook helps readers pick the best backup strategy for their needs, complete with an at-a-glance comparison of different backup strategies (low-cost, easy, safest), along with advice for backing up digital photos and other media. Readers will also learn to:
Shop for hardware. Discover the pros and cons of different backup media options: USB hard drives, FireWire hard drives, eSATA hard drives, flash drives, Iomega devices, tape drives, camcorders, full-disk encryption, RAIDs, Drobos, CDs and DVDs, Time Capsules, and third-party network storage devices.
Choose backup software. Learn about 14 key features and find overviews of 11 noteworthy backup products (an online appendix covers the other 90 or so options). Kissell provides specific recommendations to cut through the forest of products.
Make backups. Kissell provides a conceptual walk-through of the entire backup process, offering basic information for people who've never made a backup before and savvy, real-world suggestions for optimal ease of use. He also provides specific steps for working with Time Machine.
Use a backup to recover lost data successfully in the event of a hard disk crash or other calamity.
The ebook has an appendix aimed at readers who want to create their own backups using Unix on the Mac command line, explains how to backup Windows volume for those who run Windows on their Macs, and comes with coupons for $30 off Data Backup and 10% off CrashPlan.
by Joe Kissell
PDF format,
196 pages,
free sample available
Publication date: September 18, 2009
Price: $15 (PDF) / $28.99 (print)
ISBN: 978-1615420-04-9
The Book of Inkscape
PR: The definitive guide to drawing and designing with Inkscape - a free graphics editor that competes with expensive programs like Adobe Illustrator. The favorite tool of designers who use it daily to create professional-quality illustrations and graphics, Inkscape has lacked comprehensive documentation - until now
Inkscape is a free graphics editor that competes with expensive programs like Adobe Illustrator. The favorite tool of designers who use it daily to create professional-quality illustrations and graphics, Inkscape has lacked comprehensive documentation - until now.
inkscape.jpg
In The Book of Inkscape (No Starch Press, September 2009, 480 pp., $44.95, ISBN 9781593271817, color insert), core Inkscape developer Dmitry Kirsanov shares his hands-on experience with Inkscape. This complete, heavily illustrated guide walks readers through basic drawing techniques and shows them how to transform objects; add text and shapes; and create business cards, animations, and technical and artistic drawings.
"Like many open source applications, Inkscape really needs a comprehensive guide. I'm excited that The Book of Inkscape will be the first," said No Starch Press founder Bill Pollock. "As an Inkscape developer, Dmitry has been living and breathing the software for years and his book beautifully combines his accumulated knowledge with clear exposition."
The Book of Inkscape teaches readers how to:
Navigate the canvas and customize their workspace and views
Create new objects and then transform, style, clone, and combine them
Use drawing tools, strokes, and Bézier curves
Work with gradients, patterns, filters, and path effects to liven up their work
Use the XML Editor to view and manipulate the structure of their artwork
Work with layers, groups, object order, and locks to control their images
Export their artwork to various formats
Artists new to Inkscape will find The Book of Inkscape invaluable, and experienced users will find in it the detailed information on using Inkscape features that they've been hoping for. The Book of Inkscape is sure to become the go-to guide for any Inkscape user.
For more information or to request a review copy of The Book of Inkscape, contact Travis Peterson at No Starch Press (nostarchpr@oreilly.com, +1.415.863.9900, x300), or visit: http://www.nostarch.com.
Dmitry Kirsanov ( http://www.kirsanov.com ) is a core Inkscape developer, author, and graphic designer, specializing in website and logo design.
by Dmitry Kirsanov
September 2009,
480 pp
ISBN 9781593271817,
$44.95
Available for preorder from Amazon.com for $29.67 with free ground shipping.
Desktop Mac Deals
Low End Mac updates the following price trackers monthly:
For deals on current and discontinued 'Books, see our 13" MacBook and MacBook Pro, MacBook Air, 13" MacBook Pro, 15" MacBook Pro, 17" MacBook Pro, 12" PowerBook G4, 15" PowerBook G4, 17" PowerBook G4, titanium PowerBook G4, iBook G4, PowerBook G3, and iBook G3 deals.
We also track iPad, iPhone, iPod touch, iPod classic, iPod nano, and iPod shuffle deals.
Join us on Facebook, follow us on Twitter or Google+, or subscribe to our RSS news feed
Links for the Day
Mac of the Day: Macintosh 128K, introduced 1984.01.24. 1984 wasn't going to be anything like 1984 thanks to the original Macintosh.
Recent Content
Custom Search
Follow Low End Mac on Twitter
Join Low End Mac on Facebook
Favorite Sites
MacSurfer
Cult of Mac
Shrine of Apple
MacInTouch
MyAppleMenu
InfoMac
The Mac Observer
Accelerate Your Mac
RetroMacCast
The Vintage Mac Museum
Deal Brothers
DealMac
Mac2Sell
Mac Driver Museum
JAG's House
System 6 Heaven
System 7 Today
the pickle's Low-End Mac FAQ
Affiliates
Amazon.com
The iTunes Store
PC Connection Express
Macgo Blu-ray Player
Parallels Desktop for Mac
eBay

Advertise