PowerPC G5: Apple's Last Fling with PowerPC Architecture
Dan Knight - 2007.05.24 (updated)
While Motorola had created the PowerPC G4 by adding a vector processor (AltiVec), improved multiprocessor support, and a few other features to the PowerPC G3, IBM had concentrated on raw speed, eventually pushing the G3 to 1.1 GHz before abandoning the G3 line.
Motorola continued to improve the G4, but not nearly as fast as Intel and AMD were increasing CPU speeds on the x86 platform. Apple needed to be able to offer more processing power without abandoning its PowerPC base, and Motorola couldn't deliver.
IBM had long been pushing clock speeds higher and recently announced a 4.7 GHz POWER6 CPU - that's 1,000 times as fast as the 4.77 MHz Intel 8088 processor found in the first IBM PC introduced in 1981.
Working with Apple, which insisted that the new CPU had to include the same vector processing support as the G4, IBM developed the PowerPC 970 and introduced it in 2002.
PowerPC 970
The first G5 CPU, the PPC 970 built on everything IBM had learned in producing its POWER4 CPU for servers. As CPUs designed for servers, low power consumption was not one of IBM's goals, and the G5 Power Macs all needed very sophisticated cooling systems. Apple never offered a G5-based PowerBook, as the G4 was superior in portable environments.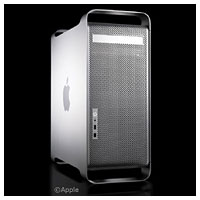 The first Power Mac G5 models were introduced in June 2003 and ran from 1.6 to 2.0 GHz (with dual processors in the faster models). Steve Jobs promised 3.0 GHz within a year, based on promises from IBM that were never fulfilled. (Apple never shipped a G5 faster than 2.7 GHz, and that was in April 2005.)
The PPC 970 has a 512 KB level 2 (L2) cache and requires a system bus running at half of the CPU's core speed. That meant the new Power Macs had 800 MHz to 1.0 GHz buses, a far cry from the 133 and 167 MHz ones found in G4 Power Macs.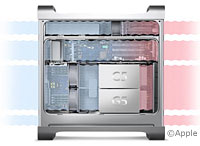 The G5 Power Macs needed a lot of cooling. The enclosure was made of aluminum, and the front and rear were full of holes to allow greater airflow. Apple boasted of 4 cooling zones and 9 cooling fans that could be individually controlled to only run as fast as necessary, which helped keep them relatively quiet.
PowerPC 970FX
IBM passed the 2.0 GHz mark with the PPC 970FX, which eventually reached 2.7 GHz in the liquid cooled April 2005 Power Mac G5.
The 970FX also made its way into the iMac G5, where it ran on a system bus one-third as fast as the CPU itself. By using a slower system bus and running the CPU at 1.8 GHz or slower, Apple was able to keep the heat down enough for use in a consumer desktop.
PowerPC 970MP
The final revision of the G5 used in a Power Mac was the PPC 970MP, which was the first dual-core processor Apple used. Released in October 2005, the 2.0 and 2.3 GHz Power Mac G5 Dual models were built around a single dual-core 970MP, and the top-end 2.5 GHz Power Mac G5 Quad had a pair of dual-core CPUs for the most processing power ever found in a PowerPC Mac.
Besides offering two cores on a single chip, the 970MP included 1 MB of L2 cache for each CPU.
This was the end of the line for Apple and the PowerPC, as the transition to Intel Core technology began in January 2006.
Further Reading
Join us on Facebook, follow us on Twitter or Google+, or subscribe to our RSS news feed
Today's Links
Mac of the Day: PowerBook 2300, introduced 1995.08.28. The only Duo equipped with a PowerPC processsor run at 100 MHz.
Recent Content
Custom Search
Follow Low End Mac on Twitter
Join Low End Mac on Facebook
Favorite Sites
MacSurfer
Cult of Mac
Shrine of Apple
MacInTouch
MyAppleMenu
InfoMac
The Mac Observer
Accelerate Your Mac
RetroMacCast
The Vintage Mac Museum
Deal Brothers
DealMac
Mac2Sell
Mac Driver Museum
JAG's House
System 6 Heaven
System 7 Today
the pickle's Low-End Mac FAQ
Affiliates
Amazon.com
The iTunes Store
PC Connection Express
Macgo Blu-ray Player
Parallels Desktop for Mac
eBay

Advertise