Griffin TuneBuds 'a Vast Improvement' Over Apple's Earbuds
- 2007.03.23
Rating:
Last time in The Review Vault, I reviewed the Griffin disko nano, a polycarbonate case for the iPod nano.
The iPod has fast become a big part of the Macintosh experience, and as such, I feel it should be covered. I'm starting a new series called The iPod Files that will focus on reviews on iPod gear.
This time, we're looking at Griffin's TuneBuds (formerly known as EarThumps), in-the-ear sound buds that come in your choice of white or black. To be honest, I'm not crazy about in-the-ear earphones at all - I'd much rather have regular headphones. But there are times when in-the-ear 'phones have their place.
The only pair of in-the-ear 'phones I had prior to receiving the EarThumps were the white Apple earbuds that ship with every iPod. I think the Apple-supplied earphones just barely do the job. They lack one thing: adequate bass response. While I'm not an audiophile by any stretch, I do appreciate good sound.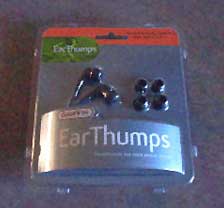 So how do the Griffin TuneBuds stand up?
The first thing you will notice is the packaging - very elegantly packaged. Everything clearly and neatly laid out, as you'll notice in these pictures.
There are three sets of silicone fittings included to fit the shape of your ear. A nice touch is the enclosed zipper casing. Think about it: how many times have you lost track of your earphones? This zipper case is a handy addition.
The cord is of adequate length, perhaps a little longer than the Apple earphones. As for the meat in the sandwich - which in this case is the sound - the TuneBuds do a better job than Apple's earphones. It has a pleasing bass response. However, I found it lacking some treble response. I felt there should have been more of a balance.
While I would've liked to see more of a balance between bass and treble response, I have to say that the TuneBuds are a vast improvement over the Apple earphones. For the $29.99, I'd wholeheartedly recommend the TuneBuds if you want something better than the standard Apple issued earphones.
I give them a 3 out of 4 rating. Another great product Griffin!

Today's Links
Mac of the Day: Power Mac 8200, introduced 1996.04.22. The minitower version of 7200 was never sold in America.
Recent Content
Custom Search
Follow Low End Mac on Twitter
Join Low End Mac on Facebook
Favorite Sites
MacSurfer
Cult of Mac
Shrine of Apple
MacInTouch
MyAppleMenu
InfoMac
The Mac Observer
Accelerate Your Mac
RetroMacCast
The Vintage Mac Museum
Deal Brothers
DealMac
Mac2Sell
Mac Driver Museum
JAG's House
System 6 Heaven
System 7 Today
the pickle's Low-End Mac FAQ
Affiliates
Amazon.com
The iTunes Store
PC Connection Express
Macgo Blu-ray Player
Parallels Desktop for Mac
eBay

Advertise