Kevin Webb's PowerBook G4
- January 2002
As an incurable computer collector, I rarely claimed one particular machine as my main computer. That all changed earlier this year when I decided to slim down my computers to the bare necessities (see The Simplified Mac Life). After selling off my entire collection, I used the proceeds to outfit myself with one computer to serve as my main machine.
After many years of PowerBook use, I long since came to the realization that a PowerBook is one of the few portables which can serve as my main computer. To that end, I bought a Titanium PowerBook G4 in mid-October. I am a big fan of buying machines at the end of a life cycle, and after lusting over the Titanium PowerBooks all of 2001, I took the plunge this October. By waiting until the new revisions were announced, I was able to save a significant amount of money and buy a machine that suited my needs at savings of at least 35% over its initial price.
Hardware Setup
As this was going to serve as my main computer, I used the savings to increase some of the TiBook's features. The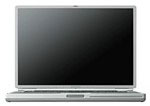 first addition was to bump the memory up to 512 MB, a number which only last year seemed ludicrously large (but has since become passé). With the increase in RAM, I am able to use OS X in all of its glory.
My next major purchase was a 48 GB IBM hard drive. This wonderful drive cost a bit more than I was initially willing to pay, but the next step down was a full 18 GB smaller. As when buying a house, it is always a good idea to stretch yourself, as you will grow into the space. This is especially important when using a laptop as a primary machine. I would hate to make another change soon after realizing I had bought too small a drive.
Once these additions were made, I moved to peripherals. I purchased a Sony Espressa FireWire CD-RW, which is a bit large but does not travel with me. This is the first CD-RW drive for me, and I do enjoy the ability to mix CDs, make backups and easily transfer files via CD.
My next purchase was a Canon N-656u scanner, which I bought on the cheap (end of life again). I chose it because of its small size and the fact that it does not require a separate power supply.
I carry the machine in a Kensington Saddlebag which has served me well through a few laptops. To increase my protection, I purchased a wonderful sleeve from Waterford Designs that fits the machine like a glove and makes me feel comfortable that the exterior will not be scratched while riding in the bag.
Software
After making sure my hardware was in order, I focused on a few additional software titles to make the machine my primary driver. The first thing I installed included a variety of word processors. I installed AppleWorks as it was the only office suite available for X at the time. I have always liked the suite, but it has given enough problems over the years to make me nervous about using it is a primary application.
Next I installed BBEdit, which is a wonderful text/html editor. I have used a variation of this product for years and use it quite often as a light word processor.
When it became available, I purchased the Office:X upgrade, as sometimes you simply must conform with the rest of the world. I have yet to decide if I prefer it over Office 2001, which was one of my favorite suites.
After the word processors were addressed, I moved to some of the other apps I use regularly. Photoshop 5 , Dreamweaver, and VPC 4 are all installed, although only VPC will be upgraded to an X version, as I simply dabble with those programs. I grabbed GraphicConverter and Limewire for X, Fire for my messaging client, and last, but not least, was the X versions of Starcraft. Combine those apps with iMovie and iTunes and I am set.
My Other Mac
Although Dan correctly pointed out that the PowerBook G4/400 is now "low-end," I cannot accept that this machine really qualifies as such. To that end, I still run a trusty Performa 475 with 32 MB of RAM and a 160 MB hard drive.
That machine runs Word 5.1, Claris Works, and Claris Emailer. It is the machine I use to write the majority of my Low End Mac articles. It just feels like the appropriate machine. I bought mine for $5 last months, which included an ethernet card - a much better price than the $1,999 I paid in 1994 when I purchased a 475 as my first Mac.

Custom Search
Follow Low End Mac on Twitter
Join Low End Mac on Facebook
Favorite Sites
MacSurfer
Cult of Mac
Shrine of Apple
MacInTouch
MyAppleMenu
InfoMac
The Mac Observer
Accelerate Your Mac
RetroMacCast
The Vintage Mac Museum
Deal Brothers
DealMac
Mac2Sell
Mac Driver Museum
JAG's House
System 6 Heaven
System 7 Today
the pickle's Low-End Mac FAQ
Affiliates
Amazon.com
The iTunes Store
PC Connection Express
Macgo Blu-ray Player
Parallels Desktop for Mac
eBay

Advertise