Initially introduced as the Centris 660av (the two models are identical except for the nameplate), the Quadra 660av shares the same case design as the Centris 610.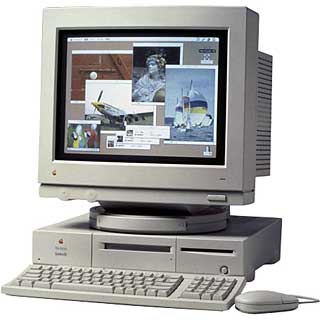 In addition to a faster 25 MHz 68040 CPU, the 660av includes a 55 MHz AT&T digital signal processor, introduces the GeoPort high speed serial port, has a new audio-video connector on rear, and can digitize video using built-in ports. (For even more AV horsepower, look into the 40 MHz Quadra 840av.)
One popular use for the AV Quadras was adding text and graphics to videos.
A dead or low-voltage PRAM battery can temporarily kill off built-in video – see Macintosh Computers: Low Battery Can Cause No Video for more information.
Tidbit: Hold down Cmd-Opt-T-V during startup to force this Mac to use a TV as a monitor.
Details
Centris 610 introduced 1993.07.29 at $2,300; renamed Quadra 660av 1993.10.01; discontinued 1994.09.12
requires System 7.1 or later; highest version supported is Mac OS 8.1.
CPU: 25 MHz 68040 CPU
DSP: 55 MHz 3210
Performance: 12.4, relative to SE; 0.89, Speedometer 4
see Benchmarks: 660av for more details
ROM: 2 MB
RAM: 8 MB, expandable to 68 MB using 70ns 72-pin SIMMs; motherboard has 2 SIMM slots which can be filled independently. Cannot use 64 MB SIMMs
VRAM: 1 MB
L2 cache: optional
ADB: 2 ports for keyboard and mouse
serial: 2 DIN-8 RS-422 ports on back of computer
SCSI: DB-25 connector on back of computer
Hard drive: 230 or 500 MB
one PDS slot (NuBus adapter available)
size (HxWxD): 3.4″ x 16.3″ x 15.6″
Weight: 14 lb.
PRAM battery: 3.6V half-AA
Gestalt ID: 53
addressing: 24-bit or 32-bit
upgrade path: Power Mac 6100
Accelerators & Upgrades
Online Resources
Cautions
The Startup Disk control panel in System 7.5-7.5.3 is incompatible with Quadra AVs. System 7.5.5 fixes this.
Quadra AVs do not support 24-bit addressing.
You must have a "fat" system installed to use a PowerPC upgrade.
Note that the 660av and 840av don't do video mirroring, so if you're doing output to TV or VCR, your computer monitor will be blank.
The fan filter for the 660 and other models that use the same case is inside the power supply. Sometimes a "bad" power supply can be repaired by clearing the dust out of the mesh screen near the fan.
Keywords: #centris660av #quadra660av
Short link: http://goo.gl/nni1ez
searchwords: centris660av, quadra660av