The 60 MHz Power Mac 6100 was the entry-level Power Mac when Apple introduced its first PowerPC models in March 1994. Built into the Quadra 610 case, the 6100 contains a PDS (processor direct slot) that can be converted to a NuBus slot with an adapter.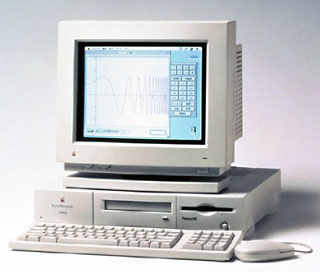 The Power Macintosh 6100 was also marketed under the Performa brand, where its model numbers were 6110CD, 6112CD, 6115CD, 6116CD, 6117CD, 6118CD. It was also sold as the Apple Workgroup Server 6150.
To save money, the 6100 uses system memory for video (up to 615 KB, depending on resolution and bit-depth), not separate VRAM. Thus, one way to improve performance is to add a video card, either Apple AV card or a third-party one. (This also makes it possible to run two monitors.) Another is to add a 1 MB level 2 cache, as noted on our benchmark page. More details at PowerMac 6100 Graphics Performance.
The 6100 was boosted to 66 MHz in January 1995.
See our NuBus Video Card Guide for information on adding a NuBus video card, which requires a NuBus adapter.
Variants
6100av. Includes video-in and video-out. Supports 19″ and 21″ monitors. Has 2 MB VRAM. (AV card can be added to any 6100 with a free PDS slot.)
6100 DOS compatible. Card includes a 66 MHz 486DX2 CPU, SVGA output, and a single SIMM slot supporting up to 32 MB RAM. DOS card can share RAM with Macintosh, which is slower, or use its own memory. (DOS Compatibility Card can be added to any 6100 with a free PDS slot.)
Details
6100/60 introduced 1994.03.14; discontinued 1995.01.03
6100/60av introduced 1994.03.14; discontinued 1994.09.12
6100/66 introduced 1995.01.03; discontinued 1995.10.14
6100/66 DOS Compatible introduced 1995.01.03; discontinued 1996.05.18
6100/66av introduced 1995.02.03; discontinued 1995.04.03
code name: Piltdown Man
requires System 7.1.2 through 9.1
CPU: 60 or 66 MHz PPC 601
Bus: 30 or 33 MHz
performance, 6100/60

CPU 100, FPU 161, MacBench 5
1.8 (relative to Centris 650)
23.26, MacBench 2.0
3.13, Speedometer 4
22,989 Whetstones

performance, 6100/66

CPU 112, FPU, 177, MacBench 5
3.40, Speedometer 4

ROM: 4 MB
RAM: 8 MB, expandable to 264 MB using matching pairs of 80ns or faster 72-pin SIMMs (Apple does not support 64 or 128 MB SIMMs, since they were released after the computer and Apple has not verified compatibility.)
VRAM: none on motherboard, 2 MB on AV card
Video:

internal supports thousands of colors at 640 x 480 and 256 colors at 832 x 624
AV card supports millions of colors at 640 x 480 and 832 x 624, thousands of colors at 1024 x 768 and 1152 x 870
motherboard video uses up to 600 KB of system memory
A dead or low-voltage PRAM battery can temporarily kill off built-in video – see Macintosh Computers: Low Battery Can Cause No Video for more information.

L2 cache: optional on 6100/60, 256 KB standard on 6100/66, supports 256 KB to 1 MB cache
Hard drive: 160-250 MB @ 60 MHz, 350-500 MB @ 66 MHz
CD-ROM: 2x standard
Microphone: standard 3.5mm minijack, compatible with line-level input including Apple's PlainTalk microphone
ADB: 1 port for keyboard and mouse
serial: 2 DIN-8 GeoPorts on back of computer
SCSI: DB-25 connector on back of computer
Ethernet: AAUI connector on back of computer, requires AAUI adapter
one PDS slot (NuBus adapter available)
Power supply: 200W
PRAM battery: 3.6V half-AA
Height: 3.4 in
Width: 16.3 in
Depth: 15.6 in
Weight: 14.0 lb
PRAM battery: 3.6V half-AA
Gestalt ID: 75
Accelerators & Upgrades
NewerRAM has 128 MB SIMMs for 6100, Applelinks, 1/11/2000
AV card or third-party video card will improve performance
MicroMac Speedy variable speed oscillator
MC Price Breakers, 80 MHz clock chipper
Output Enablers 80-82 MHz clock accelerator (76-80 MHz version for 6100 DOS Compatible)
Griffin Mac-celerator (variable speed to 80/84 MHz for 60/66 MHz models, incl. fan), discontinued
Crescendo (120/132 MHz 604 or 180/200 MHz 604e) from Sonnet Technologies, discontinued
Crescendo/NuBus G3 (400/500 MHz G3) from Sonnet Technologies
210 MHz and 240 MHz MAXpower G3 from Newer Technology (210 MHz version reviewed on Macs Only!), discontinued
Online Resources
Low End Mac's Best Classic Mac OS Deals. Best online prices for System 6, 7.1, 7.5.x, Mac OS 7.6, 8.0, 8.1, 8.5, 9.0, 9.2.2, and other versions.
Low End Mac's Compleat Guide to Mac OS 9, 2008 Edition, Charles Moore, Miscellaneous Ramblings, 2008.05.12. Declared dead by Steve Jobs 6 years ago, Mac OS 9 remains fast and stable, but Classic software hasn't kept up with Web changes. What Macs support OS 9, where to buy it, and how to update to version 9.2.2.
Environmentally Responsible Retirement for Old Macs, Rick Lawson, Pioneers in Mac Development, 2008.06.13. After you've scavenged what useful parts you can from your old Mac, what's the most environmentally friendly way to dispose of the rest?
Know Your Mac's Upgrade Options, Phil Herlihy, The Usefulness Equation, 2008.08.26. Any Mac can be upgraded, but it's a question of what can be upgraded – RAM, hard drive, video, CPU – and how far it can be upgraded.
The 25 most important Macs (part 2), Dan Knight, Mac Musings, 2009.02.17. The 25 most significant Macs in the first 25 years of the platform, continued.
Why You Should Partition Your Mac's Hard Drive, Dan Knight, Mac Musings, 2008.12.11. "At the very least, it makes sense to have a second partition with a bootable version of the Mac OS, so if you have problems with your work partition, you can boot from the 'emergency' partition to run Disk Utility and other diagnostics."
Creating Classic Mac Boot Floppies in OS X, Paul Brierley, The 'Book Beat, 2008.08.07. Yes, it is possible to create a boot floppy for the Classic Mac OS using an OS X Mac that doesn't have Classic. Here's how.
The Compressed Air Keyboard Repair, Charles Moore, Miscellaneous Ramblings, 2008.07.24. If your keyboard isn't working as well as it once did, blasting under the keys with compressed air may be the cure.
Macintosh peace of mind, PA Semi and the iPhone, $40 802.11g PCI card, and more, Dan Knight, Low End Mac Mailbag, 2008.05.01. Also Power Mac vs. Mac mini, more on DVD User Op Patch, 12″ vs. 14″ iBook, and VGA for a Power Mac 6100.
Vintage Mac Networking and File Exchange, Adam Rosen, Adam's Apple, 2007.12.19. How to network vintage Macs with modern Macs and tips on exchanging files using floppies, Zip disks, and other media.
Vintage Mac Video and Monitor Mania, Adam Rosen, Adam's Apple, 2007.12.17. Vintage Macs and monitors didn't use VGA connectors. Tips on making modern monitors work with old Macs.
Getting Inside Vintage Macs and Swapping Out Bad Parts, Adam Rosen, Adam's Apple, 2007.12.14. When an old Mac dies, the best source of parts is usually another dead Mac with different failed parts.
Solving Mac Startup Problems, Adam Rosen, Adam's Apple, 2007.12.12. When your old Mac won't boot, the most likely culprits are a dead PRAM battery or a failed (or failing) hard drive.
Better and Safer Surfing with Internet Explorer and the Classic Mac OS, Max Wallgren, Mac Daniel, 2007.11.06. Tips on which browsers work best with different Mac OS versions plus extra software to clean cookies and caches, detect viruses, handle downloads, etc.
Hacking Mac OS 7.6.1 so many Mac OS 8 apps will run, Max Wallgren, Mac Daniel, 2007.10.30. With a little ResEdit work and a second copy of your System Folder, you can run a lot of OS 8 apps with Mac OS 7.6.1.
Interchangeabilty and Compatibility of Apple 1.4 MB Floppy SuperDrives, Sonic Purity, Mac Daniel, 2007.09.26. Apple used two kinds of high-density floppy drives on Macs, auto-inject and manual inject. Can they be swapped?
Apple's Consumer Performa Line, 1992 to 1997, Dan Knight, Mac Musings, 2007.09.14. Apple decided to pursue the average consumer by renaming existing Macs, bundling them with software, and putting their colorful boxes in regular retail outlets.
Apple's AAUI ethernet connector, Dan Knight, Online Tech Journal, 09.04. From 1991 through 1995, Apple used a proprietary ethernet connection. Why they created AAUI and where to find adapters.
Connecting a LaserWriter to ethernet and the TiBook that wouldn't boot, Dan Knight, Low End Mac Mailbag, 2007.08.23. The importance of an AAUI ethernet adapter, the cost of PowerBook PRAM batteries, and booting old Macs from SCSI drives.
Mac System 7.5.5 Can Do Anything Mac OS 7.6.1 Can, Tyler Sable, Classic Restorations, 2007.06.04. Yes, it is possible to run Internet Explorer 5.1.7 and SoundJam with System 7.5.5. You just need to have all the updates – and make one modification for SoundJam.
Appearance Manager Allows Internet Explorer 5.1.7 to Work with Mac OS 7.6.1, Max Wallgren, Mac Daniel, 2007.05.23. Want a fairly modern browser with an old, fast operating system? Mac OS 7.6.1 plus the Appearance Manager and Internet Explorer may be just what you want.
Format Any Drive for Older Macs with Patched Apple Tools, Tyler Sable, Classic Restorations, 2007.04.25. Apple HD SC Setup and Drive Setup only work with Apple branded hard drives – until you apply the patches linked to this article.
Who needs a computer anyway?, RetroMacCast, 2007.03.18. James and John look at the Power Mac 6100 and the Newton eMate.
System 7 Today, advocates of Apple's 'orphan' Mac OS 7.6.1, Tommy Thomas, Welcome to Macintosh, 2006.10.26. Why Mac OS 7.6.1 is far better for 68040 and PowerPC Macs than System 7.5.x.
Mac OS 8 and 8.1: Maximum Size, Maximum Convenience, Tyler Sable, Classic Restorations, 2006.09.11. Mac OS 8 and 8.1 add some useful new features and tools, and it can even be practical on 68030-based Macs.
Customizing Mac OS 9, Nathan Thompson, Embracing Obsolescence, 2006.08.01. Fiddling with themes, picking a browser, and making the Classic Mac OS work just the way you want it to.
Floppy drive observations: A compleat guide to Mac floppy drives and disk formats, Scott Baret, Online Tech Journal, 2006.06.29. A history of the Mac floppy from the 400K drive in the Mac 128K through the manual-inject 1.4M SuperDrives used in the late 1990s.
DOS cards, x86 emulation, Boot Camp, and the future of Windows on Macs, Adam Robert Guha, Apple Archive, 2006.04.07. Macs have had DOS compatibility since 1987, and software emulators followed in a few years. With Boot Camp, Intel Macs can now run Windows XP. Where next?
System 7.6.1 is perfect for many older Macs, John Martorana, That Old Mac Magic, 2006.03.24. Want the best speed from your old Mac? System 7.6.1 can give you that with a fairly small memory footprint – also helpful on older Macs.
MpegDec: Play MP3s and streaming audio on 680×0 and old PowerPC Macs, Nathan Thompson, Embracing Obsolescence, 2006.03.14. 680×0 Macs can play anything short of 128kbps stereo MP3s, and even the oldest PowerPC Macs have no trouble at all with those recordings.
System 7.5 and Mac OS 7.6: The beginning and end of an era, Tyler Sable, Classic Restorations, 2006.02.15. System 7.5 and Mac OS 7.6 introduced many new features and greater modernity while staying within reach of most early Macintosh models.
Web browser tips for the classic Mac OS, Nathan Thompson, Embracing Obsolescence, 2006.01.03. Tips on getting the most out of WaMCom, Mozilla, Internet Explorer, iCab, Opera, and WannaBe using the classic Mac OS.
The best browsers for PowerPC Macs and the classic Mac OS, Nathan Thompson, Embracing Obsolescence, 2005.12.16. Two browsers stand out from the pack: iCab 3 is modern and remains under development, and WaMCom brings Mozilla to older Macs.
Why you should use Mac OS 7.6 to get the most out of vintage Macs, Thomas Ahart, The Productive Mac, 2005.12.12. Although you may be able to run OS 8 or 9 on your old Mac, you'll generally find better performance using Mac OS 7.6.
SETIonMac: Team 6100 joins Team Mac Observer, 2000.05.04. Team hopes to harness efforts of many Power Mac 6100s, perhaps the most popular Power Mac ever.
Follow Up on the 6100, 7100, and 8100, Adam Robert Guha, Mac Daniel, 2000.04.27. A look at upgrade options.
72-pin SIMM memory pricing, ramseeker
PowerMac 6100 Upgrade Guide, Steven Kan
Setting Up a 6100, Dan Knight, Mac Musings, 1999.10.18. Was picking up some Power Mac 6100s for $200 each really such a good deal?
Benchmark: Power Mac 6100, Low End Mac, 10/17/99.
Because the 6100 uses up to 640 KB of system memory for video (unless you're using an AV card or NuBus video card), you can really boost video and system performance with a 1 MB L2 cache.
Should I Buy a Used 6100?, Mac Daniel, 1998.11.19
How should I upgrade my 6100?, Mac Daniel, 1998.11.19
Should I pump up my 6100 or buy an iMac?, Bare Feats, 1998.09.01
Apple Specs: Power Mac 6100/60, 6100/60av, 6100/66, 6100/66av, 6100 DOS Compatible
Mac Windows, a site for Mac users running Windows
Cautions
You cannot upgrade from Mac OS 9.0 to 9.1 using updaters on NuBus models. You must use a full installation CD for OS 9.1.
We're dead serious about recommending matching RAM when upgrading the 6100 – see Memoirs of an UberNewbie: Always crashing in the same car to learn what happens if you don't match SIMMs.
Outside of California, Apple discontinued support and parts orders for this model on 1 January 2001. You may be able to find dealers with parts inventory either locally or on our parts and service list.
Beware bogus 256K cache module AP2544-02 – it doesn't do anything on the 6100 or 7100.
The fan filter for the 610 and other models that use the same case is inside the power supply. Sometimes a "bad" power supply can be repaired by clearing the dust out of the mesh screen near the fan.
This case has poor air circulation, which can cause replacement hard drives or accelerators to overheat. If this happens, the first thing to try is removing the small horizontal insert on the back. If this fails, look into replacing the fan in the power supply (contact Newark Electronics at 1-800-463-9275 for information on their 25cfm fan) or moving the hard drive to the CD-ROM bay (assuming you don't have a CD-ROM player).
Keyword: #powermac6100
Short link: http://goo.gl/CIFN56
searchwords: powermac6100, performa611x