What was the smallest desktop Mac prior to the Mac mini? Apple's LC series, which measured just under 3″ tall, although it had as big a footprint as four Minis. And the Quadra 605 (also known as the LC 475 and Performa 475 or 476) was the most powerful model in this diminutive line.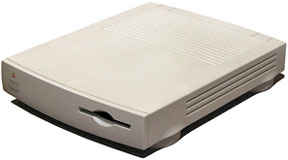 Apple completed the LC line with what could have been called the LC IV. As with its ancestors, the Quadra 605 was designed to be inexpensive. It shares many components with previous LC models, although it uses a new (equally compact) case that's flat rather than angled upward in the front. To reduce cost and power use, Apple used the 68LC040 CPU, helping to make this the first Quadra to sell for under US$1,000. For compatibility, it retains the LC expansion slot.
The Performa 475 and 476 differed in the size of the hard drive that shipped with them; the 475 had a 160 MB drive, while the 476 had 230 MB. The Quadra 605 has a different Gestalt ID than the LC and Performa versions.
Probably the most cost effective Quadra 605 upgrade is replacing the FPU-less processor with a full fledged 68040. This makes complex calculations over three times faster and also improves performance with some graphics programs. Both 25 and 33 MHz 68040 processors are often available on the used market (the 605 will accept a 33 MHz CPU but only run it at 25 MHz). However, the heat sink may prevent you from closing the lid.
A dead or low-voltage PRAM battery can temporarily kill off built-in video – see Macintosh Computers: Low Battery Can Cause No Video for more information.
Details
Accelerators & Upgrades
Online Resources
Cautions
Keywords: #quadra605 #lc475 #performa475 #performa476
Short link: http://goo.gl/O7xUzr
searchwords: quadra605, lc475