Finding the market confused with five product lines (Mac II, Centris, Quadra, Performa, and PowerBook), Apple renamed the Centris models in October 1993.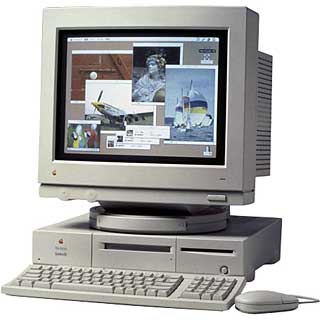 At the same time, the CPU in the Centris 610 was boosted from 20 MHz to 25 MHz. (The 8/160 version sold in the U.S. was based on the less expensive 68LC040 chip.)
See our NuBus Video Card Guide for information on adding a NuBus video card, which also requires a NuBus adapter.
Details
introduced 1993.10.21 at $1,440; discontinued 1994.07.18
requires System 7.1 or later; highest version supported without a PPC upgrade is Mac OS 8.1.
CPU: 25 MHz 68040 (68LC040 only on 8/160 sold in U.S.)
Performance: 12.1 (relative to SE); 7.93, MacBench 2.0 CPU
ROM: 1 MB
RAM: 4 MB on motherboard, expandable to 68 MB using 80ns 72-pin SIMMs; motherboard has 2 SIMM slots, which can be filled independently; can use 4 MB, 8 MB, 16 MB, and 32 MB SIMMs. If SIMMs are not the same speed, faster SIMM should be in bank 0 (frontmost slot).
video: 512 KB VRAM, expandable to 1 MB

512 x 384 @ 16-bit
640 x 480, 800 x 600, 832 x 624: 8-bit @ 512 KB, 16-bit @ 1 MB
832 x 624, 1024 x 768, 1152 x 870: 4-bit @ 512 KB, 8-bit @ 1 MB

L2 cache: optional, PDS
ADB: 2 ports for keyboard and mouse
serial: 2 DIN-8 RS-422 ports on back of computer
SCSI: DB-25 connector on back of computer
Hard drive: 160 or 230 MB
one PDS slot (NuBus adapter available)
size (HxWxD): 3.4″ x 16.3″ x 15.6″
Weight: 14 lb.
PRAM battery: 3.6V half-AA
Gestalt ID: 53
addressing: 24-bit or 32-bit
upgrade path: Power Mac PDS card, Power Mac 6100 (requires some case modification)
Accelerators & Upgrades
Accelerator Reviews
Online Resources
Cautions
Apple Computer considers this computer obsolete as of 2001.07.16 in the United States and 2001.07.23 in Canada. Service parts and documentation are no longer available from Apple.
You must have a "fat" system installed to use a PowerPC upgrade.
If you have a non-Apple hard drive formatted with Silverlining, read this warning.
The fan filter for the 610 and other models that use the same case is inside the power supply. Sometimes a "bad" power supply can be repaired by clearing the dust out of the mesh screen near the fan.
This case has poor air circulation, which can cause replacement hard drives or accelerators to overheat. If this happens, the first thing to try is removing the small horizontal insert on the back. If this fails, look into replacing the fan in the power supply (contact Newark Electronics at 1-800-463-9275 for information on their 25cfm fan) or moving the hard drive to the CD-ROM bay (assuming you don't have a CD-ROM player).
Serial port normally restricted to 57.6 kbps; throughput with a 56k modem may be limited. See 56k modem page. For more information on Mac serial ports, read Macintosh Serial Throughput.
Keyword: #quadra610
Short link: http://goo.gl/IUSKNj
searchword: quadra610