Apple released its 1999 10-K form, which provides an overview of the past fiscal year as well as a look ahead. 1999 was a very impressive year.
Unit Sales Up 25%
In 1997, Apple sold 2,874,000 Macs. Last year, that dropped 4% to 2,763,000. But for fiscal 1999 (9/26/98 to 9/25/99), Apple boosted sales an impressive 25% to 3,448,000 units.
Here's the quick breakdown from the 10-K:
                              1999   CHANGE    1998   CHANGE    1997
                            ------- -------  ------- -------  -------
Power Macintosh unit sales.. 1,296     2 %    1,266    29 %      981
PowerBook unit sales........   344   (19)%      427     2 %      417
iMac unit sales(a).......... 1,802    68 %    1,070   (28)%    1,476
iBook unit sales............     6    -         -    -         --
                             -----           ------           ------
Total Macintosh unit sales.. 3,448    25 %    2,763    (4)%    2,874

Over FY99, Apple replaced the Beige Power Mac G3 with the Blue and White one in January, they replaced that with the Power Mac G4 at the end of August. Clock speeds jumped from a top speed of 366 MHz to 450 MHz while Power Mac sales increased only 2%.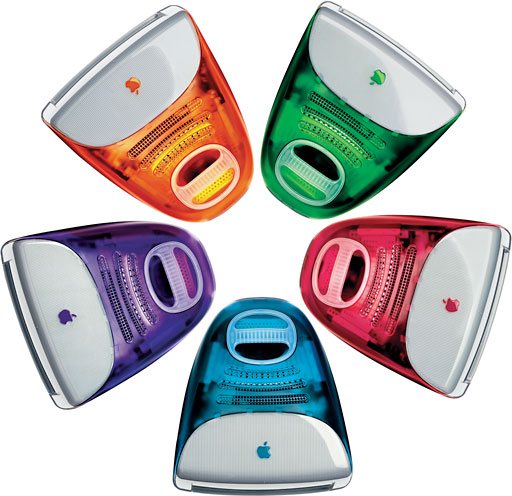 Undoubtedly, some of this was due to the iMac, which dominated the consumer PC market (not just the Mac OS market) as one of the top selling models month after month. The iMac, which first shipped only 45 days before the end of FY98, was the catalyst for a 68% increase in consumer Mac sales over the past year. I'm sure the introduction of colored models and increase in speed from 233 MHz to 333 MHz didn't hurt.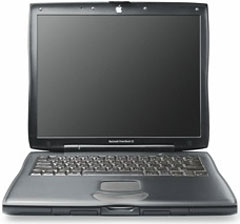 The great disappointment is the PowerBook, which dropped nearly 20% in unit sales, possibly in anticipation of what Apple's consumer portable would be. Even adding in the 6,000 iBooks sold by the end of the fiscal year, portable Mac sales dropped 18% from FY98.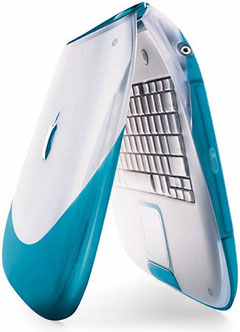 While the Lombard is a powerful machine, it's price, size, teething problems, and lack of any significant change mitigated against a growing PowerBook market in FY99.
The iBook barely got out of the gate, selling just 6,000 units before the end of the fiscal year.
Still, the once-beleaguered company has made an impressive comeback by selling 25% more computers than the previous year.
Net Income Up, Profits Double
More telling yet, in FY97 Apple managed to lose over $1 billion, then eked out a decent $309 million profit in 1998. Thanks to the profitable iMac, outsourcing a lot of production, keeping inventory levels very low, and profits from The Apple Store, Apple nearly doubled that in FY99, turning a tidy $601 million profit.
On top of that, Apple increased gross margin to 29% in the last quarter, an increase over the 28% average for the year, which was a strong improvement over the 25% gross margin in FY98, let alone the abysmal 19% in FY97.
Strong from the Gate
Apple has a strong beginning for FY2000, according to AAPL Investors, who projects unit sales of 1.3 million for the first quarter (October through December). Their estimate presumes sale of 650,000 iMacs, 350,000 Power Macs, 230,000 iBooks, and only 70,000 PowerBooks.
Sales of PowerBooks during what should be the strongest quarter of the year are reduced by competition from the iBook (selling at over three times the PowerBook's pace!) and ongoing rumors of a new model. The "Pismo" model has been expected since August, and the current PowerBook G3 is the oldest model in Apple's product line.
Expect Apple to offer some serious promotions on the current PowerBook soon, as it is widely believed they will finally introduce a replacement model at Macworld Expo in early January 2000.
If the trends reported in AAPL Investors continue, along with the introduction of a new PowerBook, Apple could sell over 2 million iMacs in FY2000, along with 1.5 million Power Macs, nearly 1 million iBooks, and potentially a half-million PowerBooks. This would bring Apple unit sales to 5 million for FY2000 – an increase of perhaps 30% over FY99.
The big question is how iBook sales will impact PowerBook sales, which could end up dropping for a second straight year. It's the big unknown in the Apple equation, although I suspect the next PowerBook and a possible "thin" PowerBook will achieve total sales of about a half-million units.