1999: Dan Knight has already weighed in on this issue with The Next PowerBooks. I guess great minds think alike. I enjoyed reading Dan's article, and I agree with most of what he said, finding his speculation about a possible thin and compact "MyBook" Apple portable (personally, I prefer the name "eBook" – for "executive" book) especially interesting.
The "thin" laptop category is still a gaping hole in Apple's portable lineup, bleeding sales to the PC side where there is a delicious selection of light and thin portable units. As I've remarked before, the fact that they all arrive running Windows is a bit like meeting a beautiful woman, only to have her reveal a row of rotted teeth when she smiles, but the ascendancy of more user-friendly Linux variants on the PC side, such as CorelLINUX, raises the temptation quotient a few notches.
My traditional favorite in this category has long been Sony's light and lovely VAIO, but the new Latitude LS just released by Dell looks like a pretty nice piece too.
The Latitude LS ultralight portable packing a 400 MHz Intel Pentium III processor and equipped with a 12.1″ active matrix screen (the same size as the one on the PowerBook I'm typing on), all somehow jammed into a thin 3.5 lb package (a bit more than half the weight of the Lombard PowerBook G3).
Latitude LS comes with 64 MB or 128 MB RAM, user-removable 4.8 GB or 6.4 GB internal hard drive, a floppy drive (natch!) in an external media bay, and an optional LS-120 drive, 24x/10x variable CD-ROM drive, or 6x DVD module with MPEG-2, in external media bays respectively.
The Latitude LS weighs 3.5 lbs. and measures 1.0″(h) x 10.7″(w) x 8.66″(d).
The slightly larger Dell Latitude CS is available with a 500 MHz Pentium III processor, 12 GB hard drive (18 GB in external media bay), and a 13.3″ XGA color TFT active matrix display (I hope it's better than the 13.3″ unit used in some of the Series I WallStreets) at 4.3 lbs. (vs. Lombard's 5.8 lbs.) and measures 1.1″(h) x 12.05″(w) x 9.7″(d).
These PC notebooks are the form factor Apple need's to shoot for with its hoped-for thin PowerBook. Reportedly, Pismo will shed about a pound of weight and a quarter-inch of thickness compared with Lombard, but that still makes it a pound or so heavier and still thicker than the larger Dell Latitude unit.
Pismo (don't bet against it being officially called PowerBook G3) will almost certainly be introduced at Macworld Expo 2000 in San Francisco in early January. There are reports of Lombards being discounted to $2,995, much as the prices dropped significantly on WallStreets a month or so before Lombard debuted.
As Dan pointed out in his column, Pismo will likely be largely an upgrade and bug fix of the current Lombard PowerBook G3 bronze keyboard model, with a faster 100 MHz internal bus, a speed bump of its G3 processor (but no G4), and probably more RAM and bigger hard drives, as well as having FireWire ports superseding the time-honored PowerBook HDI-30 SCSI port, and internal AirPort support.
Engineering-wise, O'Grady's PowerPage says that Pismo will have a magnesium (or possibly titanium) sub-frame in order to maintain stiffness and rigidity while the PowerBook loses that quarter inch of thickness and a pound of weight.
Apple is not only getting size competition from the PC side, but Hewlett-Packard's new OmniBook 900, a four pound powerhouse that features Intel's fastest laptop CPUs: Mobile Pentium III 500 or 450 MHz or the Pentium II 400 or 366 MHz processor is thought to be about as fast as the current Lombard or even a bit faster.
Other OmniBook 900 features include a 13.3″ 1024 x 768 XGA TFT display with 16 million colors-or 12.1″ SVGA TFT display with 16 million colors, and a 256-bit graphics controller with AGP, SXGA-out, MPEG-2, and dual display capability.
And while the OmniBook 900 with a 500 MHz Pentium III is estimated to more or less match the current Lombard 400's real-world performance, reportedly, 600 MHz Pentium laptops are on the way as early as January.
Some PowerBook fans are reportedly disgruntled at the prospect of losing the SCSI port with Pismo, and there is continued grousing about the absence of Type 3 CardBus PC Card support since WallStreet. Of special concern is the loss of SCSI Disk Mode. Apple apparently thinks Ethernet file transfer is a viable alternative, but for a lot of users, it is not.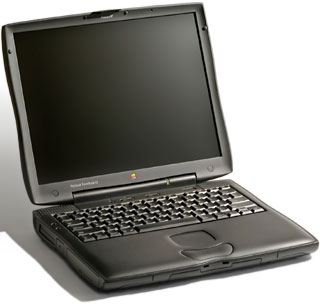 My son, for instance, often uses his WallStreet PowerBook as an external hard drive when troubleshooting and repairing customer machines. My own LC 520 desktop machine is not equipped with ethernet, but it can exchange files with my PowerBooks via SCSI Disk Mode. These are just a couple of real-world examples.
Yes, FireWire is the future, but the problem is that it is still the future rather than a mainstream alternative now. I can live without floppies. Not so sure about living without SCSI – yet.
However, I'm not looking for SCSI on Pismo. It will be a nice machine anyway – fast and powerful, and the easiest to lug G3 'Book yet. I just hope they will name it something other than "PowerBook G3".