2000: Apple's new breed of yet-to-be-announced "beyond-the-box" computers – which don't fall into the four main categories of professional and consumer desktop systems and portables – will bring big changes to Apple's marketing strategy.

Or will they?
Let's start with the Mystic, the code name of the new multiprocessor Power Mac G4. It has long been called a beyond-the-box system because it's a different model than the Sawtooth G4. If you think a little, though, the Sawtooth would be a beyond-the-box system too, because it's motherboard design is very different than the Yikes! that it sold alongside for a few months. Apple, however, called them both the Power Mac G4.
Verdict: Not beyond the box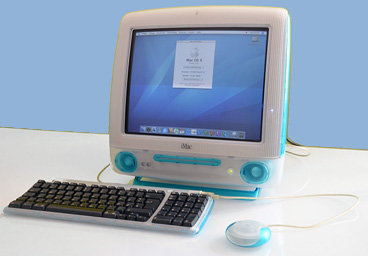 The P7A, the new iMac with the 17-inch screen is another model in question. It's larger screen and modified industrial design distance it from current iMacs, but all three other models are sort of different from each other anyway. What? Three models? Yes, the new iMacs already come in three different models, despite occupying just one space in the box. That's Apple's new iMac marketing strategy, remember? A mostly similar fourth model wouldn't affect the box at all.
Verdict: Not beyond the box
The upgraded iBooks, with 64 MB of RAM, possibly a DV model with a FireWire port (FireWire is already on the iBook's motherboard) and a speed bump, and/or a graphite Special Edition, are another one to think about. Wait, with this model lineup, they would be just like the new slot-loading iMacs. And like I said before, they take up just one space in the box.
Verdict: Not beyond the box
The eBook (though I prefer the more puny PocketBook), the ever-expected shrunken PowerBook with an XWIDE screen and lower price, was talked about long before word leaked out that Apple was creating products outside the four-box matrix. This is a tougher one since there is no strategy to compare to it. Or is there?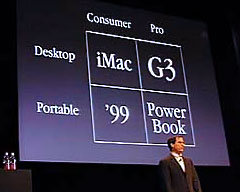 Even after Apple first demonstrated "The Box" back in May 1998 with the introduction of the iMac, it still created new models with different industrial designs. The Wall Street PowerBook G3 is one of them. The somewhat rare model with the 12.1″ TFT screen had a different case design than the other 14.1″ models, to accommodate the smaller screen. Minor case differences also exist between the iMac and iMac DV/DV SE, and major ones occur between the current iMacs and the P7A, which I've already classified as an inbox system.
Verdict: Not beyond the box
All of Apple's new (and unannounced) systems have a decent excuse to belong in The Box. In fact, only Apple's revamped website ventures beyond it – and it doesn't have a startup chime.