2000: The new iBook SE has a new feature called processor speed-stepping. Working similarly to the technology that prevents Mobile Pentium IIIs from running down notebook PC batteries too quickly, it allows you to slow down the G3 processor from 466 to 366 MHz, the same speed as the base model.

Say, for example, you're listening to a CD on an airplane: You won't need the extra 100 MHz, and you'll increase battery life. In the Energy Saver control panel's Advanced Settings, it's called Reduce Processor Speed.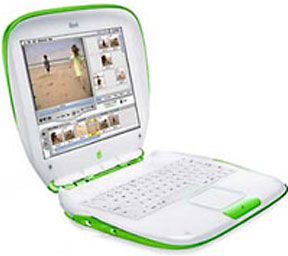 The new iBooks all sport a new snow color for the white portions of the plastic. It's far less transparent: You can no longer see the AirPort antenna, and the keyboard scissor-switches are very hard to see. The trackpad is also snow, instead of the Mylar color, and the trackpad button, which is now glossy and transparent, loses the stiffness characteristic of the older models. The snow plastic on the top surface of the iBook is glossy as well.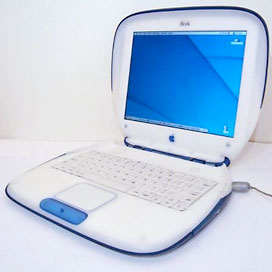 The iBook SE, with its A/V cable and special A/V jack, is Apple's first computer with the built-in ability to be a stand-alone DVD player for your home theater system. Even the newer PowerBooks, which come with an S-video-to-composite video adapter, require a stereo-miniplug-to-stereo RCA audio adapter to hook up to a TV or home theater system.
With the new iBook SE, simply hook up the AV cable to the audio-in and video-in jacks on your TV, VCR, or receiver, and you're good to go. You can, of course, use the base-model iBook to play VCDs the same way, since both come with the A/V jack and cable. The A/V jack behaves like a standard audio-out or headphone jack when the A/V cable is not used.
All new iBooks accept the same PC100 SO-DIMMs used in the new PowerBooks, provided they're 1.25″ or shorter. These are 100 MHz modules, compared to the 66 MHz ones the old iBook was limited to. However, since the iBook's logic board speed is the same, they'll only run at 66 MHz.
The new iBook battery is rated at 50 watts (actually 48 – Apple rounds off the number). To give it the extra capacity, it now has a long, thin lump protruding on one side. Old iBook batteries cannot be used in the new models because of their higher voltage.
Like the iMac has been for quite some time, the iBook is now losing color-specific plastic with each subsequent revision. On the new iBooks, the battery cover loses its silk-screened desktop background images, Quantum Foam (Graphite), Blueberry Union, and Tangerine Fusion, in favor of a plain Snow cover. Here's a chart of both computers' trends:
iMac Revision

Color-Specific Plastic Changes

Rev. A, Bondi
original
Rev. B, graphics boost
no changes
Rev. C, candy colors
loses colored ring on port door hole
drops colored mouse ball in favor of a gray and white ball
Rev. D, faster G3
no changes
Slot Loading, 1999
FCC labels and port surround loses holographic background
Slot Loading, 2000
speaker housings now clear
keyboard and mouse now black and clear

iBook Revision


Color-Specific Plastic Changes

Rev. A
original
Rev. B, RAM boost, SE
no changes
Rev. C, FireWire
battery cover/FCC labels background lose color-specific desktop background images in favor of all-snow cover on all models/colors
The iBook's graphics performance is exemplary, especially for a portable computer, not to mention one that starts at US$1,499. The Rage Mobility 128 is still the fastest GPU (graphics processing unit) in the notebook industry, despite being about eight months old. Performance is faster than the Pismo PowerBook. The graphics chip comes with 8 MB of video memory, and since the iBook has an 800 x 600 SVGA screen, you'll always have at least 6 MBs left over for 3D game and Photoshop acceleration.
Both new iBook models have a single FireWire port, which means you can now connect any FireWire device, including bus-powered ones, with full compatibility. However, since there is only one FireWire port, you'll have to daisy-chain a DV camcorder into a FireWire hard drive, for instance. You'll still get full control of the DV camcorder from iMovie.
Since all Apple systems have their FireWire ports running from a single FireWire bus, performance will be similar to other Apple systems with both devices plugged into the computer.
Like the new PowerBooks, you can mount the iBook's hard drive on another Apple system, including another iBook, using a FireWire cable to connect the two computers and FireWire Target Disk Mode. Simply hold down the "T" key as the iBook boots up, and that iBook's hard disk icon will appear on the other computer.
The new Key Lime color, which has been a surprisingly popular color, is restricted to built-to-order sales from the Apple Store and authorized resellers. Other BTO options include a 20 GB hard drive, which is sold only with an extra 64 MB of RAM, which uses the iBook's sole RAM slot, for a whopping $500. Still, 128 MB of RAM and a 20 GB hard drive is the exact same as the 500 MHz Pismo PowerBook, which costs $3,499. You can have an iBook configured like this for as little as $1,999.
What's the same? Same Dvorak-unfriendly industrial design, 66 MHz system bus, lack of a backup battery, mouse-restricting left-mounted USB port, keyboard-venting design that precludes running the system with the case closed, dinky speaker, cool color-specific embedded keypad, beefy 6 hours of battery life, external charging indicator, and the same rubber and polycarbonate plastics that allow an iBook to be safely used as a toy guitar and survive a two-story fall while running (don't try this at home).
keywords: #firewireibook
short link: https://goo.gl/7FSwyB