On October 17, 1998, Apple released Mac OS 8.5 and the first update to the popular Bondi iMac. CPU speed, base RAM, and most other specs were identical to the original iMac.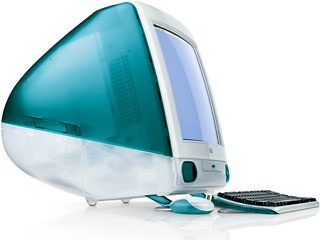 In addition to coming with OS 8.5 installed, the Revision B iMac incorporates the faster Rage Pro graphics chip, has 6 MB VRAM, and uses the power button as a reset button for easier crash recovery.
The iMac's firmware is stored on the same card that holds the CPU and memory chips. If firmware hasn't been updated and your iMac is acting up, swapping the CPU card from a known working iMac will usually fix things. Then update the firmware in the other iMac.
If you have a hard drive larger than 8 GB, you should partition it so that the first partition is under 8 GB in size (for simplicity, we suggest 7 GB). Failure to do this could eventually result in an unbootable computer, as all System files must be within the first 8 GB of drive space. These Macs can work successfully with larger drives for some time, but once a System files goes outside of the first 8 GB of space, you'll have nothing but problems.
Mac OS X
If you have a hard drive over 8 GB in size, you must partition it or you will not be able to install Mac OS X. If you are creating the partition within OS X, it must be smaller than 7.4 GB as reported by Disk Utility (because sometimes a GB is billion bytes and sometimes it's 1,073,741,824 bytes); we suggest simply setting it at 7 GB to avoid having to redo the whole installation if the partition ends up bigger than specified (it happens). Mac OS X must be completely within the first 8 GB of space on your hard drive or you will not be able to run OS X.
Tray-loading iMacs cannot boot from USB drives (see Apple Knowledge Base Article #58430, USB Info and Benefits of Dual-Channel USB).
Non-Apple upgrades and peripherals (such as unsupported USB devices, replacement drives, and third-party memory) may cause problems when installing or booting into Mac OS X.
Be sure that your iMac's firmware is up to date before you install Mac OS X, and read and follow all of Apple's "Read Before You Install" instructions to increase the likelihood of getting OS X installed and running on the first try.
The classic Mac OS identifies some 64 MB memory cards as only 32 MB, however OS X will correctly identify them and use all of their memory.
NOTE: The Sonnet HARMONi upgrade card, which includes a faster CPU and FireWire, was incompatible with early versions of Mac OS X 10.4. The FireWire port would tie up 100% of CPU resources. This problem was fixed in version 10.4.7 (if not earlier). If you have a HARMONi card that's had this issue, be aware that updating to 10.4.7 or newer should fix it.
Details
Online Resources
Suggested Accessories
Cautions
Keywords: #imacrevb #trayloadimac #imacg3 #8gbpartition
Short link: http://goo.gl/4RMlcJ
searchword: imacrevb