2001-07-13: Apple Store selling Brenthaven cases. Tiny KangururMicro USB flash drive. Get OS 8 for $22. More 'Book news.
Except as noted, prices are in US dollars.
Brenthaven 'Book Cases at Apple Store
Two new Brenthaven computer cases designed

for Apple's Titanium PowerBook G4 and iBook 2001 are available only through the Apple Store.
The Titanium 1, measures 6.75 by 12.5 by 17.25 inches, weighs 3.9 pounds, is available now, and sells for $149.
The iBook case, the Mobility 1 is projected be available after Macworld NY.
The Titanium 1 case is entirely black, with battery and media pockets, and handles made of non-slip material.
The Titanium has a removable, dual-action PowerBook sleeve, several pockets, an organizer panel, an accordion file, pockets for the AC adapter, battery, and so on.
The iBook case will be black and blue, with a PDA pocket, a battery pocket, a "quick access pocket," a Cordura nylon exterior with a front flap-over design measuring 13 x 10 x 4 inches.
MacCase and MacPacks on Special at Jam Online Store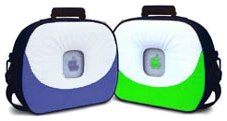 Jam Online Store, the home of MacCase and MacPack carrying cases for iBooks and PowerBooks, is clearing out older cases atreduced prices, and is offering free ground shipping until the end of July on new cases only.
MacCase iBook, regular price $ 54.95, clearance price $22.50
MacPack Small, regular price $74.95, clearance price $30.00
MacPack Large, regular price $89.95, clearance price $45.00
MacCase PowerBook, regular price $74.95, clearance price $30.00
All clearance items are sold as is. No refunds will be honored unless proven to be defective.
Interactive Media Corporation USB Flash KanguruMicro Drive
This tiny plug and play USB Flash Drive from Interactive Media Corporation takes portability to a new level, measuring just 3 inches in length and weighing only 18g. Despite its tiny size, capacities range from 8 MB to 512 MB, with 1 GB capacities planned for release in the fall. Standard features include an LED indicator, a write protect switch, and a power support savings mode. Plugging directly into the USB port and requiring no external power, the KanguruMicro Drive works with Windows, Macintosh, and Linux operating systems, most without device drivers.
The KanguruMicro Drive is an excellent storage solution for mobile users and frequent travelers. Its' pocket-sized design and ease of use position it as an ultra portable alternative to conventional external hard drives.
Interactive Media Corporation, located in Holliston, Massachusetts, is a manufacturer of innovative, high quality storage and multimedia devices. For more information on Interactive Media Corporation, visit their website.
My Replacement WallStreet Power Adapter Is on Its Way
I signed up for my replacement power adapter for my WallStreet under Apple's voluntary recall program last Friday and received my email confirmation yesterday.
Subject: Your PowerBook AC Adapter request

Cc: exchange@mail.info.apple.com

Dear Charles,

Thank you for your order regarding the PowerBook G3 AC Adapter exchange program submitted July 6, 2001. We have received your request and we will be shipping orders in the order received as soon as possible….

Shipping time may vary due to replacement adapter availability. Once you receive the replacement adapter, please return the old adapter to Apple with the pre-paid shipping label and packaging provided.

Sincerely,
AppleCare
For more information on the recall program, visit the US Consumer Product Safety Commission page or read my Road Warrior column on the topic on MacOpinion.
A Really Expensive PowerBook Hinge Repair
For one of the most horrific PowerBook service horror stories I've encountered recently, check out James Wiseman's A $1600 Titanium PowerBook Hinge? saga on the PowerBook Source.
Briefly, James's TiBook got dropped and sustained a broken hinge.
James, a UI designer for Nokia networks, lives in England. He shipped the laptop Apple's European repair depot in Germany for repair and received a quote for £1140 (US$1,600).
Apparently Apple will not replace just the broken plastic hinge (which James says just screws on to the titanium casing) but insists on replacing the whole Titanium casing.
Adding insult to injury, it was ten days after he shipped the 'Book before he got any response.
This is just plain idiotic and an especially egregious example of Apple's perversity in general with regard to replacement parts. Why don't they just sell the parts for repairs like this so that individuals or local technicians can attend to simple repairs efficiently and cheaply, rather than this fiasco of schlepping your Apple portable off to centralized repair facilities for every little thing?
iListen Anniversary Deal
I'm a heavy user of dictation software and a fan of MacSpeech's iListen, which allows you to dictate directly into virtually any text field into which you can type.
iListen was developed in cooperation with Philips Speech Processing. Philips is a global market leader in speech recognition, natural dialogue, and language understanding technologies
MacSpeech is offering reduced prices for their iListen anniversary and upcoming Macworld event in NYC.
The cost of iListen is dropping by $40 for a limited time. "It has been one year since we released our first sneak preview of this exciting technology," said MacSpeech President Andrew Taylor. "We wanted to celebrate by rolling back our prices to the same as our introductory offer."
iListen normally sells for $139 without a headset, but t is available now, directly from the company's web site for $99. They've also added some of the best mono and stereo headset microphones that work great with iListen at a 25% savings if purchased at same time as iListen. Everyone who purchases iListen at this special Macworld anniversary price will also receive a free upgrade to version 1.1, which is in final beta testing.
Incidentally, I've found that I can dictate into iListen in almost real time with my 450 MHz G4 Cube, but it also works, albeit substantially slower, on my 233 MHz WallStreet PowerBook and even on my 200 MHz 604e Umax SuperMac S900 (unsupported).
iListen and Mac OS Compatibility:
MacSpeech and MAC OS 9.1
While many users are using iListen with Mac OS 9.1 report no problems, some Mac OS 9.1 users with are experiencing intermittent problems when using iListen. MacSpeech recommends Mac OS 9.0.4 to anyone using iListen until they resolve the issues with Mac OS 9.1. A free update will be available as soon as possible.
MacSpeech and Mac OS X
MacSpeech is working closely with Apple and hopes to have a dictation product available for Mac OS X later this year. For the time being, iListen will not work on Mac OS X or within Mac OS X's Classic Environment.
Magma Expands Portable CardBus PCI Expansion Series
Magma has announced availability of the latest additions to its line of portable CardBus PCI expansion systems for Apple PowerBooks: DC ready 2 Slot CardBus-to-PCI Expansion Systems, models CB2DC and CB2SDC. The CB2DC accommodates 2 full-length PCI cards, and includes a 1-meter 68 pin cable and CardBus interface. Model CB2SDC also includes an integrated SCSI controller card.
Over the past 12 months, Magma's most popular systems have been their CB2 and CB2S models. These 2 Slot CardBus systems were designed for the on-the-road professional. Now with the CB2DC and CB2SDC models, portability also means, go-any-where!
These new systems include all the features of the original systems, with the added benefits of being able to use a DC power source. These systems may now run on any user supplied 12-volt DC power source, such as a battery, or even a car lighter adapter! The models also include an external 100-Watt DC power supply (power brick), for those occasions when AC power is available.
The CB2DC accommodates 2 full-length PCI cards, and includes a 1-meter 68 pin cable and CardBus interface. Model CB2SDC also includes an integrated SCSI controller card.
Looking for OS 8 for an Older PowerBook?
Purplus is offering Mac OS 8 for the friendly price of $21.95.
Requirements:
Mac OS-based computer with a 68040 or PowerPC processor.
Min. 12 MB of physical RAM with Virtual Memory set to at least 20 MB.
CD-ROM drive
Packaging: Mail Order Packaging (CD & Manual)
You can also update from OS 8 to OS 8.1 for free by downloading Apple's free updater.
---
Bargain 'Books
This Week's PowerBook Deals
Global Deals
PowerBook G3 233 MHz 32/2 GB/CD/14.1″, $975
PowerBook G3 233 MHz 32/2 GB/CD/12.1″, $750
3400C 240 MHz 16/3 GB/12x CD/modem, $650
3400C 200 MHz 16/2 GB/6x CD/modem, $525
1400C 166 MHz 16/1 GB/12x CD, $525
1400C 133 MHz 16/1 GB/8x CD, $450
5300ce 117 MHz 32/1 GB, $425
IBM 20 GB Travelstar 20GN hard drive, $111. 4200 RPM, 12ms average seek time, 3 year manufacturer warranty, FedEx Saver shipping $9.
IBM 30 GB Travelstar 30GT hard drive, $216. 4200 RPM, 12ms average seek time, 3 year manufacturer warranty, FedEx Saver shipping $9.
IBM 48 GB Travelstar 48GH hard drive, $658. 5400 RPM, 12ms average seek time, 3 year manufacturer warranty, FedEx Saver shipping $10.