2001.06.08: DVD firmware update for PowerBook G4. PCI expansion chassis for PowerBooks. Bargain 'Books. More 'Book news.
Except as noted, prices are in US dollars.
DVD-ROM 1.2 Firmware Update for PowerBook G4 Released
The PowerBook G4 DVD-ROM Update improves support for the insertion and mounting of optical media. The DVD-ROM Update places new firmware on the DVD-ROM drive installed in the PowerBook G4.
Updating Your DVD-ROM Firmware
To update the firmware on your DVD-ROM drive, follow these steps:
Make sure your PowerBook's power cord is connected and plugged into a working power source.
Save all open documents and quit all applications.
If a disc is in the DVD-ROM drive, eject it by dragging its icon to the Trash.
Open the DVD-ROM Update application by double-clicking the icon.
When you see the opening dialog box, click Continue to update the drive firmware.
Once the firmware is updated, the Update application quits. Restart your computer.
System requirements: Mac OS 9.1 or higher, Mac OS X 10.0 or higher.
Spire USA Offers $20 off Zoom Laptop Backpacks
Save $20 on Spire's top-selling laptop backpack, the Zoom!, through June 30, 2001 or while stock lasts.
My son has been using one of these backpacks – hard – for more than two years, and it seems indestructible.
Magma Offers PCI Support for CardBus PowerBooks
PCI breakout box specialist Magma offers several solutions to add PCI expansion to your PowerBook.
Magma's 1 Slot Chassis with CardBus interface is the first generation of a truly portable PCI expansion chassis.
The 1 Slot is available in two different models, Model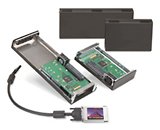 CB1F accommodates a full length PCI card and Model CB1H accommodates a half-length PCI card. The system operates on a 12-volt DC power which provides the ability to run off a wall plug, car lighter adapter or a laptop battery.
These new expansion systems promise to provide the various industries – nonlinear audio/video, satellite communications, and others – the long awaited, full-blown "on the road" system. All this potential weighs less than 2.5 pounds without card(s).
Magma's 2 Slot Series is compatible with PowerBooks and will provide the music, video, satellite communications, and other industries the long awaited professional mobile system. All this potential in a 15.144″ x 10.00″ x 2.57″ chassis that weights 5.3 pounds.
The 2 Slot system supports two full-length PCI cards and includes mounting brackets for a maximum configuration of two 1″ disk drives or one 1.6″ disk drive. Quiet fans provide cooling for your PCI cards and disk drives.
The 2 Slot Expansion System is available in two models. Model #CB2S includes an Ultra2 SCSI controller with internal and external connector. Model #CB2 has no SCSI controller.
No special software is required; the installation is quick and simple. The 2 Slot Expansion System easily connects to a PowerBook or PC laptop through the CardBus interface and expansion cable – just load your cards and go. The standard cable length is 1 meter long, but if you require a longer cable, they offer a 1.5 meter cable, as an option.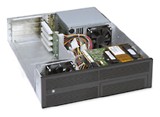 Magma's 4 Slot Chassis is a solid portable chassis that can be used as a desktop or rack-mount unit. When used as a desktop unit, the chassis willsupport the weight of a monitor or laptop. The rack-mount kit creates a rugged 2U high system that can be used with confidence in racks that are routinely transported from location to location.
The chassis is shipped with an ample 300-watt power supply and extra cooling is provided at no additional cost. Power connectors and mounting brackets are included for several 3.5″ hard drives. There's even room to add a CD-ROM/DVD drive.
All you need to do is connect the Magma host interface and cable to your laptop or desktop computer. Attach this special cable to another interface card in the expansion system, now you are ready to load and go!
The standard cable length is 1 meter, but if you require a longer cable, Magma offers a 1.5 meter cable as an option.
Lapdog Offers Father's Day Specials on Portable PowerBook Office Products
Shaun Jackson Design, home of the Lapdog, is offering Lapdogs for the special price of$99.95 for a Lapdog, or free Doggie Bags with the purchase of a Lapdog.
The Lapdog is one in a series of products targeted at mobile professionals. Each component is designed as a carefully executed response to a specific user need.
The products are designed to work together to create a completely mobile and highly efficient nomadic work environment. All the products are built to withstand the rigours of global business travel and come with an unconditional lifetime warranty.
Lapdog is a first truly portable workplace. Designed by Shaun Jackson, this padded carrying case for your computer, unfolds in seconds for use on your lap, on an airline tray, or onto any work surface, and becomes a completely functional mobile office or work station. The keys to its effectiveness lie in its unique closure system and non-slip surfaces that let you use your laptop comfortably and securely anytime, anyplace, anywhere. The padded, fold-open pockets provide both accessible storage for computer accessories (batteries, external drives, paper, removable media, etc.) and complete protection for your laptop when folded into their closed, briefcase position. Constructed of rugged 1050 denier ballistics nylon, this handsome and functional device creates a work environment that's as mobile as you are.
Doggie Bags: Saddle Bags for your Lapdog
The Doggie Bags provide added storage capacity and increased functionality to the Lapdog without compromising the simple elegance of the original design.
The Doggie Bags drop over the Lapdog (saddle bag style) and provide ample space for extra peripherals like printers, as well as plenty of room for pens, files and media storage. Their design allows them to quickly detach from the Lapdog and hang on a cubicle wall or any other vertical surface (aluminum hanging posts provided) and become a functional vertical organizer.
Doggie Bags also provide Lapdog users with additional storage space. Space to hold files, magazines and portable printers. The bag hangs over the Lapdog (saddle bag style) with an opening for Lapdog's handle, and is secured from beneath with two quick release buckles.
Travelers frustrated by airline regulations that limit the number of pieces of carry on luggage to one, will appreciate being able to consolidate their laptop case and briefcase to a single unit. (The Doggie Bags can also be used independently as a lightweight briefcase).
Constructed of rugged 1050 denier ballistics nylon, the Doggie bags bring added utility to what is an already very useful design.
List price: $79.95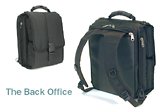 Currently in development at Shaun Jackson Design is "The Back Office," a modular backpack system with an ergonomic shoulder harness. One of the modules will accommodate the Lapdog as well as provide additional storage space for the urban commuter. Other modules will follow, each with unique functions geared toward the mobile professional.
Also available is the Scooter Stand by Herman Miller. Its light ash or ebony-stained ash solid wood top surface makes room for mousing. Snuggles up to your favorite chair or tucks away under a table or desk. When you need it to, it adjusts vertically from 22 to 30 inches high and tilts 20 degrees in four stops. Glides easily over carpet on plastic glides but stays put when you need it to.
Dimensions: 28″w x 12-3/4″d x 22″-30″h
JungleMate.com Free Web Based Office Service
Not specifically Mac portable related, but worth checking out, is JungleMate.com, formerly known as WebAddressBook.com, a free, Web-based service that provides you with your email, address book, calendar, files, and bookmarks on the Web so you never have to be without them when you're on the road.
JungleMate also lets you move effortlessly from one computer to another without losing access to your personal information.
Norada Corporation's Ryan Jorden says, "We feel our service is akin to being your best mate in the Jungle we call Earth." Norada Corporation is also officially launching their paid service called Solve360. Solve360 is similar to JungleMate but offers users more services. It was designed to benefit organizations and Service Providers as a value add and possible revenue enhancing software. Have a look at what Solve360 has to offer at http://www.norada.com.
As with JungleMate, Solve360 is entirely Web based and designed with Web technology. Users never have to fret about carrying around disks and CD's with their files because they have access to them anywhere they have access to the Web.
iBook Saver Neoprene Case
MadsonLine offers a $47 neoprene case for the original iBooks called the iBook Saver.
Careful With Those iBook Keyboards
There is a misprint in the new iBook manual regarding keyboard removal and replacement that can result in key damage.
There is reportedly an extra step in the TIL article iBook (Dual USB): Replacing/Installing the Keyboard that is missing on pages 28 and 30 in the iBook User's Guide that instructs you to turn the small locking screw next to the num lock key.
It would be prudent to download and read the article before messing with your keyboard.
Bargain 'Books
Newer Tech 117 MHz/603e PowerPC Processor Upgrade Card for PowerBook 520-540c, $149.95