2001-05-05: Apple introduces new iBook design. More 512 MB modules available for TiBook. AppleCare on Apple refurbs. More 'Book news.
Except as noted, prices are in US dollars.
Biggest News of the Week: The New iBook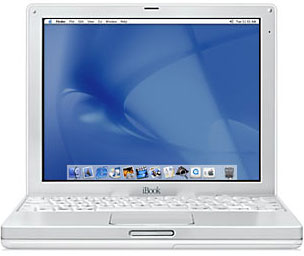 I've heard civil engineers, comment that the most three most important points in road building are "drainage, drainage, and drainage." Realtors say that the three crucial issues in the real estate valuation are "location, location, and location."
I suggest that the three most important things about Apple's new iBook are "value, value, and value." This very cool little machine sells for exactly half the price of the entry-level Titanium PowerBook. Is it more than half the computer? You bet your booty! A lot more than half.
Look at what you get: A 500 MHz G3 processor with 512 KB of onboard cache running on a 66 MHz system bus (the base TiBook has a 400 MHz G4, but also 1 MB of backside cache and a 100 MHz system bus, so even with 100 MHz less clock speed, it should have a performance edge, but maybe not by much for non-AltiVec optimized tasks); 64 MB of RAM (same as base TiBook); a 10 GB, 5400 RPM hard drive (same capacity, faster speed than base TiBook); two USB and one FireWire ports (same); RGB/VGA and AV/S-video ports (Ti has a standard VGA port and S-video); full-size keyboard (same as Ti); Rage 128 video card with 8 MB of VRAM (same); 56 K modem and 10/100 Ethernet (same); five hour battery life with LED monitor (same); stereo speakers (same).
What you don't get: the TiBook's wonderful 15.2″ 1152 x 768 wide-screen display (iBook has a 12.1″ 1024 x 768 screen), a PC Card slot (Ti has one), an infrared port (Ti has one), and a titanium case (iBook has polycarbonate). If you want DVD, that costs $200 additional.
To my mind, the screen and system bus issues are the most important deficiencies of the iBook compared with the TiBook, but I see substantially more than half the value of the TiBook in the iBook.
I also like the color. I'm a sucker for white computers; snow was my all time favorite iMac color. I just wish they had gone with the 13.3″ screen for the new consumer portable.
Timbuk2 PowerBook Bags
Since 1989, Timbuk2 has been making messenger bags, each one built to order, in San Francisco, California, without the use of sweatshops, piece workers, or the term "product units." Their bags are messenger-designed, civilian-approved, and guaranteed to wear like hell.
Timbuk2 has introduced the commuter computer bag, an all-new shoulder bag that's specifically built for transporting laptops and other work-related unmentionables around a hostile and ever-changing urban environment. They've taken the best features of their messenger bags – like bombproof construction and customizability – and applied them to a more commuter-specific design.
With standard features like a padded back, a moveable divider system, and a pivoting shoulder strap, as well as custom options like a removable laptop sleeve, and a wide range of internal and external pocket configurations, the commuter computer bag is the perfect tool for easing up your soul-crushing journeys into drudgery.

Timbuk2 has also introduced the Laptop Sleeve, a well-padded little unit that will allow you to take your work alongwhenever and wherever you go. It comes in four sizes to fit most laptop models, including a widescreen size designed for Apple's new Titanium G4. They are made of formfitting techno-prophylactic, which is available in 840 Ballistic, Cordura, and Waxed Canvas fabrics. Each features 1/2″ foam padding, buckle top closure, and cushioned webbing handles. Price: $40
The commuter computer bag is a padded, well-structured shoulder bag, similar in style and equal in quality to Timbuk2's messenger bag. On the Timbuk2 web page, you can choose the size, fabric, colors, and custom options for your bag, and then watch it come together in real-time. If you don't like the way it looks, start over and choose again – as many times as you want. When you're sure, put in your credit card, and they'll make the thing for you and ship it right to your door.
If you have the Macromedia Flash player, version 5.0 or higher, you can use the Flash version to create your own bag. Or, you can use the HTML version to build your own bag.
Also known as the "Big Baby," this bag is perfect for "repurposing" that color copier after the pink slip lands on your desk. (Just kidding!)
1700 cubic inches
18″ W x 14″ H x 7.5″ D
Base Price: $105 MSRP
The most versatile size, with room for a wide range of laptop sizes plus space for plenty of unmentionables.
1600 cubic inches
16.5″ W x 13.5″ H x 7″ D
Base Price: $95 MSRP
Slight and tight for people who don't mess around. Designed for smaller laptops and a few essential things.
1000 cubic inches
14″ W x 12″ H x 6″ D
Base Price: $85 MSRP
TiBook Tote and Tilt
Need an easy way to carry your new G4 PowerBook? Check out the TiBook Tote and Tilt Handle for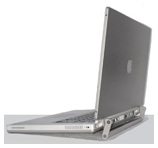 Titanium PowerBooks
Features
Tote your PowerBook by a handle.
Tilt to allow for air circulation under your PowerBook, helps to increase battery life and performance
Easy access to rear data ports.
Installs in five minutes.
Does not void warranty.
Price: $39.95
Kingston Designs Low-Profile 1.25″ 512 MB Memory Module for PowerBook G4
Kingston Technology is shipping a 512 MB PC133 SO-DIMM memory module for the PowerBook G4. The new 1.25″ height PC133 SO-DIMM module for the PowerBook G4 can be purchased now to provide from 64 MB up to 1024 MB of upgraded memory capacity.
Kingston developed the new 512 MB module in conjunction with Apple and has placed an exceptional amount of engineering effort into developing a module that will maximize the memory capacity of the PowerBook G4.
Suggested Retail Price: $1,350
Desktop Pictures for Huge/Wide Screens
Huge/wide desktops is a website by Erik K. Veland for owners of screens supporting large resolutions and TiBooks
The Huge/Wide Desktops site provides desktop pics in 1600×1200 resolution (the huge ones) for folks who run 19-21″ monitors and also in 1152 x 768 resolution (the wide 'uns) for lucky TiBook owners.
Latest wide backgrounds:
Baby Ocean, a video-grab of Erik's girlfriend's son and heavily photoshopped into a beautiful sunrise/ocean-scenario.
Do What I Say, a videograb of Erik and best mate ready to party. Arty-farty photoshopped to look very hip and in.
Jørn Magne in Water, a cool grey image with a video-grab of girlfriend again. Same techniques as Baby Ocean, but with a more surreal twist.
No Legacy, a minimalistic background displaying Apple's use of industry standard ports: Ethernet, FireWire and USB. Inspired by a shirt at RedLightRunner.
DssW Sleep Monitor
DssW Sleep Monitor is a Macintosh event logger and trouble shooting aid that monitors and logs changes in your Mac's power state to provide an invaluable troubleshooting resource for network administrators, professional Mac users and technical support departments.
Sleep Monitor non-intrusively resides on your Macintosh watching for power state changes. Events and settings monitored and logged include: start ups, shut downs, wake ups, sleep, doze, low power warnings, low power emergency sleep, low power emergency shut down, revoked sleep, processor cycling, start up timer, wake up timer and idle time settings.
Sleep Monitor records events into a human readable text based log file. The date and time of the event is recorded with each entry.
Sleep Monitor's log file provides an extensive source of debugging and trouble shooting information.
Sample log file from an iMac running Mac OS 9.1:
[Sun, Apr 29, 2001 6.01.45 pm] Quit request received from Quit Process.app
[Sun, Apr 29, 2001 6.01.45 pm] Stopping DssW Sleep Monitor
[Sun, Apr 29, 2001 6.03.33 pm] Starting DssW Sleep Monitor
[Sun, Apr 29, 2001 6.03.33 pm] System started up Sun, Apr 29, 2001 6.02.26 pm
[Sun, Apr 29, 2001 06.39:05 pm] Sleep request
[Sun, Apr 29, 2001 06.39:09 pm] Sleep demand
[Sun, Apr 29, 2001 06.53:26 pm] Sleep wake up
[Sun, Apr 29, 2001 06.54:23 pm] System idle timeout set to 61 minutes
[Sun, Apr 29, 2001 06.54:23 pm] System idle set to false
[Sun, Apr 29, 2001 06.54:24 pm] Display idle timeout set to 9 minutes
[Sun, Apr 29, 2001 06.54:24 pm] Hard drive idle timeout set to 31 minutes
[Sun, Apr 29, 2001 06.54:24 pm] Processor cycling set to true
[Sun, Apr 29, 2001 06.55:03 pm] System idle timeout set to 30 minutes
[Sun, Apr 29, 2001 06.55:03 pm] System idle set to true
[Sun, Apr 29, 2001 06.55:03 pm] Display idle timeout set to 10 minutes
[Sun, Apr 29, 2001 06.55:03 pm] Hard drive idle timeout set to 30 minutes
[Sun, Apr 29, 2001 06.55:03 pm] Processor cycling set to false

Sleep Monitor is free for noncommercial use.
System requirements: Macintosh (including 68K, G3, G4 and iMacs)
Possible Fix for WallStreet 13.3″ Display Problems
The PowerBook Source< has posted reader Josh Kroman's letter relating how he fixed the all too typical flaky video problems on his WallStreet with 13.3″ display. He says, "After six months of daily use, my screen woes have yet to reappear," and recommends downloading the WS service manual from ( ftp://ftp.info.apple.com/Apple_Support_Area/Misc/Service/servicemanuals/powerbook_g3_series.pdf) before attempting this project.
Apple Extends Warranty, again Offers AppleCare on Refurbs
Apple has replaced their 90 day warranty on factory refurbished products with a full year warranty – just like new hardware. They have also reversed their position on AppleCare, which for a time was not available for factory refurbished products. You can now buy AppleCare for factory refurbs, extending your warranty coverage to three years.
Bargain 'Books
Club Mac has added instant rebates to Apple's latest iBooks:
iBook G3/500 64/10.0/CD/100BT M7698LL/A, $1,280 after rebate
iBook G3/500 128/10.0/DVD/100BT M7692LL/A, $1,450 after rebate
iBook G3/500 128/10.0/CD-RW/100BT, $1,549 after rebate
ExperCom offers:
Original iBook in blueberry or tangerine, ExperCom refurbished, G3/300 64/6.0/24x/56/100BT 12.1-inch TFT, $899.
iBook SE Graphite, factory refurbished, 366 MHz 64 MB/6G/CD, $999
Cheap 'Books from The PowerBook Guy