2001-04-27: New iBook announcement rumored for next week. Tutorial on upgrading hard drives in iBooks. 512 MB modules for TiBook allow 1 GB of RAM. More 'Book news.
Except as noted, prices are in US dollars.
New iBook Coming Next Week?
The biggest news in the Apple portable world this week isn't news at all but a rumor. Apple has scheduled a "press event" for next Tuesday, May 1, which indicates that there may be some major product announcements – and the iBook is the Apple Computer model longest overdue for a significant revamp.
Of course Tuesday's announcements may be something else, but I have to agree that there is a strong likelihood that we will see the next-generation iBook rolled out.
If rumor mills and "insider information" have any substance, the new iBook is likely to pick up on the themes spearheaded by the spectacularly successful Titanium PowerBook G4, probably with a thin metal case and metallic colors, although somewhat less subdued than the TiBook's silver.
Unfortunately, the scuttlebutt has it that the new iBook will continue using the present and too small 12.1″ display (I know it's too small – I use one on my WallStreet LE every day).
However, a potential silver lining in that cloud is that the reason for sticking with the 12.1″ units may be to sweeten the price point, in which case it will probably turn out to be a wise decision from a sales strategy perspective, although disappointing to those of us who would have been tempted by the thought of an iBook with a larger display.
Anyway, by this time next week we will either know all the details or still be in suspense.
Tutorial on Upgrading iBook's Hard Drive
William B. Tittle has posted a web page with instructions and photo illustrations for upgrading the hard drive in an iBook.
Note that this is not a job for anyone who doesn't really know what they're doing, will void your Apple warranty, and is likely best left to trained technicians.
Dr. Bott Shipping High End TiBook Cases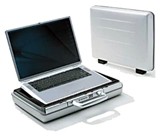 This case may look sleek and satin-smooth, with its skin of brushed aluminum and size, shape, and color perfectly complimenting the TiBook, but it's also tough and durable, with a brushedaluminium shell, a combination lock, and an interior which combines elegance with ease. TiCase includes 2 inches of closed cell styrofoam provide the necessary protection.
Matching cut-outs cover the power supply, power cable and accessories to protect the TiBook from accidental scratches. The total combined weight of TiCase, Titanium PowerBook, power supply and power cable is less than 11.5 lbs.
Lift off the lid, press gently on the rear corners of the TiBook, and your favorite laptop lifts into working position.
The "LiftoMatic" telescopic feet raise the rear of the TiBook so that the natural decline of your knees is properly balanced and the TiBook comes to a level rest at desk height.
As a side effect LiftoMatic makes room for ample air circulation under the TiBook.
And if you now look at the back of the TiBook, you will be pleased to discover that you can easily flip down the lid covering the ports. Whether you fancy a mini-mouse or you require a projector to amplify your ideas, all ports are directly accessible.
The good looks of the case got it an appearance in the hands of James Bond jumping from a balcony in The World Is Not Enough.
Features:
Sleek case in cool TiBook-Look
Dimensions: 42 x 34 x 12 cm
Skin made of brushed Aluminum
Removable lid
Robust padding on all sides
LiftoMatic telescopic feet
Room for power supply, power cord and miscellania.
Dimensions: 42cm x 34cm x 11cm
$399.00
PowerBook G4: Keycap Replacement
A new Apple Tech Info Library (TIL) article explains how to replace a keycap on the keyboard of a PowerBook G4 computer.
Washable Suede Laptop Screen Protector for $9.99
With today's laptop computers getting thinner and thinner, there is more of a danger of the keyboard touching the LCD screen when the laptop is closed – a problem that has plagued all post-WallStreet PowerBook models. Most of the marks left on the screen are dirt and oils from the keyboard, but sometimes the keyboards produce scratches which no one wants.
This new suede laptop screen protector from J.R. Hill & Co., a division of Page Belting Company, Inc, of Concord, NH, solves that problem. Its a nice elegant way to protect your investment. The screen protector measures 11″ x 5″ which fits the PowerBook G3 (WallStreet, Lombard, and Pismo) and the new G4 laptops perfectly. Of course, it can be used with any laptop with a keyboard of that measure. Custom sizes and custom embossing also available. Washing instructions are included with the protector which comes with a lifetime warranty.
Price: a very reasonable $9.99.
For product questions, shipping outside of the continental US, or to place your order by phone, call 1-800-258-3654.
512 MB SDRAM Memory Module for TiBook Now Available
New 512 MB low profile SDRAM memory module brings the memory capacity of the Apple PowerBook G4 Titanium up to a full gigabyte.
Trans Intl. has announced the availability of the industry first low profile 512 MB SDRAM SO-DIMM memory module for Apple's new PowerBook G4.
The PowerBook G4 Titanium has two memory expansion slots for main memory expansion. Memory modules currently available limit upgrading the system's main memory to 512 MB due to a small form factor module requirement in the system.
The new 512 MB SDRAM DIMM is specially designed to fit in the bottom and the top memory expansion slots of the Apple PowerBook G4, allowing users to upgrade the system's main memory to 1 GB of RAM, which surpasses the current memory upgrade option of 512 MB. The 512 MB SDRAM memory module is 64-bit wide, unbuffered, 3.3v, 144-pin and PC-100 complaint. It conforms to PowerBook G4 electrical and mechanical specifications as outlined in Apple developer documentation.
The Trans Intl. 512 MB DIMM memory upgrade enables the user to take full advantage of the system's performance with 100% compatibility with the recently released Firmware Update 4.1.8, Mac OS 9.1 and Mac OS X. These DIMMs sell for $399 each.
SleeveCase PowerBook Bags
The sleek, minimalist SleeveCase keeps your laptop out of harms way without taking up much valuable space.
A plush layer of high grade neoprene wrapped in a Ballistic shell surrounds and protects your computer. The ultra smooth neoprene skin makes sliding your laptop in and out a snap. And we've left enough room on the sides so you can leave your PC cards in.
Just need your laptop and a few accessories? Throw

the Racer-X from SF Bags over your shoulder and head out. This tough, compact case with a plush interior protects your Titanium from life's hard knocks.
14-1/2″ wide x 11″ high x 4″ deep – $129.00
Front: Quick access Elastic pockets securely hold accessories – Cell, Palm, power cord, cables, batteries, Altoids etc….
Back: the Titanium Bunker layered with Neoprene, Foam and Corrugated Plastic
Strap: The 1-1/2″ quick adjustable strap is made of durable nylon with a special weave so that it lies soft against your body and easily follows the contours of your physique.
Included: Shoulder pad
Size: 14-1/2″ wide x 11″ high x 4″ deep
Weight: 2-1/2 lbs
Construction: Like other WaterField products, the Racer-X's exterior is constructed from Ballistic nylon ensuring that it stays looking good as long as you have it. YKK zippers ensure trouble free action, and all strap connection hardware is made from metal for high strength.
Colors: The Racer-X is black with a highlight "GT Stripe" on the front panel. The strap's main color is Lead Indium with a trim color of your choice. This color scheme keeps the bag subtle yet individually stylish.
PowerBook G3 "Wetsuit-material" Carry Bags
"Wetsuit-material" Carry Bags for the Pismo (2000 FireWire) and Lombard (1999 Bronze keyboard) are back at MacImports.Com. The bag is quality made with nylon lining and comes with a shoulder strap (not shown). It fits like a glove with internal straps to hold the case on. The top has zippered access to the PowerBook's ports so the bag doesn't have to be removed. The bottom edge is double thick for extra protection.
A wetsuit-material carry bag for the PowerBook G4 Titanium is still expected to be available at the end of April.
Bargain 'Books
Small Dog Electronics offers refurbished Pismo PowerBook G3/400 64/10 GB/DVD/56K/FireWire for $1659. 90 day Apple Factory Warranty .
Also at Small Dog: reseller-refurbished Blueberry Apple iBook G3/300 32/3 GB/CD/56k/for $889. 90-day reseller warranty.
If you're looking for an older PowerBook, The PowerBook Guy has the PowerBook 3400/200 16/2 GB/CD/Floppy/33.6 for $699.95