Bringing Location Manager to OS X, Macsense FireWire CardBus card for PowerBooks, new Metal Gear, hard drive deals, and more.
Except as noted, prices are in US dollars.
Location X Restores Location Manager Functionality to OS X
Location X brings Location Manager functionality from Mac OS 9 to Mac OS X. Location X allows you to change network, time zone, email settings and more all at once with a single click.
Macintosh portable users who travel between different locations often have to reconfigure their Macs for use at home, school, the office, the hotel, the east coast office, China (you get the picture). Configuring Location X to do this for you is easy using its intuitive and elegant Aqua interface. Now using your laptop in different places is a snap.
Location X was designed to allow third parties to develop plug-ins that will allow you to change even more settings than those provided in the Location X package. We will soon be publishing this interface to allow developers to enhance and extend Location X. In the mean time, you can use Location X's built in plugins that let you change your network configuration, Apple Mail settings, time zone, Entourage settings, sound volume, default printer, QuickTime connection speed, and run AppleScripts and shell scripts. Check back frequently for new plug-ins!
Location X is $10 shareware.
Macsense FireWire CardBus PC Card
The Macsense FireWire CardBus PC Card provides fast transfer rates for IEEE 1394 (FireWire) compatible devices such as DVD camcorders, DVD players, scanners, printers, FireWire hard drives, and Zip drives. This device can transfer data at speeds of up to 400 Mbps, which means your camcorder or other A/V digital products run smoothly and in real time. This dramatically improves both viewing and editing at a lower price than analog video capture frame buffers previously used to edit digital video.
The Macsense FireWire CardBus PC Card is also fully hot-swappable, so there is no need to restart the system or connected device to enable your 1394 peripherals.
Features
5.0mm Type II, credit card size
Expandable up to 63 devices
Supports Hot-Swapping
High-Speed performance
System Requirements
Mac OS 8.6 or later
QuickTime 4.0 Authoring or Pro
FireWire 2.3.3 or higher(available as a free download from Apple)
Hardware Requirements
PowerBook G3 Series or higher,
300 MHz Power PC processor or faster
Transfer rate: 100/200/400 Mbps
Includes: Dongle with (1) 6-pin and (1) 4-pin FireWire port, (1) DC Input power port for Non-Bus powered FireWire devices. Power supply adapter not included.
Price: $129.99
New Metal Gear from Red Dye #3
You've got a a high-end portable computer and a bunch of cool accessories and external drives, but your desk is cluttered. You burn backup CDs and then wade through them just to get to your chair. Your iPod is underneath a magazine and some cables. You've got a desk that is an archeological dig of papers, peripherals, and discs.
Metal Gear from Red Dye #3 was designed for you. These rugged and stylish accessories make your computing life easier as well as good looking. In fact
you can set up and entire office with a consistent look that makes your gear look as good as it works.
Metal Gear Notebook Computer Stand
This heavy-duty yet stylish portable computer stand not only holds the computer securely, but also looks cool. The mid shelf holds portable storage drives and USB hub while the bottom shelf is ideal for a full-size keyboard. This stand puts the computer screen at eye level – no more slouching to see the screen at the correct angle.
The sliding top platform has rubber feet making it easy to adjust the computer-to-eye distance. The platform also rotates.
Metal Gear iPodStand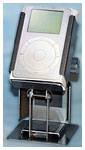 A rugged and good-looking holder that fits into a car cup holder as well as on the desktop. The holder slips into the base, for secure use on the desktop. Adjustable angle makes reading the display in changing conditions a breeze. Drive like a future Cops television show star and be assured that your iPod will stay put.
Metal Gear CD/DVD Storage Solutions
Clean up piles of CDs or DVDs on the desk with these eye-pleasing yet durable storage solutions. There are three separate units pictured below, fastened together.
A double wide disc bin is shown on the bottom of the photo. Keep those CDs you need most at the ready.
A single unit disc storage bin is shown at the top left. You can't push your discs out the back because there's a lip at the rear.
Metal Gear Data Garage
Another all-metal desktop accessory that organizes all those little portable accessories on your desktop. Just pack this beauty with external hard drives, CD burners, USB hubs, removable media drives, and whatever else clutters your desktop. Configurable shelf height makes a custom solution for anyone. Open back leaves room for cables and power cords. Lowering the garage front door hides everything away. While you're at it, why not fasten a CD/DVD holder or blank media spindle on top?
A connector kit fastens Metal Gear units together so you can build a custom storage solution to meet your specific needs.
Toshiba 9mm 30 GB Hard Drive, $99
These are new Toshiba 9mm, 2.5″ IDE hard drives.
Slim 30 GB 9mm replacement PowerBook/iBook hard drives fit all ATA/IDE PowerBooks and iBooks (PowerBook 5300 and later). They will also fit any PC laptop that accepts 9mm drives. They are fully ATA-5 compliant.
Formatted Capacity: 30 GB
Rotational Speed: 4200 RPM
Avg. Rotational Latency: 7.14 ms
Spin-up Time: 4 sec (typical)
Buffer: 2,048 KB
Seek Time (Average): 13
Internal Transfer Rate: 286.7 Mbits/sec (max)
Host Transfer Rate: 100 Mbytes/sec
Price: $99.99
For more information, visit Wegener Media.
IBM Travelstar 15 GB 9.5mm 2.5″ Hard Drive, $75
MegaMacs offers this IBM Travelstar 15 GB 9.5mm 2.5″ hard drive for the friendly price of $74.99.
Model: IC25N015ATDA04-0
Rotational speed: 4200 RPM
Apple Firmware 2001 (Logo Removed)
Compatibility
General Specifications
512 bytes/sector
Ultra ATA/100 (Enhanced IDE) conforming to ATA-5
Integrated controller
No ID recording format
Segmented Buffer with write cache, upper 242 KB is used for firmware
Willow Year End Sale in Time for Holidays
Willow Design has announced a year end sale of its cases and backpacks for Apple products. All Apple cases are on sale, plus Willow will pay half of the regular sized cases' shipping costs of ground shipping for American and Canadian orders placed before December 12th. International orders will also receive a reduction in their shipping rates.
Last year was an exciting one for Willow with multiple new case designs for the new iMacs, the eMac, a new line of slipcases for the Titanium and iBooks plus new dust covers for all of the desktop configurations. So, as a "thank you" to the Macintosh community, the sale is on in time for holiday gift giving and for gifts that don't work out, Willow has a full refund policy.
Shreve Systems Going Out of Business Sale
Shreve Systems, which advertises itself as "the oldest and largest recycler of Macintosh and Apple II equipment in the world," is shutting down.
A message on Shreve's website reads:
"After 24 years of impeccable service to the Apple and Macintosh community, we at Shreve Systems will be closing our doors and focusing our efforts into bringing the same level of renowned service to our sister company, Shreve Audio. Shreve Systems has enlisted the professional services of Remarketing Associates and will be conducting a public auction to liquidate all of our remaining inventory. This auction will be held Dec. 13, 2002 at our warehouse at 1200 Marshall St., Shreveport, La."
For more information call 1-800-227-3971
Meanwhile, there are some pretty good deals being offered to clear out stock, including many PowerBook related items.
All 30 day warranties on purchases made prior to close will remain valid
Call 1-800-227-3971 to order.
Bargain 'Books
There are two different versions of WallStreet running at 233 MHz, the cacheless MainStreet version and the later Series II with a level 2 cache. It's not always possible to determine from the vendor's listing which is being offered, so we've included links within this paragraph to the two models. The same goes for the PowerBook G4/667 (Gigabit Ethernet/2001) and G4/667 (DVI).
PowerBook Pismo 500, 128/12 GB/DVD, $1,099.99
with 30 GB hard drive and upgrade to 512 MB RAM, $1,269.99
with 30 GB hard drive and upgrade to 1 GB RAM, $1,329.99
iBook 600 12″, 128/20 GB/CD, refurbished, $869
PowerBook G4/667 (2001), 512/30 GB/DVD, AirPort, new, $1,849
PowerBook G4/667 (DVI), 256/30 GB/Combo, new, $1,999
PowerBook WallStreet 233, 160/2 GB/CD-ROM, 14.1″ screen, used, $679
PowerBook WallStreet 500, 256/12 GB, 14.1″ screen, $1,099
iBook 500, 384 /10 GB/Combo, 12.1″ screen, includes AppleCare through November 2004, $1,197
Get a free Epson C42UX Printer with any new, refurbished, or used Mac from Power Max after dual rebate. While supplies last, the Epson Stylus C42UX qualifies for a special rebate extended by Epson to Power Max.
Canadian Resellers
All prices below are in Canadian dollars.
searchword: bookrev20021129