Mac OS X 10.2 Jaguar was released on 2002.08.24 and was last updated on 2003.10.03, when the 10.2.8 update was released. There were rumors that 10.2.9 would be released in mid-2009 to address several bugs and vulnerabilities that remained in version 10.2.8, but that never happened.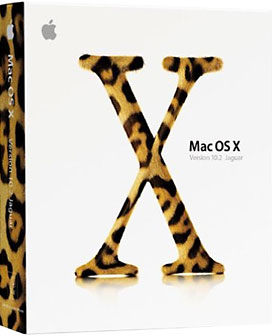 Jaguar was the first version of OS X to support Safari and the last the ship with Internet Explorer as its default browser. Apple's release of it Safari web browser was Microsoft's excuse to leave the Mac browser market.
Jaguar improved performance across the board, especially for Classic Mode, and introduced Quartz Extreme, which lets the operating system offload graphics tasks to supported video cards (ATI Radeon and Nvidia GeForce 2 AGP and later video with at least 16 MB of VRAM).
OS X 10.2 includes Inkwell, which ports the Newton handwriting recognition technology to the Mac. Inkwell requires a tablet. Bonjour is Apple's technology that allows Macs to find each other and other Bonjour-aware devices without user configuration. It also improved support for Windows networks. Jaguar includes CUPS, which provides support for a lot more printers than earlier versions of OS X.

Jaguar lost one feature that had been with the Mac since the beginning – the Happy Mac startup icon (right) was replaced by a gray Apple logo.
Jaguar requires a PowerPC G3 or G4 CPU, 128 MB of RAM, and is incompatible with the Kanga PowerBook G3 – the only G3-based Mac never supported by any version of OS X. While 10.2 can run with 128 MB of RAM, 256 MB is a more realistic minimum for decent performance (the OS itself can use from 96 MB to 200 MB of RAM), and going to 512 MB or beyond will really unleash its potential.
Jaguar Links
Recommended Software
These are generally the latest version of these programs that run on Jaguar. Some may require Mac OS X 10.2.8, the final version of Jaguar. Programs are free unless otherwise noted.
Browsers
Browsers are listed by how up-to-date they are. We strongly recommend Opera 9.6.x (the only browser for Jaguar still being updated), Firefox 2.0.0.20, and Camino 1.0.6. Keep Internet Explorer handy just in case you find a site that requires it.
Misc. Software
System Preferences
Mac OS X v10.2 Jaguar Updates
Keywords: #osxjaguar #macosxjaguar
Short link: http://goo.gl/3Zwtnm
searchword: osxjaguar