Apple first hit the 1 GHz mark in January 2002 – and doubled 1 GHz G4 performance with a dual-processor model. Although these look like the earlier Quicksilver model, they run 800 MHz, 933 MHz, and dual 1 GHz G4 processors.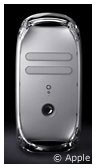 These were the first Macs to officially support hard drives over 128 GB on the built-in Ultra ATA/66 (ATA-5) hard drive bus, although reader reports indicate that the earlier Quicksilver model sometimes does so, depending on the logic board installed.
Apple's claim of "four USB ports" is a lie: There are two on the computer and two on the keyboard, just like earlier G4s. When the keyboard is plugged in, you only have three available, and when you add a USB mouse, you only have two available.
The Quicksilver 2002s also have faster video cards. The G4/800 ships with an ATI Radeon 7000, while the two faster machines have nVidia GeForce4 with 64 MB of video memory.
Quicksilver models support up to 1.5 GB of RAM.
Details
Accelerators & Upgrades
Online Resources
Cautions
Short link: http://goo.gl/SaI9W2
searchword: quicksilver2002