New PowerBook G3 repair service, iBook monitor spanning, using the Escape key during startup, Palm Zire introduced, and more.
Except as noted, prices are in US dollars.
PowerBook Tech Repair and Service for G3 PowerBooks
PowerBook Tech is a full service PowerBook repair shop, providing the PowerBook community with reasonably priced parts (claimed to be the lowest prices anywhere) and warrantied repair service. The company pledges to take great pride in helping to keep these amazing machines on the road, and strive to provide both excellent service, and fast repair work.
For the time being, PowerBook Tech have decided to specialize in parts and repair for PowerBooks with a G3 processor, i.e.:
They charge a one time repair service fee of $50 to look at PowerBooks that are sent to them. After that, all labor is included free of cost. This includes diagnosing problems with your machine, installing components that you've purchased from us, etc. After working on your machine, they will ship it back to you at no charge. Additionally, they provide a 30 day warranty on all of our repairs and installations.
You may also email email PowerBook Tech at sales@powerbooktech.com with specific questions regarding your machine.
KlearAdvantage Protects TiBooks from Scratches, Nicks, Marks, Scuffing, Scrapes, and Paint Discoloration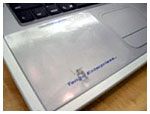 The PowerBook G4 palm rest areas take the brunt of everyday use. These areas need protection frommetal watchbands, human sweat, hand creams, and the constant friction produced by typing.
KlearAdvantage micro-thin clear overlays are:
Durable
Water resistant
Temperature resistant up 275* F
Abrasion resistant
Easy to apply and remove
The transparent overlays were originally designed to withstand the high temperatures produced by the PowerBook G4. The extra protection built into the overlays is ideal for all types of laptops, especially laptops sporting silver and metallic finishes.
More on iBook Monitor Spanning
The German website macparts.de has posted a tutorial on how you can get an extended desktop on your Radeon-equipped iBook with an external screen connected (currently OS 9 only). This also works on the current 17″ TFT iMac without the problems noted with the iBook concerning the brightness controls and sleep issue.
Another nice thing about this is that you can now play DVDs in OS 9 with external an screen or projector connected (didn't work before – DVD Player gives error upon opening).
When to Use the Escape Key During Startup – iBook, PowerBook (FireWire); OS 9.0.4 and Earlier
Apple has posted a Knowledge Base article explaining how to use the Escape (Esc) key when some recent portables do not start up properly. This is only relevant when "Preserve memory contents on sleep" has been selected in the Energy Saver control panel.
If you select the "Preserve memory contents on sleep" option in the Energy Saver control panel, the computer protects your RAM contents during sleep by saving all of your open work to a hidden file on the hard disk.
In some rare circumstances, the computer may have trouble reading this file and will not start up properly. If this happens, restart the computer and immediately press the Escape key. Hold the key down until you see the Happy Mac icon, and then release the key.
All RAM contents are lost when doing this. Pressing the Escape key at startup tells the iBook or PowerBook (FireWire) computer to bypass reloading the RAM file, and to start up normally.
The "Preserve memory contents on sleep" feature is disabled in Mac OS 9.0.4 and later. There is no implementation of this feature in Mac OS X.
Palm Introduces New $99 Zire PDA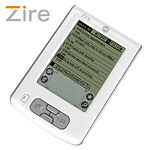 Palm Inc. has unveiled a $99, bare-bones handheld computer. The Zire, with its monochrome screen, is aimed at people who never before considered buying a PDA.
Zire's virtues are touted as:
It's smaller and lighter, yet stores thousands of names, numbers, appointments, and memos
It's easy and fast to find stuff
You can save a backup copy of your information on your computer
You can set alarms and reminders
It's easy to customize by adding software or accessories
Can replace bulky paper planners, to-do lists and sticky notes
Use the Palm Zire handheld to keep events, appointments, names and phone numbers all in one place so you'll always know where to find them
Write directly on the handheld screen using Graffiti power writing software.
Thousands of software titles, from games to business productivity tools, are available; many are free
New Iomega CD-RW 48x24x48x USB 2.0 External Drive Shipping
Iomega Corporation is now shipping the Iomega CD-RW 48x24x48x USB 2.0 external drive for retail, catalog, and enterprise sales. With a streamlined new look, intuitive software, and the fastest CD-burning performance in the Iomega family of optical drives, the new Iomega 48x24x48x USB 2.0 drive delivers a premium platform for capturing and sharing music, photos, and other digital content.
The Iomega CD-RW 48x24x48x USB 2.0 drive features buffer under-run protection, which lets users record safely even while multitasking. It offers hot plug-and-play capability with Microsoft Windows and Mac OS, and its digital audio extraction rate (DAE) of 48x allows users to rip or burn a 60-minute CD in under 3 minutes. While maximum drive speed is attainable only with Hi-Speed USB connections, the drive is also fully backwards compatible with original USB systems, peripherals, and cables.
The Iomega CD-RW 48x24x48x USB 2.0 drive is compatible with Microsoft Windows 98SE/2000/Me/XP, and with Mac OS 8.6, 9.0.4, 9.1 on the Power Macintosh G4 or G3 (blue and white G3 only) or iMac with built-in USB 1.1 connection. HotBurn for Mac supports USB 1.1 only.
The Iomega CD-RW 48x24x48x USB 2.0 drive with Iomega HotBurn Pro software is shipping now for availability at retail, distribution, catalog, and online for $179.95 (suggested retail price before $30 mail-in rebate).
iCase12Plus
iCase12Plus provides an additional sidebag for documents and items as well as an ergonomically curved and molded Deluxe carrying strap
The sidebag offers three inside pockets, pen holders and a separate zippered outside pocket.
The inside pockets hold accessories like external FireWire drives such as the ultra portable CD-RW drives from VST.
The sidebag clips onto iCase12 and is removed as easily as it is mounted. Leave the sidebag at home for lighter traveling at any time!
To make things even lighter you could detach the side bag, fill it with bare essentials, stick the clips onto the velcroed pads on the back and take off with the sidebag alone!
The new carrying strap is ergonomically formed, very wide and especially well padded for utmost carrying comfort. It attaches to the lid of the case to provide balanced load even with a fully packed sidebag.
The base model iCase12 is equipped with all that it takes to add the carrying strap and the sidebag to upgrade to an iCase12Plus in a blink when you find the need for it.
iCasePlus sells for $419
Bargain 'Books
There are two different versions of WallStreet running at 233 MHz, the cacheless MainStreet version and the later Series II with a level 2 cache. It's not always possible to determine from the vendor's listing which is being offered, so we've included links within this paragraph to the two models. The same goes for the PowerBook G4/667 (Gigabit Ethernet/2001) and G4/667 (DVI).
PowerBook 5300ce/117, 32/1 GB/10.4″ 800 x 600, $99. Machines are refurbished and include a 30 day guarantee.
Get MV16-EN internal ethernet/video card with 1 MB VRAM expansion with your machine for $20 additional
Get it with a one year extended warranty for $45 extra.
iBook 500, 128/10 GB/Combo, refurbished, $1,199
iBook 600 12″, 128/20 GB/CD, refurbished, $1,059
iBook 600 14″, 128/20 GB/Combo, refurbished, $1,499
searchword: bookrev20021011