2002 – Steve Jobs announced the iMac to the world on May 6, 1998, and several Apple dealers had midnight hours on August 15, 1998 so they could sell the new US$1,299 Bondi blue computer as soon as Apple allowed.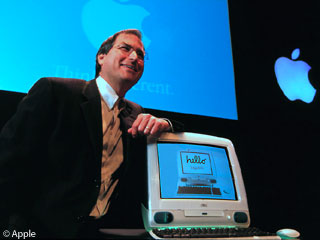 Since then, the 15″ CRT iMac has gone from 233 MHz to 700 MHz, before Apple cut it back to 600 MHz. Base memory increased from 32 MB to 128 MB, and the stock 4 GB hard drive on the original gave way to 40 GB and 60 GB drives by the end.
The CD-ROM drive has always been available on low-end iMacs, but over the years Apple made first DVD-ROM and later CD-RW available to CRT iMac buyers.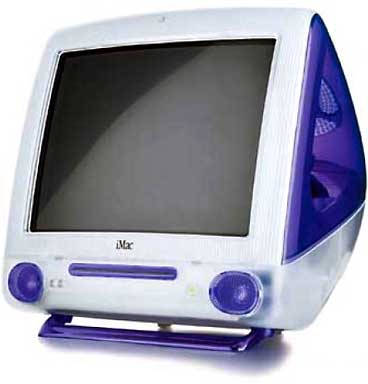 The iMac also went on a diet in Late 1999, shedding a fraction of an inch here, almost 3-1/2 pounds there, and also losing its internal fan.
Then, over the summer of 2002, Apple began to scale back the venerable gumdrop-shaped computer. The 700 MHz model was quietly phased out. The CD-RW option gradually vanished from inventory. And, just as in 1998, today there is only one CRT model left, a 600 MHz "classic" iMac with CD-ROM, 128 MB of RAM, and a 40 GB hard drive.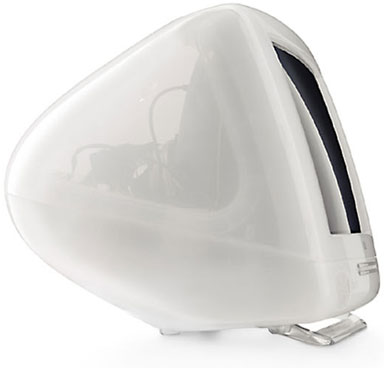 Except this time it's an anemic white, not a bold Bondi blue, and even the Apple Store is only asking $799 for it.
The iBook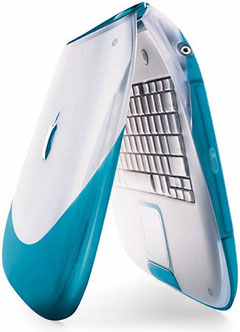 Apple drove the first nail into the iMac coffin with the introduction of the 300 MHz blueberry iBook in July 1999. It was marketed as "an iMac to go," and at US$1,599 it made a great portable alternative to the consumer iMac or the more professionally oriented PowerBook G3, which started at $2,499.
Over time the iBook shed its color, improved in speed, and dropped in price to the point where it's now possible to buy a brand new "iMac to go" for US$999. With the same 1024 x 768 resolution as the classic iMac, the same CD-ROM drive, and the same G3 processor, it's attractive. With a 5 pound weight, a battery that will outlast almost any power outage, and the same Quartz Extreme-supporting video circuitry used in the previous generation PowerBook, the $999 700 MHz iBook is a stunning value.
The New iMac
The second nail came in January 2002 with the flat panel G4 iMac. The new model looked different, offered the kind of performance OS X demanded, and had the same US$1,299 price tag as the original iMac. Better yet, Apple made it available with a SuperDrive, allowing iMac owners to burn their own DVDs for the first time.
To this date the classic G3 iMac has never had this ability. And today the G4 iMac is available for as little as US$1,199. The little white gumdrop sells for $400 less, but it can't burn CDs, has an outdated video chipset, and runs at a paltry 600 MHz.
The eMac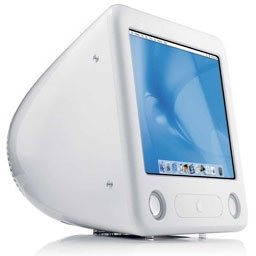 In April, Apple announced the eMac, an all-in-one model not entirely dissimilar from the iMac, but with a 17″ monitor and a G4 processor. The eMac was originally available only to the education market, but Apple made it a consumer model in June 2002 and offered a SuperDrive version in August.
Today you can pick up an eMac with a combination CD-RW/DVD-ROM drive, a 700 MHz G4, and a 17″ display for US$999 (after $100 mail-in rebate). Apple has driven the third nail into the classic iMac's coffin.
The Classic iMac Is Dead
Although it's still available from the Apple Store, brick-and-mortar stores, and most online Mac dealers, some online vendors no longer list the classic iMac on their sites. Not dead yet, the familiar G3-based CRT iMac is nearly gone. I don't expect it to remain in the Apple line after the January 2003 Macworld Expo.
Long Live the CRT iMac
Apple realizes that there is a small but steady market for a low-end iMac, but the current CRT iMac is so long in the tooth that it needs to be put out to pasture. It's had its day in the sun. Now it's time to make room for the next generation iMac.
No, it won't have a flat panel display. No, it won't have a 17″ display. No, it won't have a G3 processor – starting in January, none of the new models will. No, it won't look entirely like the classic CRT iMac. And it won't even be called an iMac.
The iClassic will be a small footprint model somewhat reminiscent of the iMac and somewhat reminiscent of the cult classic Colour Classic II. It will also hark back to models such as the Quadra/Performa/LC 630 in offering dedicated expansion slots for things like video.
The iClassic will include onboard Nvidia GeForce 4 MX with 32 MB of video RAM (the same video used in the Power Mac G4 dual 867), the same 800 MHz G4 that will be standard in the low-end G4 iMac and eMac come January, and the fastest CD-ROM Apple has ever put into any computer.
The iClassic will only boot Mac OS X, a standard feature for all 2003 models.
But from this point the iClassic diverges from all the all-in-one Macs that have gone before it.
It will have a high resolution 12″ CRT capable of crisply displaying 1024 x 768 in millions of colors. Other supported resolutions include 640 x 480, which isn't very practical in OS X, and 800 x 600, which is just usable.
It will have an external DVI monitor port and support both mirroring and spanning on an external display. Yes, it has enough power and memory to drive Apple's 23″ Cinema Display.
It will have two media drive bays, just like the Mirrored Drive Door Power Mac G4. Any combination of CD-ROM, DVD-ROM, CD-RW, Combo, and SuperDrives can be used in these bays. All will be available from the Apple Store. Better yet, they're all plug-and-play, just like on older PowerBooks, so you can add them at any time. (Oh, all of the 2003 iMac, eMac, iBook, PowerBook, and Power Mac models will also have one or two media drive bays.)
It will have two internal 3.5″ hard drive bays and support UltraATA 133 drives. The motherboard will also be Apple's first to support Serial ATA.
The motherboard of this and all January 2003 models will use a 266 MHz system bus, and the new G4 used in all January 2003 models will fully support double data rate (DDR) memory.
There will be two memory slots, allowing 128 MB to 1 GB total system RAM. Both can be accessed without opening the iClassic's case.
There will be a plug-and-play expansion slot for adding a TV tuner, analog video I/O, an internal USB/FireWire hub, or other hardware options. This same slot will be used on future G4 iMacs, eMacs, and Power Macs. Yes, you could use the iMac as a digital video recorder and save the expense of TiVo or ReplayTV.
There will be a PC Card slot on the front of the iClassic, making it easy to pop in a card reader for very quickly downloading images from your digital camera. Apple will include a Compact Flash reader with the iClassic, since that is the most commonly used digital camera memory.
In addition to a pair of USB ports and a FireWire port on the back, the iClassic will have two USB ports and a FireWire port on the front of the computer. The digital hub will be more accessible than ever.
You'll have a bit less need for those USB ports, since both the mouse and keyboard will be wireless. Our sources suspect these may be the Logitech Cordless Elite Duo so favorably reviewed on several sites – but in a custom Mac-only version. Again, all the 2003 models (portables included) will support the new wireless mouse and keyboard. Oh yeah, that also means multiple mouse buttons and a scroll wheel. And a host of media buttons on the keyboard. Life is good!
AirPort? But of course (well, you have to buy the card, but the socket is there) – and Bluetooth will actually be built into the computer, another first from Apple. And IrDA for syncing to Palms and other devices that use infrared.
Surprise of surprises, there is also room for an iBook battery, which can act as a power supply during a power outage or retain memory while the iClassic is asleep and being transported from place to place. Although a bit larger than the old compact Macs, the iClassic will tote well and is expected to show up at a lot of LAN parties in 2003. The battery is optional, not a standard feature.
All the same bundled software iMac, eMac, and iBook owners get.
Other options include colored vs. mirrored drive doors and plastic side panels in your choice from over a dozen different colors. Show your school spirit. (Did we mention that the iClassic isn't white – it's black just like the NeXT Cube. It's so black, Douglas Adams would have rewritten the Hitchhiker's Guide trilogy to make sure Disaster Area had one in their all black spaceship – if only he's lived this long.)
Still no floppy drive as a standard feature. Expect John C. Dvorak, Kim Komando, and other PC pundits to make sure everyone knows that Apple still leaves this essential piece of 1980s computing technology off of its new computers.
The whole package will a somewhat taller than today's CRT iMac, but also with a smaller footprint, thanks to the 12″ display. And with all the expansion options offered, the iClassic will be every bit at home in the preschool, the college dorm room, or the corporate server farm. It's that flexible.
In typical Apple fashion, the low-end iClassic will be barely adequate – 128 MB RAM, 40 GB hard drive, CD-ROM – but Apple has to do that for the $799 price tag. Yep, you read it right, the same price as the soon-to-be-discontinued 600 MHz G3 CRT iMac.
How do they do it, you ask? Simple, they will be using almost all of this new technology across the board. All the 2003 Macs will use the same memory, the same family of DDR-supporting G4 processors, the same media drive bays, the same wireless keyboard/mouse combo, the same plug-and-play expansion slot, etc.
And Apple will also be offering a $100 mail-in rebate for those who prepay two years of .mac service within 30 days of purchasing the iClassic. Rumors are this will be extended to all Macs purchased in 2003.
Here's a tentative price list:
M2002/LLA01, iClassic 800 MHz 128/40/CD, $799
M2002/LLA02, iClassic 800 MHz 256/60/DVD, $999
M2002/LLA03, iClassic 800 MHz 256/60/CD-RW, $999
M2002/LLA04, iClassic 800 MHz 256/80/Combo, $1,099
M2002/LLA05, iClassic 800 MHz 512/120/SuperDrive, $1,399
MX2003/LLTV, TV tuner plug-n-play card, $79
MX2003/LLAN, analog I/O plug-n-play card, $79
MX2003/LLTN, combination TV tuner, analog I/O, $129
MX2003/LLUF, USB/FireWire plug-n-play hub, $99
MX2003/LLDOS, plug-n-play DOS card; Lindows, Yellow Dog Linux, and AOL included; $199
MX2003/LLCD, 48x CD-ROM drive, $99
MX2003/LLDVD, 6x DVD-ROM drive, $179
MX2003/LLRW, 32x16x48x CD-RW drive, $179
MX2003/LLCOM, CD-RW/DVD-ROM Combo drive, $259
MX2003/LLSD, 4x SuperDrive, $499
MX2003/LLFL, anti-pundit 1.4M floppy drive (don't tell Dvorak), $99
MX2003/LLZIP, 750 MB Zip drive, $199
MX2003/LLSF, SuperDisk floppy: 1.4 MB or 32 MB on high density, 120 MB or 240 MB on SuperDisk media, $299
MX2003/LLLI, one use lithium battery for mouse/keyboard, $9.99
MX2003/LLRE, two rechargeable NiMH batteries and charger for mouse/keyboard, $49
prices for hard drives and RAM will fluctuate at about twice market level
Like the First Citiwide Change Bank, what Apple lacks in profits on the low-end iClassic it will make up in volume. Lots and lots of volume – and lots and lots of accessories, like the proprietary Apple battery used in the mouse and keyboard, tuners and other devices for the plug-and-play expansion slot, media drives that use a unique-to-Apple connector, and so forth.
As with the iMac and iBook, although Steve Jobs will be unveiling the iClassic in January, they are hoping to create a huge pent-up demand by postponing product release until April 1, 2003.
Until then, expect all the classic aficionados to complain that the iClassic is too big to be considered a real classic, and that the inability to boot into OS 9 is also a betrayal of the classic name. And expect the power users to complain that the 12″ screen is too darned small to be practical, especially under OS X. And expect the Cube owners to say, "And you thought the Cube flopped in the market!" And the PC pundits will see it as the final nail in Apple's coffin – then again, they've been predicting Apple's death since 1996, so what else is new?
As for me, I'll be lined up with the visionaries (a.k.a. disciples, true believers, misguided fools) who bought the original Macintosh, who followed Steve Jobs and bought a NeXT, and who held off buying anything else until Jobs blessed us all with the original iMac. Apple can do no wrong with Steve at the helm – or my name's not Anne Onymus.
 – Anne Onymus
Online Discussion
Rumor: Apple iClassic Coming in January, MacDailyNews, 2002.11.30. "You guys aren't seriously reporting this as possible fact, are you?"
iClassic, AppleInsider, 2002.12.05. "You don't need to look at the name. Even as I'm reading it, I'm rolling my eyes."
iClassic 2003!, AppleFritter, 2002.12.02. "I know this article is just hogwash, but the prospect of it is really exciting…."
iClassic, ehMac.co, 2002.11.30. "Heard alot of rumours before but…?"
We always find it interesting to read what others think of our hare-brained ideas. We hope you enjoy these links, too.
Short link: http://goo.gl/GLL4dA