G3 upgrade for PowerBook 2400c, Hubzilla 4-port FireWire hub, lighted PowerBook G4 keyboard, and more.
Except as noted, prices are in US dollars.
Titanium Backpack Doubles as Crashpad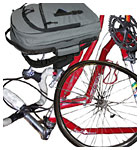 Christopher Yip's Willow Titanium Backpack did double duty last month when it filled in as an emergencycrashpad in an aerial commuting mishap. Chris was cycling to his job as an associate professor at the University of Toronto when a car coming up behind him decided to pull a U-turn right in front of him.
"I crashed sideways into the car at about 30 kph and launched myself right over his hood, doing a somersault, and gently landing right on my backpack (it literally felt like landing on a mattress) and bouncing right up. Other than a scraped/swollen left knee and right shin, I had no other injuries. (I was wearing a helmet, but it didn't even hit the ground)," wrote Chris.
"The Jacques pack, containing my TiBook G4/800, which was asleep, took the brunt of the impact. It looks none the worse for wear (not even a single scratch or tear). The laptop, which was the second thing I checked after my bike, woke right up and was fine – I can't say the same for my bike though…."
Willow Design was thrilled and amazed to hear their Jacques Pack survived the force of a 150 lb. mass smashing it on pavement at twenty miles an hour. They were even more impressed that it protected a sleeping Titanium G4/800 and then doubled as a crashpad to cushion an airborne cyclist. They do caution, though, that Chris would be wise to not make this a regular part of his daily commute, and advise others not to try this at home.
40 GB TravelStar hard drive, $109.99
Datavis.com is offering 40 GB IBM TravelStar 4200 RPM hard drives for $109.99.
Nearly New Newer Technology 240 MHz G3 Upgrade with 512 KB Backside Cache for PowerBook 2400c
This rare upgrade combines the PowerPC 750 (G3) chip with backside cache, which results in performance that's 3 to 6 times faster than the stock CPU.
Math functions are greatly improved. Graphics performance skyrockets. The performance difference between the stock 180 MHz 603e and the 240 MHz G3 processor is outstanding.
Installation requires a complex take apart of the 2400c. It is strongly recommended that you have the installation done by a technician. Installation instructions are available from many sites on the Web. TechnoWarehouse is not liable if you damage your PowerBook attempting to do the installation yourself.
Requires System 7.6 or later.
Nearly New – 90 Day Warranty
Tested & certified by former Newer Technology managers
Price: $300
For more information, visit TechnoWarehouse.
IOGear Introduces FireWire CardBus Featuring Digital Video Editing Software
IOGear launches its second generation FireWire CardBus, which offers laptop users a high-speed connection bundled with ArcSoft's ShowBiz digital editing software.
The three-port device provides Macintosh and PC laptop owners with a single convenient host controller card for connecting to next generation devices which offer faster transfer speeds. Packaged with ShowBiz software, the CardBus enables digital camcorder and camera users to create home movies from existing videos and still images by simply dragging and dropping files. The editing solution allows customized movies to be saved and burned to CD for playback on a DVD player.
IOGear's FireWire CardBus automatically configures to computers through the CardBus slot without requiring a driver and enables users to access up to 63 other FireWire devices simultaneously. The IOGear card is priced at $69.95 (MSRP) and is now available from all major catalog resellers, online resellers and selected retail outlets.
"Computer users are looking for inexpensive upgrades which will enable them to connect to next generation peripherals whether it is USB 2.0 or FireWire," said Miranda Su, vice president of sales and marketing at IOGear, Inc. "Bundled with Arcsoft's editing software, IOGear's FireWire CardBus is a complete solution for consumers looking for hi-speed results. Even consumers with older laptops can now quickly and easily expand their connectivity ports to take advantage of the greater speeds found in these devices."
The PCMCIA CardBus (GPF103) offers transfer rates up to 400 Mbps. It supports Windows 98, SE, 2000, ME and XP operating systems, as well as Mac OS 8.6 or greater.
SurgeStop 6 for PowerBook, iBook
SurgeStop 6 is a surge protector for Apple iBook and 1999/2000 G3 PowerBooks that fits Apple iBooks and PowerBooks with C5/C6 (cloverleaf) style plugs.
If a high energy spike destroys the unit, the LED will go out, and power will still be supplied to the your equipment, but the unit will need replacement to restore the surge protection.
SurgeStop 6 sells for $19.95 and can be found at the Applelinks store.
Charismac Announces Hubzilla, a 4-port FireWire hub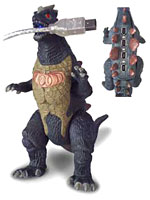 Hubzilla, the 4-port FireWire breathing monster, is ready to invade computer desktops across the world. Hubzilla is as menacing as he is useful as he helps to rid computer desktops ofFireWire cable clutter and provide additional FireWire ports for the growing number of 1394 devices on the market including hard disk and CD-RW drives, DVD recorders, digital video recorders, and even MP3 players.
Look directly at Hubzilla's face, if you dare, and you'll find yourself starting directly into his piercing red eyes and blue mouth – both light up when plugged into a FireWire bus on your FireWire capable computer.
Hubzilla features 4 menacingly fast 400 Mbps data ports designed to expand your computers FireWire capabilities. Hubzilla is 100% 1394/FireWire compliant and requires no additional drivers. Hubzilla is completely bus-powered; however a power adapter is available for users who may need additional power.
Hubzilla is available for $74.95 directly from Charismac Engineering via their online web store. Hubzilla will be available for a limited time only and will be sold on a first come first serve basis. Hubzilla will ship in early November in plenty of time for the Christmas season. More information on Hubzilla is also available on the CharisMac website.
CompuCable FireXpress External Hard Drives
The CompuCable FireXpress External FireWire Hard Drive is a small, portable hard disk that can store large amount of data inexpensively. It's fully assembled and is ready to store files when you receive it. The drive is compatible with any FireWire-equipped Macintosh or PC.
Includes the enclosure, the hard drive, a five foot high-quality FireWire cable, user's manual (including drivers necessary for older Mac OS users), a nice padded carrying case for when you take your FireXpress on the road, and a auxiliary power adapter for FireWire ports that don't provide power such as add-on PC Cards.
The enclosure is semi-translucent charcoal color that complements the look of any Macintosh, old or new. It has two rubber slide-on bumpers on each end to cushion the unit during travel. There is a status LED in the front left of the unit that indicates if the drive is operational.
This drive uses the super-fast Oxford 911 chip. It's the fastest "bridge chip" out there–the chip that converts, in effect, the FireWire bus to the IDE connector inside the enclosure.
The PowerBook Zone has dropped the price to $70 plus shipping.
Lighted PowerBook G4 Keyboard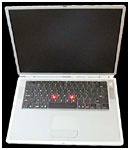 Don't be caught pressing the wrong keys in a dimly lit room. Illuminate your keys – on a plane, in apresentation room, or relaxing in bed. Work on a plane without disturbing anyone – show slides or illustrations in a darkened conference room. The soft, gentle glowing keyboard light provides enough brightness to illuminate the keys.
The PowerBook G4 Lighted Keyboard comes with detailed installation instructions. All built-in, unlike USB lights, so there's no need to carry any extra devices, and it comes in two types of long lasting LEDs: white for $29.99 and red for $24.99.
Features:
Keyboard light is installed under your existing keyboard.
PowerBook G4 only supported at this time.
All PowerBook G4 Generations supported.
Tom Bihn Empire Builder, Brain Cell, Brain Bag, and Monolith Laptop Bags
The Empire Builder is the result of three years of product development and 30 years of bag-building experience. It is uniquely styled, superbly functional, and built to endure years of abuse.
The asymmetrical front flap closes with a sturdy 2″ side-release buckle and has three pockets: a horizontalzippered pocket to fit CD's or a CD player; a vertical zippered pocket to provide quick access to a cellphone; and a diagonal, open-top pocket for plane ticket, etc.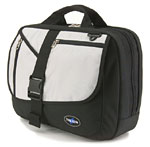 Under the front flap, a large pouch has further 3-D pockets for PDA, cell phone, and pens, plus a snaphook for keys. The main compartment unzips low on the sides, exposing a "bellows" that allows access to the depths of the bag; the zipper on this compartment has lockable sliders. The front, back, bottom, and sides are padded and stiffened by 1/4″ (6 mm) closed-cell foam to protect contents and maintain sharp looks.
Inside the main compartment, the Empire Builder comes with three hard plastic file dividers that make organizing your papers a snap & keeps those important files from getting damaged. The dividers stay put inside the bag, but are easily removed if you don't want them, or you can order extras for even greater organization. Also in the main compartment, you will find snaps for the optional Brain Cell (formerly the Lap Dog), so you can turn the Empire Builder into a sophisticated and highly protective laptop briefcase.
The handles are comfortable – constructed of nylon webbing rolled around high-quality foam; they lay naturally together at the top of the bag, so there's no fishing around for your grip. Of course, you can always add a shoulder strap when the load gets too heavy.
Available in Black with Silver lined with Red, or Black with Black lined with Black
An open-top back pocket for your favorite daily or zine
#9 & #10 YKK Coil Zippers
genuine Ballistic® and 500 denier Cordura®
Price: US$130/CDN$206
The Brain Cell (formerly the Lap Dog) takes laptop protection a step further. Cradled in soft foam padding, yourlaptop hangs suspended in a corrugated plastic insert. This offers significantly more protection than many other laptop bags in the event that you drop your brain. It closes on the top, like a cereal box, except with Velcro, and snaps into either the Empire Builder or the Brain Bag, turning them into great computer cases. The Size 4 and Size 5 Brain Cells also snap inside of our newest messenger-style bag, the ID.
For use on it's own, the Brain Cell features an open-top, snap closing front pocket of Spandura® stretch Cordura to accommodate your power supply, cables and/or external drive; webbing handles and optional shoulder strap.
Features:
Hard-shell case provides optimum protection
Velcro™ closure on top makes it easy to access your laptop
500 Denier Cordura® & Spandura® Stretch Cordura®.
In order to get the most laptop protection from the Brain Cell, it must be carried in the horizontal, or "landscape" format.
Price: US$50/CDN$79
Brain Bag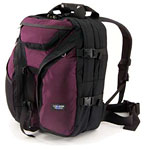 The Brain Bag is made to accommodate a Brain Cell (formerly the Lap Dog) computer case (essential to protectyour computer – purchased separately ). The ultimate, on-your-back, student or business organizer, the Brain Bag consists of two main compartments plus four external pockets. The small top pocket on the back is perfect for a wallet and has an inside snap-hook for keys. The two vertical back pockets are large enough for water bottles or even a small thermos; inside both pockets are pen/pencil organizers. The left pocket has an outside flat mesh pocket for brochures, plane tickets or even a small U-Lock. Between the pockets are two lash straps for umbrella or rain coat. Both main compartments have snaps that accept the optional laptop computer case (Brain Cell), so you can carry your computer or your books against your back, as you like. You can actually carry two Brain Cells, and therefore two laptops in the Brain Bag.
Side compression straps compress the bag when it is not full and stabilize the load. Quality leather palm pad on 2″ webbing handles, contoured shoulder straps with sternum strap, 2″ waist strap. The back is made of Dri-Lex Aero-Spacer mesh and is padded with 3/8″, high quality, closed-cell foam.
Features:
1000 denier Cordura® and #9 & #10 YKK Zippers
Main compartment zippers are now lockable for security (locks not included)
Price: US$40/CDN$63.50
Monolith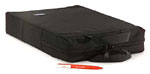 The Monolith laptop bag provides all the super-tough protection of the Brain Cell, but in a vertical orientation.Designed specifically for use inside any typical daypack or bookpack. Unlike its landscape cousin, the Brain Cell, the portrait Monolith has no shoulder strap attachments or pocket, so it is just useful as protection.
Features:
Hard-shell case provides optimum protection
500 Denier Cordura and #9 YKK zipper
Available in 2 sizes to fit a wide range of laptops
New! Size 2 has interior dimensions of approximately 14-1/8″ x 11-1/2″ x 2″ / 360 x 292 x 50mm
Exterior dimensions of approximately 16″ x 12″ x 3″ / 405 x 305 x 76 mm
Size 4 (formerly the G4 Monolith) has interior dimensions of approximately 13-1/2″ x 9-1/2″ x 1-1/4″ / 330 x 255 x 30 mm
Exterior dimensions of approximately 15-1/4″ x 10″ x 2-1/4″ / 387 x 254 x 57 mm
Bargain 'Books
There are two different versions of WallStreet running at 233 MHz, the cacheless MainStreet version and the later Series II with a level 2 cache. It's not always possible to determine from the vendor's listing which is being offered, so we've included links within this paragraph to the two models. The same goes for the PowerBook G4/667 (Gigabit Ethernet/2001) and G4/667 (DVI).
PowerBook Pismo 500, 128/12 GB/DVD, Targus laptop bag, $1,169
Add a 30 GB hard drive and upgrade to 320 MB of RAM, $1,299
iBook 600 12″, 128/20 GB/CD, refurbished, $1,099
iBook 700 12″, 128/20 GB/Combo, refurbished, $1,349
PowerBook G4/800, 512/40 GB/Combo, AirPort, demo, $2,979
searchword: bookrev20020920