Apple decided to simplify the iMac lineup by offering just one 15″ model and one 17″ model. The Early 2003 17″ iMac has a 1 GHz G4 processor, a SuperDrive, and 64 MB of video memory.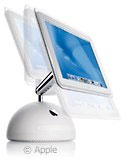 The Early 2003 15″ iMac runs at 800 MHz, includes a Combo drive, and sells for a very competitive US$1,299. Except for CPU speed, it is configured similarly to the 700 MHz Combo drive G4 iMac it replaces.
There is no build-to-order option for a SuperDrive. Unlike the 17″ iMac, this model does not support AirPort Extreme (just 802.11b AirPort) or have an internal connector for Bluetooth.
Beware Apple's specs, which claims the G4 iMac has 5 USB ports. They get this number by adding the three ports on the iMac to the two on the keyboard, nicely ignoring the fact that the computer itself has only three ports – and the keyboard ties up one of those ports when it's connected.
Some Leopard users have reported problems with G4 iMacs that have GeForce 2 or GeForce 4 graphics. When the system wakes from sleep, the screen will be completely white, making the computer unusable. This is fixed by Leopard Graphics Update 1.0, which requires OS X 10.5.2 or later.
Details
Upgrades
Online Resources