Leave it to Apple to completely confuse the market by releasing a "brand new" 1.25 GHz  Power Mac G4 model at the same time it announced the first Power Mac G5s. Like the 2002 Mirrored Drive Doors Power Mac G4, this model can boot into OS 9 as well as OS X. It must be time for Apple to unload the last of the old hardware.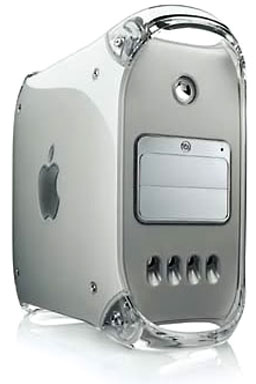 The June 2003 model is essentially the same as the 2002 1.25 GHz dual processor model, except that it is also available with a single CPU. Unlike the Early 2003 FireWire 800 Power Macs, it has the ability to boot into OS 9, uses plain old 802.11b AirPort cards instead of the newer, faster 802.11g AirPort Extreme, and doesn't include FireWire 800.
This model has a 167 MHz system bus, two media drives bays (so you can have a SuperDrive and a fast CD burner), four RAM sockets, and three independent drive buses that each support two devices. An Ultra ATA/33 (ATA-4) bus is used for the optical drive(s), Ultra ATA/100 (ATA-6) connects to the stock hard drive, and there's also an unused Ultra ATA/66 (ATA-5) bus. Only the ATA/100 connector supports drives over 128 GB capacity. There are four 3.5″ hard drive bays inside the G4.
Although the MDD Power Macs support up to 2 GB of RAM, Mac OS 9 is only able to access up to 1.5 GB.
Watch out for Apple's claim of "four USB ports" – there are two on the computer and two on the keyboard, just like the old G4s. Plug in the keyboard, and you have three available. Plug in a USB mouse, and that drops to two.
You should have the most recent firmware installed in your Power Mac G4. The newest version for Mirrored Drive Doors models is Power Mac G4 Firmware Update 4.4.8, which is only for Mirrored Drive Doors Power Mac. To install this firmware update, you must boot into Mac OS 9.2.2 from a writable partition (not a CD).
Details
Accelerators & Upgrades
Online Resources
Cautions
Short link: http://goo.gl/tUhPYd
searchword: mdd2003