After nine months at 1.33 GHz, Apple bumped the little AlBook from 1.33 GHz to 1.5 GHz, a 13% increase. Standard memory has been raised to 512 MB, graphics now uses the Nvidia GeForce FX Go5200 processor, and the SuperDrive can burn DVDs at up to 8x. All this at $100 less than the retail price of the previous model.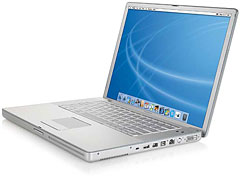 Bluetooth 2.0 (up to 3x faster than the old standard) and 802.11g AirPort Extreme are now standard features on all PowerBooks, and the 2005 models add two new technologies: a scrolling trackpad and motion sensing. Scrolling with the trackpad requires the use of two fingers, and motion sensing is meant to protect the hard drive if the PowerBook is dropped.
The 12″ PowerBook G4 had the third-smallest footprint of any Apple notebook to date at 93.74 square inches, beat out by the PowerBook 2400c (89.25 square inches) and barely edged out by the PowerBook 100 (93.50 square inches). It had the lowest total volume of any Mac 'Book until the MacBook Air was introduced in 2008.
The battery is rated at 5 hours.
Details
Online Resources
Cautions
Keywords: #12inchpowerbook #12inchpowerbookg4
Short link: http://goo.gl/UqSjmG
searchword: 12inchpbg41.5ghz