Kudos to Apple for abandoning the Intel Core Solo used in the original entry-level Intel Mac mini. With the September 2006 revision, both models have Core Duo processors. Oddly, these are the only second-generation Intel Macs not to use Core 2 Duo CPUs, something we've never understood.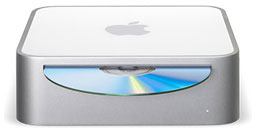 The Late 2006 Mini has the same 667 MHz memory bus as its predecessor and supports two memory modules for up to 2 GB of RAM. There's one bank with two memory sockets, so to upgrade RAM, you have to remove the 256 MB modules that came with the computer.
Apple says that memory upgrades should always be done in matched pairs, but Other World Computing has discovered that you can use "mismatched" memory in the Mac mini (and some other Intel-based Macs where Apple specifies that upgrades should only be done with matched pairs). Their test results show that in general there is more benefit from having more RAM – even mismatched – than there is from having less RAM that is matched.
The base version now runs a Core Duo at 1.66 GHz and includes 512 MB of RAM, a 60 GB hard drive, and a Combo drive. It retails for US$599, the same price as the 1.5 GHz Core Solo model it replaces. Except for using a Combo drive instead of a SuperDrive, this is essentially the same model Apple was selling for US$799.
The better model has a 1.83 GHz CPU, an 80 GB hard drive, and a dual-layer 8x SuperDrive in addition to all the features of the 1.66 GHz model. At US$799, it seems somewhat overpriced in comparison to the 1.66 GHz model. All you're gaining is 20 GB more drive space (a $50 option), the SuperDrive, and a 10% faster CPU.
The 2006 Mac mini was Apple's first computer to use Intel graphics and the first Mac in a long, long time to use "vampire video" (that's where the video bites into system memory). The Intel GMA950 graphics processor uses 80 MB of system memory for the display, so increasing memory beyond 512 MB is a good idea.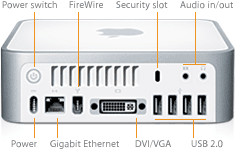 The Intel-based Mac mini looks just like the G4-based one from the front, but the rear panel is different. The Intel-based mini has four USB 2.0 ports and no internal modem.
The tiny Mac mini (6.5″ square, 2″ high, 2.9 lb.) has a minimalist design. On the front, there's just a slot-loading optical drive and a power light. On the rear, just enough ports to do everything important.
The Mac mini doesn't include a keyboard or mouse. Apple says buyers can plug in their favorite USB keyboard and mouse – or buy Apple's offerings. Mac OS X 10.4 and later includes support for remapping the Windows alt and option keys to option and cmd.
Apple offered several Build To Order options, such as 80, 120, or 160 GB hard drives; Mighty Mouse and a keyboard, or a wireless Mighty Mouse and keyboard, and a $49 USB modem. With a $19 DVI to Video Adapter, you can connect the Mac mini to most modern TVs using S-video or composite video.
What You Need to Know
Using the 32-bit only Core Duo CPUs allowed Apple to introduced Intel-based Macs before the Core 2 Duo, which supports both 32-bit and 64-bit operation, came to market. Because OS X 10.7 Lion is a 64-bit only operating system, Core Duo Macs do not support it, so OS X 10.6 Snow Leopard is the end of the Mac OS road for the earliest Intel Macs.
With a 2 GB memory ceiling, this Mac mini would never run Lion decently, but the first generation Intel Macs run Snow Leopard very nicely with 2 GB of RAM, especially after you've replaced the poky Core Solo CPU. If your Early 2006 Mac mini has 512 MB, upgrade immediately. You really need 1 GB to get okay performance from OS X 10.4 Tiger or 10.5 Leopard. As of June 2016, you can upgrade to 2 GB for $15 from Other World Computing, and with Snow Leopard just $20 from Apple, take this Mini as far as it will go with RAM and operating system.
These Minis shipped with 5400 rpm 60 GB notebook hard drives, which is not at all practical these days. Newer drives will often provide much snappier performance due to larger data buffers, and 7200 rpm drives will provide faster overall performance. Pulled 7200 rpm drives start at $35 for 250 GB these days, new 500 GB drives for $50. For a serious speed boost – like starting up twice as fast – Other World Computing offers a 60 GB solid state drive (SSD) for just $43 ($49 with a USB enclosure for the old drive), although you'll probably want more more capacity than that.
Finally, you can upgrade to a faster, more efficient Core 2 Duo Socket M CPU, although that won't give you 64-bit operation unless you update to EFI firmware 2,1. The 2.33 GHz Core 2 Duo T7600 is a popular upgrade option, currently $26 and up on eBay. (See CPU Upgrade Options for 2006 and 2007 Mac minis.)
Intel-based Macs use a partitioning scheme known as GPT. Only Macintel models can boot from GPT hard drives. Both PowerPC and Intel Macs can boot from APM (Apple's old partitioning scheme) hard drives, which is the format you must use to create a universal boot drive in Leopard. PowerPC Macs running any version of the Mac OS prior to 10.4.2 cannot mount GPT volumes. PowerPC Macs won't let you install OS X to a USB drive or choose it as your startup volume, although there is a work around for that.
Details
introduced 2006.09.06 at US$599 (1.66 GHz Combo) and US$799 (1.83 GHz SuperDrive); replaced by a faster, Core 2 Duo model on 2007.08.07.
Part no.: MA607 (1.66 GHz), MA608 (1.83 GHz)
Model Identifier: Macmini2,1
Mac OS
requires Mac OS X 10.4.4 Tiger to 10.6 Snow Leopard; not compatible with OS X 10.7 Lion unless you update to EFI firmware 2,1
Mac OS X 10.6 Snow Leopard compatibility

Grand Central Dispatch is supported.
64-bit operation is not supported with Core Solo or Core Duo CPUs. Upgrading with a Core 2 Duo CPU will not change that.
OpenCL is not supported with the Intel GMA950 GPU.
Core System
CPU: 1.66 T2300/1.83 GHz T2400 Core Duo Yonah, Socket M makes upgrades possible (see CPU Upgrade Options for 2006 and 2007 Mac minis)
L2 cache: 2 MB on CPU
Bus: 667 MHz
RAM: 512 MB, expandable to 2 GB using two PC2-5300 DDR SDRAM. Best performance with matched memory modules. 80 MB of RAM set aside as video memory. Will not support 3 GB of RAM even with a Core 2 upgrade.
Performance:

Geekbench 2 (Leopard): 2070 (1.66 GHz), 2260 (1.83 GHz)
Geekbench 2 (Tiger): 2157 (1.66 GHz), 2334 (1.83 GHz)
Video
GPU: Intel GMA950 with resolution to 1920 x 1080 (VGA) and 1920 x 1200 (DVI).
VRAM: 64 MB DDR2 SDRAM (shared with main memory, and according to Apple actually uses 80 MB of system RAM)
Video out: DVI, VGA with included adapter, S-video with optional adapter
Drives
Hard drive bus: 1.5 Mbps SATA I
Hard drive: 2.5″ 60/80 GB 5400 rpm SATA standard; 120, 160 GB available as build-to-order options
Optical drive bus: UltraATA
Combo Drive: reads DVDs at up to 8x speed, writes CD-R discs at up to 24x, writes CD-RW discs at up to 16x, reads CDs at up to 24x
SuperDrive DL: writes DVD±R discs at up to 8x speed, DL at 2.4x; DVD±RW at 4x; reads DVDs at up to 8x; writes CD-R discs at up to 24x, writes CD-RW discs at up to 16x, reads CDs at up to 24x
Expansion
USB 2.0: 4 ports
FireWire 400 ports: 1
FireWire 800 ports: 0
Ethernet: 10/100/gigabit
WiFi: 802.11g AirPort Extreme built in
no internal modem; external USB modem available
Bluetooth 2.0: standard
IR receiver: supports Apple Remote (included)
Microphone: none
Physical
size: 2.0 x 6.5 x 6.5 in/5.1 x 16.5 x 16.5 cm
Weight: 2.9 lb./1.3 kg
Power supply: 85W external power supply
PRAM battery: 3V CR2032 lithium
Upgrades
CPU can be replaced with a faster "Socket M"/"Socket M" Core Duo or Core 2 Duo.
Online Resources
Keywords: #imaccoreduo #imaclate2006
Short link: http://goo.gl/Iy6zOm
searchword: macminilate2006