2013-01-14: General Apple and Mac desktop news is covered in Mac News Review. iPad, iPod, iPhone, and Apple TV news is covered in iNews Review. Older Macs are covered in Vintage Mac News. All prices are in US dollars unless otherwise noted.
News & Opinion
Rumor Roundup
Apple Updates
Tech Trends
Products & Services
Purchases made through links to Amazon.com and Apple's iTunes/iBook/App/Mac App Storesupport Low End Mac.
News & Opinion
NPD: US MacBook Sales Down 6% Over Holidays, but Beat Overall 7% Consumer Electronics Decline
PR: Consumers skewed their consumer electronics (CE) shopping to the first few weeks of the holiday season, according to global information company The NPD Group. US consumer electronics sales1 were strongest at the beginning of the holiday season and declined through the remainder of the five week holiday period (November 18 December 22, 2012) according to NPD's Weekly Tracking Service2.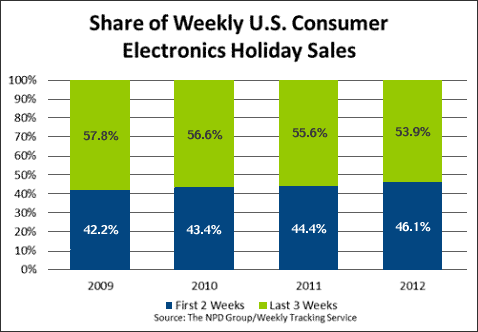 46% of sales took place in the first two weeks, the highest share in the past four years, while the last three weeks of sales accounted for 54% of sales. Overall sales declined 7% with consumers spending $13.7 billion dollars. Sales for the first two weeks declined 3.7% over 2011 while the last three weeks fell more than 11%.
"For the third consecutive year sales trends worsened in the later part of the holiday season," says Stephen Baker, vice president, industry analysis at NPD. "The hyped-up promotion of Black Friday, Cyber Monday and now Thanksgiving Day has proven remarkably effective in moving sales into the early part of the holiday season. Trends like online shopping and self-gifting have intensified the focus on the more event -driven early part of the holiday season."
Most categories struggled, as they've done all year but sales of notebook computers and flat-panel TVs both exceeded $2 billion in total dollars sales, while no other single segment accounted for over $1 billion in revenue.
Despite much hype and hope regarding the Windows 8 launch, Microsoft's new operating system did little to boost holiday sales or improve a year-long Windows notebook sales decline. Windows notebook holiday unit sales dropped 11%, on par with Black Friday, and similar to the yearly trend, but revenue trends weakened since Black Friday to end the holiday period down 10.5%. Average Selling Prices (ASPs) rose only $2 to $420. Touchscreen notebooks accounted for 4.5% of Windows 8 sales with ASPs around $700. Sales of Windows notebooks under $500 fell by 16% while notebooks priced above $500 increased 4%. Apple MacBook sales dropped 6% while their ASPs rose almost $100 to $1419 – presumably thanks to introduction of new MacBook Pros with Retina displays in June and October.
Overall flat-panel TV units declined slightly by 1.5% and average selling prices (ASP) dropped more than 8% to a record-low $364. Large screen TVs continued their impressive growth and helped drive the category, but much of it at the expense of the once dominant 40-49″ segment. Flat-panel displays, 50″ and greater, experienced 46% unit growth and 19% revenue growth, while 40-49-inch flat-panel TVs dropped 36% in revenue and 29% in units. Strong demand for 32″ and 39″ displays drove volume for the under 40″ segment which accounted for 64% of all units sold. Sales of TVs under 30″, however, declined 24%.
"Consumer electronics remain trapped in a weak product cycle," says Mr. Baker. "Despite undeniable success in segments like soundbars, headphones with microphones, interchangeable lens cameras, cellular accessories and tablets, the inability of the CE market to find substantial new pockets of revenue looms menacingly over the industry's future."
Consumer electronics excludes: Amazon Kindle products, iPad, Surface, mobile phones, and video games.
NPD's weekly POS information is derived from a subset panel of retailers that also contribute to NPD's projected monthly POS panel.
Should Apple Make a Convertible MacBook?
Tech.Pinions' Tim Bajarin says that talks with IT directors by his research firm Creative Strategies reveal strong interest in hybrids or convertible laptops, exemplars of which that have recently entered the marketplace being Lenovo's Yoga and HP's Elitebook Convertible, which are deemed attractive for a variety of reasons, the main one being that instead of IT departments having to support a separate tablet and laptop, these converged products provide both in a single package.
Bajarin observes that while an IT-capable tablet might cost $600 or $700 and an IT grade laptop sell for upwards of $900 to $1,300 depending on configuration, convertible or hybrid computers are priced in the $900-$1,300 range, which is substantially cheaper than buying a separate laptop and tablet combined, noting that he's also seeing some real interest in 2-in-1 hybrids and convertibles with small business users and some consumers as well.
Bajarin predicts that hybrids and convertibles could be the "sleeper product" of 2013 and could catch on with business users in a big way, and he thinks Apple may be obliged by competition to create a new device that might be called AirPad or iPadAir – possibly an ultrathin laptop like the current MacBook Air with a detachable display screen that would allow it to morph into an iPad-esque touchscreen tablet.
However, Bajarin acknowledges that Apple CEO Tim Cook is recently on record declaring that in Apple's estimation this type of device doesn't make sense, and that Microsoft's new Surface tablet/PC hybrid has been selling slowly in the early going at least.
Then again, the late Steve Jobs famously declared that tablet with screens smaller than 9.7″ didn't make sense and were "worthless," but now there's the 7.85″ iPad mini.*
Bajarin observes that about a dozen hybrid or convertible PCs will come to market in Q1 or Q2 of 2013, and says some of them are "stunning" in their design and functionality. And since most of these machines qualify under Intel's Ultrabook spec., they will be heavily promoted as part of a stepped-up campaign to convince users to buy Ultrabooks. With their innovative designs and priced mostly under $1,000, he maintains that hybrids and convertibles should "really take off " in 2013, which will oblige Apple to reconsider creating a similar type of product.
* Publisher's note: No, Steve Jobs didn't say anything smaller than 9.7″ didn't make sense; he said that 7″ tablets didn't, and the 7.85″ iPad mini is 12% larger than that on the diagonal – and even moreso in terms of square inches. Here's what Jobs said: "It's because we think the [7″] screen is too small to express the software. As a software driven company, we think about the software strategies first." dk
Link: Should Apple Make a Hybrid or Convertible PC?
Apple's iPad Kills Netbooks. Will MacBook Air Devour Notebooks Next?
Computerworld's Jonny Evans notes that Apple and its iPad have destroyed the netbook industry with Acer and Asus the last major players in netbook production. Evans deems that as an inflection point as we enter the Post-PC age and suggests that we get ready for Apple's next-generation MacBooks to devour what's left.
Evans cites the late Steve Jobs' observation at the iPad launch keynote in 2012 that "The problem is netbooks aren't better at anything. They're slow, they have low quality displays, they're just cheap PCs," having famously said in a speech to investors in 2008: "We don't know how to make a $500 computer that's not a piece of junk. Our DNA will not let us do that."
He also notes that back in 2010, analyst Katy Huberty predicted that iPad sales would destroying the netbook market, which many disputed at the time, but she's been proved correct.
Thanks to iPad sales, Apple is now the world's biggest PC vendor (if you count iPad sales), accounting for 22% of PC sales.
Netbooks were unable to compete with the sophisticated technological execution of the iPad, nor have they been able to compete with the design and usability challenge posed by Apple's MacBook Air. And it isn't just the bottom-feeder netbooks that face the Apple threat. Evans notes that when the MacBook range gets refreshed come June, Apple is expected to reduce MacBook Air prices and to adopt a "new processor platform" – presumably Intel's "Haswell" next-generation of Core I chips.
Link: Apple's iPad Kills the Netbook; Will MacBook Air Devour Notebooks Next?
Ultrabook Vendors Concerned About Next MacBook Air Revision
DigiTimes' Aaron Lee and Joseph Tsai report that Apple has issued requests for quotations (RFQ) to Taiwan-based OEMs for revision of several of its notebook models including the MacBook Pro and MacBook Air series for June 2013, causing concern among Ultrabook vendors who fear that Apple is likely to reduce the prices for its existing MacBook Air stock before launch in the new models which could diminish demand for Ultrabooks. to supply chain sources.
The scuttlebutt is that the MacBook Air for 2013 will feature a new processor platform but no major form factor changes.
Link: Ultrabook Vendors Concerned About Revision of MacBook Air in 2013
Is Intel Planning the Next Mac Update?
Wall Street Cheat Sheet's Aabha Rathee observes that Apple may have been careful about not letting anything slip about coming refreshes of its MacBook line this year, but CPU supplier Intel obviously doesn't share Apple's obsession with secrecy.
Rathee notes that on Monday at the Consumer Electronics Show, Intel showed off several upcoming processors, including fourth-generation Haswell Core series CPUs likely manufactured with Apple's MacBook line in mind – and that significantly improves battery charge life up to 9 to 13 hours.
Nominally, these Core processors are also the first to be designed specifically for Intel's Ultrabook premium thin-and-light laptop spec, and Apple is no participant in the Ultrabook program (which is deduced to be a Windows PC reply to the MacBook Air), but the Air will almost certainly adopt Haswell silicon with its next update.
Link: Is Intel Planning Apple's Mac Update?
Intel's New Chips Could Power Next MacBook Airs for 13 Hours
Reporting from CES 2013, Cult of Mac's John Brownlee notes that Intel's next-generation Core chip technology could make it possible for Apple to design and build a 20% lighter and thinner MacBook Air with 13 hour battery life a reality by the end of the year, or a Retina MacBook Pro with nine hours battery life.
Brownlee notes that even in the existing generation of Core processors, Intel has a few new chips that sip just 7 watts of power, compared with the i5 processor in the current MacBook Air that draws 17 watts of power, so the next-generation Air could conceivably have the same battery life as an iPad, although these existing 7W cores may very well not have enough power to be suitable for the MacBook Air.
However, Intel has its fourth-gen Core processors coming, expected to give nine hours of battery life to even more powerful machines.
Link: Intel's New Core Chips Could Power 20% Thinner MacBook Airs for 13 Hours
How to Fix Poor Retina MacBook Pro Graphics Performance
MacFixIt's Topher Kessler reports that after applying the latest EFI firmware update, some Mac users may experience lower graphics performance in demanding applications, with some of the latest MacBook systems showing drastic drops in graphics performance, particularly notable when playing graphically intensive applications like video games.
Kessler says the problem appears to be a hardware-based issue, since it happens not only in OS X, but also for games running under Windows in Boot Camp, and it may have been introduced with the latest EFI firmware update released for these systems. Luckily for those experiencing it, the issue seems to stem from a fault in hardware-based settings for the system and can usually be addressed by resetting the system's system management controller.
Link: Fix Poor Retina MacBook Pro Graphics Performance
Rumor Roundup
Apple Devices to Get '5G WiFi' in 2013?
The Register's Rik Myslewski cites The Next Web report that according to unnamed "[s]ources familiar with Apple's plans," Apple has "struck a deal" upgrade its Mac systems in 2013 to include "5G WiFi" (802.11ac), advanced technology that can increase wireless connectivity to speeds "in excess of a gigabit per second," using Broadcom 5G WiFi chips.
Myslewski notes that Broadcom launched its 5G WiFi chip product at last January's Consumer Electronics Show, touting increased speed, improved power efficiency, and longer range with the 802.11ac standard, and cites Broadcom SVP and general manager of the company's Mobile and Wireless Group Michael Hurlston speaking at a company event last month affirming: "We see almost every major infrastructure customer retail routers, even some gateways has adopted 5G WiFi, across the board: Linksys, Netgear, Belkin, D-Link, Buffalo in Japan. Every single player is using our chipset to do that."
He says that Asus is the first major PC maker to adopt the 802.11ac standard in some models for certain markets, but Apple upgrading its Macs could put it ahead of other major PC makers, depending of course on the respective timing for adoption, again quoting Mr. Hurlston suggesting that we should see more 802.11ac-equipped clients at or shortly after this year's CES trade show," and commenting that the first 802.11ac-equipped smartphones and tablets should become available "in very, very early 2013," if not at CES, then "certainly by Mobile World Congress" which will be held February 25 through 28 in Barcelona.
Based on that affirmation, it seems plausible that upgraded iPads in March could turn out to be the first 802.11ac-equipped Apple machines, if Apple were to keep to its pattern of major new iPad revisions in late winter. However, the iPad received an early and substantial refresh on October 23, 2012, so March may be a bit soon to expect another. On the other hand, it's been nearly six months since the MacBook Airs, Pros, and 15″ Retina MacBook Pros were refreshed/released….
All just speculation, of course.
Link: Apple to Upgrade to '5G WiFi' This Year? (subscription required)
Apple Updates
EFI Firmware Update for Mid 2012 MacBook Air
The MacBook Air EFI Firmware Update 2.6 is recommended for MacBook Air (mid 2012)models.
This update fixes a color issue with HDMI displays connected to MacBook Air, resolves an issue with Windows which can prevent MacBook Air from booting properly, and also resolves an issue where unplugging a Thunderbolt device may cause the system to freeze when waking from standby.
The MacBook Air EFI Firmware Update will update the EFI firmware on your computer.
After update EFI ROM will be: MBA51.00EF.B02
System Requirements: OS X 10.8.2
Link: MacBook Air EFI Firmware Update 2.6
Tech Trends
Windows 8 Not for Older Than the Latest PCs
WSJ's august commentator Walt Mossberg advises that if you're pondering an upgrade to Microsoft's new Windows 8 and you're not already running the latest PC hardware, you should be prepared for hassles and disappointment, even if your more than a year or two old machine technically meets the basic requirements to run the new Windows version.
Mossberg says he's speaking from firsthand experience, having spent big chunks of the past week trying to upgrade a 2008 Lenovo laptop and a 2009 Hewlett-Packard touchscreen desktop to Windows 8, reporting that the process was painful and resulted in lost capabilities, even though both of these PCs ran Windows 7 quite well and met the minimum requirements for running Windows 8 (a 1 GHz or faster processor, at least 1-2 GB of RAM and at least 16-20 GB of free storage (depending on whether the PC is 32-bit or 64-bit), and a graphics system that can handle a Microsoft graphics standard called DirectX 9 with WDDM driver), albeit learning too late that neither of these computers was included on the list of models for which their manufacturers respectively have provided Windows 8 compatibility patches.
Specific issues include the touchpad on the Lenovo ThinkPad X301 laptop not being able to scroll in the new tablet-like Start Screen environment in Windows 8, or perform certain Windows 8 gestures, and the HP TouchSmart 300's touchscreen isn't precise or sensitive enough to reliably perform Windows 8's touch gestures reliably. And the microphone doesn't work. And the computer crashes, in one instance obliging Mossberg to execute a procedure that wiped out most of his installed software, including HP and Microsoft programs.
He concedes that Microsoft does offer Upgrade Assistant software that might have warned him of the pitfalls. However, Mossberg concludes that if your PC is three-years-old or older, you may want to just stick with the Windows you've got.
Link: Windows 8: Not for Old-at-Heart PCs
Intel Delivers Broad Range of New Mobile and Laptop Experiences for 2013
PR: Intel Corporation executives held a press conference Monday at CES in Las Vegas, outlining a plan to accelerate new mobile device experiences across the company's growing portfolio of smartphone, tablet and Ultrabook offerings.
The announcements included a new smartphone platform for emerging markets, details on a forthcoming 22nm quad-core SoC for tablets, and more personal and intuitive Ultrabook devices in innovative convertible designs were outlined by Mike Bell, vice president and general manager of the Mobile and Communications Group, and Kirk Skaugen, vice president and general manager of the PC Client Group at Intel.
"The best of Intel is coming to a mobile device near you," said Skaugen. "We are set to deliver the biggest increase in battery efficiency in Intel's history with 4th generation Intel Core processors, while adding broad new human interfaces to computing devices through touch, voice, facial recognition, and gesture-based interactions. We're also significantly extending the performance and power savings in Atom processors as we accelerate our mobile offerings in an unprecedented fashion in 2013."
Intel Inside Smartphones
Building on the progress first detailed a year ago at CES, Intel unveiled a new low-power Atom processor-based platform (formerly "Lexington") and smartphone reference design, targeted at the value smartphone market segment, which industry sources predict could reach 500 million units by 2015. Customers announcing support for the platform include Acer, Lava International and Safaricom.
The new platform brings Intel's classic product strengths to this fast-growing smartphone market segment, including impressive performance for quick Web browsing, and a great multimedia and Android applications experience.
"The addition of the low-power Atom platform enables Intel to address new market segments and further rounds out our expanding portfolio of smartphone offerings," commented Bell. "We believe the experience that comes with Intel Inside will be a welcomed choice by first-time buyers in emerging markets, as well as with our customers who can deploy more cost-conscious devices without sacrificing device performance or user experience."
The new value offering includes many high-end features including the Intel Atom processor Z2420 with Intel Hyper-Threading Technology that can achieve speeds of 1.2 GHz, 1080p hardware-accelerated encode/decode, and support for up to two cameras delivering advanced imaging capabilities, including burst mode that allows people to capture seven pictures in less than a second in 5-megapixel quality. The platform also includes the Intel XMM 6265 HSPA+ modem that offers Dual Sim/Dual Standby capability for cost-conscious consumers.
Bell also highlighted the forthcoming Intel Atom Z2580 processor platform (formerly "Clover Trail+") targeted at performance and mainstream smartphones. The platform includes a dual core Atom processor with Intel Hyper-Threading Technology, and also features a dual-core graphics engine. He said the new platform will deliver up to two times the performance benefits over Intel's current-generation solution (Intel Atom processor Z2460 platform), while also offering competitive power and battery life.
Tablet Roadmap Expanded with upcoming Quad-Core Intel Atom Processor
Speaking to a robust product roadmap and growing ecosystem of tablet and tablet convertible devices running on Intel technology, Bell reinforced the wide range of tablet designs based on the Atom Processor Z2760 running Windows2 8 now on shelves and online from OEMs such as Acer, ASUS, Dell, Fujitsu, HP, Lenovo, LG and Samsung. More tablet designs are scheduled to ship over the coming weeks. Enabling a mobile, connected and full Windows 8 experience, the Atom platform boasts all-day battery life and is more power- efficient than competitive offerings.
Bell also unveiled details about the company's next-generation 22nm Atom SoC, code named "Bay Trail," which is already booting and scheduled to be available for holiday 2013. The first quad-core Atom SoC will be the most powerful Atom processor to date, delivering more than two times the computing performance of Intel's current generation tablet offering. It will also include new improved integrated security offerings. These improvements will enable new experiences for business and personal use in devices as thin as 8mm that have all-day battery life and weeks of standby, all at lower prices.
"With Bay Trail we will build on the work done with our current SoC development and accelerate very quickly by leveraging Intel's core computing strengths," Bell said. "We will take advantage of the tremendous software assets and expertise at our disposal to deliver the best products with best-in-class user experiences."
Low Power Fuels Ultrabook Innovation
Since mid-2011, Intel has led the industry in enabling Ultrabook devices aimed at providing new, richer mobile computing experiences in thin, elegant and increasingly convertible and detachable designs. To enable these innovative designs, Intel announced last September that it added a new line of processors to its forthcoming 4th generation Intel Core processor family targeted at about 10 watt design power, while still delivering the excellent performance people want and need.
Skaugen announced Monday that the company is bringing the low-power line of processors into its existing 3rd generation Intel Core processor family. Available now, these chips will operate at power demand as low as 7 watts, allowing manufacturers greater flexibility in thinner, lighter convertible designs. Currently there are more than a dozen designs in development based on this new low-power offering and they are expected to enable a full PC experience in innovative mobile form factors including tablets and Ultrabook convertibles. The Lenovo IdeaPad Yoga 11S Ultrabook and a future Ultrabook detachable from Acer will be among the first to market this spring based on the new Intel processors and were demonstrated by Skaugen on stage.
The 4th generation Intel Core processor family enables true all-day battery life – representing the most significant battery life capability improvement in Intel history. Skaugen disclosed that new systems are expected to deliver up to 9 hours of continuous battery life, freeing people from some of the wires and bulky power bricks typically toted around.
"The 4th generation Core processors are the first Intel chips built from the ground up with the Ultrabook in mind," Skaugen said. "We expect the tremendous advancements in lower-power Core processors, and the significant ramp of touch-based systems will lead to a significant new wave of convertible Ultrabooks and tablets that are thinner, lighter and, at the same time, have the performance required for more human-like interaction such as touch, voice and gesture controls."
To demonstrate the impact of the 4th generation Intel Core processor family, Skaugen showed a new form factor Ultrabook detachable reference design (code named "North Cape") that converts into a 10mm tablet and can run on battery for up to 13 hours while docked.
Advancements made in the way consumers will interact with their computing devices were also demonstrated, including natural and more immersive interaction experiences using a 3-D depth camera. Intel showed applications running on an Ultrabook in which objects can be manipulated naturally with free movements of the hands, fingers, face and voice. One application that was demonstrated can be used for enabling new and immersive video collaboration and blogging experiences. These were all enabled using the Intel Perceptual Computing SDK Beta. This year, Intel expects more Ultrabooks and all-in-one (AIO) systems to offer applications for voice control (Dragon Assistant) and facial recognition (Fast Access) for convenience and freedom from passwords.
Bringing Back 'Family Night'
During the event, Skaugen also demonstrated new adaptive AIO systems that have a battery built into the screen and can be picked up and easily moved around the home or office as needed. Adaptive AIOs are high-performance computers with large touch-enabled screens that can be used as a multi-user touch gaming system, or as an interactive art creation device, as well as for many other shared, in-person experiences. Simply put, these devices will help bring "game night" back to its roots through shared experiences where families and friends gather around the system to interact, play and have fun.
Intel also continues to drive access to content on Intel-based devices by working with video service providers around the globe such as Comcast and Bouygues Telecom to create television experiences that will allow customers to view live and on-demand pay TV content. Intel is collaborating with Comcast to bring the XFINITY TV experience to multiple screens in the home including Ultrabook devices, and Intel-based AIO PCs and tablets.
This experience is made possible by the Intel Puma 6MG-based XG5 multi-screen video gateway developed by ARRIS. This new category of devices allows any screen in the home to access live and on-demand entertainment premium content. Intel is also working with Bouygues Telecom to bring customers in France the Bbox TV experience to these same Intel-based devices. Consumers will experience both live TV and video on demand anywhere on the Bouygues Telecom network.
Acer CEO: Touchscreen Offers New Opportunity for PC Brands
DigiTimes' Aaron Lee and Joseph Tsai report Acer president Jim Wong's take on the state of the PC industry, which saw several major developments in 2012, such as the rise of ARM-based products that greatly weakened the influence of the Wintel platform – and Microsoft's launch of Windows 8.
These changes have brought both challenges and opportunities to brand vendors, Wong told the reporters in an interview with DigiTimes, and who takes the optimistic view that innovations such as the confluence of Windows 8 and touchscreen control will allow vendors to make breakthroughs and revitalize the PC industry.
Wong is still bullish on Windows 8 and contends that many of the concerns and criticisms it's been receiving have been rather unfair, but he concedes that it's a new system that consumers must learn, and the learning process has been an impediment to it taking off quickly, adding that companies must take risks when introducing innovations, and consequently it's still too early to say whether Windows 8 is a success or not.
As for the Windows RT operating system developed jointly by Microsoft and ARM, Wong said Acer does plan to eventually release Windows RT-based products, but company's current strategy is to focus on Windows 8 with x86 architecture, since the major demand from Windows users is still related to data management.
Wong affirms that Acer believes touchscreen notebooks' shipment proportion will continue to rise to eventually surpass that for traditional notebooks and become the mainstream in the market, but acceptance and the replacement process may take 2-3 years to complete, and that the supply of touch panels will also be a major factor affecting the penetration of touchscreen notebooks in the PC market.
He also thinks high definition displays a la the Retina MacBook Pros (RMBPs) will definitely become a trend, but wonders why Apple opted not to adopt touchscreen control with the RMBPs.
Link: Touchscreen Offers New Opportunity for PC Brands Says Acer President Jim Wong(subscription required)
Is the Ultrabook a Triumph After All?
While not the buzzword it was in 2012, Intel's Ultrabook has its fingerprint everywhere at CES 2013, says Cnet's Dan Ackerman, declaring that the Ultrabook concept continues to be one of the most influential ones he's seen in many years of laptop watching.
However, he notes that it's more the Ultrabook's idea that's spread to nearly every corner of the laptop ecosystem, than the name itself (which is an Intel trademark that is attached to a circumscribed set of engineering and design specifications), and while there are plenty of new laptops from Lenovo, Dell, and others bearing the official Ultrabook moniker, probably an equal number are skirting the edges of Intel's Ultrabook standards.
For example, Ackerman says that HP Sleekbooks look and feel an awful lot like HP's Ultrabook-branded products, but they might have AMD CPUs or traditional spinning platter hard drives instead of SSDs, while other PC makers such as Dell and Toshiba have simply slimmed down their $500 to $600 non-Ultrabook laptop form factors. Consequently he notes that after Intel's having initially invested $300 million in helping PC companies develop Ultrabooks, it's a rarity that anyone walks into a store announcing, "I'm shopping for an Ultrabook!"
However, Ackerman contends that even if the Ultrabook name eventually fades from public view, it has already altered the consumer laptop landscape, rewriting what it means to be a mainstream laptop to a point where every laptop needs to be reasonably thin now to even get a foot in the door.
Of course, it was really Apple's MacBook Air that launched this revolution in 2008, but we agree that Intel deserves credit for its Ultrabook promotion, even if it hasn't turned out quite as they had hoped.
Link: Ultrabook's Quiet Triumph
Netbook Market Winds Up at End of 2012
DigiTimes' Monica Chen and Joseph Tsai report In that the last two netbook makers standing – Asustek Computer and Acer – are winding up netbook production, and the netbook market will officially end after the two vendors finish selling off their remaining inventories.
The Mac Observer's Bryan Chaffin observes) that the late Steve Jobs and Apple's then-COO Tim Cook made the right call in staying out of the netbook market despite strong criticism for so doing, quoting Tim Cook commenting at the time: "We're watching [the netbook space]. Right now from our point of view, the products in there are principally based on hardware that's much less powerful than we think customers want, software technology that is not good, cramped keyboards, small displays, etc."
Chaffin observes gleefully that even following its bear contraction, Apple's stock has risen 568% since Cook made that comment. "If only the company had released a netbook," he deadpans.
The Register's Neil McAllister notes that while analysts were initially bullish on netbooks because of their compact size and low price tags, and it was easy to overlook that their real-world performance was generally lackluster, while their miniaturized keyboards often made even basic word processing a chore and tiny, low-resolution screens made for a cramped desktop experience.
McAllister expects that PC Ultrabooks will likely fare better in the market than netbooks did, in large part due to their not being in a race to the bottom for manufacturers, but instead carry premium specs – and price tags to match.
Link: Netbook Market to Wind Up at End of 2012 (subscription required)
Lenovo Looking to Challenge Apple's MacBook with New ThinkPads
M.I.C. Gadget's Star Chang reports that according to a leaked internal email from Lenovo CEO Yang Yuanqing, come April Lenovo, which purchased IBM's ThinkPad laptop computer division in 2005, will be splitting its internal operations into two groups: Lenovo for mid- and low-range products, and Think for higher-end products currently associated with the ThinkPad. Mr. Yang also says that Think is best positioned to compete with Apple in the high-end market
Chang also cites recent rumors that Lenovo plans to move its notebook production in-house within three to five years in order to make it easier for the company to produce its own high-end hardware, and that in 2013, we can anticipate ThinkPad going to war with MacBook Air/Retina, but notes that ThinkPad laptops don't have the lifestyle elements to compete with Apple's products.
Link: Lenovo Wants ThinkPad to Compete with Apple MacBook
Products & Services
Fins-Up Releases the FIN for MacBook Air and MacBook Pro Retina Laptops
The FIN easily attaches to the MacBook Pro or MacBook Air and sports equally easy removal. When installed, the FIN tilts the notebook with the forward rake many prefer for typing and screen viewing. The FIN also serves as a convenient handle that not only makes carrying the notebook easier, but aids with insertion and retrieval of the notebook from computer bags. And when installed, the FIN provides beneficial heat dissipation for the notebook, helping to increase product longevity in the process.
"We're very excited to bring the FIN for the latest Apple models to Apple notebook users around the world," says Tim Trombly, founder and CEO of Fins-Up, LLC. "The FIN is really three superior products in one: a stand, handle and cooling system that perfectly blends with Apple notebooks to add to its overall form and function."
Priced at $39.95, the FIN is available for the MacBook Pro Retina 13″ (Late 2012), MacBook Pro Retina 15″ (Mid 2012), MacBook Air 13″ (Late 2010, Mid 2011 and Mid 2012), MacBook Air 11″ (Late 2010, Mid 2011 and Mid 2012), MacBook 13″ (Late 2008), MacBook Pro 15″ (Late 2008 to the latest) Unibody models, MacBook Pro 13″ (Mid 2009 to the latest) Unibody models, MacBook Pro 15″, MacBook Pro 17″ non-Unibody models, and MacBook 13″ (black and white). Visit Fins-Up online for complete details as well as to purchase directly.
Link: Fins-Up
Belkin Debuts New Wireless AC Networking Lineup at 2013 International CES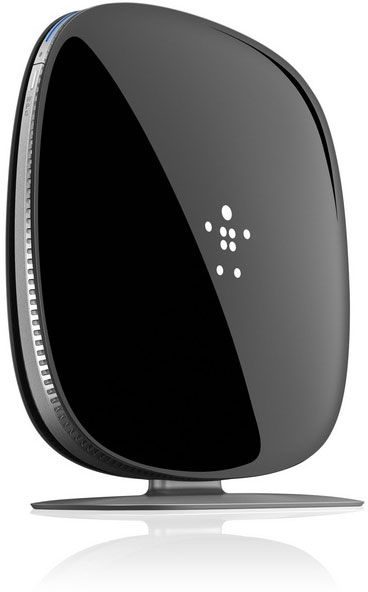 PR: Belkin is showcasing its new lineup of wireless networking technologies designed to empower the connected home, this week at the 2013 International CES. The powerful new AC750 and AC1800Dual Band routers, as well as the new USB 3.0 ready AC WiFi USB Dual-Band Adapter will be on display alongside Belkin's existing suite of wireless networking products at the Belkin booth, #30651, in the South Hall of the Las Vegas Convention Center, January 8-11, 2013.
"With the launch of our latest AC WiFi products, Belkin becomes the leading provider of state-of-the-art, next-gen WiFi devices, and delivers the ultimate in speed, coverage and performance for today's connected home networks," says Mike Chen, senior director of product management for Belkin's networking group. "With upgraded features like Simple Start browser based setup and a smart MediaPlay app, our AC routers deliver the promise of the connected home, where all of your devices work together seamlessly, from home entertainment to home automation."
With four next generation WiFi routers, Belkin claims to offer the largest selection of 802.11ac products on the market today. Belkin's most advanced router, the new AC1800 DB router, delivers combined speeds up to 1.6 Gbps, up to four times faster than traditional 802.11n WiFi technology. With gigabit speeds, the AC1800 extends network range and provides more reliable coverage at greater distances, making it possible to stream more content to multiple smartphones, tablets, and smart TVs anywhere in the home.
The AC750, Belkin's entry level AC router, takes advantage of next generation AC WiFi for a new level of reliability and connectivity. With combined dual band speeds up to 733 Mbps, the AC750 upgrades your network with the latest technology and is perfect for digital entertainment throughout the home.
Both the AC750 and AC1800 are the first Belkin routers to feature Simple Start, a browser-based setup interface that streamlines the installation process and eliminates the needs for a computer or CD drive. Simple Start enables one-click access to the router dashboard, making it easy to configure a media server, turn on parental controls or troubleshoot from a mobile device.
Another feature new to Belkin routers is MediaPlay, an app powered by Twonky that turns your iOS or Android device into a wireless network media player and enables you to stream content directly from a smartphone or tablet to a Smart TV. MediaPlay pairs seamlessly with the Belkin routers built-in media server function that turns any USB storage device into a network storage device. The free MediaPlay app pushes media from multiple sources to multiple destinations and is able to sync between iOS and Android devices.
To get the most out of your new network, laptops and Ultrabooks can be upgraded with the USB 3.0 ready AC WiFi Dual-Band USB Adapter. This adapter provides speeds up to 867 Mbps for smooth gaming and streaming around the home.
AC1800 DB Wireless Router (F9K1118) $179.99
Speeds up to four times faster than 802.11n technology with simultaneous dual-band speeds up to 1.6 Gbps (300 Mbps on 2.4 GHz band + 1.3 Gbps on 5 GHz band)
Uninterrupted HD streaming to multiple devices simultaneously helps conserve battery power on mobile devices
Belkin's built-in IntelliStream QoS automatically prioritizes video and gaming and reduces loading time on frequently visited sites
Parental Control powered by Norton blocks unsafe and inappropriate content with three available levels of protection
MediaPlay App by myTwonky beams content directly from your device to your TV
Media server by myTwonky to stream DLNA multimedia throughout your home
IPv6 compatibility future-proofs the home network
Backward-compatible with previous generations of WiFi
4 Gigabit ports for maximum network speeds
Two USB 2.0 ports
AC750 DB Wireless Router (F9K1116) $89.99
Advanced, next generation WiFi technology
Dual band speeds up to 733 Mbps (300 on 2.4 GHz band + 433 on 5 GHz band)
Uninterrupted HD streaming to multiple devices simultaneously helps conserve battery power on mobile devices
Belkin's built-in IntelliStream QoS automatically prioritizes video and gaming and reduces loading time on frequently visited sites
Parental Control powered by Norton blocks unsafe and inappropriate content with three available levels of protection
MediaPlay App by Twonky beams content directly from your device to your TV
Media server by MyTwonky to stream DLNA multimedia throughout your home
IPv6 compatibility future-proofs the home network
Backward-compatible with previous generations of WiFi
One USB 2.0 port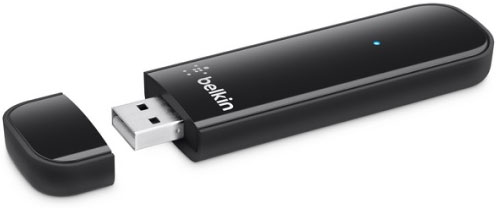 AC WiFi Dual-Band USB Adapter (F9L1106) $69.99
Fast AC WiFi speeds up to 867 Mbps or N WiFi speeds up to 300 Mbps
USB 3.0 for high-performance wireless
Works with G, N, and new AC WiFi routers
Perfect for upgrading laptops and Ultrabooks for faster gaming and movie streaming
Availability
The AC750 with Simple Start will be available this month at Best Buy and Belkin.com. The AC1800 DB Wireless Router is available now at Belkin.com and retailers across the United States. An updated version with Simple Start will begin rolling out this month to retailers across the country. The AC WiFi Dual-Band USB Adapter is available now. MediaPlay is available now on the App Store and Google Play store.
Order Links
AC WiFi Dual-Band USB Adapter, currently $66 at Amazon.com
Kingston Digital Ships New Generation USB 3.0 Flash Drive
PR: Kingston Digital, Inc., the Flash memory affiliate of Kingston Technology Company, Inc., has announced the launch of the DataTraveler Ultimate 3.0 Generation 3 USB 3.0 Flash drive. DataTraveler Ultimate 3.0 G3 is redesigned with a sleek and slim new case and features fast transfer speeds for moving high resolution images, music libraries and HD video files.
Kingston's DataTraveler Ultimate 3.0 G3 is ideal for consumers, IT professionals and enthusiasts who want to take advantage of all the performance improvements offered by USB 3.0 technology. DataTraveler Ultimate 3.0 G3 features read speeds up to 150 MB/s and write speeds up to 70 MB/s. When plugged into a USB 2.0 port, the drive has read speeds up to 30 MB/s and write speeds up to 20 MB/s. It is available in 32 GB and 64 GB capacities.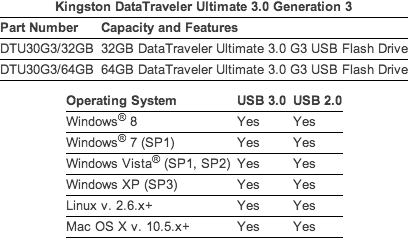 DataTraveler Ultimate 3.0 G3 takes its design inspiration from DataTraveler HyperX Predator 3.0, the world's largest-capacity USB 3.0 Flash drive. Inside a solid metal matte finish case, DataTraveler Ultimate 3.0 G3 features a convenient retractable design that protects the USB jack from damage while carrying it on a key chain, purse or briefcase.
"USB 3.0 is becoming more mainstream as it is standard on most motherboards and PCs shipping today," says Andrew Ewing, Flash memory business manager, Kingston. "We are working hard to make sure we improve the speed and design of our USB 3.0 Flash drives to stay competitive as demand grows in the market. DataTraveler Ultimate 3.0 G3 is a perfect example of this evolution."
DataTraveler Ultimate 3.0 G3 is backed by a five-year warranty, free live technical support and Kingston's traditional reliability.
Kingston DataTraveler Ultimate 3.0 G3 Features and Specifications
Capacities: 32 GB, 64 GB
Speed:
USB 3.0 up to 150 MB/s Read, 70 MB/s Write
USB 2.0 up to 30 MB/s Read, 20 MB/s Write
USB 3.0 performance: dramatic time savings when transferring large media files; 8x faster than a standard USB 2.0
Durable design: solid metal sliding casing with no cap to lose
Backwards compatibility: usable with USB 2.0 systems with excellent performance throughout
Guaranteed: five-year warranty and free technical support
Dimensions:
without key ring: 2.6929″ x 0.8961″ x 0.4567″ (68.40mm x 22.76mm x 11.6mm)
with key ring: 3.3622″ x 0.8961″ x 0.4567″ (85.40mm x 22.76mm x 11.6mm)
Operating Temperature: 32F to 140F (0C to 60C)
Storage Temperature: -4F to 185F (-20C to 85C)
Link: Kingston DataTraveler Ultimate 3.0 Generation 3
Bargain 'Books
For deals on current and discontinued 'Books, see our 13″ MacBook and MacBook Pro, MacBook Air, 13″ MacBook Pro, 15″ MacBook Pro, 17″ MacBook Pro, 12″ PowerBook G4, 15″ PowerBook G4, 17″ PowerBook G4, titanium PowerBook G4, iBook G4, PowerBook G3, and iBook G3 deals.
We also track iPad, iPhone, iPod touch, iPod classic, iPod nano, and iPod shuffle deals.