No real surprises today. All those sites sharing leaks about iPhones in multiple colors, a gold iPhone, and a better-than-ever iPhone proved to be correct. Earlier today, Apple introduced the iPhone 5C in five different colors and the iPhone 5S, the new top-end model, in three.
These will be the first iPhones to ship with iOS 7, which will be available to current iPhone 4, 4S, and 5 owners next week. Like the iPhone 5 that they replace, both new iPhones include 4G LTE.
iPhone 5C
The iPhone 5C is the new midrange model, taking its place between the discontinued iPhone 5 and the new, even more powerful iPhone 5S. (The iPhone 4S lives on as the new entry-level iPhone in an 8 GB configuration.) The 5C has a black front face and five different colors for the rear of the case: white, pink, yellow, blue, and green. The rear is polycarbonate, not glass.
As with the entire iPhone 5 family, it has a 4″ 1136 x 640 pixel Retina display and a FaceTime camera that supports 1280 x 960 (1.2 MP) photos and 720p HD video. The rear-facing camera has 8 megapixels (MP) and a 5-element f/2.4 lens, just like the iPhone 5.
Inside is the same dual-core Apple A6 processor as the iPhone 5 (presumably at the same 1.3 GHz), and the 5C measures 4.9″ x 2.33″ x 0.35″ (124.4 x 59.2 x 8.97 mm) and weighs 4.65 oz. (132 g). This is just a bit bigger than the iPhone 5's 4.87″ x 3.21″ x 0.30″ (123.8 x 58.6 x 7.6 mm) a heavier as well. (The 5 weight 3.95 oz/112 g.) Thus the 5C will not work with cases designed for the iPhone 5.
The 5C sells for $99 with 16 GB of memory and $199 with 32 GB when bundled with a 2-year contract.
iPhone 5S
The iPhone 5S replaces the traditional black and white iPhones with three color options: Space Gray has a black face and is mostly dark gray on the back and sides, Silver has a white front with a metallic light gray back and sides, and Gold has a gold back and sides.

But the real differences are inside the case. The new Apple A7 chip has 64-bit architecture, a first for the iPhone and something still very new in the ARM range of processors. In fact, the iPhone 5S is the first 64-bit smartphone. That means up to twice the CPU and graphics power of the A6 chip used in the iPhone 5 and 5C – and iOS 7 is designed from the ground up to work well with the new 64-bit architecture.
This is coupled with the new M7 motion coprocessor, which includes an accelerometer, gyroscope, and compass. The M7 can even distinguish between walking and driving when using turn-by-turn navigation.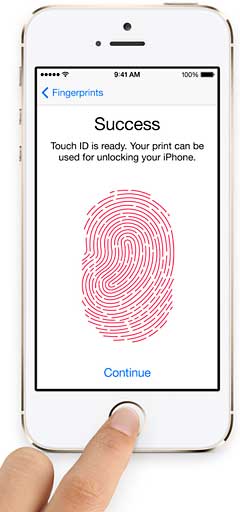 One new feature is a fingerprint identity sensor built into the Home button. No more need to enter a password if you want to protect your iPhone from others. Your fingerprint will do the job!
Not only will it give you  access to your iPhone, you can also use it to verify your iTunes, App Store, and iBooks Store accounts.
The 5S is exactly the same size and weight as the iPhone 5, so all iPhone 5 cases should work just perfectly with it. It continues to use an 8 MP camera, but with a slightly faster f/2.2 lens and a larger image sensor for better sensitivity and less digital noise.
Apple has even rethought flash and provides two LEDs that work in tandem. One is white, the other amber, and the 5S will do its best to balance the color of flash output with ambient light.
The 5S sells for $199 with 16 GB of memory, $299 with 32 GB, and $399 with 64 GB – but only with a 2-year contract.
iPhone 5C and 5S
And Instragram users should be thrilled by a new camera mode: square photos. It's just perfect for Instagram as well as ID photos you use on Facebook, Twitter, and elsewhere.
The 5S and 5C support 13 LTE bands, which is more than any competing smartphone and means it's just that much more flexible when you travel.
And then there are apps. With the iPhone 5S, you can download and use iPhoto, iMovie, Pages, Numbers, and Keynote for free.
iOS 7
Until now, iOS has offered a very limited level of multitasking, which hasn't been much more than switching between apps and having most apps remember exactly what you were doing when you switched. iOS 7 takes that to a new level by paying attention to how you work. If it sees you launching Facebook at a certain time of day, it will anticipate that and be ready for it.
The square photo option mentioned above is part of iOS 7, so older iPhones (4, 4S, and 5) will also be able to take square pics.
Closing Thoughts
I'm disappointed that Apple continues to offer the iPhone 4S, the last model not to support 4G LTE, instead of am 8 GB version of the iPhone 5. That would provide the same screen across the board and make 4G LTE standard across the line.
Other than that, I'm very impressed with what Apple has announced in terms of new hardware and the next generation of iOS. I very much look forward to installing iOS 7 on my iPhone 4S after iOS 7 has been out for a few days (maybe a week) and initial field reports have been posted.
Keywords: #iphone5c #iphone5s
Short link: http://goo.gl/UmlxEM