The biggest change in the Apple product line prior to 2006 was the transition from Motorola 680×0 CPUs to the PowerPC (PPC) family of CPUs. Designed by a consortium of Apple, IBM, and Motorola (a.k.a. the AIM Alliance) and based on IBM's POWER architecture, PowerPC became the most widely used RISC (Reduced Instruction Set Computing) processor with the introduction of the Power Mac line in March 1993.
The great advantage of a RISC processor is that it handles a very simple set of instructions, all the same size, and processes them very quickly.
PowerPC 601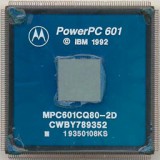 The first PowerPC chip was the 601, manufactured by IBM (even the ones with the Motorola logo) and initially available in speeds ranging from 50 MHz to 80 MHz using 0.6 micron CMOS technology. The 64-bit CPU was used in the Power Mac 6100, 7100, 7200, and 8100, as well as in most of the first generation of licensed Macintosh clones.
The 601 contains 2.8 million transistors, has a 32 KB unified level 1 (L1) cache, supports an external L2 cache, and can process up to 3 instructions per cycle. Its large L1 cache helped it outperform Intel's Pentium.
The 601 contains three execution units: one for integers, one for branch processing, and one for floating point.
The 601 was specifically designed to power the IBM RS/6000, so there are many instructions present for that computer that were not included in future PPC designs. This is the only PPC with a unified instruction and data cache; future models contained separate instruction and data caches.
An updated version, known as the 601v or 601+ was also built by IBM; it was available at speeds from 90 MHz to 120 MHz, running at 2x or 3x bus speed.
PowerPC Family Overview
CPU         speed*    instructions  L1 cache  L2 cache
601       60-120 MHz   3 per cycle     32 KB  external to 1 MB
603       75-160 MHz   2 per cycle    2x8 KB
603e     100-300 MHz   2 per cycle   2x16 KB
604      100-180 MHz   4 per cycle   2x16 KB  external to 1 MB
604e     166-233 MHz   6 per cycle   2x32 KB  external to 1 MB
604ev    250-350 MHz   6 per cycle   2x32 KB  external to 1 MB
G3/750   200-450 MHz   3 per cycle   2x32 KB  external to 1 MB
750CX    366-466 MHz   3 per cycle   2x32 KB  256 MB onboard
750CXe   400-700 MHz   3 per cycle   2x32 KB  256 MB onboard
750FX    600-900 MHz   3 per cycle   2x32 KB  512 MB onboard
750GX   733-1100 MHz   3 per cycle   2x32 KB  1024 MB onboard
G4/7400  350-600 MHz  19 per cycle+  2x32 KB  supports 2 MB L2 cache
7410     466-533 MHz  20 per cycle+  2x32 KB  supports 1 MB L2 cache
7450     667-733 MHz  20 per cycle+  2x32 KB  256 KB onboard, up to 2 MB L3 
7455    600-1420 MHz  20 per cycle+  2x32 KB  256 KB onboard, up to 2 MB L3
7447A   600-1500 MHz  20 per cycle+  2x32 KB  512 KB onboard, no L3 cache
7457    867-1267 MHz  20 per cycle+  2x32 KB  512 KB onboard, up to 4 MB L3
        7457 used in some third-party Mac upgrades, never by Apple 
7448     1.0-1.7 GHz  20 per cycle+  2x32 KB  1024 KB onboard, no L3 cache
G5/970   1.6-2.0 GHz  38 per cycle+  2x32 KB  512 KB onboard 
970FX    1.8-2.7 GHz  38 per cycle+  64+32 KB 512 KB onboard
970MP    1.8-2.5 GHz  38 per cycle+  64+32 KB 1 MB per core 
__________ 
* as used in Apple or Maclone 
+ each AltiVec unit can perform up to 16 simultaneous calculations
PowerPC family: 601, 603/603e, 604/604e, G3, G4, G5
Other Resources
Great CPUs, past and present, John Bayko. See especially sections on 8080/85, Z-80, 6502, 6809, 680×0, 80×86, ARM (used in Newton), PA-RISC, Sparc, Alpha, PowerPC, and Itanium.
MacTips, RISC, CISC, and Your Mac
PC Magazine, Motorola and PowerPC (also covers 680×0 series)
PowerPC 601 v. 603, MacKiDo
How the G4 Compares to the G3, Scott Barber
AltiVec, MacKiDo
G4, MacKiDo
PowerPC G4 and other news from Microprocessor Forum, Henry Norr, MacInTouch
MPC7400 PowerPC Microprocessors, Motorola
Keywords: #powerpc601
Short link: http://goo.gl/q4D3vA
searchword: powerpc601