As widely rumored in recent months, Apple unveiled the iPhone 6 this week – and in the two sizes expected. The smaller model, with a 4.7″ display, is called the iPhone 6. The larger one, with a phablet-sized 5.5″ screen is the iPhone 6 Plus.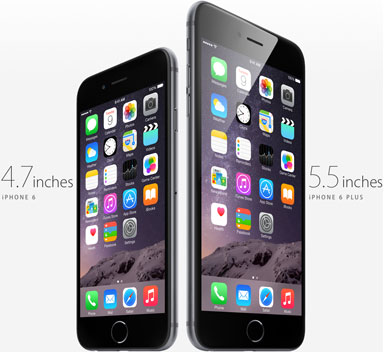 Yes, the new iPhones are the thinnest yet, which happens with every redesign. Yes, Apple has pushed the design envelope by going back from the squared off aluminum frame of the iPhone 4 and 5 families to a rounded frame, which harkens back to the original iPhone, the 3G, and the 3Gs. The glass appears to curve into the case for a fresh new look.
Yes, it has Apple's best camera ever. Yes, it has phenomenal battery life. Yes, it even supports more versions versions of 4G LTE than the iPhone 5s – or any competing smartphone.
Yes, there's a new member of Apple's CPU family, the A8, a 64-bit dual-core processor that Apple claims has 25% more CPU power and 50% more graphics power. Since the iPhone 6 and 6 Plus have not yet been benchmarked in public, we can't verify those claims. Regardless, it is more powerful than the iPhone 5s.
Precise specifications are vague. Anandtech speculates this is a 1.4 GHz chip with 1 GB of memory and PVR GX6650 graphics. An early Geekbench report shows the iPhone 6 running at 1.38 GHz with 988 MB of memory, which fits this scenario. The multicore Geekbench score is 2920, while the iPhone 5s scores 2341, so Apple's 25% more powerful claim appears to be substantiated.
The A8 is joined by Apple's new M8 coprocessor, which measures data from the accelerometer, compass, gyroscope, and barometer (another new feature).

The iPhone 6 gains "cinematic image stabilization" for video. And it can do 1080p HD video at 60 frames per second (FPS), as well as 240 FPS slow motion video (the 5s does 120 FPS slow motion) and time lapse video. Another iPhone first is continuous autofocus when shooting video.
The new models have automatic HDR (high dynamic range) for photos, and face detection has been improved. On top of that, panoramas can now be up to 43 megapixels in size.
Surprise, New Screen Resolutions!
I fully expected that Apple would retain the 1136 x 640 pixels of the iPhone 5 family. just making them 20% bigger on the 4.7″ iPhone 6. I was wrong. Apple has introduced two new screen resolutions to the iPhone family. No word on how these will work with old apps that assume a 480 x 320, 960 x 640, or 1136 x 640 display. I'll assume Apple has supported multiple resolution in its development kit in anticipation of the new resolutions.
The iPhone 6 has a 1334 x 750 pixel screen with the same 326 pixels per inch (PPI) as the iPhone 4 and 5 families, so a bit over 17% more vertical pixels and horizontal pixels. The monstrous 6 Plus has a 1920 x 1080 pixel display at 401 PPI – full 1080 HD resolution, matching many high-end Android smartphones. That's almost twice as many pixels as the iPhone 5 screen, so it's a good thing Apple has an improved graphics processor.
Hot New Features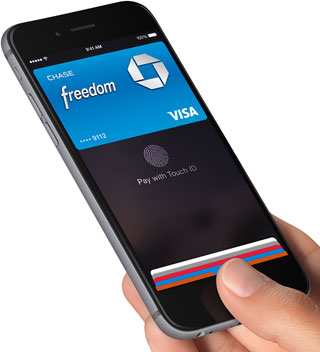 The biggest new feature is Apple Pay, which requires iOS 8, an iPhone 6, and a business that supports it. Apple Pay uses NFC (near field communication) to link with a store's payment system, allowing you to store your credit and debit card information on your iPhone 6 and in many cases leave the credit card itself at home. Apple Pay is fully supported by American Express, MasterCard, and Visa – and the forthcoming Apple Watch.
Apple Pay will also be supported within apps, so if you want to place an order with Amazon.com, Target, or other e-tailers with their own apps (once they are updated), you'll have that option.
In addition to more LTE protocols, the iPhone 6 has faster LTE – up to 150 Mbps – and supports Voice over LTE, which permits higher audio quality phone calls.
Where the iPhone 5 has 802.11n WiFi, the 6 gives you 802.11ac for up to three times the bandwidth.
The iPhone 6 will automatically and seamlessly switch between WiFi and Voice over LTE while you are on the phone.
The Bottom Line
With the introduction of the iPhone 6, prices of previous models have dropped. The iPhone 5c is now available only in an 8 GB version and will become the free option with most mobile contracts in the US. And before anyone says 8 GB isn't enough, that depends on how you use your iPhone. Sure, you can fill it up with music and photos and videos and apps, but truth be told you can do quite a bit with an 8 GB iPhone.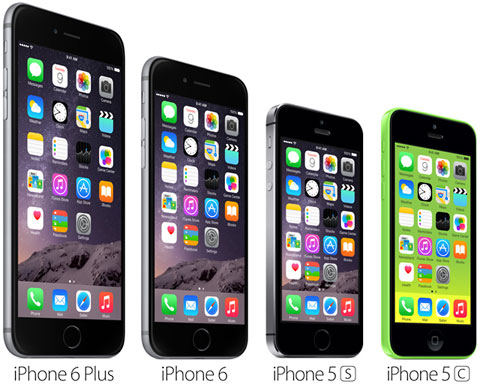 The iPhone 5 is now $99 (with contract, as is true of all future mention of prices) with 16 GB, which is pretty usable. I have an 8 GB iPhone 3GS and a 16 GB iPhone 4. I know it's easy to run up against memory limits, but offloading photos and videos and using a smaller music library is a small price to pay for living within storage limits.
For those who need more storage, there's a 32 GB iPhone 5s for $149. Apple used to charge a $100 premium for doubling memory, so this is a big improvement. It gives the top-end iPhone 5s twice the storage of the entry-level iPhone 6.
As before, Apple continues with its free, $99, and $199 pricing for the oldest, second oldest, and least expensive version of the new model. In this case, $199 gets you an iPhone 6 with 16 GB capacity in the same colors as the iPhone 5. But then comes a big difference: There is no 32 GB model for $100 more, as there was in the past. Instead, you jump from a usable 16 GB to a spacious 64 GB at $299. Kudos, Apple, this is a big value improvement! And if even that isn't enough,$399 gets you 128 GB.
Finally, we have the very high resolution iPhone 6 Plus at $100 more for the same memory configurations as the "regular" iPhone 6.
Moving Forward
My AT&T contract will let me update from my iPhone 4S later this year, and until now I had anticipated migrating to the iPhone 5S. I like the size of the 4S, and the 5S is only a bit taller. Plus it's got a 64-bit CPU, which makes it more future-proof. And it would be nice to have enough storage for my entire music library, which is almost 14 GB in size. For $149, I could do that.
But the iPhone 6 is tempting for one simple reason: The bigger display. I've been wearing bifocals for a decade now, and reading on the tiny iPhone screen can be challenging. A 17% taller and wider screen can show 35% more text or 17% larger text. Guess which my aging eyes will probably choose? And I can live with less than one-third of my music library on my iPhone, so I could get by with the $199 16 GB iPhone 6.
This is all conjecture at this point. I don't know if I'll like how the larger iPhone 6 handles or fits my pocket compared with the iPhone 5S.
My iPhone 4S is serving me well, so maybe I'll continue to use it until my AT&T contract runs out and look into my options for taking my mobile business elsewhere. I could probably save money doing that….
Keywords: #iphone6 #iphone6plus
Short link: http://goo.gl/RYQ3A2
searchword: iphone6and6plus